Are you looking for a financial theme for your WordPress website? Having a professional website is one of the most important aspects of business success. This is especially true when you are dealing with the financial issues of your customers. If people don't even trust your website, it's almost impossible to get people to trust you with their money.
The best theme here is also a convenient selection of templates and layouts for the internal pages of your website. These layouts typically cover overview, contacts, projects, services, and customer testimonials pages, allowing you to quickly add important content to your financial website.
These WordPress themes have many customization options, so their demos are the starting point for your website. If the demo design doesn't exactly match your vision, you're likely to be able to change the color scheme, adjust the layout, and use a set of controls to change the font.
Most themes in this collection also include some page builder tools that allow you to easily redesign your demo content or create your own custom page layout from scratch.
You will find hundreds of great WordPress finance themes to give your site the look you want. However, the list of options is too long and can be overwhelming. We've created a list of WordPress finance themes that you can use to design your finance website so you can choose the right theme.
Free Finance WordPress Theme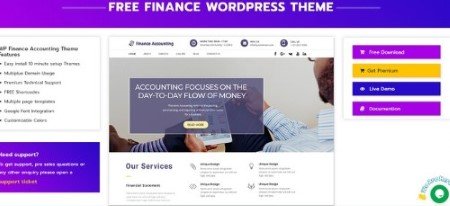 Free financial WordPress theme is a universal theme for financial consultants, accountants and all financial websites. Themes can be used by corporate websites, start-ups, and venture companies. It is designed to showcase your professional services in the best possible way.
No coding knowledge is required to operate and configure this theme. It has a beautifully designed homepage that you can change according to your wishes. Some customization is possible, such as changing the logo and slider settings. Mobile-enabled themes adjust the layout on all device screens.
It is compatible between browsers for smooth loading in all browsers. This free finance WordPress theme has code that conforms to WordPress standards. Themes are compatible with the latest WordPress versions and can adapt to new technological changes.
The Finance WordPress theme has a left sidebar and a right sidebar. It comes with complete documentation to help you install, configure, and make small changes to your theme. Its main eye-catching features are banners and sliders that draw attention immediately after landing on the site.
Built on the Bootstrap framework, working with themes is easy. Social media icons exist to extend the reach of your site. There are various layout options for changing the look of your site. Use these design options to give your site a more personalized touch.
Online Consulting

Online consultation is a free financial WordPress theme for business and financial services. It's the perfect platform for creating professional websites for business consultants, accountants, investment firms, insurance, tax advisors, start-ups, financial advisors, marketing and other consultancy firms. This is a versatile, tech-savvy, responsive, versatile website theme developed to meet all your business needs.
This free finance WordPress theme is a beautifully designed homepage with an eye-catching full-screen image slider to showcase your financial projects. Contact information and social media settings are also included in the website headers to connect with visitors and clients.
You can list all financial services and view information about your business consultancy. Other useful features included in this theme are boxed full-width website layout options, sticky header options, sidebar options, paged templates, and custom widgets for the footer. Sidebar, blog page widget.
This theme is packed with useful features and options that allow you to create personalized websites without professional coding skills. The overall design is fully responsive and 100% retina compatible, so there are no accessibility issues when using mobile devices.
financeup
Financeup is the latest financial theme for business professionals who want a clean look at their website. The theme is compatible with WooCommerce, so you can also sell it online.
This theme comes with a custom background feature that you can use to set a single or multiple color background for your website. You can also select any image and easily set it as your website background. This theme meets the need to customize the header section. Here you can upload a title image, crop a specific image and at the same time upload as many images as you need.
Therefore, you can set up an online market for your customers in just a few minutes. This theme supports editor-style features. That is, the end result of all customizations is applied directly to the post editor.
This shows that you can quickly preview your site's fonts, colors, and other elements in the editor. This theme makes such images especially available on "magazine-style" websites where each post has a picture demonstration built in.
Finance Accounting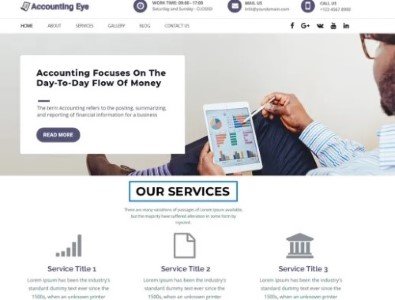 Financial Accounting is a free financial theme specially designed for anyone with a website related to accounting, financial advice, asset management and more. This theme makes it easy to create a financial site that looks professional.
It's a well-designed theme that fits well with financial advisers, corporate websites, startups and business ventures. This themed framework is perfect for designing sophisticated websites. This fully responsive theme looks beautiful on all devices, regardless of size or screen resolution. It has been rigorously tested to ensure compatibility with various browsers.
The Treasury WordPress theme has several options for changing the layout of the theme's home page and internal pages. Multiple templates and many internal pages allow you to implement a particular layout on one or all pages of your theme. It's SEO friendly and implements social media icons for better exposure to the world.
There is a shortcode that applies to the widgetized area so you can implement the feature right away. This theme provides complete documentation and provides quick support for queries about the theme's features.
Business Consultr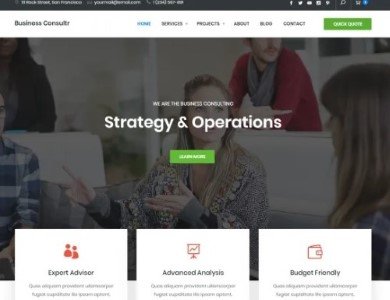 Business Consultants is another free financial theme that allows you to give your website a clean and professional look without coding a single line.This WordPress theme supports custom background features. It allows you to set your own background for your website that perfectly meets the demands of your business.
For example, if you have a food or furniture business, you can set a brown background for your website. In addition, this theme provides a custom color feature that allows you to manually customize the theme colors. With this theme, you can use attractive and glamorous colors as you like to improve the user experience of your website.
In addition, you can modify each web page using preset options and page settings. This allows users to reply directly to specific comments instead of commenting globally. This will definitely increase visitor interest, page-wide feedback, and related queries.
A simple and amazing WordPress theme that supports multiple languages on its platform. With a great user interface that provides smooth interaction with common tongueless users. Use a two-column layout specially designed for this theme for professional websites. In addition, you can easily customize the site elements that best suit your overall design.
Rock Business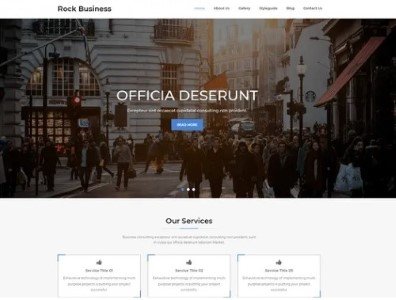 Rock Business is a versatile corporate theme that can be used on all kinds of websites. Take advantage of its robust capabilities to create powerful and responsive websites for your business.
In addition, this WordPress theme comes with custom color options that are used to change the color scheme of your website. This will certainly help improve the look of your site. If you want to upload a custom image to the header section of your theme,
You can use this theme to upload in just a few seconds. In addition, many custom features are provided in the template that you can use to edit and crop the image. This WordPress theme comes with its own custom menu features to help you build attractive drop-down menus on your website.
Use threaded comments instead of the traditional global comment system. This is because it is the most advanced technique currently used to create discussions on pages. Make your website more refined with a fluid and functional three-row layout design.
This format provides a well-managed section and can prove to be best suited for websites that need to display their content on a single page. This theme allows users to better understand web content in their native language. It also has a crisp, clean web layout to provide readability to site visitors.
Trade Hub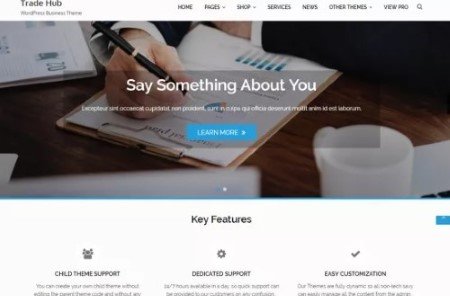 This theme has a fully customized background feature. You can set different types of backgrounds for your website, such as images, single or multiple colors, and patterns. This amazing WordPress theme consists of custom color features to build an elegant design for your website. Therefore, this feature allows you to access the color settings and change them on your website.
The theme has the flexibility of a powerful and detailed theme options panel and allowing you to customize your website. Theme options are logically arranged for easy access. You can also modify each page of your website with different options / layouts to make them unique.
You can use this theme to embed threaded comment sections in posts and pages. These types of comments can be nested 5 levels deeper. Users can also reply directly to a particular comment, which is indented under the parent comment.
This WordPress theme also used to create professional websites, such as life blog, fashion, travel, and more. It also offers seamless adaptability to all other disciplines. This WordPress theme doesn't make it easy to create a two-column website. You can use this template to display the content of your website in two different sections
Dikka Business
Dikka Business is the next WordPress financial theme on the list. It can give your site the most professional look without investing money.This WordPress theme provides a useful feature that allows you to add specific images to your website. It acts as your website's signature logo and always appears at the top of your website. This theme allows you to add custom menu options that are a list of common links that normally appear as the main navigation for your site.
This theme comes with a full-screen template that makes efficient use of all specified space and displays the elements in the best possible way. This WordPress theme has a left sidebar feature, which is a very useful tool for web design. Add features such as action-inspiring phrase buttons and forms, spotlight content that can be lost in your blog's heap, run ads, and more without interrupting your content flow.
It can be delivered from affiliates. Themes have a single column feature that allows you to place your main post in a single column with widgets, sidebars, or tabs to navigate to other parts of your website. This feature allows users to have a smooth reading experience on all devices.
Businessup
Businessup is another free financial theme you can check out. The free options for this theme come with great features that will help you easily create attractive websites.
Businessup works well with the most popular page builders. This theme is based on the Bootstrap framework and has a completely responsive design that makes your website look beautiful and elegant on all your devices. There is also an SEO optimization code that will help you get a good rank in your search results. Business up is easy to customize and extend.
OceanWP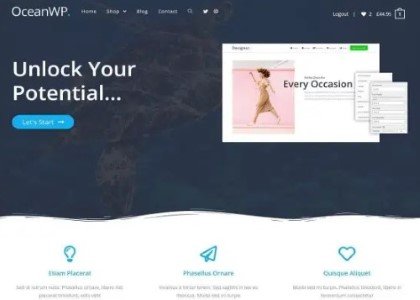 OceanWP is a versatile WordPress theme that allows you to instantly change the look of your finance website. Getting started with OceanWP is very easy, especially with the pre-built demos that can be imported with just one click.
Basically, the main advantage of OceanWP is that it provides the ability to customize the theme in a very user-friendly and intuitive way through the WordPress customizer, including deep support for WooCommerce. This customization allows you to create a framework for your content. You can design with Page Builder or have more control over your theme in general.
Astra
Astra is a lightweight and versatile theme that will look great on all kinds of websites. You can also use it on your finance site to get the perfect look you deserve.
Activating Astra makes a new settings box available when editing posts, pages, and other custom post types. Here you can change many common page settings, such as where the sidebar is displayed and whether the content is boxed or full width. Features such as headers, page titles, feature images, and footer bars can be completely disabled from here.
The nice thing about this setting is that you can customize all the looks for each page. When it comes to design, did you cover Astra? Anyone, regardless of technical experience, can use the WordPress Theme Customizer to customize the design of their website.
All customization options are in the WordPress Theme Customizer. This means you can preview changes in real time. You can also switch the preview mode from desktop to tablet or mobile device.
The options span eight top-level sections and many subsections. This neat layout makes it easy to find the settings you want to change, but you can also add a search box to the theme customizer via a plugin.
Sydney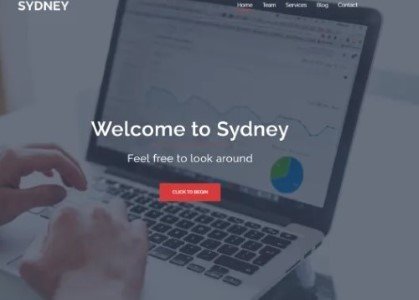 Free WordPress themes are well-regarded, responsive and powerful to help companies quickly build an effective online presence. Use customization options such as Google Fonts and full color controls. Brand your site properly with quick logo uploads and use full-screen sliders to guide your customers to the most important content.
Outstanding features are the nature of a theme that is ready for translation and show that it can reach out to almost anyone in the world. Front page blocks allow you to navigate components on your home page to design the ideal landing area for your customers online. The parallax background has attracted attention, and social integration tools encourage users to follow you on sites such as Twitter and Facebook.
Aronia
Aronia is one of the best free WordPress themes used on business and financial websites. The first theme developed from cordless using Elementor Page Builder. This theme is supported by a robust cordless framework. Aronia is fully customizable, allowing you to change your styling live without losing the time to update each time you make a change.
One of the best free themes developed with attention to detail. Compatible with major plugins such as Contact Form 7,akismet. Aronia's free WordPress themes are SEO-optimized, so you can easily rank your website with search engines.
ArileWP
Arlie WP is a free best WordPress theme for financial and business websites. A theme created with Elementor, with a clean design. No problem for small financial sites. You can use the compatible Contact Form 7 plug-in and WooCommerce for shopping. The theme also has many variations of other demos.
The pagination of the classification web page is updated. The Revolution Slider plugin has been upgraded. In the extension, this theme allows you to see the adjustments you made on the internet site before saving.
This SEO optimization theme covers all the features you need for your creative portfolio of apps and products. service. Handel's theme designed specifically for financial companies, financial companies, investments, tax-related, consulting, brokers, legal assistance, or businesses of all kinds.
Exponent (premium)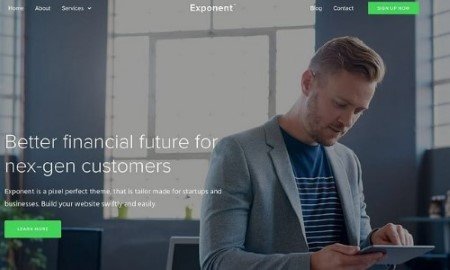 Exponent comes with a demo of a pre-built financial website so you can get your site up and running as quickly as possible. The Exponent package has over 20 complete business-centric website designs, making it easy to find the right options for your project. There is one demo specifically designed for creating a financial WordPress website, but there are other demos suitable for your project, such as corporate demos, startup options, agency design, and more.
A powerful page builder is integrated into the heart of the Exponent theme so you can open pre-made pages and templates and start editing from the intuitive drag-and-drop page builder interface. The tool is packed with useful elements and modules that allow you to extend the page by adding new features to the pages that make up the Exponent theme demo.
You can also customize other aspects of your financial services website using the Theme Options Control Panel, such as using ColorHub to quickly change the colors used throughout your site with just a few clicks. Adding gradients to your website is also easy and you can make your site stand out in other ways. With Exponent, you are not subject to creative restrictions.