Project management involves planning, organizing, and adhering to procedures and policies to ensure teams meet project deadlines and budget. This usually involves working with multiple team members to achieve predefined goals and objectives. This is why WordPress project management plugins are so important to web development teams, and many other business categories.
One way bloggers and content managers use plugins is to manage their projects. Organization is critical to optimal performance. If you miss the organization, everything will be a mess!
Thanks to the immense popularity of WordPress, a huge community of users and developers are creating new plugins every day. If you need to find a powerful WordPress project management plugin, then there is no doubt that you will face the challenge of choosing from thousands of options.
Quality control by the project manager may also be involved to ensure that everything is up to a certain standard. The market for these plugins is not big, but WordPress has some creative solutions to manage your projects directly from your dashboard. We have integrated the best WordPress project management plugins and tools with WordPress to help you stay organized and work.
What does project management achieve? Project management system decision
First and foremost, project management adds an organization to your business. All projects and all tasks associated with each project are coordinated and kept in one place. In this way, you can see the calendar at a glance and quickly see if your project is on schedule. Similarly, good project management helps track deadlines and allows team members to collaborate more efficiently. It also enables communication with people outside the internal team, such as contractors and clients.
With the right system in place, everyone knows exactly what they're expecting, and instead of hunting for email over and over, they can go back to the system and browse old conversations at any time. The time you spend scrolling through old emails can be spent on real work. And because these tools are in WordPress itself, team members and customers don't have to worry about signing in.
Next, you need to think seriously about what you are looking for in a project management system before clicking the all-purpose Install button. What are the required features? What do you need? Make a list of priorities before deciding on anything.
It may also be helpful to ask a few questions about what you want to get from the project management plugin. Do you need front-end solutions that customers can access, do you and your internal team only need back-end solutions? Want to be able to accommodate a contractor with an in-house team? What indicators of progress do you need? Conversation tracking? Milestone? Do you also need time tracking?
WordPress Project Management by UpStream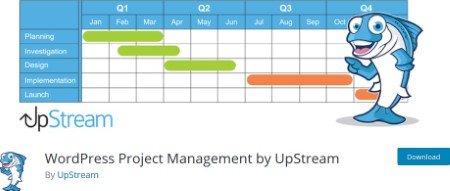 Upstream is a free but powerful project management plugin that allows you to manage projects from the WordPress dashboard. The plugin enables your team and customers to track the progress of the project. The automatic progress tracking function keeps the whole team up-to-date.
Overall, UpStream looks like a viable project management solution for anyone who wants to keep costs low without sacrificing value. You can customize fields and colors to suit your organization and generate an unlimited number of projects and users. I also like the calendar and Gantt chart for visualizing the project.
It's a completely free core plugin, but it also has front-end editing capabilities and premium extensions that allow you to add project timelines.
WP Project Manager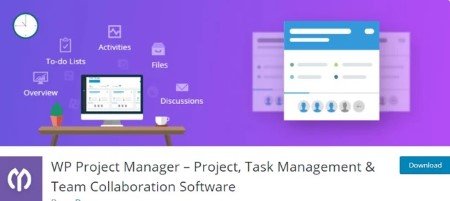 WP Project Manager is one of the best project management plugins for your WordPress website. It is open source and has the potential to compete with a full-fledged project management system.
Regardless of the team or organization you're running on, WP Project Manager guarantees the best results from teams of all kinds. That's why this plugin has become a popular open source project management software for all teams and individuals. There is no compromise of privacy and permissions between tasks or projects. Manage who can easily view or manage which projects using user role customization and team permissions features.
Basic features include creating projects, assigning users, messaging, attachments, and leaving comments on tasks and projects. The premium version adds a calendar with enhanced privacy settings, milestone tracking and other functions. You can even enhance its functionality by incorporating add-ons and integrating plugins such as WooCommerce and BuddyPress.
SP Project & Document Manager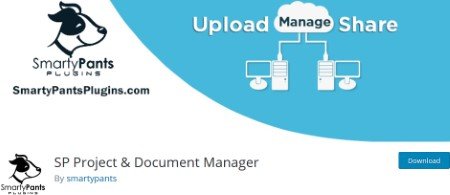 SP Project & Document Manager is a robust WordPress project management plugin with many great features. Developers split functionality into administrator and client functionality and incorporate premium features for those who need them.
Administrators have full control over user access. You can upload files to each client & project page to get an overview of old client uploads. You can also add staff, suppliers, vendors, subcontractors, and partners. Users at all levels can create projects according to the authorization parameters. The client can upload multiple files and search for files by name. It also has the ability to rename files.
The community version is distributed free of charge and has the ability to upload and manage an unlimited number of files. You can also protect your documents, customize your email, and embed certain types of media files from YouTube and other websites. The main purpose of the SP project and the document manager plug-in is to share files in efficient manner. It contains some standard project management settings, but is typically used for files, especially when sharing large files between clients and employees.
From healthcare to banking, SP projects and document manager plugins are all valuable options for extending current project managers and potentially using them as their primary tools. That said, the vast majority of users expect to consider this as a way to complement a more powerful project management plugin.
Project Panorama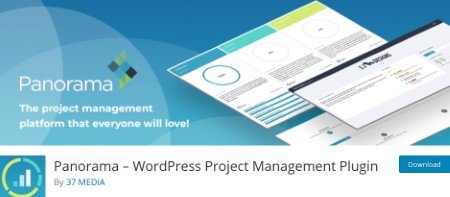 Project Panorama is a robust project management plug-in with an easy-to-use interface but a feature-rich ecosystem. One of the key features of the plugin is to use visuals to make the management process simpler and more intuitive.
Still, it's a tool we think is worth checking out because it's one of the best features, visualization. The overall look of your project makes it easy to track and review tasks. You can also see how beautiful and simple graphs can help you follow up on deadlines and recognize progress. As a project management plugin, Panorama incorporates simple modules and the latest features to improve clarity above all else. That is, it's designed to be easy to understand, rather than cluttered like many other project management tools.
Take advantage of features such as the ability to create unlimited project phases and tasks, and easy communication to track project progress. The plug-in comes with Pro and Lite products. The latter provides bird's-eye view functionality and some basic functionality, while the Pro version provides a more detailed view of where the project is.
Zephyr Project Manager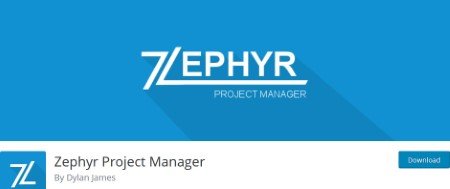 Zephyr Project Manager is packaged as a free project management plugin with the option to upgrade to the Pro (paid) version (significantly better than the free version and with better support). Free plugins utilize mobile apps to handle projects and tasks.
From the user's point of view, the Zephyr Project Manager plugin provides a clean and modern design without unwanted junk mail. You can create an unlimited number of projects and customize the interface with your company logo and colors. Projects are created in the WordPress dashboard, where you can include details for each project, assign users, mark tasks and deadlines.
The price is attractive to all organizations, but the cleanliness of the interface convinces many users. The standard view for managing projects has tabs for Overview, Tasks, Discussions, and Progress, all at the click of a button. When users visit individual project management pages, they can upload files to the project and comment on them. It's intuitive and easy to understand.
Software Issue Manager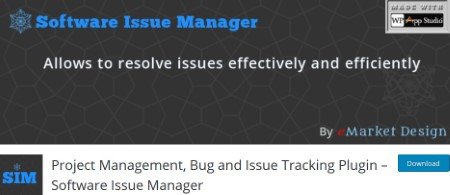 Although not for everyone, the Software Issue Tracker can be very helpful in managing software issues. After all, it was made for that. Developers who need a quick and easy way to address bugs and customer issues can install it and run it efficiently, so they can go back to the main point of solving managed issues.
The problem is the item you want to track in your project. Problems include tasks, feature requests, bugs, and almost anything else that needs to be related to your project. SIM projects are identified by name and version number. The project can have an unlimited number of issues. Issues can be shared by multiple projects.
The most important factor influencing the production of high quality products is having a strong requirements management and analysis process. Most projects fail because the organization does not spend enough time at this stage of the project life cycle.
Business Manager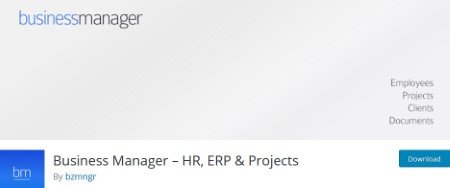 Business Manager plug-ins are a collection of software requirements for running an organization. From HR management to project management to enterprise resource planning, the Business Manager plug-in handles multiple departments, providing a suite of tools that goes beyond the project management plug-in.
For some businesses, if you don't need a Human Resources Manager, or if you're already happy with your document storage and custom field plugins, it doesn't make sense to download such a project manager plugin. There is no reason to confuse the dashboard with these additional features. However, it turns out that this is a way for many companies to eliminate the need for some plugins for HR, documentation, custom fields, and project management. If that's the way you think about it, consider meeting all of these needs with the Business Manager plugin.
Kanban Boards for WordPress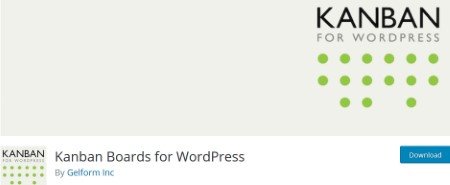 WordPress Kanban is known to be one of the best WordPress project management systems in the world. This plugin is powerful and can build a complete project management system in your WordPress website. You can also use the plugin as CRM.
The plugin provides a dashboard with unique features and quick shortcuts for creating and editing projects with just a few clicks. One of its main features is the ability to customize the board to the needs of its clients and assign teams to it. From there, you can estimate the time frame of the task and track the total time it took to complete the task.
The Pro plugin will add batch processing of all extensions from the developer. You don't have to buy them individually. For example, as a Pro user, you will receive task comments, advanced user management, and task colors. Some other add-ons include multiple board features, notifications, and task attachments.
WP Project Manager Pro (premium)

WP Project Manager is a powerful project management plugin that makes it easy to manage your tasks. If you have a team that suits you, you can use it to track the time your team spends on each task. You can start, stop, pause, and customize input options to make them more efficient
You can also create and manage tasks and assign them to teams using board-style task management options. The interactive task calendar that comes with the plugin makes it easy to track your daily, weekly, and monthly tasks. It can also be used to manage member roles and create project-wide discussions for teammates.
Task Manager Pro (premium)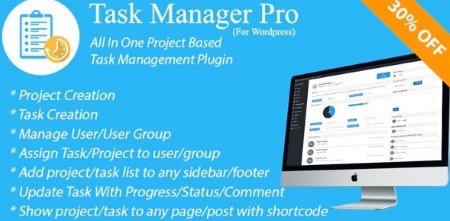 Task Manager Pro is one of CodeCanyon's few great project manager plugins. Like many plugins on the market, pricing is a one-time charge and you have the option of paying for additional customer support. Task Manager Pro is currently priced at $ 36, and there are other plans to extend customer support and obtain advanced licenses.
Given that task manager plugins are cheaper than most premium plugins on this list, it's worth it. Needless to say, you get support for an unlimited number of projects and tasks. All-in-one plugins can also generate users, assign roles, and place them in groups and projects, thus also managing users. The group is specific to this plugin and is separate from the project. This means that you have a group like a marketing team and you may assign people from that group to different projects.
The plugin provides a total improvement in task updates and progress checkers. That is, users can comment when updates are needed, and receive automated task updates and alarms.
Projectopia (premium)
Projectopia is a full-featured premium WordPress project management plugin. Originally designed by an in-house web agency to meet the needs of our clients, we eventually decided to release it full-time based on feedback and the lack of WordPress project management plugins on the market.
This plugin is designed to help you organize your work and tasks without leaving WordPress, from small freelancers to large agencies. It has an extensive feature set that provides the necessary elements such as individual client dashboards, powerful settings, timelines and milestones.
The core plugin already includes a variety of features, but Projectopia sells premium add-ons for those who want to extend their capabilities. It's also worth mentioning that developers are known to release new add-ons when user requests occur. I expect to pay about $ 20 for each add-on.
How to choose the Best WordPress project management plugins
If there's one thing, WordPress project management plugins aren't very rich. Unfortunately, this means less need for project management, or there may be a reliable solution that doesn't have direct WordPress integration.
However, many organizations need a link to WordPress to keep them clean and to see their progress right away. Fortunately, the fewer batches of plugins you have, the less you need to test. We've only covered project management plugins that are worth considering, so feel free to test them to see which one you like best.
Finally, I've talked about some apps and software that aren't necessarily WordPress project management plugins. Rather, it integrates with premium extensions and triggers. These are usually more powerful managers, but they are out of control within WordPress.
If you need a free project manager with the option to upgrade with add-ons, consider the UpStream plugin. It's flexible, modern, and it's all on your WordPress dashboard.
SP Project and Document Manager – Shows plugins that act as lightweight project managers and powerful file sharing tools. Its main purpose is to share and save files.
Project Panorama – This is an executable project manager with a high quality feature set in every respect, but I especially like embedding project lists on websites.
WordPress Kanban Board-Many project managers offer Kanban board for a fee, but this plugin is provided for free. Use it to complement your more comprehensive project manager, if needed.
From basic free plugins to frameworks extensible with premium add-ons, you can use WordPress to manage your projects, clients, vendors and suppliers. The best project management plugins can be easily integrated into any business environment.
The key to project management is often that the best choice is related to personal interface settings and workflow. So test some of our suggestions.