Adding a disclaimer to your website is an easy way to convey important information to website visitors. Disclaimers also help limit liability in certain cases. The Disclaimer wordPress plugins makes it easy to display disclaimer messages on your website. This is especially useful for websites that make money from affiliate marketing, provide legal and financial advice, and manage offensive content.
As part of our modern web business, we ensure compliance with regional, national and international law. Laws may vary from place to place and depending on the type of website you are running on, but there are disclaimer WordPress plugins that support those responsibilities.
This article describes the best disclaimer wordpress plugins you can choose from.
What is a Website Disclaimer?

A disclaimer is a notice displayed on the website to limit your liability for the consequences of using the site. You've certainly seen disclaimers throughout the web, even if you didn't think much about them before. Almost every website has one, but you need to. The disclaimer cannot rule out the possibility of legal action being taken at some point in the future, but it can take a long way to protect the best interests.
So what kind of website elements are subject to the disclaimer? Website content is usually the first place to start. Even if you make every effort to ensure the accuracy of the information posted on your site, it is always possible that some of the information on the page is inaccurate. You may be held liable in court in some way. However, if you have an appropriate disclaimer that covers the content of your site, you may be able to claim that you are not liable.
In addition to the content, other parts of the site that may be subject to disclaimers include potential copyright issues, virus infections, and so on. Technically, disclaimers allow you to address almost anything you place on your site. When preparing to publish your site on the Web, it is wise to consider everything you publish and consider placing a disclaimer. It should be emphasized that the use of the disclaimer does not rule out the possibility of proceedings. Anyone can file a proceeding at any time for any reason, with or without a disclaimer.
Why You Need a Disclaimer?
The content you need to include in your disclaimer is highly dependent on the type of website you own. Due to the variety of shapes and sizes of sites, it is not possible to state exactly what should be included in the disclaimer for all websites. The best disclaimer is one that perfectly fits your business needs.
That said, there are some things you should consider including in your disclaimer. However, only if they match the content and purpose of the site.
The disclaimer protects your rights to your intellectual property from infringement by others. Assuming the work is literary or artistic, the disclaimer can include a claim of ownership of the content.
Other forms of intellectual property are fully protected by law only at the time of registration. If your intellectual property consists of a technical solution to your problem, you will need to apply for a patent.
If you belong to an organization or company, your website or blog can easily link to them, which can damage you and your organization or company. In this case, the disclaimer can make it clear that your opinion is only your own and does not reflect the opinion of your organization or company.
Please note that the disclaimer does not fully protect your liability. For example, you may be held liable if you are injured by negligence or if you fail to do what is required by law.
Cookie Notice for GDPR & CCPA

Cookie notifications by dFactory provide an easy way to inform site visitors about your use of cookies. You can also customize the message to show the disclaimer to your visitors. You can also link the popup to your privacy page. When the visitor accepts the notification, the plugin will automatically reload the page. You can also customize the pop-up to make it look good.
However, cookies can store a wealth of data that can identify you without your consent. Cookies are the primary tool advertisers use to track your online activity and can be targeted with highly specific ads. Given the amount of data that cookies may contain, they are considered personal data in certain circumstances and are subject to the GDPR.
Before analyzing what the GDPR and ePrivacy Directive say about cookies, it is essential to have a basic understanding of the different types of cookies.
These cookies are essential for browsing websites and using features such as accessing secure areas of the site. Cookies that allow you to keep items in your cart in the online shop are examples of strictly required cookies. These cookies are usually first-party session cookies. You do not need to obtain consent for these cookies, but you must explain what the cookies do and why.
GDPR Cookie Consent
The GDPR Cookie Consent creates a customizable banner to inform visitors of your cookie policy. The automatic script blocking feature allows you to block cookies before consent is obtained, with as much effort as installing and activating a plugin. The plugin provides an option to select which scripts should be blocked and which scripts should not be blocked automatically before consent is blocked.
The cookies identified in this way are added to the plugin's cookie list along with other required details. You can also add cookies manually, as well as cookies that are automatically added by scanning. You can also change the cookie details manually, so you can easily export the cookie details to a CSV file for later use.With just a click, you can easily get started with multiple layouts and pre-designed templates to help you add a unique banner to your WordPress website. In addition, the plugin has a wide range of customization options that help you make your banner unique to your website. It stands out in line with the theme of the website.
Allows users to have more control over the cookies they allow or prohibit on their website. The GDPR Cookie Consent allows you to accept only the categories of cookies that your website is allowed to use, and only those cookies. You can use this to make cookies available on your website. You can allow users to turn cookies on or off for individual categories based on their intended use. Change the banner language depending on the language of your website.
WooCommerce Product Disclaimer
A Woocommerce extension that allows you to configure some items to agree to the terms of use before adding them to your cart. When you click Add to Cart, a disclaimer pop-up will appear asking you to accept the terms of use before the item is added to your cart. If the customer clicks Agree, the product will be added to the cart, and if the customer refuses, the product will not be added to the cart. The plug-in can have different disclaimer text or variable product terms and conditions text and disclaimer text applicable to all products.
The WooCommerce Product Disclaimer Plugin allows you to add messages or disclaimers to your website that may appear on your screen after you add a product to your cart. The disclaimer allows you to ensure that you accept all terms and conditions of the website before making a purchase or adding anything to your cart. Immediately after the product is added to the cart, a pop-up message appears with a disclaimer message to the user. They have to accept it in order to buy the product. If the disclaimer is denied, the product will not be added to the cart. This plugin is especially useful if you have legal obligations or other bindings that you must agree to before making a purchase. You don't have to pay for the plugin.
WP AutoTerms: Privacy Policy Generator
WP AutoTerms is provided to assist in compliance. We will do our best to provide you with useful information to use as a starting point, but there is no substitute for professional legal advice in drafting legal contracts and supporting compliance. It does not guarantee compliance with the law and can only be done by a lawyer. We are not lawyers. We are not responsible for content, code or other errors, omissions or inaccuracies. This plug-in provides no warranty or warranty. Therefore, this plugin is not considered legal advice and no lawyer-client relationship is established. In some cases, some laws may require additional action to make your WordPress website compliant.
In particular, the EU Cookie Injunctive Act requires users to be informed that they use cookies through websites. Use this kit to display an announcement bar that complies with some of the requirements of the EU Cookie Directive. Currently, the cookie notification kit is not a solution for loading third-party JS scripts. This kit can only be used to display notification messages to users. If your website has affiliate links, you will need to disclose them. Use this kit to include a disclaimer at the end of posts that include affiliate links.
Review Disclaimer
Review Disclaimer is another powerful plugin that allows you to display a message to your visitors. You can be rewarded for reviews or recommendations for a particular company, product, or service. This plugin is ideal if you are using an affiliate program or are recommending a product or service from another company. This plugin allows you to add disclosures just before or after the actual approval link or post referral link.
For blogs that post paid reviews in addition to other tips, adding disclosure to every post written doesn't help. It adds a lot of unnecessary disclosure to your site and will probably confuse some of your visitors. Therefore, the shortcode provided by this plugin makes it easy to insert a small disclosure statement only on the blog post or page you want to add. You can also add disclosures just before or after the actual recommendation. Or a post introduction link. You can use this shortcode to add disclosure anywhere in the body of your post.
Compliance Assistant for WooCommerce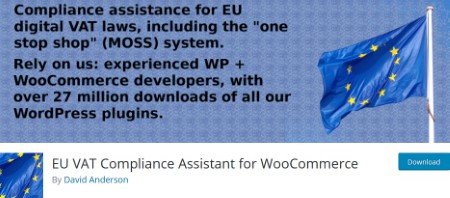 Users running WooCommerce can use WooCommerce EU VAT Compliance to reduce their VAT burden. It records the customer's location, displays the VAT calculation on the backend, and automatically adds VAT to the product price. You can also block EU customers if you do not collect VAT at all. This plugin provides one button to press WooCommerce tax rate setting and helps you to enter EU VAT rate accurately by adding or updating tax rates for all countries (standard or discounted) with one click. The information needed to create all VAT reports with advanced reporting capabilities.
Moreover, none of this plug-in (including its documentation) constitutes legal, financial or other type of advice. In particular, you are fully and independently responsible for your compliance with all tax laws and regulations, including the investigation of what you must comply with. Installing this version of the plugin does not exempt you from liability and does not assign any liability to Google. Also, the use of this plugin does not guarantee that it covers everything you can do with the store.
Ninja GDPR Compliance for WordPress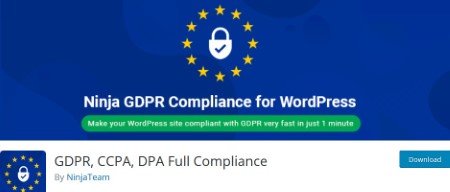 WordPress Plugin's Ninja GDPR Compliance is another powerful plugin that allows users to see the legal terms of your site. You can do this in the form of a pop-up to get the user's attention. You can also set the time interval before the pop-up appears on your website. In addition, you can define what to do when a user accepts or rejects a disclaimer pop-up. You can also display an overlay below the pop-up to hide the content of your site if you wish.
You can use it to view the disclaimer in a way that gets the user's attention. These campaigns can be in the form of lightbox pop-ups, slide-in scroll boxes, floating bars, full-screen welcome mats, and more. You can control these campaigns to decide when to show them to your users. This is because Ninja GDPR Compliance comes with highly targeted viewing rules that allow you to decide when, where, and to whom you want to view your disclaimer.
EDD Quaderno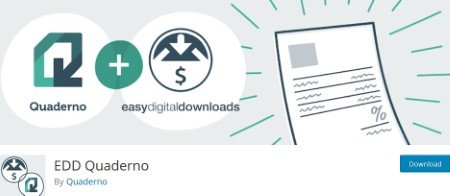 The EDD Quaderno helps make the Easy Digital Downloads shop compliant with the complexity of VAT and other locales. An improved version of the standard EDD receipt will also be created. You need a Quaderno account to use the plugin. EDD Quaderno is the best disclaimer plugin for WordPress that allows you to create and track welcome pop-ups and disclaimer messages on your WordPress website.
All you need to do is enter your business details and click the save button. The legal page is ready in minutes. This plugin can be used for disclaimers, terms and conditions, affiliate disclosures and more. This plugin is compatible with other modern WordPress plugins, and the pages generated by the plugin will fit nicely with the theme you are using.
During the checkout process, you will see Bank Transfer as your new payment method. The advantage of this plugin is that it integrates with all popular email service providers. This allows you to easily add new subscribers to your email service provider, and set up sequences and workflows to market to users who click for free downloads.
Gravity Forms Signature Add-On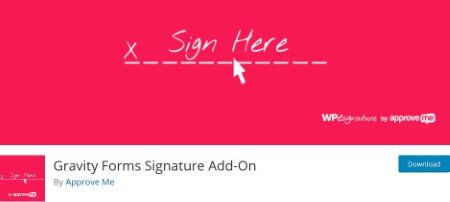 WordPress Forms plugins like Gravity Forms are really great! Create amazing and incredible WordPress workflows with the powerful WordPress Forms plugin.
Gravity Forms WordPress signing plugin is not only incredibly easy to use, but also uses its own WordPress website to automatically convert data sent from Gravity Forms into a UETA / ESIGN compliant, court-approved contract. Can be inserted as a target. If you have a drop-down menu in a Gravity form called "Web Design Package", you can offer several different packages (each with a different price range) to easily make a contract containing the package details of the contract order submitted to the Gravity form. You can create end -user.WP E-Signature provides Gravity users with the ability (and leverage) to host their own document signing application that hooks into the results of Gravity forms and triggers them on demand, so Gravity Forms Significantly different from the current signing add-ons we offer Legal contracts
The Gravity Foam digital signature add-on combines the powerful features of Gravity Foam with the ruthless features of WP E-Signature. WPE-Signature's Gravity Form Digital Signature Add-on makes it easy to insert the submitted form results into your contract. Triggered automatically when the user completes the gravity form submission. When the user completes the gravity form submission, they will be automatically redirected to the selected contract using the premium E-Signature add-on.
Conclusion
Sure, tracking compliance issues can be a bit tedious. That said, it doesn't really matter. The WordPress plugin is there to make the task a little easier. It may even automate the process.
So there is no excuse for sagging! Take a moment to learn your responsibilities as a website owner and help manage with the handy plugins mentioned above. Obviously, using these plugins alone is not compliant, but it does help you on the right path.
These are some of the best disclaimer plugins you can check out. We hope this article will help you find plugins for creating or displaying disclaimers on your website.