With globalization playing an increasing role in business, education, and commerce, there's been a higher demand for language diversity on the internet. Not only does this benefit inclusivity efforts to make the internet more accessible to non-English speakers, but it presents a lucrative opportunity to tap into an international market.
Thus, having a website that supports multiple languages allows for a wider audience outreach. Moreover, while it might seem like a large undertaking to translate your website, with the right programs and a dedicated language team, you can build or transform your content and make it more appealing to a diverse range of speakers worldwide.
Here's how to design a multilingual website:
Choose Which Languages To Feature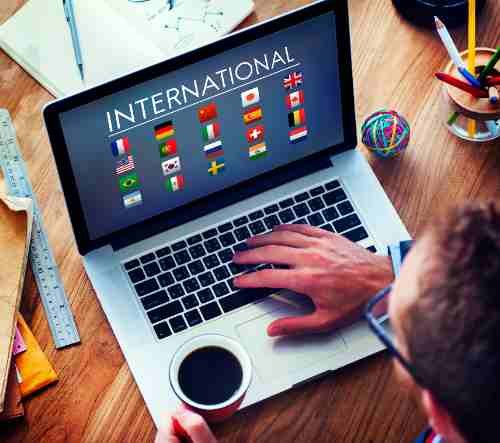 Choosing which languages to feature as a first step may seem surprising, however, it's essential to help define your website goals. If you're aiming to target a specific geographical area or language, your website may need localizing. This will require a higher website-building budget and resources to install local currency rates for each language if you're operating an e-commerce site.
For instance, if you're trying to attract French-speaking visitors to your website, localization would entail local translation, date, time, and currency conversion for several European countries, Pacific Islands, North America, the Caribbean, and Africa.
Alternatively, if you only need a standardized French translation that applies to all francophone countries, it'll take less budget and labor resources. Thus, the number of languages you use and the service you'll provide should be included in your labor, software, and content marketing strategy budget to gain better international SEO when the site becomes live.
Install The Right Software
Next, you can choose and install the software you'll need to create or convert your content into multiple languages. Ideally, the software should also feature a content management system so you and your translation team can control and maintain both manual and automated translation service.
To make the process faster, you can also integrate machine-translated technology or plugin into your website, which can be installed from your search engine. This will help the search function when users look for direct translations of phrases or user-generated content not found within your content.
Choose Your Domain Type
If you have an existing website and want to add the multilingual feature, you can incorporate it using two ways, either through a subdomain or a separate domain. The subdomain will include additional information to your domain, but all the content will still be connected to your main website. With this, visitors will be redirected to linked pages in their language.
Otherwise, you can have a separate domain that has its own independent domain name and will thus be the multilingual version of your website. However, if you don't have a website and are designing from scratch, then you can choose a website builder with multilingual tools installed. Most of these will use the subdomain feature, so you can manage each of the pages at once using a language dashboard and an automated translation service.
Check Your Content Text
An important aspect of designing multilingual websites is being aware of how text or typography is arranged to make it readable and understandable. This is because languages use different text, characters, alphabets, and writing systems that may change appearance when translated and displayed on the web. Also keep in mind that there are languages that are read in different directions, such as the right to left or bottom to top.
So, you and your translators should read through all your content to ensure that the fonts, sizes, and languages using non-roman scripted characters are uniform, standardized, and aligned. This can be for the Cyrillic alphabet for Eastern European languages or Sanskrit characters of South East Asia, for instance. If you're having trouble with displays or inserting language symbols on top of letters for insane, you can install software designed to encode special characters.
Enhance The User Experience
Finally, when your website has all the right language features, you can enhance its user experience or UX design. This entails logically arranging the knowledge on your website so that it's easy for people of different languages to use, navigate and find the accurately translated information they're looking for.
Thus, as a multilingual website, you can choose the placement of your language selection menu where users who need to change languages can locate it easily. Then, for the content and UX written text, you should structure it to include white blank spaces to break up text and order your content in an information hierarchy. Make sure your keyword links in the other languages are visible. It should either be highlighted or underlined so that it's conveniently found and clicked on when needed.
Conclusion
Designing a multilingual website involves a collaboration of software tools, a language translation team, and website design principles to attract an international audience. Once you've chosen which languages to include, you can install language software plugins that the translators can manage and correct where necessary.
After this, you can work on the web experience to ensure all the content is arranged with readability and usability in mind. Doing this can result in a website that's ready to support users from around the world.