Want to see the weather forecast on your WordPress website? A visually pleasing and powerful weather WordPress Plugins & widget is essential for your WordPress website. WordPress Weather Widget allows you and your customers to plan the weather.
These plugins include weather sidebar widgets, local weather widgets and weather forecast widgets. This allows potential customers to be informed of the expected local weather at the venue, such as golf courses, wedding destinations, restaurants with patios, and more.
WordPress is one of the most versatile and functional content management systems to date. Many brands rely on software and want to see important information about their community, such as traffic news, local events, and even the weather.

It is these latter that are challenging. Traffic news and local events can be easily updated as needed. However, the weather can change frequently, so it can be a full-time job for site owners to keep updating that information. That's why it's important to manage that important content using one of the few WordPress Weather widget plugins available online.
How To Finding The Best Weather WordPress plugins & widget ? Need a weather widget on your website?
The main advantage of using the available Weather wordpress plugins is that you can save time at a limited cost. You don't have to spend hours online to change the weather details. The weather app can make your site more relevant to your users, and if you are a local brand, it's an attractive way to keep your audience revisiting your website.
However, adding a weather widget can be very effective for some niches. Below is an example of a website that benefits from the weather widget.
If you have an event website that people need to come in and actually witness, it helps visitors know the weather forecast for a particular day. This will help you decide what to wear and what weather to expect when you are traveling to your location.
Weather widgets are very relevant if you have a website that organizes and manages outdoor activities such as hiking, skiing and mountaineering. The success of such activities is directly related to the weather conditions in which the event is held. Anyone who attends an outdoor event will want to know the weather forecast
Travel and tourism websites definitely need a weather widget. This will help you plan your vacation and you will have plenty of time to enjoy. It also helps you pack your luggage efficiently before you go to your destination. Displaying the weather widget on the news portal can make your website more relevant as people often check these sites to find out the weather of the day.
wp-forecast
The Weather app is useless when displaying outdated or inaccurate weather information. Visitors to your website want to see and trust your site. Therefore, getting information from popular weather websites like Accuweather and WeatherBug can be a huge benefit.
WP Forecast is a free WordPress weather widget plugin that allows you to collect information from these sources and display it on your site for free. Plugins have many great features, such as localization customization and availability, that make them the perfect solution for your website. The plugin is also available in over 12 languages. The plugin is also easy to use. For users, the experience is great. The time will be displayed correctly since the page was last refreshed. You can also get the weather forecast for the next 7 days and up to 9 nights.
Ventus
Ventus is a free WordPress weather plugin that helps you display responsive weather widgets on your website. If you need detailed weather forecasts for your WordPress site, we recommend that you consider the Ventus plugin. It provides a wide range of data with many implementation options for your website to provide users of your site with up-to-date and detailed information. There are two great ways you can add plugin details to your site. The first is a widget that you can insert in the sidebar or footer. The other is an embedded shortcode that you can add to any part of your website design.
In addition, you can change the displayed temperature to display it in Celsius or Fahrenheit, depending on your preference. The local weather is immediately retrieved and displayed to the user. Placing an element on your website is quick and easy because you don't have to enter any code. This is a simple drag and drop feature.
Awesome Weather Widget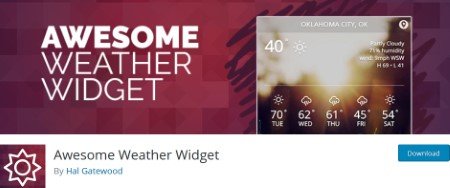 The Awesome Weather Widget is also a free WordPress option, but it comes with many configuration options to create the look that suits your website. Premium options are available that offer more features, but the free version is a great option.
The other is an embedded shortcode that you can add to any part of your website design. In addition to normal weather information such as weather patterns and temperatures, you can also display other weather information such as cloud cover and wind patterns. This makes it the perfect plug-in for businesses such as outdoor leisure facilities and local tourist centers. This allows the premium version to be very accurate to the current weather wherever the website user is. Another feature of the Great Weather widget is that it is available in different languages.
Location Weather
Location Weather is a flexible and easy-to-use weather plugin that allows you to add unlimited weather widgets to get the latest weather information on your site or sidebar.This is a simple and lightweight plugin that helps you display real-time weather forecasts on your website. You can set a default location or let the plugin choose the location automatically. You can also set the title of the widget, show / hide the date, and much more.
This is an amazing WordPress weather widget plugin that contains the cleanest coding on your website. Plugins can make your website look more attractive than before and make sure it looks good on any device and screen size.
It's simple and lightweight, so it doesn't affect the speed of your website. The premium feature allows users to get automatic location information for the weather forecast and hide the current wind speed if needed. A beautiful WordPress weather plugin for your website. It fits seamlessly into your current design. You can customize it so that users can automatically detect the location of the weather forecast. It's lightweight, so it doesn't affect the speed of your website.
Weather Atlas Widget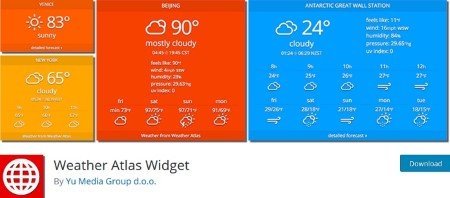 This is one of the most unique Weather apps for WordPress. This is to get the weather forecast in real time, which can be displayed with an intuitive design. The site has many customization options that allow you to match the look of the weather features on your website with your branding. Users can use the on-page interface to see current weather conditions and search for long-term forecasts. .. Installing the interface on your website is not easy. Simply grab the shortcode from the installed plugin and paste it into the widget that displays the weather information on your website.
One of the best features of this WordPress weather plugin that sets it apart is that there are no country restrictions. Users around the world can turn on this app and use the website. It also supports multiple languages including English, Spanish, Chinese and Russian. Another great feature of this WordPress app is that you can change this background color. It can be set to change according to the local temperature. The text color can also be changed automatically for optimal contrast with the background. Alternatively, you can choose your own background color.
Weather Underground

This is a free WordPress weather plugin created by the Weather Underground team. Therefore, use the official API to collect and display the required information. Gets a widget that can be placed anywhere in the sidebar or footer area. When it comes live, the software uses the website visitor's location to get the weather information they need.
Weather Station
The weather station plugin for WordPress allows you to view weather data from various weather stations directly on your website. This data about weather conditions will be updated automatically on the site.
This plugin is provided free of charge and has no warranty. Please use at your own risk. I am not responsible for improper use of this plugin or damage to the site. Be sure to back up all your data before installing a new plugin.
TechGasp Weather Master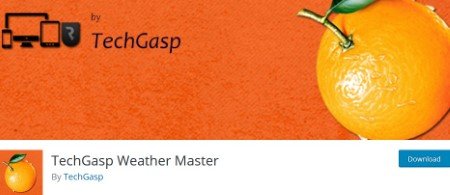 The Weathermaster WordPress plugin provides a variety of features that allow you to view weather forecasts at the site's city, state, or country level. This plugin is mobile-enabled, SEO-enabled and provides weather information based on the user's location.
Weather Master is completely mobile responsive. It is equipped with widgets to be published in the theme-optimized widget area, it displays weather and shortcodes, and inserts weather forecasts in pages and posts.
Accurate real-time weather forecasts can be viewed by clicking on the gorgeous weather forecast icon. Real-time weather overlays are also displayed, depending on the weather detail level available. Built for the press, Weather Master is an innovative way to view the weather at the city, state, and country levels, much like television.
It is full of Geo Locations and automatically provides each user with weather information according to their location. This feature relies on the ability of the user's browser to parse its location.

Weathermaster is the most comprehensive and professional weather solution for WordPress, using the latest weather API with OpenWeatherMap to provide multiple widgets and shortcodes.
TK Event Weather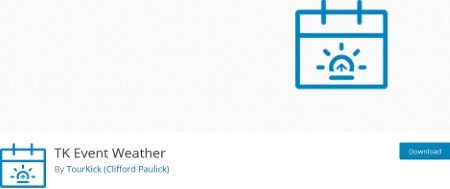 View beautiful, accurate and free hourly weather forecasts between the start and end times of the same day. Great for event calendars.
With a variety of animated icons and headers, it brings a bit of life to your website's weather forecast. You can also customize the display colors to suit your current brand. It's also another WordPress weather widget plugin that provides a lot of weather information. Details that can be displayed include wind speed, wind direction, pressure, humidity, and general weather conditions. Temperatures can be displayed in various formats such as Fahrenheit, Celsius, and Kelvin. You can also choose over 700 Google fonts.
Final Thoughts
The weather features on your website really make you stand out from the crowd. With a sunny app, you can stand out from the crowd, provide website visitors with the information they need, the information they need, and make informed decisions. There are many options available for you to use on your website, so it is certain that there is a good weather app for you to use.
Before browsing this blog, I think you have a problem finding a WordPress plugin with good weather. But now I'm sure you've found a plugin that matches all your expectations.
I hope you find this blog useful. If you have any questions about the WordPress plugin, you can always contact us in the comments section below.