Are you looking to maximize the performance of your website? Page speed is one of the search engine ranking factors. Slow websites and slow performance usually kill conversions. In fact, statistics show that fast-loading websites have a 60% increase in page views and a 70% increase in user retention. In addition, statistics show that 52% of online shoppers claim that quick page loading is important for loyalty to their website. And today we have put together a great list of these Fastest Free WordPress Themes that won't cost you!
Therefore, there is no reason for page speed to be ignored. When it comes to building a website, speed must be a top priority. Similarly, website speed must be a top priority in order to create a website that can be easily converted to a successful company. Fortunately, you can find many of the fastest free WordPress themes on the internet these days. You can find thousands and even millions of themes on the web, so you can probably figure out a bunch of free WordPress themes out there.
However, you cannot reach the fastest theme for free. But with this list, you can top the search engine with minimal effort. Thanks to these fastest free WordPress themes, you can get the best themes with just a click. This list contains a variety of themes, including optimized elements, clearly designed by the author with an emphasis on speed.
Di Magazine
Are you looking for the fastest free WordPress theme for online magazines? Hold your breath as we introduce you to these wonderful themes. Di Magazine is a fast, responsive, SEO-friendly premium magazine. Ideal for magazine and news websites where page load speed is a priority. Di Magazine has a performance grade of 88 and a loading time of 1.93 seconds.
Packed with a wealth of widgets, Di magazine is ready to provide you with the most important elements you need to run and manage your online magazine. This theme also has a header widget for advertising, so you can even monetize it on your website. Plus, Di Magazine can be installed with just one click, so you won't have to worry about installing it on your website. Other features include sticky menus, social profile widgets, and other useful features.
Rife Free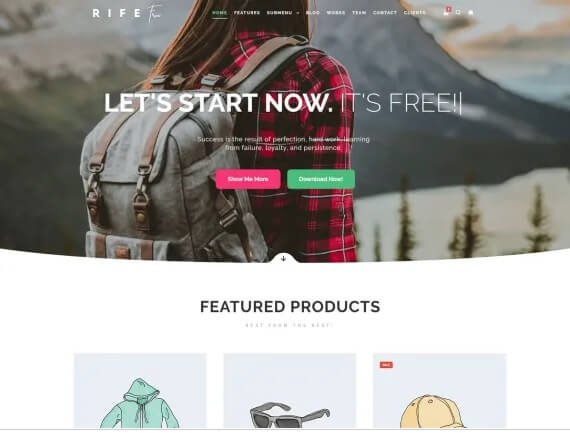 Rife Free is full of beautiful presentations to enhance your online image, it is a useful and innovative tool for entrepreneurs and creative individuals. This is a free creative multi-purpose theme. with lots of customization options. It's also great for business, photography, blogging websites, shops and other related websites.
Rife Free is a mobile-friendly, touch-friendly theme and is the perfect reason not to fail to increase mobile traffic on your website. The performance grade for this theme is 88 and the load time is 497 ms. The theme also has a live preview with a customizer for fine-tuning settings such as headers, footers, fonts, and colors. In addition, Rife Free includes Elementor shortcodes for creating powerful sliders in your content. We also support images, YouTube and Vimeo videos for more engaging and interesting content showcases.
Fairy
As you know, in the mobile-first era we live in, everything online needs to be loaded as fast as possible. And the same applies to websites. Fairy is one of the fastest free WordPress themes for all bloggers out there. Its cleanliness and simplicity make this theme perfect for a variety of niches and topics. Travel, technology, food, fashion, personality, lifestyle, business, beauty, well, fairy supports everything you can think of. It's easy to work with and helps users of all skill levels get the most out of Fairy efficiently.
Of course, Fairy also implements all the latest trends and regulations, so everything works perfectly on all devices and all web browsers. Also very unusual for a free theme is that Fairy contains multiple demos out of the box. There is even a dark version available for you to practice.
Best Classifieds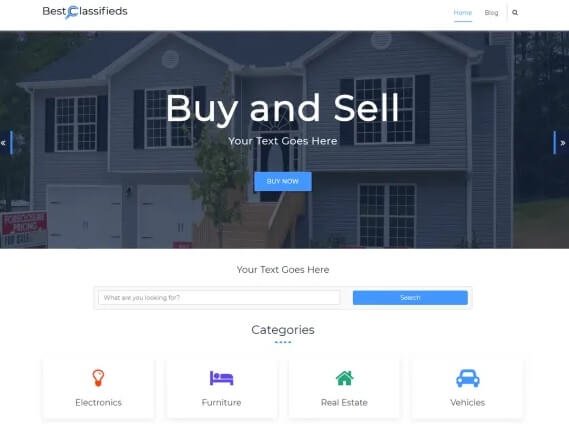 Looking for a fast and lightweight WordPress theme for your classified ads website? Don't have enough budget yet? Want to take advantage of this guaranteed and fastest free WordPress theme? Best Classifieds is a professional classified advertising theme. Premium quality mobile first design, easy to customize. Specifically, this theme is optimized for ultra-fast loading websites, and Pingdom has proven to be true with 89 performance grades and 2.36 seconds loading time.
This feature not only provides users with a great experience, but also improves their ranking in search engines. In addition to these, Best Classifieds can be installed with just one click, so you don't have to go through any problems during the installation process. In addition, it offers an unlimited color scheme for branding purposes. It also has a slider for testimony, a cool hover effect for category icons, and a slider for hero headers.
Bizberg
Your website does more than just showcase your products and services. Also, you need to pay special attention to the reading speed. Bizberg is a fast, fully responsive theme for business websites. This fast and lightweight theme is full of amazing features ready to impress potential clients. Specifically, Bizberg gets 86 performance grades with a load time of 2.78 seconds. This improves conversion rates and customer loyalty.
In addition, Bizberg offers four sufficient corporate layouts for your business. It also provides excellent typography, which usually improves the readability of websites. Other useful features include container blocks, map blocks, action phrases, accordions, social icon blocks, introductory texts, price lists, galleries, and other practical things you need to fully run and manage your business. Elements are included.
Kalaratri
If you are looking for something different and vibrant, Kalaratri is a fast-loading WordPress theme that can solve the problem. Thanks to its multi-purpose approach, you can use this website skin to be creative for all kinds of purposes such as freelancers, agencies, businesses and more. For reference, the available demos use the handy Elementor drag and drop page builder. With this in mind, I know that changing the colorator is a child's play.
You don't have to be an expert to create a glossy website with Kalaratri. As a free alternative, Kalaratri offers you quite a few features that work. Great animations, back to top buttons, social media icons, introductory / reviews, shop sections, blogs – all in the kit. Still, like most themes on this list, Kalaratri comes with a pro package.
Chronus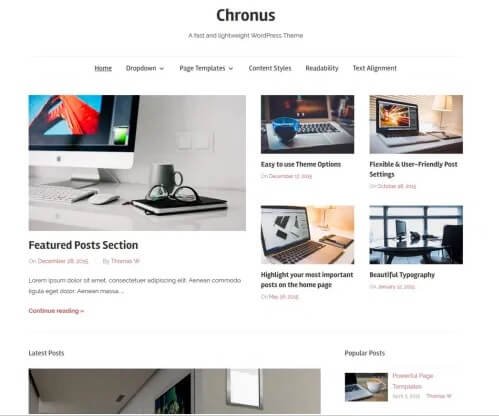 Speed is a key factor in improving conversion rates and search engine optimization. Therefore, it is worth choosing the right theme to serve as an effective tool. This is Chronus. It's one of the fastest free WordPress themes, perfect for magazines, news websites and personal blogs. This lightweight theme not only enhances your online presence, but also supports your blogging journey with its user-friendly features. In particular, this free theme has 90 performance grades and 731ms load time. Isn't it amazing?
Apart from that, it stands out because this theme has a minimalist design focused on your content. Responsive design eliminates the need to worry about how your website will look on different devices and screens, and will always render properly. With clean HTML5 and CSS3 code and speed optimized, this theme is ready to give a good rank in search engines.
Gateway
Gateway is a flexible, versatile and fast loading free WordPress theme. If you are ready to realize your page idea as soon as possible, consider using a gateway. It comes with a variety of great features and a very attractive web design. You can use the Gateway out of the box, but you can also customize the look to practice your branding direction for T. Of course, Gateway follows all the latest web and technology trends.
Other useful features include uploading header images, widget-rich areas, drop-down menus, and sticky navigation. In addition to the great home page, Gateway also has some internal sections. Combine the available ones to implement a creative touch, bring your active website live, and get ready to quickly attract visitors.
Dolpa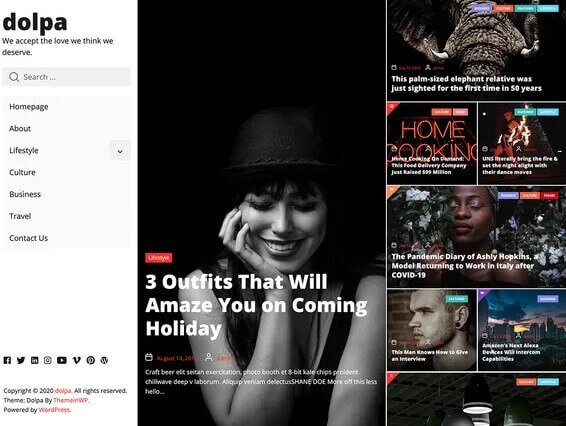 For blogs and news sites, Dolpa is a unique free WordPress theme that will surprise everyone. Incredible flexibility and extensibility allow Dolpa to meet your needs exactly. Still, if you want to delve into the default look, be sure to use the tool as is. In this way, you can create your final product even faster, following all the latest web instructions.
Dolpa is here for everyone who wants to start an online project but doesn't necessarily want to spend money on it. Hey, you can expand your website and upgrade later whenever you need more features. The Dolpa is compatible with mobile devices, web browsers, Retina screens, WooCommerce, Gutenberg, and Elementor. It also follows SEO and fast load commands to ensure excellent performance for consuming perfect content at home or on the go.
OceanWP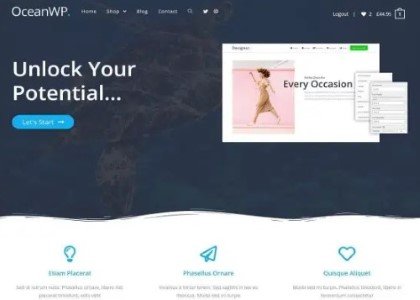 When you build your website, you always want it to have a better rank in search engines. Of course, it could be one of the best sources of traffic to make your web presence successful. Therefore, always consider the fastest theme for your website. One of the fastest free WordPress themes, OceanWP is the perfect theme for blogs, portfolios, business websites, and e-commerce. This is a lightweight and extensible theme with a load time of 658 ms when analyzed with the Pingdom speed test tool.
This versatile theme is coded in SEO best practices and is suitable for search engines. OceanWP's numerous demos make it easy to run and manage your website with minimal effort. Also compatible with WooCommerce, this theme will help you easily build a great online store. You can also extend the functionality of your theme with popular plugins and widgets.
Blocksy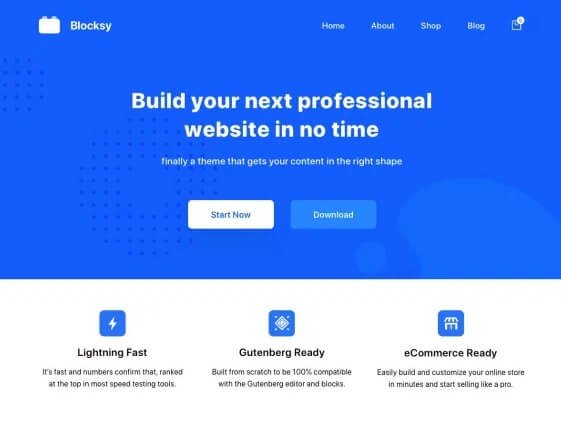 If your website loads less than 2 seconds, your traffic can double. So why not check out these fastest free WordPress themes and choose the one you like best. This is Blocksy. This is a very fast and lightweight theme built with the latest web technology. With minimal effort and no coding skills, it helps you build the ideal visually compelling theme for your next web project. With 92 performance grades on Pingdom and a load time of 1.84 seconds, it's ready to be ranked by search engines.
Blocksy also supports Gutenberg, so it's compatible with such editors and blocks. To customize your theme, use Live Preview to preview your design in real time. Whether you customize the header, footer, colors, or layout, this theme has a wealth of options. The theme is completely responsive, giving users a professional and unique experience when using the website. Compatible with the WooCommerce plugin, this theme will help you quickly build and customize your online shop and start selling like a pro.
WK Wow
Start your blogging career with WKWow. This is one of the fastest free WordPress themes that promises a memorable experience for all readers. Whether you're creating a personal blog or a professional blog, WKWow allows you to do both. With a minimalist design, WKWow can easily adapt to different ideas and tastes. This tool uses only the latest technology, such as Bootstrap 4, so your blog will always run smoothly.
Not only that, you don't have to think about the technical side of the process of creating your dream blog. This is because WK Wow handles it out of the box. Some WKWow disciplines are offered in the following formats: Contact Form 7, Gallery, Elementor Compatibility, Shop Page, Preloader and more. In addition, WK Wow comes with a .pot file so you can translate your themes. Just click and it will be yours.
The Ultralight
Use fast, lightweight themes to increase your CTR from organic search results. This is The Ultralight. This is an ultra-fast, ultra-lightweight theme that bloggers can use for free. It follows all the best coding practices of high performance websites and, of course, the top ranks of search engines. If you want to know how great this theme is in terms of page speed, Ultralight has a performance grade of 91 and a fast load time of 1.23 seconds.
Not only is this theme very fast, it's also a feature-rich theme. Basically, this theme is completely responsive and easily adapts to the different devices you see. It's also cross-browser compatible. Therefore, visitors using different browsers can access similar content. In addition, this theme understands the important role that social media plays in the success of every business. Therefore, this theme integrates social media and expands brand exposure. Finally, this theme can also be installed with one click.
Rara Business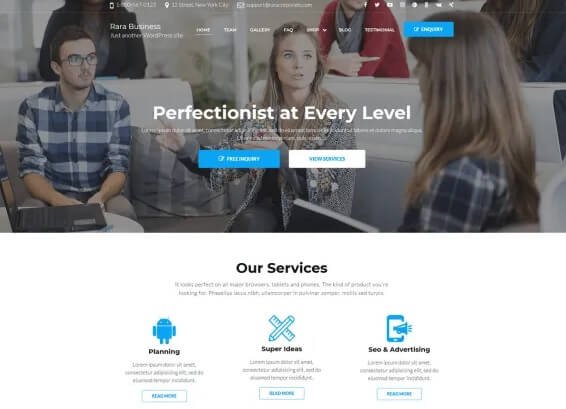 Choose a better conversion rate and make sure you have the fastest WordPress theme to reach your goals. With Rara Business, you can create a fast-burning business website with little effort. Rara Business is responsive, fast, SEO optimized and ready to enhance your website's performance. In addition, it has many useful sections and user-friendly features that can make your website stand out from your competitors.
Apparently, this theme features social media integration to connect brands and consumers in the current Internet era. Of course, this feature is very important for the growth of any business. As such, Rara Business never ignores the important role it plays. The theme is also compatible with the WooCommerce plugin, so sales are not an issue when implementing it on your website. What's more, Rara Business has a one-click installation feature for an easy and quick installation process.
GloriaFood Restaurant
GloriaFood Restaurant is a fast and lightweight theme perfect for use on restaurant websites where you can order for free online. This theme will get your website up and running right away. Theme customizer makes it easy and fast to create websites without any development work. GloriaFood Restaurant has a plug-and-play ordering system that can provide customers with a user-friendly takeout / delivery service.
Created using Bootstrap, customers can order anytime, anywhere using their mobile device. Besides? This theme can also be a thermal print of restaurant receipts directly from the app. In addition to that, the theme also provides an extensive order and sales report with detailed and nice graphs. You can also export CSV. Other useful features include a comprehensive CTA, sticky menus, and a widgetized home page.
Construction Landing Page
Looking for a fast burning theme for a construction website for free? Now, with Construction Landing Page, you can get the fastest themes for free. This theme is ideal for construction companies who want to be more reliable online. As an entrepreneur entering this business area, make sure you can always talk well about how your website will get the project done without sacrificing quality. You can expect more customer retention through a good website with good loading speed.
With the basic features and elements needed for a construction website, this theme is also ideal for architects, plumbers, landscape architects and other construction-related industries. The theme is SEO-enabled, with speed-optimized features and a clean, responsive design. Even if you're new to WordPress, this theme can be a great tool as it helps you prepare your website in minutes. Thanks to the one-click installation feature, setting up a construction-related website is just a few clicks away.
JobScout
JobScout is another fastest free WordPress theme ideally created for job board websites. If you're looking for a theme that's right for your HR or recruitment agency, we're waiting for this free theme. It is built on WP Job Manager, a job listing plugin that helps you add job board functionality to your website. If you want to create a website like this without the need for coding skills or experience, this theme is for you.
This free and responsive theme works well on a variety of devices. Therefore, you can improve your reach by selecting this theme on your website. It's also optimized for SEO and speed, so you're more likely to get a good rank in search engines. In addition, JobScout is compatible with WooCommerce, making it easy to sell the products you need within your website. And finally, the one-click installation feature makes it easy to install.
Bayleaf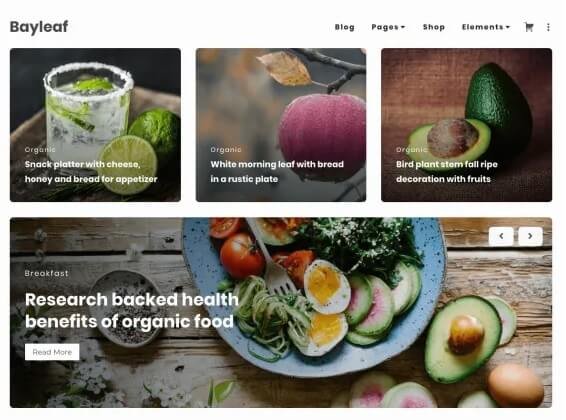 Bayleaf is a clean, free cooking and recipe blog theme with an elegant visual look and feel. This modern and minimalist theme is not only created for free, but also optimized for speed. With the desire to provide bloggers with the best solution, it's built with clean, validated and SEO-friendly markup. It also adheres to UX best practices that help you shine in a highly competitive world. In addition, Bayleaf has a performance grade of 92 and a load time of 1.52 seconds. There are also color scheme customizer options and a home page widget area.
Planning to open an online shop on Bayleaf doesn't really matter. With the integration of the WooCommerce plugin, you can use this theme to sell any item without any problems. Specifically, there are nice and clean shop pages such as carts, checkouts for a cool online shopping experience on the website. Bayleaf also comes with useful elements such as typography, galleries, lists, tables and citations.
Magazine Newspaper
Poor coding practices in building websites can hurt your success in your web presence, but it is very important to follow the best coding practices. Therefore, be sure to choose such a theme. A Magazine Newspaper worth including in these fastest free WordPress themes. Made for newspaper and magazine related websites. This theme has a minimalist design and is completely responsive like the other themes on this list. This fast loading theme has a loading time of 2.41 seconds in Pingdom.
In addition, the Magazine Newspaper theme has more than 600 Google Fonts options, enough to generate great typography. There is also a powerful options panel that makes it easy to fine-tune your settings. Coding with SEO in mind, your website can prepare for fierce competition. On the other hand, this theme also provides an easy way to share content on social media, as each page has a sharing option. In addition, the theme is cross-browser compatible, expanding your audience's reach.
Travel Agency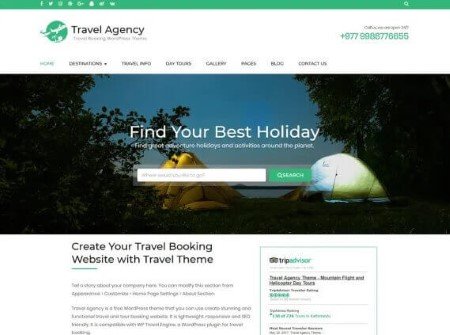 Looking for the fastest free WordPress theme for travel agency websites? You don't have to look far! Travel agencies are ready to create a web presence for you! This is a free WordPress theme that allows you to create travel booking websites for tour and travel agencies. Specifically, this theme is compatible with the WP Travel Engine plugin, which provides a complete travel management system and many useful and practical features.
Basically, this theme allows you to travel, add destinations, specify travel types, feature travel activities, and highlight your area of expertise. Choosing this theme will give you a smooth experience with all these features. The theme, on the other hand, is a stunning design that combines the latest CSS effects and animations. Of course, it's also speed and SEO that is optimized for maximum performance.