Your website must be one of your most powerful marketing tools. However, when that's no longer the case, it's wise to think of customizing and redesigning your website.
Unfortunately, it can be challenging for many organizations and businesses, as they might not know when a website redesign or customization is needed. If you're one of them, below are some signs that your website design requires a revamp:
1. Web Design Doesn't Reflect Your Brand
Your branding may change over time, and thus it calls for a website redesign and customization to keep your brand identity. Remember that brand identity ensures that your image is consistent and cohesive across all digital media platforms and prints.
If your brand has changed but your website remains the same, it's time to update your web design. Your website should reflect the identity that your business tries to convey. This is to maintain your brand's consistency and achieve your branding goals.
If you want to improve your branding, you can work with a trusted web design professional to update your web design and make it more appealing to your intended audience. A web design expert can incorporate the best visual elements and functionality into your website to improve customer experience and gain customers' trust and loyalty. Check out sites like azurodigital.com for more information about how a web design agency can help you improve your website and overall branding.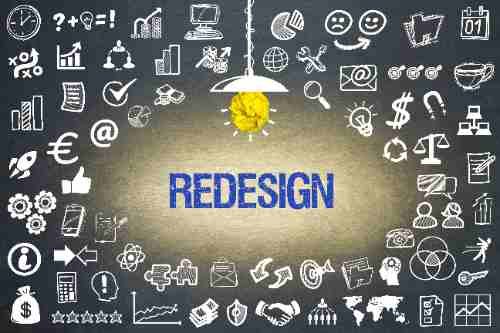 2. High Bounce Rate
This indicates the number of people who view your website and leave immediately without viewing other web pages. If your website's bounce rate is high, it's one of the signs to look for web design professionals who can help you redesign and customize your website.
Having pages with a high bounce rate can be due to many things.  These may include slow page load speed, unclear or bad content, poor user experience design, and more. In some cases, it can be due to your current web design elements.  This then calls for an immediate revamp.
Neglecting to address a high bounce rate can cause user dissatisfaction. It means that instead of gaining more traffic, you lose potential customers. Hence, it's crucial to determine what's causing the high bounce rate to address it as soon as possible. For instance, if your website loads sluggishly, then you might want to check if the issue has something to do with programming issues, unoptimized images, high site traffic, no content delivery network, or a lot of web page elements.
3. Lacks Basic On-Page SEO
For your website to rank well in different search engines, you should always pay importance to Search Engine Optimization (SEO). You can customize how your website is displayed on search engines by creating a unique title tag.
Your SEO strategies dictate how your web pages will be indexed by search engines. Having the right SEO strategies can help make your website more visible to online users. Hence, it's crucial to use the right keywords, content, and links to improve your SEO and your website's marketing performance.
In addition, there are other essential on-page SEO signals that your website needs to rank high. These include unique meta descriptions, internal links to several pages, and optimized images relevant to your keywords. If your website lacks any of such elements, you may hire professionals to redesign your website and implement the latest web design trends.
4. Complex Navigation
From bounce rate to search engine rankings, navigation may affect your website's performance. When visiting your website, users must be able to find certain content. If it's confusing or difficult to navigate, your visitors won't engage with your business.
If you want to know how your website's navigation works, try checking your website as a typical visitor. If you're having a hard time clicking your pages, it's a call to redesign your website to improve its navigation.
5. Not Mobile-Friendly
As more and more people use mobile devices to browse online, your website must be accessible on mobile. Thus, you might want to upgrade your web design and customize it to be more mobile-friendly. This may increase the number of people who visit your website.
6. Flash Design
Using an outdated web design trend, such as Flash for your website, means that you should change immediately. Many Apple devices, including iPads and iPhones, don't support Flash.
Moreover, several search engines can't read a website operating or built with Flash. It's not only bad for your website's SEO, but your users may also need to install a plug-in just to access your website.
The use of Flash may also affect your website's overall user experience since it's complicated to use. For website developers, it might be a challenge to maintain. Thus, be sure to redesign your website using other alternatives like HTML5, which works well on smartphones and different browsers.
7. Outdated Images Or Fonts
When the web became more accessible, funky fonts were fun and trendy when building websites. However, outdated fonts can cause your web pages to not display correctly or load slowly.
Take note, you only have a few seconds to make a good first impression. If you have outdated images or fonts, you'll lose the chance to impress your customers.
8. Slow Loading Time
In the online world, the attention span of average consumers only lasts for several seconds. If your website takes a long time to load, the odds are your visitors won't stick around and close your website to find another one with a better loading time.
A slow loading time may not only annoy your customers, but it's also terrible for search engine rankings. In some cases, it would cause you to lose potential customers. Having a website that loads quickly can ensure that your customers will stick around and dig more pages to know about your business.
9. Cluttered Design
Unlike modern websites, older websites have different visuals. More often than not, they look outdated and cluttered. If your website is one of the older websites online, you might want to consider redesigning and customizing it as soon as possible.
Websites that aren't aesthetically appealing may hurt brands because some customers may fear that your business is as outdated as your website. To avoid that, opt for a simple and clean design. This will make your website look professional and appeal more to your existing and potential customers.
10. Low Conversion Rates
Having more potential customers interact with your website is good, but it could problematic if most of them don't convert. A website with low conversion rates is usually missing key elements to help with the process of conversion. Such missing elements may include clear Call-To-Action (CTA), social proof, and quality content. To increase your conversion rate, opt to customize and redesign your website.
Final Thoughts
There are countless reasons that your website isn't doing its job well. Although it doesn't always call for a total redesign, you need to improve some parts of your website once you encounter any of the above signs. When done properly, your business will thank you and experience better results over time. If possible, ensure to hire professionals to help you customize and redesign your website.