Before we look into some WordPress security plugins, let's start with an example.Let's say you are buying a new home. This exciting new investment requires a huge down payment that you're probably not used to spending. And of course, there is a verification fee before buying. Then comes the mortgage and insurance payments that come straight out of your pocket.
This initial investment alone is enough to protect your site from the start. But more importantly, you make sure you don't forget to protect the potential money you will earn in the future.
While WordPress security goes far beyond plugins, they are still a vital tool for keeping your website safe. However, choosing the best WordPress security plugins can be tricky, especially since there are so many to choose from. Thanks to this, the wide range of options available means that you can customize the security features of your site to meet your specific needs. Once you become familiar with some of the most popular and effective plugins on the market, you can make an informed decision on which ones to use.
This is why you are buying insurance and are considering installing an alarm system or some CCTV cameras. Many experts suggest at least putting a safety sign on your door to scare away those unwilling to take risks. All this security is designed to protect the initial investment as well as the potential of that investment in the future.
Why You Need A Security Plugin For Your website?
Whether you're building a blog, an e-commerce store, or a website to promote your small business, your site will require different things like hosting, themes, and plugins to work. Since you are creating space on the internet, there is always a chance that a hacker will destroy your site and leave you with nothing.
If you also accept orders or payments on your site, it is your responsibility to provide your customers with the utmost care to ensure the security of your information during and after purchase. People who attack your site can gain access to years of account information. if they know exactly where to look, this could be bad news for your customers and worst news for you.
Your site's security is as good as the backend and base it runs on. Therefore, before looking for security plugins, it is important to choose a WordPress host that already has security measures, like Kinsta. Many of these security measures are performed at the server level and can be much more effective without compromising the performance of your site. Not to mention, you don't have to waste time on a bunch of plug-in security settings that you might not even understand their functionality or purpose.
Firefall is something that is often found in all security plugins. The firewall prevents zero-day threats from entering your site by blacklisting specific IP addresses, users, user groups, or even countries if they appear suspicious. Two-factor authentication is an effective method of securing your WordPress login page. This is an important feature in one of the best security plugins, as it completely neutralizes password theft. Another way that security plugins protect your site is by scanning it for malicious code and files. The plugin notifies users when it detects anything that may harm their site.
In today's cloud networking and infrastructure era, many applications have come to the fore, making designing websites easy and flawless. One of the many names is WordPress. It is by far the most popular CMS in the world, as it controls more than a quarter of websites on the Internet. With so much use and customization, WordPress has created a very active community around it.
It is important to note that many security plug-ins cause performance issues due to their always-on and scan functionality. This is why Kinsta disallows some (not all) security plugins. Kinsta also uses load balancers from the Google Cloud Platform, which means in some cases the IP blocking functionality of some security plugins will not work as expected.
Now with the security plugins, you get what you pay for. Most of these security plugins come at a price, but there are some that offer you some of the options for free. We will mention in each module revision if it has a free version or only a paid version. option. There's nothing wrong with using the free option to get started if your business doesn't have the cash flow to use the premium. However, it should be a top priority to update as soon as possible.
WebARX WordPress Security
WebARX is a versatile WordPress security tool. WebARX is more than a WordPress plugin as it supports all PHP applications and is considered a complete solution.This plugin allows you to block malicious bots and their hacking attempts, prevent malware infections and protect your website from brute force attacks.Here it's many features:
Easy to install on your WordPress site right from the WebARX dashboard. The advanced website firewall is fully configurable in the WebARX portal. A virtual patch that automatically receives rules for patching vulnerabilities in plugins and themes.
Wordfence Security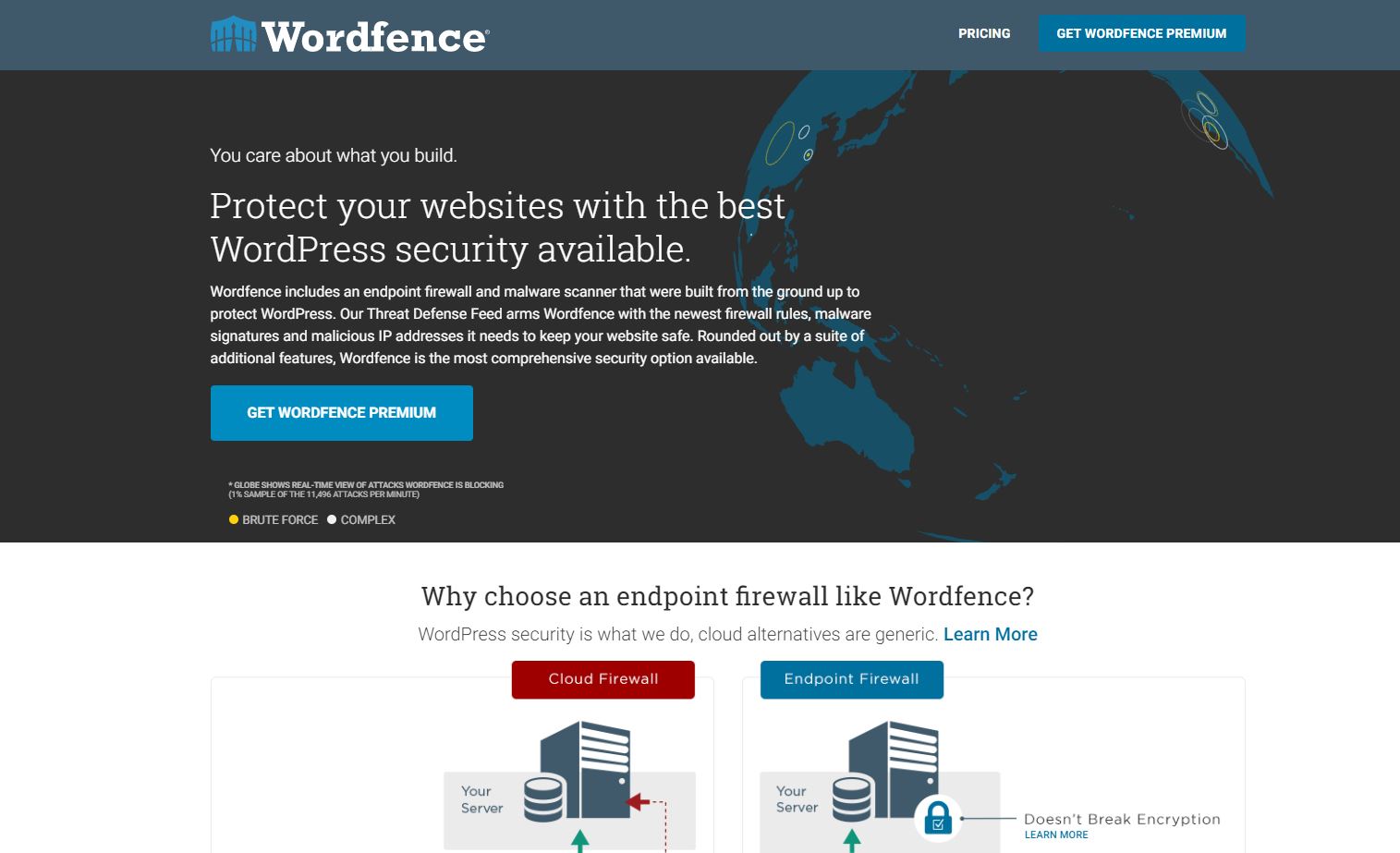 Wordfence is one of the best options on this list for taking a free route.These reports show hacking attempts on the site. You can determine if the traffic is coming from humans, Google crawlers, or potentially malicious bots. You can block attacks originating from certain areas known for high levels of cybercrime. The free version includes everything from brute force protection to firewall blocking. This firewall protection detects and blocks malicious traffic sent to your site.
iThemes Security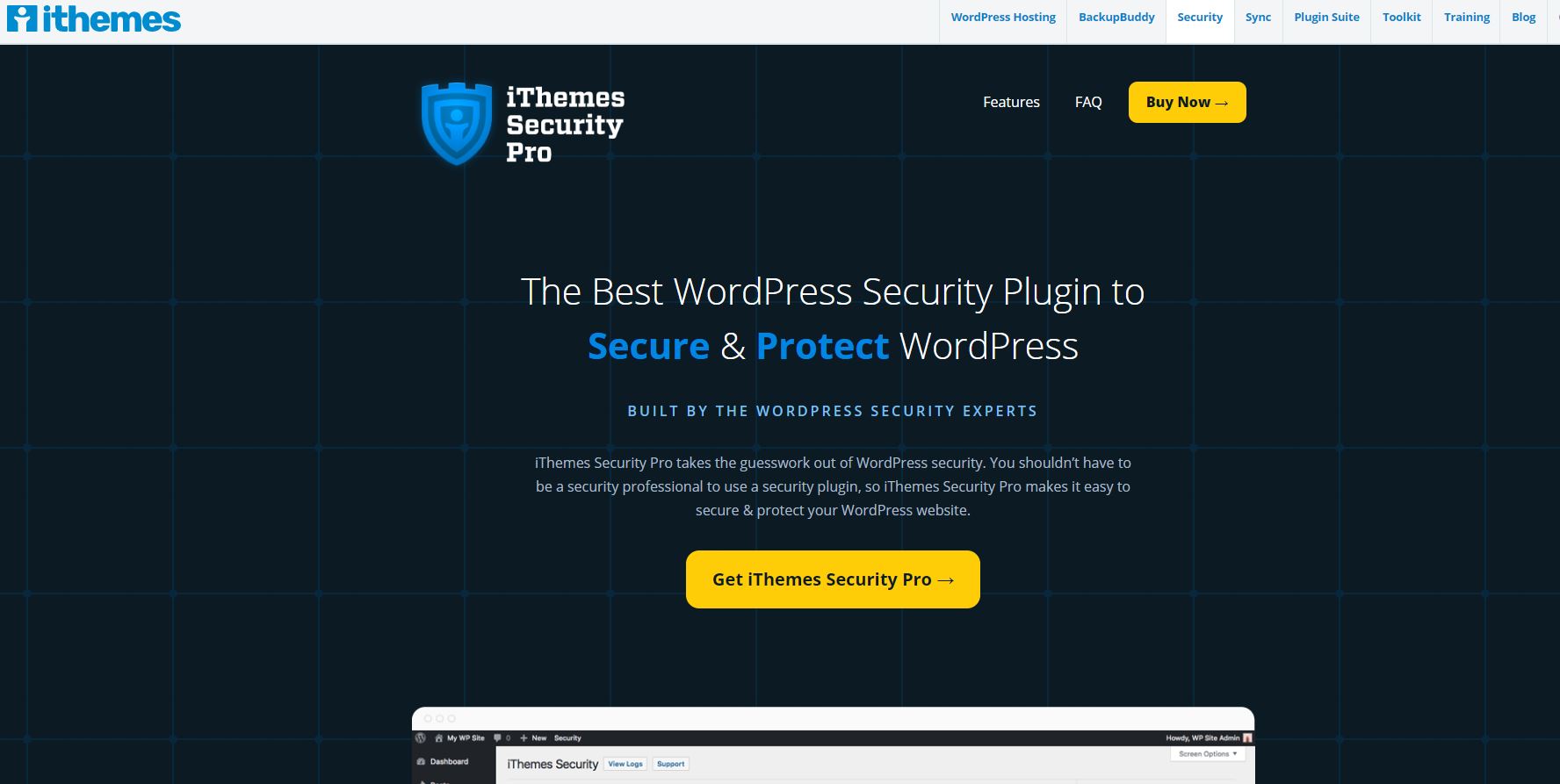 iThemes free version prevents users from accessing your site again when they try to attack your sites, allowing you to have better protection against replay attacks. They also analyze and report WordPress security vulnerabilities and how to fix them, ban problem users, and strengthen server security. The professional version of iThemes allows you to have two-factor authentication to ensure that you log in securely to your site at all times. Some additional features include database backup and import / export options, Google ReCaptcha features, user activity log, and more.
Sucuri Security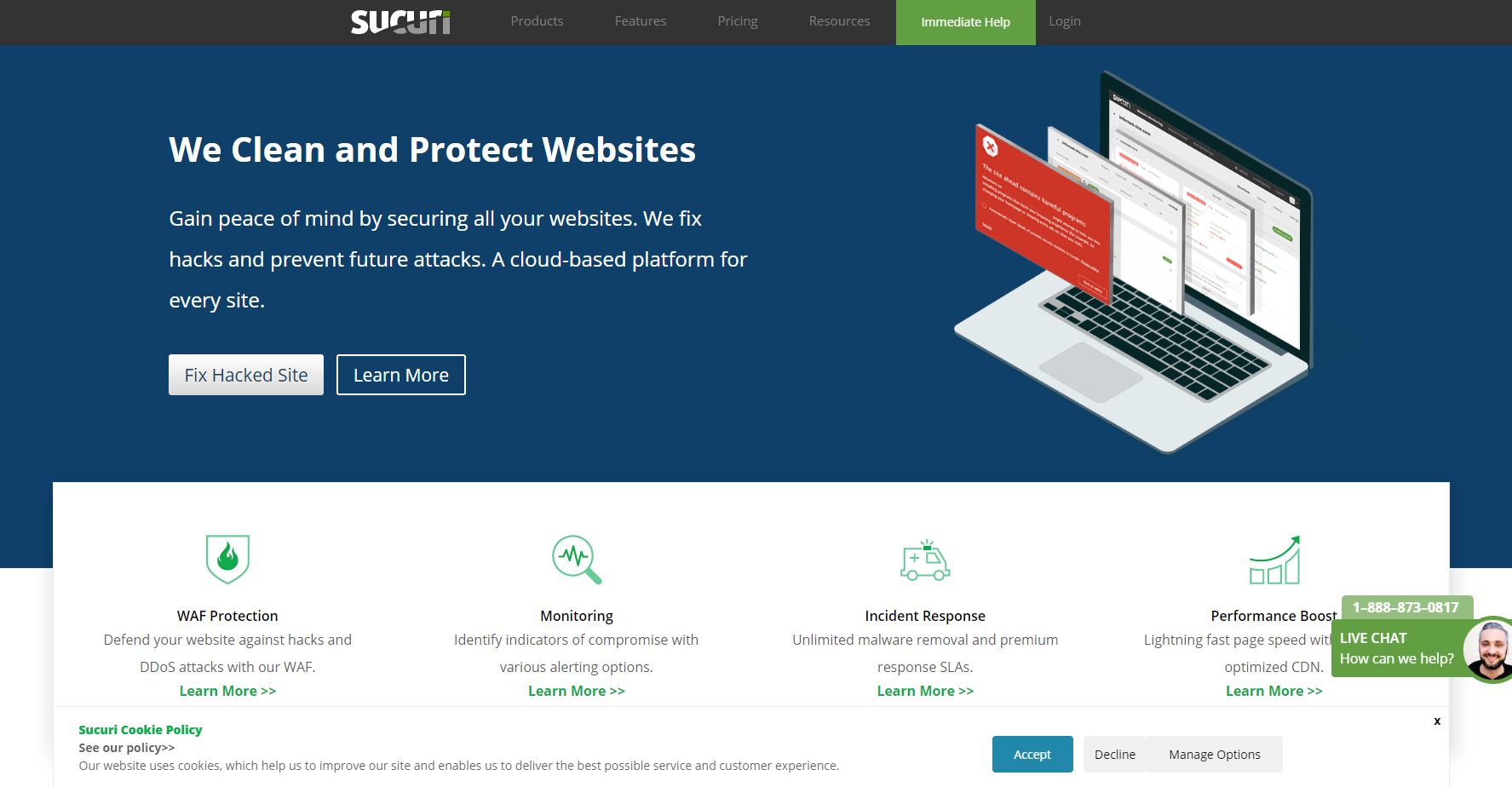 The Sucuri Security plugin has both free and premium versions. Like others on this list, most small websites can get started with the free version. The free version has a dedicated audit feature that lets you know how well the plugin is protecting your site.Most importantly, they offer to clean up your WordPress site if it has been exposed to malware, at no additional cost. You can even take a website that is already infected with malware. Some of the other features in the free program include file integrity monitoring, security enhancements and notifications, and more. It also includes various blacklist engines, including Google Safe Browsing, Sucuri Labs, Norton, McAfee Site Advisor, and more.
All In One WP Security & Firewall

WordPress itself is a very secure platform. However, it does help add a little extra protection and firewall to your site with a security plugin that enforces a lot of good security techniques. The WordPress All In One plugin will take your site's security to a whole new level. This plugin is professionally designed and written, easy to use and understand. Some of the features include protection against such rogue attacks and DDoS attacks, monitoring and reviewing of failed login attempts and account security actions, and enhances the security of the user registry. All In One is also one of the easiest add-ons on this list. There are graphs and gauges on the backend that allow you to see things like security level, as well as suggest what needs to be done to strengthen it.Reduces security risks by checking for vulnerabilities and implementing and applying the latest WordPress recommended security techniques and practices.
Shield Security: Protection with Smarter Automation
Shield Security is the best rated free WordPress security plugin.You need a security plugin that does all the hard work for you and only alerts you when you need to know. And when you get a warning, you actually have to take action, not just the "I have no idea what to do" attitude. do! WordPress security doesn't have to be complicated. There is no reason why security is so difficult. It doesn't have to be that way anymore. Shield is the easiest security plugin to configure – just activate it. And you can gradually deepen when you're ready.
Trust. Shield does exactly what it says it will do, you've probably been disappointed in the past, but Shield is a WordPress security solution that does what it says it will do to protect your site. The plugin claims to be a smarter solution than any other security plugin, and for good reason, too. The plugin silently takes care of your site and only notifies you when the situation really gets out of hand.
MalCare Security
MalCare, a comprehensive security solution that uses the collective intelligence of your website's network to scan and remove malware on your WordPress website. The WordPress security plugin ensures that your site is completely secure at all times. We created MalCare Security Plugin to help website owners worry less about the security of their site, achieve peace of mind and focus all their energies on growing their business or website.
Security Ninja – Secure Firewall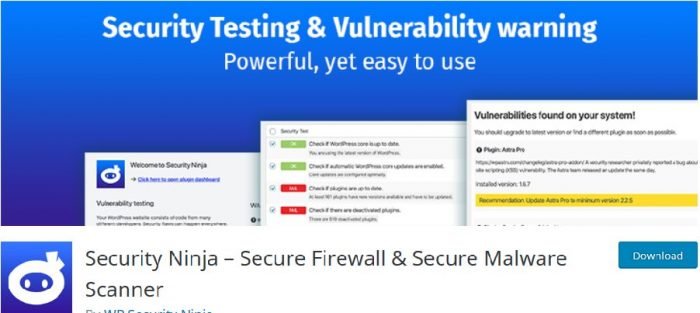 This plugin has a brute force check for all user passwords to make sure you have a strong password. It also comes with an automatic repair button that basically allows its tool to do wonders for your site, so you don't have to worry about technology. This helps educate users on security. It includes an automatic bug fix module, but for those looking to understand what's going on, there's a detailed explanation of each test, including the code to manually fix the security issue. If you don't like plugins that go bad on your site. Some advanced features include scanning plugins and themes for suspicious content and malware, a list of known incorrect IP addresses to block, and a log of all events on your site.
SecuPress Free — WordPress Security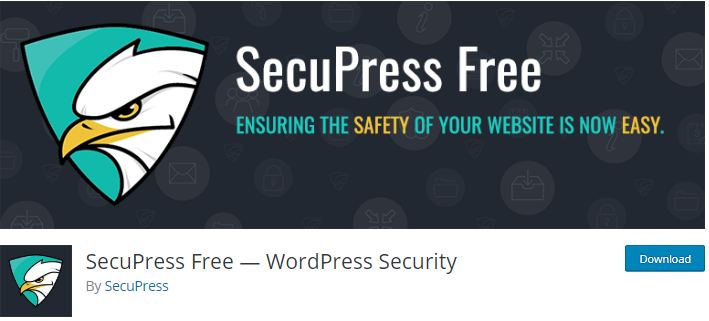 SecuPress is the only full scanner plugin that can solve problems for you. And when he asks for a solution from you, he will ask you before proceeding. With this feature, you can check 35 safety points in 5 minutes, and we will take care of the rest. You will then receive a safety rating, which will give you a clear indication of your safety level. You can export this analysis to PDF to share with others. This feature is the easiest way to keep your users' data safe and prevent your accounts from being compromised. With this feature, you can limit the number of failed login attempts, prevent login attempts from non-existent usernames, and set a time interval without logging in. SecuPress also makes sure that you can avoid double logins and control your sessions.
Google Authenticator
This is where Google Authenticator comes in. Adds a second layer of security to your login module, where it will send an automatic notification to your phone or other form of communication. You must confirm it by entering the correct number / text that you send to your mobile. Make a completely secure login to your WordPress site with this FREE plugin, simple and very easy to configure. It provides two-factor authentication (2FA, MFA) every time you log into your WordPress site, ensuring that there is no unauthorized access to your site.
Defender Security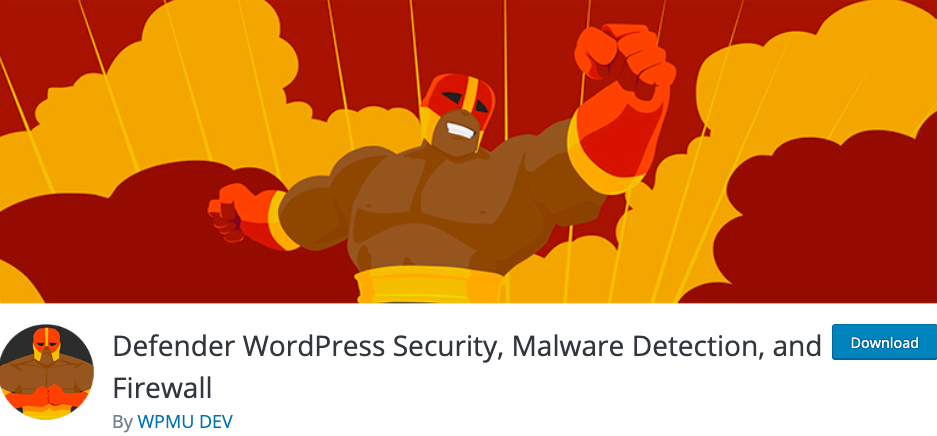 Defender adds the best WordPress security plugin to your site in just a few clicks. IP blocking, firewall, activity log, security log, and two-factor security login authentication .You have to go through terribly difficult installations and earn a virtual Ph.D. in security. Defender adds all the necessary protection and security settings.
Run a free malware scan that checks WordPress for suspicious code and malware. The Defender scan tool compares your WordPress installation to the master copy in the WP directory, reports changes, and lets you restore the original file with a single click. Keep your site secure with Defender IP Manager and Firewall. Block specific IP addresses manually, import a Denied IP list, and configure scheduled and permanent automatic blocking. Defender makes it easy to block and unblock specific locations with advanced firewall.
WP fail2ban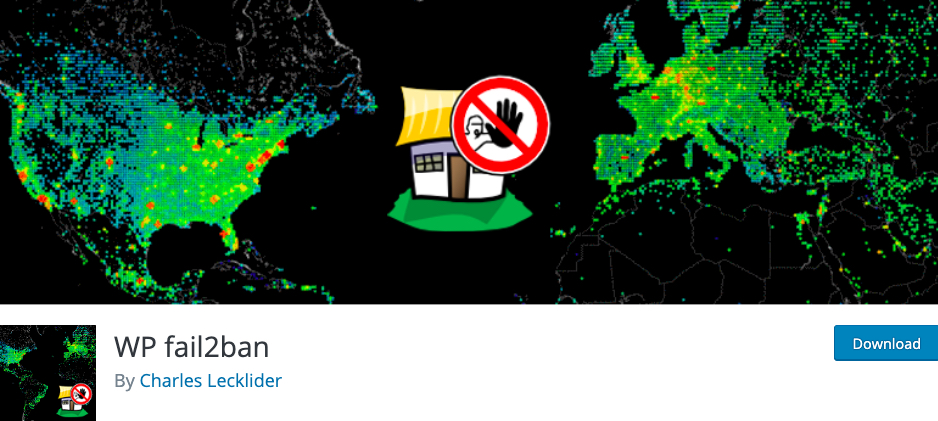 WP fail2ban is not as complex as the other plugins on this list as it only has one feature, but it is probably the most important. Protects you from brute force attacks. WP fail2ban implies a little more technological knowledge than others, as you have to specify this via PHP code.The plugin comes with filters that allow you to ban IP addresses immediately or a lenient ban if you don't want to be bound by the ban. You need a little bit of PHP knowledge to run this plugin, so if you don't know any encoding this might not be the plugin for you. However if you do this this plugin is good and efficient and works well.
VaultPress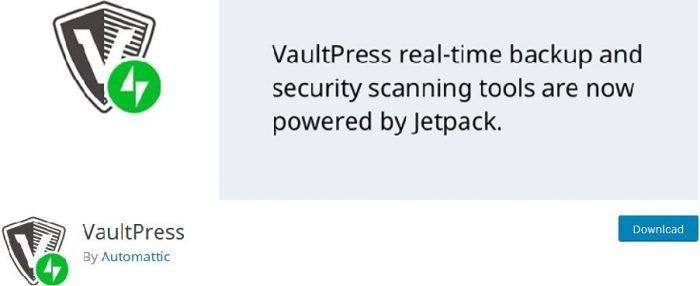 VaultPress is a real-time scanning and backup service designed and built by Automattic, which operates it. VaultPress now works with Jetpack to easily back up every post, comment, media, review, and dashboard customization on your site. Our Servers With VaultPress, you are protected from hackers, malware, accidental damage and host crashes. This plugin is a safe haven for your website. Vaultpress backs up every post, comment, media file and all of its settings, everything is automated. This allows you to restore your site if something is wrong with you.
BulletProof Security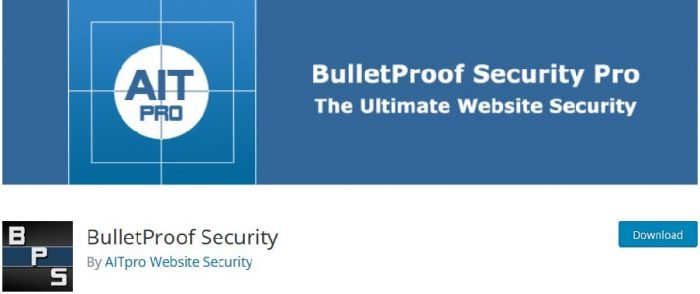 WordPress security protection: malware scanner, firewall, login security, database backups, spam protection and more. See the main security features below. For details on the bulletproof security feature, see the FAQ section below. Protect your WordPress site even more by adding an optional custom BulletProof security bonus code. See the BulletProof Custom Security Bonus Code in the Help section below. An efficient, reliable and easy to use WordPress security plugin.
Anti-Malware Security and Brute-Force Firewall
This Anti-Malware scanner scans the server for malware, viruses, various security threats and vulnerabilities, and then assists in the recovery phase. Supplied in two packs; Free and paid. The free option allows users to run a full scan that automatically removes security threats and backdoor scripts. It provides a firewall block called SoakSoak with regular downloads of malware definition files, and blocks brute-force attacks and DDoS attacks.
Get access to new definitions of "known threats" and additional features such as automatic removal, as well as fixes for specific security vulnerabilities such as older versions of timthumb. Updated definition files can be automatically downloaded by the administrator after registering your key. Otherwise, this plugin only looks for "potential threats" and leaves it up to you to identify and remove malicious threats.
Jetpack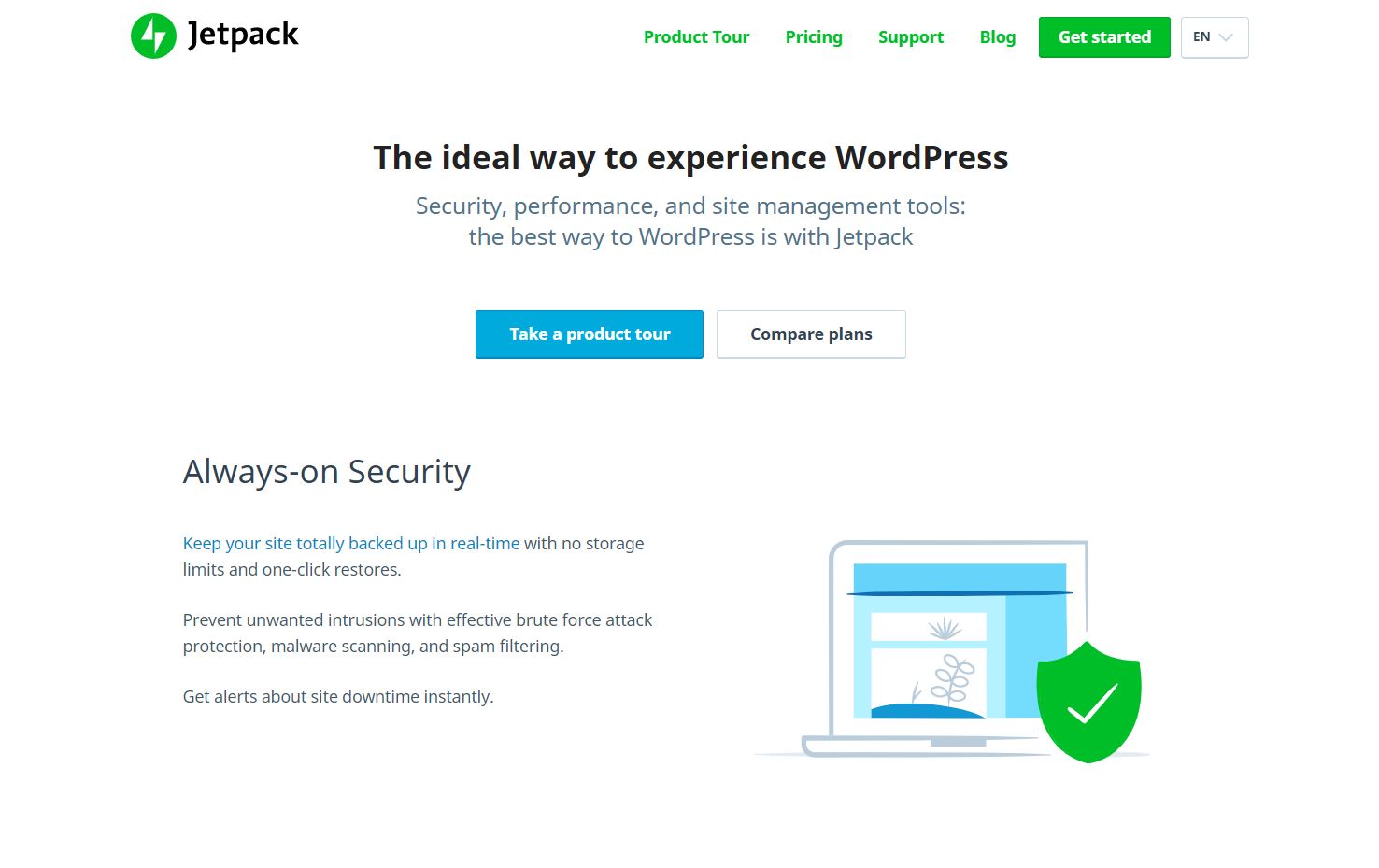 Jetpack is your site's security team, protecting you from brute force attacks and unauthorized logins. Basic protection is always free, while premium plans add advanced backups and automated solutions.To complete our list, which plugin is better to offer than one created by WordPress. If you've ever created a WordPress website you're probably familiar with Jetpack. It's not the most common or most talked about security tool on the market, but it gets the job done.
Astra Web Security
Astra is a amazing security plugins for WordPress . This is a premium plugin that has become very popular in no time. The plugin is equipped to block more than 100 types of threats that can harm your business. It also protects your website from spam and bots that disrupt your website traffic, an easy-to-use dashboard to keep an eye on your site's security, gives you control over blacklisted IP addresses and blocking from countries, scans for file downloads To prevent malicious downloads, a security audit assessment ensures that your code is error-free.
BBQ: Block Bad Queries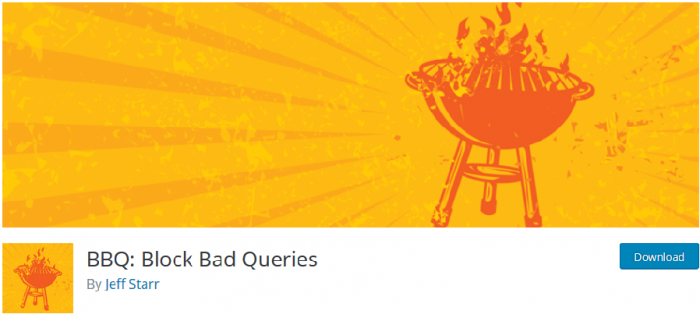 Blocking Bad Requests is another great tool for preventing injection attacks on WordPress websites. Although the plugin may seem limited in its use. It has been highly rated by the WordPress community as it blocks most attacks on the website. This is why it has excellent ratings and is increasingly popular as a WordPress security plugin.
Super fast plugin that protects your site from malicious URL requests. BBQ inspects all incoming traffic and unobtrusively blocks incorrect requests containing unpleasant things like eval (, base64_ and query strings too long.
WPS Hide Login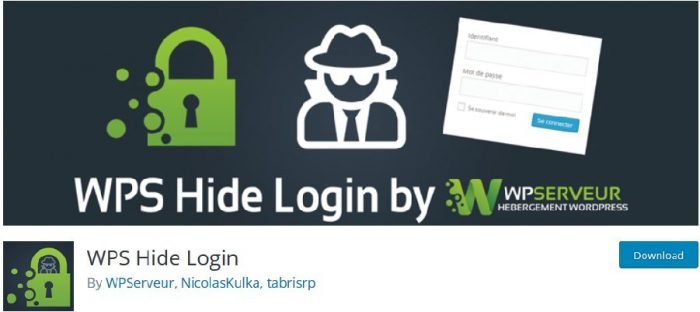 WPS Hide Login is a very lightweight plugin that allows you to easily and securely change the URL of the login form page to whatever you want. It does not literally change the name or files in the kernel, nor does it add rewrite rules. It just intercepts page requests and runs on any WordPress website. The wp-admin directory and wp-login.php page become unavailable, so you need to bookmark or remember the URL. Disabling this plugin will return your site to its previous state.
WP Activity Log
WP Activity Log is the most complete complement to record user activity in real time. Help thousands of WordPress admins and security professionals keep track of what's happening on their sites. It is also the top rated WordPress activity log plugin and has been featured on popular sites like GoDaddy, Kinsta, and WPBeginner.
Moving away from WordPress security plugins that claim to do all of this, let's take a look at a few that specialize in certain features. For example, WP Security Audit Trail focuses on providing high quality activity monitoring. Watch for suspicious activity and stop attacks before they happen. Record the changes on your site to speed up and facilitate the recovery process in the event of an attack.
SiteLock
SiteLock is another well-known WordPress security plugin that takes an interesting approach to security. They offer an automated WordPress security service, which means functions like malware detection and removal are done on your own. Therefore, you do not need to enable it manually. WordPress malware scanner, automatic kernel vulnerability repair, automatic virus removal, WordPress DDoS firewall, WordPress web app firewall, SiteLock dashboard.
How to choose the Best security plugins for your website
All the security plugins we have listed offer free and premium versions. Most of the free versions offer you scanning and some anti-piracy measures.
But in order to clean up your site and take effective security measures, you will need to become a paid member. Each plugin has a different approach to security. Sucuri shines with the performance of your site and a modern firewall. Both Wordfence and iThemes offer many features. They promise to protect all possible vulnerabilities on your site.
First, you need to verify your accommodation. Some providers include security features like backups, updates, firewalls and malware scanning. If your host is already doing these tasks for you, you don't need a plug-in to manage them.
Next, you will need to determine if you are better off using a generic security plug-in or if you only want certain features. If your host or other service provider covers some tasks, you may need multiple single function plugins to fill in the blanks. Also, if you're on a tight budget, combining insurance coverage with a few free or low-cost add-ons may make more sense than setting aside an all-in-one option.
it is often better to invest in a single full complement. When choosing each of them, carefully consider the features and cost to make the most of your investment.
However, if you are unsure if your chosen hosting platform is secure, download any of the above plugins and activate them to add an extra layer of security to your application.
Conclusion
WordPress website security is a top concern of all Internet users. If your hosting environment is insecure, WordPress can be at risk.
There is no denying the wide range of WordPress security plugins available. With so many options and features included in each, choosing the perfect tool for your site can be overwhelming.
These are all things to consider when choosing the best security plugin for your website. I'm sure you will find what you need in the list above.