If you are reading this article, you probably have your own website built with a WordPress theme. And if you've owned the site for a while, you probably think about or have already removed some of its content. But do you know what people on your site see on the page you deleted when they try to find it on the internet? I'm sure you've done a bit of research and heard of things like 301, 301, or 307 redirects, but don't know what their differences are or where and how they should be used. Therefore, we have compiled a list of some of the best WordPress redirect plugins so that you can learn more about the different types of redirects and redirect methods on your WordPress site.
The website address changes to a new one that you created or that already existed when you redirected your website URL. In this way, when a user clicks on a specific link address that they want to redirect, they are presented with the redirected URL instead of the original one. Redirects also help your site with SEO in situations like broken links and spam logs. However, it can take about a month for search engines to approve redirects. It depends solely on the algorithms used by search engines.

You can have many other reasons for using redirects on your website. You can also have many redirect goals. But choosing the best redirection tools should be your top priority. That is why we have listed the best free WordPress redirect plugins for you in this article to make your redirect processes easier.
In this case, you'll want to redirect the visitor to a post or link to a new page. So let's take a look at WordPress theme builder TemplateToaster and WordPress website builder, some of the best WordPress redirect plugins to help you direct the visitor to the right place for your WordPress content. Before proceeding, let's first understand what redirects are and how they work.
Rank Math
This is another WordPress redirect plugin that is designed to work with 301 redirects only, and this plugin will also allow you to easily create and manage redirects for your website. The SEO redirect plugin is a great option if you want to migrate pages from your old website or change the directory of your WordPress website. This plugin also supports WPML, which means it can be translated into other languages if needed.
SEO redirection contains a many new features that you will find Amazing useful such as:Advanced control panel, you can manually add 301, 302 or 307 redirects to WordPress posts, Supports wildcard redirection, Import and export function, Full logs for all redirected URLs. You can use regular expressions in redirects. Fixed crawl errors in Google Search Console. All URLs can be redirected, not just non-existent ones.
404 to 301 – Redirect, Log and Notify
If you are worried about your website, you should take steps to avoid 404 errors as they seriously impact your SEO. 404 (Page Not Found) errors are common and we all hate them, even the search engines do the same! Install this plugin and then sit back and relax. Handles 404 errors!
A 404 (page not found) error is considered dead links on the site. Let's say a small number of 404 errors are not bad for a website, but if your site contains a lot of dead links, it will hurt both your users and your search engine ranking. You may notice that a large number of 404 errors can ruin the user experience of your site. These dead links are generated from many aspects such as removing old content, images or any other unused content on a web page.
For this reason, we must take proper care of these links. We need to find them and redirect them to the right place to keep our blog active. To accomplish this task wisely, I recommend this one of the best 404 to 301 redirect plugins. Naturally, install this plugin and set the correct destination for all 404 error pages on your website.
404-301 is a simple yet amazing plugin that handles all 404 errors for you. It will redirect all 404 errors to whatever page you specify using 301 or any other status. This means there will be no more 404 errors! Even with Google's webmaster tool, you're safe.
Redirection
Redirect is the most popular WordPress redirect manager. With it, you can easily manage 301 redirects, track 404 errors, and generally fix any flaws that may be on your site. This can help reduce errors and improve your site's ranking. The redirect is intended for use on sites with some redirects to sites with thousands of redirects. This WordPress plugin is over 10 years old and has been recommended countless times. And it's free!
Create and manage redirects quickly and easily without requiring Apache or Nginx knowledge. If your WordPress supports permalinks, you can use a redirect to redirect any URL. Full regular expression support is provided, so you can create redirect patterns to match any number of URLs. You can match the query parameters and even pass them to the destination URL. The plugin can also be configured to track changes to the permalink of the post or page and automatically generate a redirect to the new URL.
Plus, this simple WordPress redirect plugin will enhance your website's other great features. It will create a single redirect manager page where you can organize all your 301 redirects. Also, if you want to set up any conditional redirects, you can do so with this plugin.
Trash Duplicate and 301 Redirect
Among the many redirect plugins for WordPress, Trash Duplicate and 301 Redirect are comparatively exceptional. This plugin is designed for a WordPress multi-author site. We can see that many websites or blogs have multiple authors or contributors. In this case, not everyone can submit original or unique content. If someone has posted duplicate content on your blog, they can detect and remove it.
Otherwise, you will lose your ranking in search engines. In fact, you will be penalized for duplicate content if you do not take any action against this clearly copied content. Therefore, I highly recommend this plugin to find and remove any duplicate content from your blog. Not only that, but this plugin will redirect those deleted content URLs to the homepage.
Now with this amazing plugin called "Trash Duplicate and 301 Redirect", you can find and remove duplicate content. It also constantly redirects the URL of the removed content to the main URL to redirect traffic to a URL and protect you from Google penalties for duplicate content.
Easy HTTPS Redirection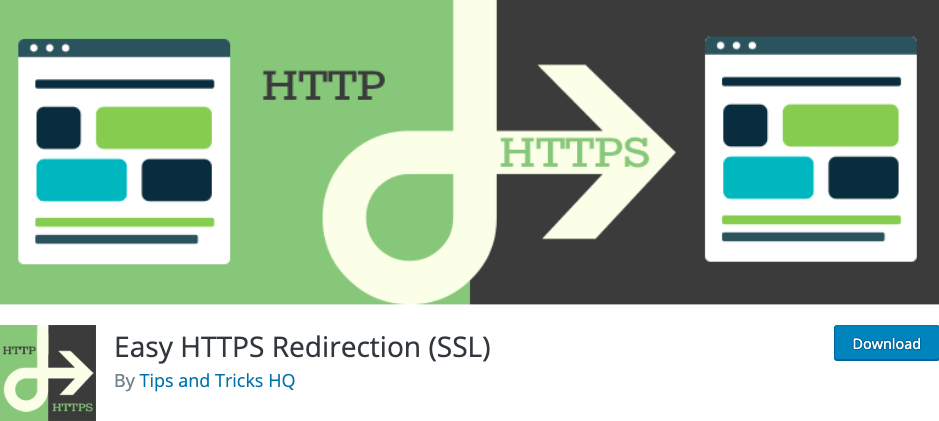 Use this plug-in only if you have an SSL certificate installed on your site and HTTPS is working properly. After installing an SSL certificate on your website, you will need to use the HTTPS URL of your website.This plug-in automatically redirects to the https version of the URL when someone tries to access a non-https version.
However, if you have an existing site that has a lot of static files embedded in your posts, and your pages use NEN-HTTPS URLs, you need to change that. Otherwise, the browser will display an SSL warning to visitors.
Safe Redirect Manager
Manage your website easily and securely by redirecting the WordPress path. There are many redirect plugins available. Most of them store redirects in a parameter table or custom tables. Most of them offer tons of unnecessary options. Some of these have serious performance implications. Safe Redirect Manager stores redirects as custom message types. This makes your data portable and your site scalable. Safe Redirect Manager is designed to handle business grade traffic and is used by large publishing websites. The plugin only contains what you need to follow the WordPress mantra – solutions, not options. Actions and filters make the plugin very extensible.
You will be prompted for the URL you want to redirect, the destination URL, and finally what the HTTP status code should be for that URL. It is so simple! You may find that this is a 3 step plugin to set up the correct redirect with your preferred HTTP status code, including 301.
Quick Page/Post Redirect Plugin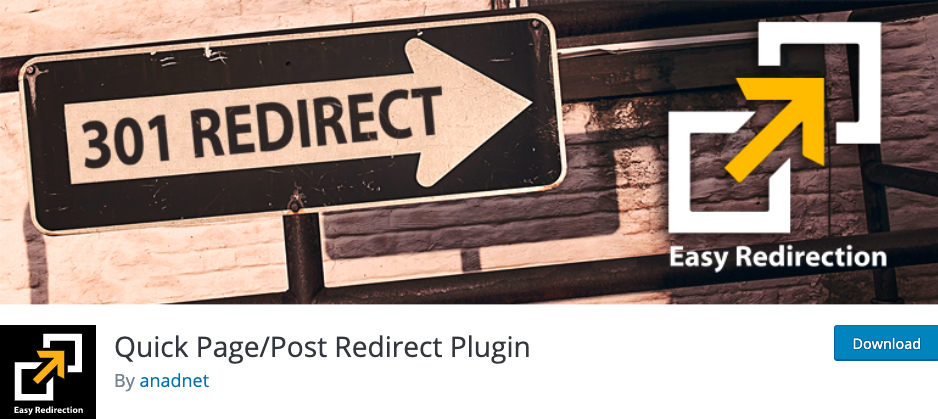 Quick redirects are designed so that they can be added quickly and easily. You don't need to have an existing page or post to add it. Just enter the request url and destination url and the plugin will redirect you. This type of redirect is great for fixing typos when creating a page, redirecting old urls to a new url to avoid 404 errors, and redirecting links from an old site converted to WordPress.
All you have to do is provide the request url and target url. The plugin can handle this easily. With it, you can redirect all your old links to new post links so that your website doesn't have 404 errors.
WP 404 Auto Redirect
This WordPress 301 redirect plugin works with a common 404 problem, but it has its own quirks that make it stand out. I think you already have a clear idea of this plugin by reading its name. Yes, it's designed to detect 404 error pages on a website and redirect them to the most similar posts or pages.
This plugin automatically redirects 404 pages to related posts based on title, post types, and taxonomy. If nothing similar is found, visitors will be redirected to the home page or custom URL.
You have to tell the plugin what type of redirect (301 or 302) you want. After that, the plugin will take care of the rest. Another important thing: if the plugin can't find a message or a similar page to redirect a broken link, it sets a 301 homepage redirect for that 404 page.
WP SEO Redirect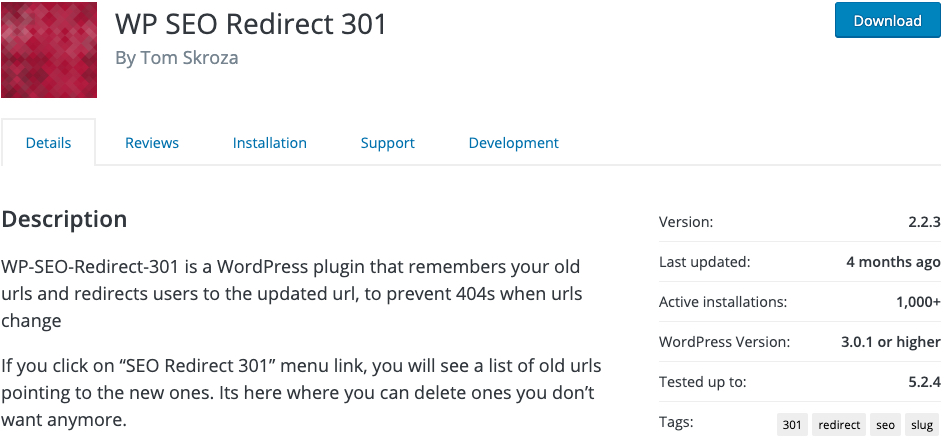 WP-SEO-Redirect-301 is a WordPress plugin that remembers your old URLs and redirects users to updated URLs to avoid 404 when URLs change. If you click the SEO Redirect 301 menu link, you will see a list of old URLs pointing to the new ones. Here you can delete the ones you no longer need.
With the WP SEO Redirect 301 WordPress Plugin, you can avoid 404 errors on your website by remembering your old URLs and redirecting your site visitors to the new updated URLs. Not only redirects, you can also create a sitemap that you can then submit to Google and Bing to index your new website URLs faster in the search engine.
SEO Redirection Plugin
SEO Redirection is a powerful redirect manager for managing 301 redirects, you can easily create and manage redirects for your site,
This plugin is useful if you want to migrate pages from your old site or you are changing the directory of your WordPress site.
Most importantly, the plugin will play an important role when migrating your WordPress website or changing the main directory. Since 301 redirects are the main task that needs to be done right now. Otherwise, your site's search engine ranking will drop.
Simple 301 Redirects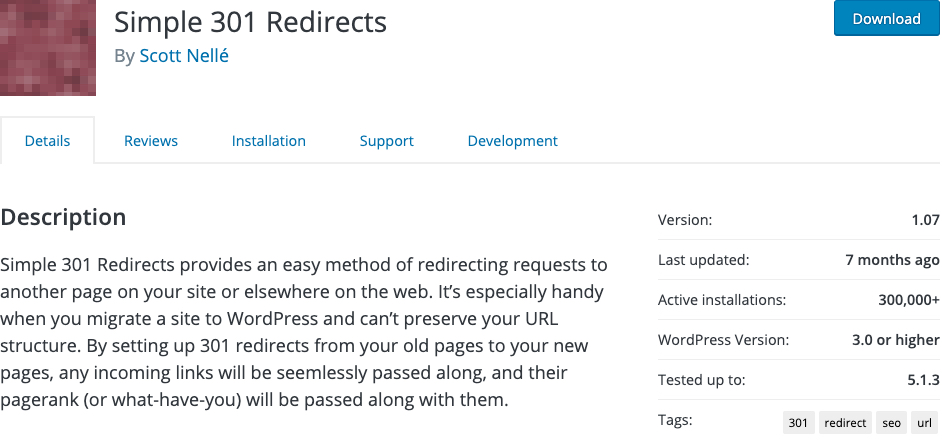 Simple 301 Redirects provides a simple method to redirect requests to another page on your site or on the Internet. This is especially useful when you are migrating a WordPress site and cannot keep its URL structure. By setting up 301 redirects from old pages to new ones, any inbound links will flow smoothly and your page rank will flow along with them.
Attachment Pages Redirect
The visitor is taken to the attachments page and the main post is available. A 301 redirect will be performed to redirect the visitor to the main post. The visitor is taken to the attachments page and the main post has already been removed from the cart. A 302 redirect is issued to the main page, which can be changed to 301 if you wish,
If you don't redirect these useless pages to their parent page, Google can index them all. If any visitor lands on these pages with useless attachments, your website's overall user experience will begin to degrade. You should use this WordPress 301 redirect plugin to avoid these issues. This awesome plugin redirects the visitor from the attachment page to the home page by generating an HTTP 301 status code. If the home page doesn't exist, users are automatically taken to the home page through the redirect process.
301 Redirects – Easy Redirect Manager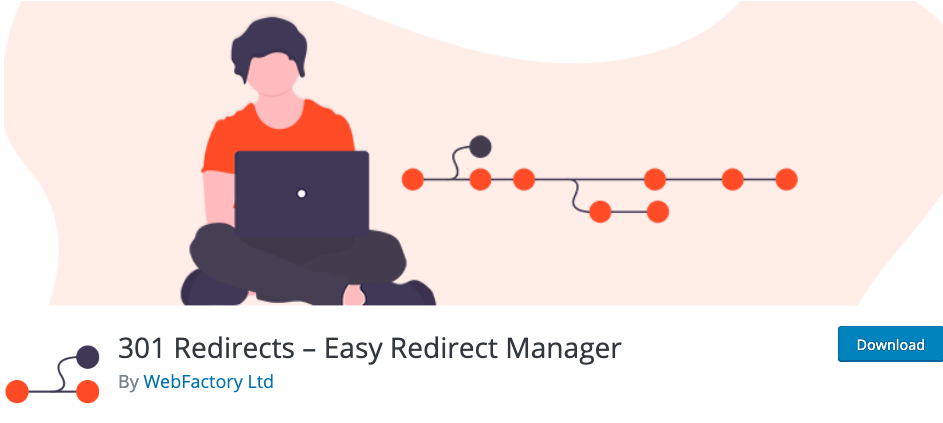 301 Redirects helps you manage and create 301 and 302 redirects for your WordPress site to improve SEO and visitor experience. With an easy-to-use interface, 301 Redirects is easy to install and configure. Perfect for new sites or for repairing links after rearranging your existing WordPress content, or when your site has expired content and you want to avoid sending visitors to a 404 page.
It has an easy to use interface and even a beginner can use it to manage redirects on a WordPress website. It will also help you minimize 404 errors on your site.
Seo 301 Meta
Seo 301 Meta is a simple and effective way to redirect your internal and external links to new posts, pages, categories and websites. This plugin helps you redirect all kinds of links to other pages or websites and add 301 redirects, which is very important for SEO. The easiest way to redirect your WordPress links to the required pages and posts.
Use this WordPress redirect plugin to track your website's internal and external links and redirect them to any new destination. In my opinion, SEO 301 Meta is one of the simplest 301 redirect plugins out there. While it is well compatible with the latest version of WordPress, it has a very simple user interface. You won't find any additional settings or plugin settings page.
We can say that the process of setting up a 301 redirect for any URL is a matter of a few moments. You just need to specify the source and destination URL and click the Add button, that's it. You can completely avoid the hassles of redirection as this plugin works without an htaccess file.
All 404 Redirect to Homepage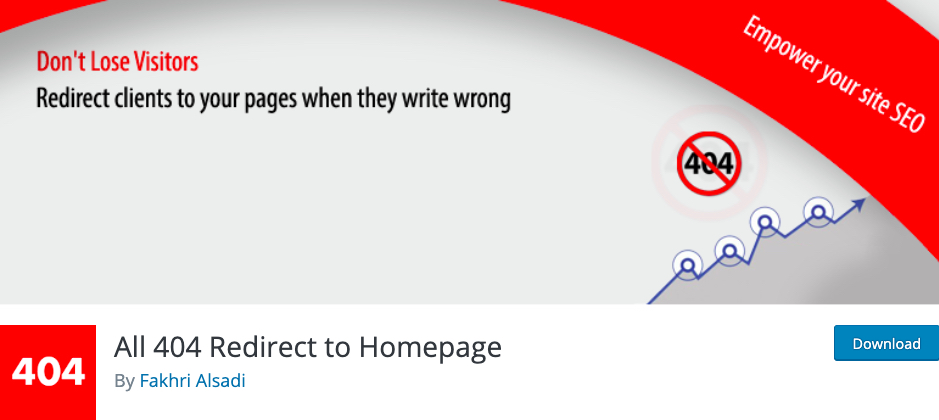 With this plugin, you can fix all random 404 links that appear on your website and redirect them to your home page or any other page using SEO 301 redirects. A 404 error page degrades your site's search engine rankings. This smart plugin is a simple solution for handling 404 error pages.
Not only is search engine optimization difficult, but users who visit your site looking for information feel uncomfortable when they cannot find the content they came to your site for.
The All 404 Redirect to Homepage plugin allows you to handle all 404 errors on your website quite efficiently.
Redirect List
Redirect List is a simple, straightforward and lightweight WordPress 301 redirect plugin. The peculiarity of this plugin is that it can work with a GET URL. Although this plugin works by mapping URLs to parameters, whether it matters or not, you can configure not only 301, but also 302 and 307 HTTP redirects using this WordPress redirect plugin. The story goes that the plugin is completely free; it doesn't even contain hidden sponsored links or tracking code. So you can use it without any resistance. While it's all about the installation process, this plugin has an incredibly quiet and easy process.
Redirection for Contact Form 7
Simple companion plugin for contact form 7. Adds the ability to redirect to any page of your choice after successful mailing, with DOM events and without disabling AJAX.This is a WordPress redirect plugin that has been specially built to address the contact form 7 redirect problems. But please note that for this plugin to work, your website must have a contact form 7 plugin preinstalled. Almost any type of redirect for your site. You can redirect to any URL if needed. You can also open the forwarded destination in a new tab.
Equivalent Mobile Redirect
This WordPress plugin will detect mobile devices and redirect the user to an equivalent mobile page as set in the meta box that is added to your page and publishes screens upon activation. Optionally, you can override the equivalent redirects and instead redirect all mobile device users to the same URL.
This WordPress redirect plugin also has built-in support for custom post types. Along with this, he also recommended Google 302 redirects for mobile devices. You also have various settings for your redirect plugin. in which the option to redirect the blog index is also available in the settings.
Broken Link Checker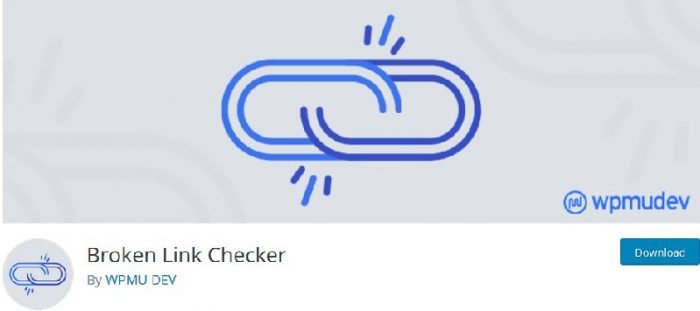 Broken Link Checker monitors and checks all internal and external links on your site for broken links. It helps you fix bad links to improve SEO and user experience, and then notifies you via email or dashboard when crawling is done. In a new tab on your dashboard labeled Broken Links, you can edit the links directly, without having to manually update each post and page. If you don't want to add a new redirect URL, you can simply remove it and the text will remain the same.
404 Solution
The 404 solution redirects page not found (404) errors to existing pages and logs the errors. Redirects can also be generated based on the best match for the URL the visitor was likely trying to navigate to. If you prefer to configure redirects manually, or just view automatic redirects, you can see the errors logged in your WordPress dashboard.
Simple Redirect

Easily redirect any post or page to another page using the dropdown menu or by manually entering the URL. Take a look at the screenshots. This plugin also modifies permalinks and menus to point directly to the new redirect location; This prevents bots from redirecting and helps boost your SEO.
The second of our WordPress redirect plugins is a plugin with a very literal name, it's called the simple redirect plugin. It is a very simple tool to incorporate into your WordPress site that will easily redirect any posts or pages on your site to another page using the dropdown menu or by manually entering the URL. The Simple Redirect plugin can also modify permalinks and menus to point directly to the new redirect location. This will prevent bots from redirecting and thereby help boost and improve your SEO.
Change Permalink Helper
When you change your permalink structure, you create problems for user bookmarks, as well as search engines that may link to your posts. This plugin uses a shortcut to the new URL and looks for the id in the WordPress database. If it finds a message that matches the slug, the plugin redirects it to the correct message and sends a "moved forever 301" header message to change the URL in the search engine index.
The problem with changing the permalink structure is that it will be different from the link that people have bookmarked, and it will also be a problem for search engines to link to your posts or pages. So when that happens, WordPress Change Permalink Helper will use the new url and then look for the id in the WordPress database. If it can find a message matching the slug, the plugin will redirect to a new and correct message.
Forty Four – 404 Plugin for WordPress
Forty Four's 404 error page is responsive and modern, which means it can be adapted for any type of screen or device, even small mobile devices. You can also add custom redirects for each of your links.
We reached 10th place among our WordPress redirect plugins with the Forty Four plugin. This plugin is very powerful and its aim is to improve the handling of the 404 page and instead create a 404 page. The pages generated by this plugin are considered "light" because they do not have heavy scripts or images like pages 404 error messages.
How to Choose the Best WordPress Redirect Plugin
Well the answer to that question is up to you and what your specific needs are and what you want to achieve for your website.The WordPress repository offers various plugins to manage redirects on your website. Each of these plugins provides a different set of features and settings depending on the type of redirect you want to implement on your website. Having a way to redirect pages and posts may not be something you need right now, but it will probably be something you will need in the future and having knowledge of redirect plugins could be incredibly helpful. And luckily for you, we've brought you all the research. Below is our list of redirect plugins and their descriptions and features so that you can make an informed decision and learn about something that could help your WordPress site and even improve it. So whether you need a redirect plugin three days ago or are just precautionary measures for the future and planning ahead, you will learn something and probably find your new plugin for your website.
Conclusion
I hope you find this list useful.Some of you may need a plugin with more options than others, but be sure to decide which of these WordPress redirect plugins is the right choice for your site to run smoothly. Read the reviews of each plugin carefully and determine which one you haven't been using lately. It is your choice, you can choose one or more plugins from the list above based on your needs. If you think I missed someone who deserved to be on the list above, please let me know by leaving a comment.