Looking for a good way to gather more leads? How about attracting subscribers to your newsletter? Or maybe you just need a few clients to complete the survey?
Let's talk about some great free WordPress pop-up plugins and how they can turn your website into a marketing machine if done right.
Marketing tactics and techniques are becoming scarce, especially for those who do not have the funds to promote. Bloggers are the ones who feel this influence the most, because blogging by default is an area that takes many hours of work and dedication to get results. Search engine marketing is definitely one of the most popular ways to promote content, but sometimes it's not just about the content.
The best way to make a website successful is to get visitors to perform various actions on your portal and keep them coming back. It's not just about the products or services that will continue to appear on your site. In addition to quality products and services, there are several more effective ways you can increase visitor engagement and keep them coming back. This is where WordPress popup plugins come in very handy. In this article, we'll walk you through some of the most awesome WordPress popup plugins you can try for your WordPress site. The best part is that these WordPress popup plugins are completely free.
So if you want to dive into the ocean of pop-ups, you'll need the best WordPress pop-up plugin to help you with that. These plugins allow you to create beautiful pop-ups for your website by providing out-of-the-box pop-up templates. You can control how long the pop-up is displayed on your website.
In this article, we'll take a look at some of the best WordPress pop-up plugins that you can use.
Why You Need a WordPress Popup Plugin?
The downside of using generic pop-up forms on your website is that they are often unattractive and don't grab the attention of your visitors. If you want to grow your mailing list exponentially, you will need to create visually appealing popup forms that target your unique visitors.
Increasing repeat visits and building an email list of potential visitors / consumers is perhaps one of the best ways to make your WordPress site popular in a shorter period of time as long as you don't flood your email inbox.
Pop-up plugins offer a variety of features, from customization to built-in analytics and display location, but the most important features to consider are targeting and launch options. Targeting refers to where the popup will appear on your website and to whom it will be displayed. Popular ways to target users with pop-up windows include page-level targeting, geographic location, device, and traffic source.
WP Popup Lite – Responsive popup plugin

WP Popup Lite is a best free popup plugin for WordPress. You can use this to add pop-ups to your site with custom images or posts with different effects.
It comes with 13 beautifully designed built-in themes from which you can create unlimited images and text pop-up banners. The plugin also gives you the ability to set separate preferences for each of the pop-ups you create. Your banner may appear on your entire website or on specific pages. Moreover, you can also enable / disable pop-ups according to your needs.
In addition, the popups generated by the plugin are fully responsive and look great on all types of devices.
Popup Builder – Responsive WordPress Pop up
Popup Builder, create powerful modal pop-ups and manage them for your WordPress blog or website.
This plugin will enable awesome popup on your WordPress website using shortcodes. You can add unlimited pop-ups with your own settings. We've added an efficient preferences panel for each popup. This way, you can fully customize the themes, colors, sizes and many other options for the pop-ups. You can count on features like Facebook pop-ups, custom image pop-ups, HTML-code pop-ups, all of which will be responsive natively and work across all devices simultaneously.
Sharing your ideas and points of view on the Internet, it is not always convenient or adequate to include all the information received in the text. On the other hand, it is always important not to ignore all the important additional information because every website owner wants to meet the needs of a diverse audience.
Our HTML popup is a pretty popular solution. After installing it, you get the golden ability to summarize your texts, but at the same time it reveals the necessary packet of information gathered in your mind. It is a simple redirect.
WP Popup Banners

WP Popup Banners is a FREE Popup Banners Plugin for WordPress. You can use this to add custom image or message popups to your site with various effects.
The plugin allows you to create an unlimited number of image and text pop-ups for your WordPress site. It is a highly customizable plugin that comes with a WYSIWYG editor to customize the text popup component according to your needs. The editor has general settings and settings for displaying pop-up banners. Additionally, the plugin also provides you with preview options to preview all the changes you have made to the pop-ups before they are published.
Popup by Supsystic
Easily create a lightbox with any type of information you want to show your visitors. You can simply select the most suitable popup type and template that matches your website design and create a popup in no time. Add a shortcode to any post where you want to display the popup. With unique settings, you can create an unlimited number of pop-ups.
The intuitive admin panel interface has been designed to allow you to easily customize pop-up layout, size, boot and close options, and more.
Show the popup only to new users or to everyone according to your needs. It can be downloaded automatically with a time delay or by clicking on a specific location.
The Supsystic team has created a sophisticated pop-up plugin that allows you to create pop-up windows with additional features like social media buttons, contact forms, Google maps, image and content sliders, lightbox integration to display windows Image pop-ups, PDF pop-ups, HTML pop-ups, and you can customize the way pop-ups appear on the page, either from the top or bottom, or flying for that extra attention-grabbing effect.
Marketing Toolkit by OptinMonster
OptinMonster is the best popup and marketing plugin to help you get more email subscribers, increase sales and grow your business. With OptinMonster's pop-ups and conversion toolkit, you can convert in visitors leaving your site in subscribers and buyers.
OptinMonster lets you create beautiful pop-up forms, email sign-up forms, ad sticky panel (welcome bar), spinning wheel game forms and other types of interactive pop-ups for your website in minutes, not hours.
It is a powerful WP plugin that includes behavior customization and advanced page orientation. It allows you to segment your mailing list and group subscribers based on their interests and interactions with your site. Segmentation will allow you to send relevant emails to your subscriber, resulting in higher open rates, higher click-through rates, higher sales and revenue, and more.
Popup Maker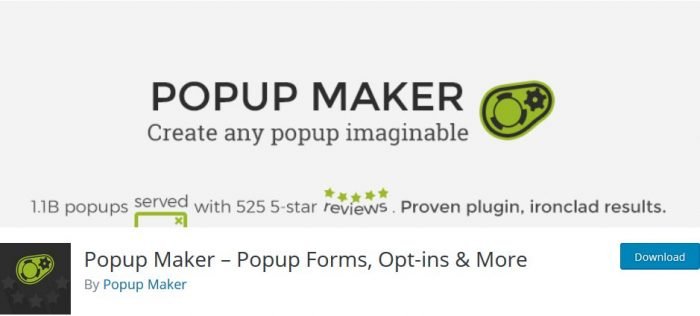 Sometimes developers go to great lengths to provide a plugin that really stands out from the rest, and Popup Maker for WordPress is one such plugin. If you really want to increase the number of subscribers on your mailing list, if you really want to increase user engagement and conversion rates for your products, then this is the plugin you will want to explore further. Popup Maker is the most versatile and easy to use plugin for popups, modals and content overlay. With a wide variety of settings, you can create any kind of overlay you can imagine. With the growing library of extensions, you can further increase its power. Create slides for related content, banner notifications, signup or contact forms, special announcements, and more.
Hustle
Hustle is the perfect marketing plug-in for building your email list with signup forms, pop-ups, targeted marketing pop-ups, lead generation, social subscriber creation with share bars, improve conversions, and grow your business. with the award-winning Smush Image Optimization and Forminator form builder. in WPMU DEV.
It is a flexible plugin that contains a built-in layout editor for easy customization. Personalization includes colors, animation effects, patterns, shadows, and display conditions. With all these settings available, you can create great popups instantly.
PopupAlly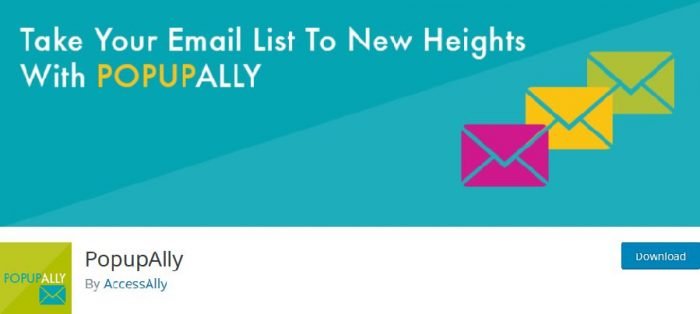 If you want to expand your list, PopupAlly is a free and hassle free WordPress pop-up plugin. With built-in advanced features, this lightbox pop-up plugin allows you to build your list when people are about to leave your site. Exit intent pop-ups allow you to capture lost visitors and have been shown to increase conversions by over 300%. PopupAlly lets you create advanced popup signup forms in less than 5 minutes, even if you don't know the code. PopupAlly visual editor allows you to customize the appearance of popup windows with instant preview, saving a lot of time.
This allows you to significantly increase the number of people who interact with your pop-ups. The visual popup maker will let you create the popups you see on the most prestigious sites, it goes without saying that you will save a lot of time along the way; no programming experience required.
Popups – WordPress Popup
Popups is a free WordPress plugin that can display multiple pop-ups on your site. It is the perfect solution to display important messages such as the EU cookie notification, increasing the number of followers on social networks; add a call to action button, grow mailing lists, and more. The plugin comes with a variety of filter options that can be combined and used to create beautiful pop-ups for your WordPress sites. Once the popup is created, you can add them to any of the 5 different locations in the popup.
MailOptin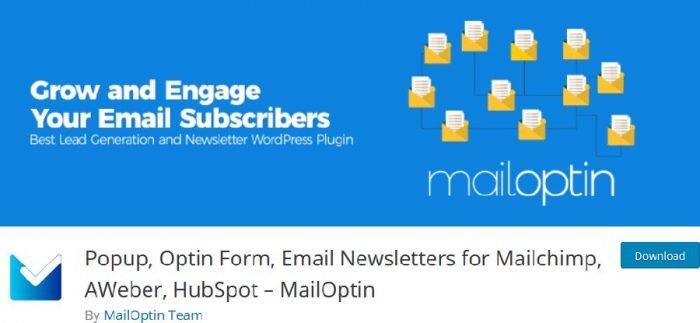 MailOptin is a plugin for form builder, lead generation, autoresponder and email distribution that will grow and attract your mailing list. Display specific messages and "calls to action" on your website via pop-ups, pre / post post subscription forms, notification bar, slider or scroll bar, sidebar / widget subscription forms, and automatic / event-driven newsletters such as automatic notification of new messages.
What is really solid compared to MailOptin is the wide range of features and capabilities it offers you. You can try many different things to see what works best for your audience. MailOptin is ridiculously easy to use with everything you need to smash it into the email marketing game. Rather than leaving all that money on the table, embed the newsletter signup box on your website even after launch and start the journey with confidence.
CM Pop-Up banners for WordPress
The CreativeMinds WordPress Pop-Up Banner plugin allows users to customize and promote events, products and offers on a WordPress site. Users can add a responsive pop-up banner throughout the site or on specific pages and announce upcoming specials in the middle or at the bottom of the page. The Pop-up plugin includes pop-up triggers, the ability to add multiple pop-ups, pop-ups with images and shortcodes, multiple pop-ups, and control the location of the pop-ups. In the Pro version, you can customize the appearance and timing of these pop-up banners and check the campaign's success.
Create a responsive banner for the entire site or on individual pages. Upcoming promotions can be announced in the middle or at the bottom of the page. Apart from that, the plugin can also be used as a great tool to enhance your email and create custom pop-ups.
Yeloni Exit Popup
Yeloni is a powerful lead generation plugin that converts visitors leaving your site to subscribers through attractive forms that have been proven to convert. Choose from a variety of settings, orientation options, and widget layouts to customize your popup.
Random Banner
Random Banner is a free WordPress pop-up plugin that provides the user with a flexible high-level graphic banner. In addition to image banners, the plugin also supports SWF banners and ad scripts. The banners created by the plugin can be displayed in any order anywhere on the screen. The plugin allows you to create an infinite number of banners. The created banners can be activated / deactivated at the user's request. The created banner can also be sorted and filtered using the filter parameter.
Popup anything on click
Pop-ups are a great way to grab your visitors' attention. Popup Anything On Click is a versatile WordPress plugin that invites you to enrich your website with whatever pop-ups you want.
Popup something on click is a modal popup plugin for WordPress website that allows you to add custom popups. Set the position of the popup, i.e., center, top left, top right, bottom left, bottom right, center left, and center right. This plugin allows you to display popups on your WordPress site using shortcodes. With the Popup something on click plugin, you can insert any type of content into your popup HTML, image, shortcodes, etc. Insert your popup shortcode into any page or post easily and quickly.
Themify Popup
Themify Popup allows you to display great responsive popups on any page on your site. You can use it to display newsletter sign-up forms, advertisements, or general lightbox content. You can enable pop-ups to appear on your site or in specific posts, pages, categories, specific user roles, or even at specific times.
It is a highly customizable plugin that integrates with theify builders to design front-end layouts with drag and drop and live preview. Besides, you can also add various launch effects and options to display pop-ups in an attractive way for your visitors.
WP Popups – WordPress Popup builder
WP Popups is the best popup maker for WordPress. With a simple and intuitive template builder, you can create and customize popups in just a few clicks. No coding skills required. It is the perfect solution for displaying important messages like EU cookie notification, increasing social media subscribers, adding calls to action, growing mailing lists by adding a form like mailchimp, or displaying any other important messages in a simple popup .
You can use the powerful WP pop-ups for any purpose. Whether you want to expand your mailing list, add an EU cookie notice, or just add a call to action, WP Popups is it. The tool is also bundled with all popular plugins like Gravity Form, Contact Form 7, MailChimp, Ninja Forms, etc. You can choose from five different locations, specify when the popup should appear, and hide the popup if the user scrolls back to top. There are many other display functions and filters that you can mix and match to get the right look for your project.
WP Post Popup
While you usually see popups in the form of forms, coupons, and more, WP Post Popup takes a completely different approach. This tool, hence the name, turns any post and page into a popup. As simple as that! Now your readers won't have to wait for a new page to open instead of enjoying the content without leaving the current one. They can simply close the popup when they finish reading and continue browsing your website. Some additional WP Post Popup features include loading external pages in a popup, showing only a portion of a page in a popup, and allowing you to customize your popup link accordingly. If you want to go against the norm, WP Post Popup is one add-on to your site that can go a long way.
Popup Maker – Responsive popup
Popup Maker can improve the performance of your products, the attractiveness of your website, the flow to your site, the traffic to your social accounts, the flexibility of your projects, the number of your main customers, the ease of use of your site. web, the ease of perception of your product and site.
With Popup Maker smart tools, you can add the required items and create a popup that can contain items such as: Image Popup, Countdown Popup, HTML Popup, Video Popup, Subscribe Popup, Popup Window contact, social media popup, iframe popup, age restricted popup, option forms, counter popup, Facebook page popup, google map popup. You can even mix them up in the popup, including multiple items in the popup. So you can have a subscribe popup with a countdown or a popup with an image
Icegram– Optins and Lead Generation Plugin
Icegram is the best plugin to easily create beautiful subscriptions and CTAs of your choice, show them to targeted visitors, and convert them to customers and fans.
With Icegram, you can increase your newsletter subscriptions, convert visitors into buyers, and simply direct guests to a specific page with a call to action button. Icegram has many different popup styles to choose from, such as header and footer bars, toast notifications, sliders, and eight more. Of course, you can track the performance and statistics of each popup for further optimization. Customize it your way and add new popups to your page or blog using Icegram.
Alligator Popup
Alligator popup plugin is for those who want to have a popup plugin that only works through short code. This means that you can customize each page to display a separate pop-up window. You also have the ability to customize pop-ups on individual pages rather than popping up everywhere. The settings allow you to customize parameters such as width, height, and whether or not the scroll bar is used. For now, the plugin allows you to embed URLs. Presumably the URL you enter should contain the HTML for the type of popup you want to display. In turn, this allows you to encode a high-quality custom page using the latest web technologies.
Simple Popup Plugin
Do you need a simple popup that can integrate your favorite email subscription services and also provides the ability to display social media buttons in popups? This is the only plugin you will want due to its simplicity. This plugin cannot perform additional functions. This makes it very attractive for minimalist and strictly content-oriented sites.
HubSpot WordPress Plugin
HubSpot popup tool is very intuitive and easy to use. First, you will be asked to select the type of popup you want (box, banner or swipe) and then you will be taken to a customizer where you can edit the text, add an image and relevant form fields, and even create your own thanks. message at the bottom Each contact you capture is automatically added to your free HubSpot CRM account. You can also target users by simply entering the URL of the pages where the popup should appear.
Sumo – Boost Conversion and Sales
Sumo is more than just a pop-up form builder. This plugin not only expands your mailing list but also helps with social media, link building, and site analytics. The application has a List Builder module that allows you to create pop-up windows. You can customize the display of pop-ups based on the traffic source or various triggers, such as clicks, time on page, exit intent, and scrolling depth.
Elementor Popups
Create stunning popups with the popular Elementor page building plugin and its Pop-up Builder feature. Elementor Popups use the same interface as the page builder, allowing you to apply the same widgets and styling options to popups like buttons, countdown timers, email signup forms, and more. Like many other plugins, this one offers a variety of pop-ups like pop-ups and full-screen overlays.
PopUp Domination
PopUp Domination is one of the oldest popup ads. However, that hasn't stopped them from making the proper updates to remain competitive in the market. Its visual interface still makes it easy enough to customize one of its 100+ pre-made templates. This plugin allows you to show your popup to different users based on time on page, user inactivity, exit intent, clicks, total time on site, and mouse scrolling. In addition to page-level targeting, advanced targeting options include geolocation, traffic source, and device.
ITRO Popup Plugin
ITRO Popup Plugin is one of the most useful popup WordPress plugins available today. With over 20,000 active installs and a good 5-star rating, this plugin is ahead of the pack. It is a very lightweight WordPress plugin. The plugin has an easy-to-use interface that allows WordPress users to easily change all the necessary settings for the popup.
Poptin– WordPress Exit Intent Popup, Email Pop Up, Inline Contact Form Builder
Poptin forms and popup plugin track the behavior of website visitors and display the right message at the right time. The platform helps increase conversion rates and converts more visitors to leads, sellers, newsletter subscribers, increases engagement, and prevents leaving the website.
Finding the Best WordPress Popup Plugin
We hope this list of the best WordPress pop-up plugins has helped you find a solution that suits your needs so that you can expand your email list and increase your sales online. Looking for more useful tools for your website? Check out our post on the best WordPress plugins to find all kinds of cool features.
There are tons of pop-up WordPress plugins in the WordPress directory. So making a top-quality list is no easy feat. We have analyzed user reviews, descriptions, demos and will test many of these WordPress pop-up plugins to find the best free titles for you. Let's get to know them.
To avoid this, be very selective about your WordPress pop-up plugin. It's important to make sure you choose one that has a variety of features, looks professional, and lets you control when it kicks in.
When it comes to WordPress popups, there are endless possibilities.
If you're looking for a quick and easy way to gather user information and convert leads, check out HubSpot's free WordPress popup plugin. Installing the plugin will automatically connect your demand capture tools to HubSpot's free CRM so you can easily create additional emails for people who fill out your form, track their activity on your site, and manage your leads in one place. a place.
Conclusion
So, I tried to write about how you can create effective pop up banners and how to use pop up banners on your website. Then I introduced you to some of the selected and well tested popup plugins to help you create a beautiful popup on your website.
So it is not about choosing the best popup plugin, but choosing the plugin that suits your needs. Whether you need a plugin that Elementor offers, like a drag-and-drop builder, or a plugin that makes it simple with a built-in layout library, choosing a pop-up plugin for WordPress is sure to help you build a subscriber mailing list and grow. your conversions exponentially over a period. hour.
I hope you find this collection useful and you can start using one of them right now! If you are already a user of any of the plugins mentioned above, please share your experience in the comment box below.