Find a reliable and easy-to-use WordPress migration plugins to migrate your website from one host to another. You are in the right place All website files, such as images, databases, files, themes, plugins, etc. should be moved carefully.
Setting up a WordPress website is easy. Move WordPress Website – Not so much. It's a time-consuming and risky task, especially if you don't know what you're doing. For this reason, we recommend using the WordPress migration plugins to avoid the need to do it manually. May crash website
Therefore, using the WordPress migration plugins would be the best free website migration service, there are great web hosts that will do it for you.
But for anyone who wants to move their website, check out this summary of the best free WordPress migration plugins on the market to quickly move all site files and data without error, regardless of skill level. Please be able to do it.
Why you need A WordPress migration plugins?
Manually migrating your WordPress website is definitely an option, but it's not recommended unless you know what you're actually doing. It contains many technical steps and the process can take a long time, especially if you have a large website.
There are many reasons to migrate your WordPress website. Maybe you run an agency and develop a website for your clients. Or you may be building your own website on your local server and ready to publish it. Or you may still need a way to safely move your site and all your files with no downtime, just by changing your web host.
And even if you know what you're doing, there's no reason not to use plugins to simplify and speed up the process. After all, I don't want to risk the whole site crashing with just a few mistakes and losing all my hard work.
So, if you are ready to migrate your website and need some help and guidance, please consider using one of the following free WordPress migration plugins designed to accomplish all tasks.
Migrate Guru
Migrate Guru uses its own server and intelligent processes to move your site from one place to another. In addition, the plugin automatically rewrites URLs, bypasses import/export scripts, and handles serialized data, so there is no risk to your site during the process.
Migrate Guru was built for large websites. Also, because it uses its own server to complete the process, you don't have to worry about site crashes or migration interruptions due to live site server import restrictions.
Duplicator

Duplicator is a powerful site migration tool for WP. It's free and has great features. Duplicator allows users to back up their site. Clone the live site on your PC and modify the code so you can test it in your localhost environment. Duplicator allows you to move your localhost site to your production server.
Duplicator creates a package that packs all the plugins, themes, content, databases and WordPress files of your website into a simple zip file called a package. You can use this package to easily move your WordPress site to any location. Go to the same server, server-to-server, and almost anywhere you can host a WordPress site. You don't need to install WordPress as the package contains all the site files.
WPvivid Backup Plugin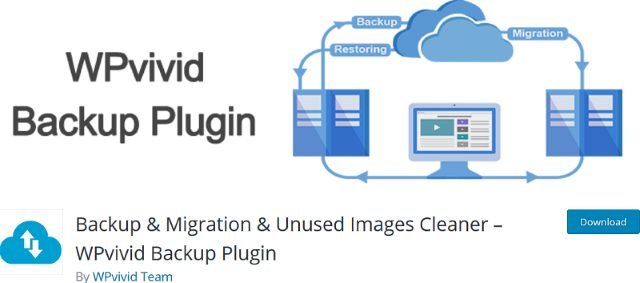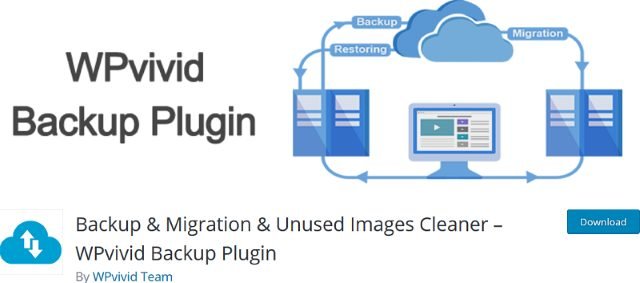 The WPvivid Backup Plugin offers backup and migration as basic features and integrates increasingly elegant features such as unused image cleaners.
When it comes to website migration, all you need to do is make a copy of your site (no matter how big it is) and transfer it to a new host with a single click. You can also do this from the staging environment if desired. This is very useful for developers. In addition, you can migrate sites to subdirectories and between domains. Finally, you can select the data you want to migrate. Entire site, file, or database only.
In addition to the migration feature, you can schedule automatic backups, enjoy one-click site restores, or save a copy of your website to an offsite cloud storage location such as Dropbox, Google Drive, Amazon S3.
UpDraftPlus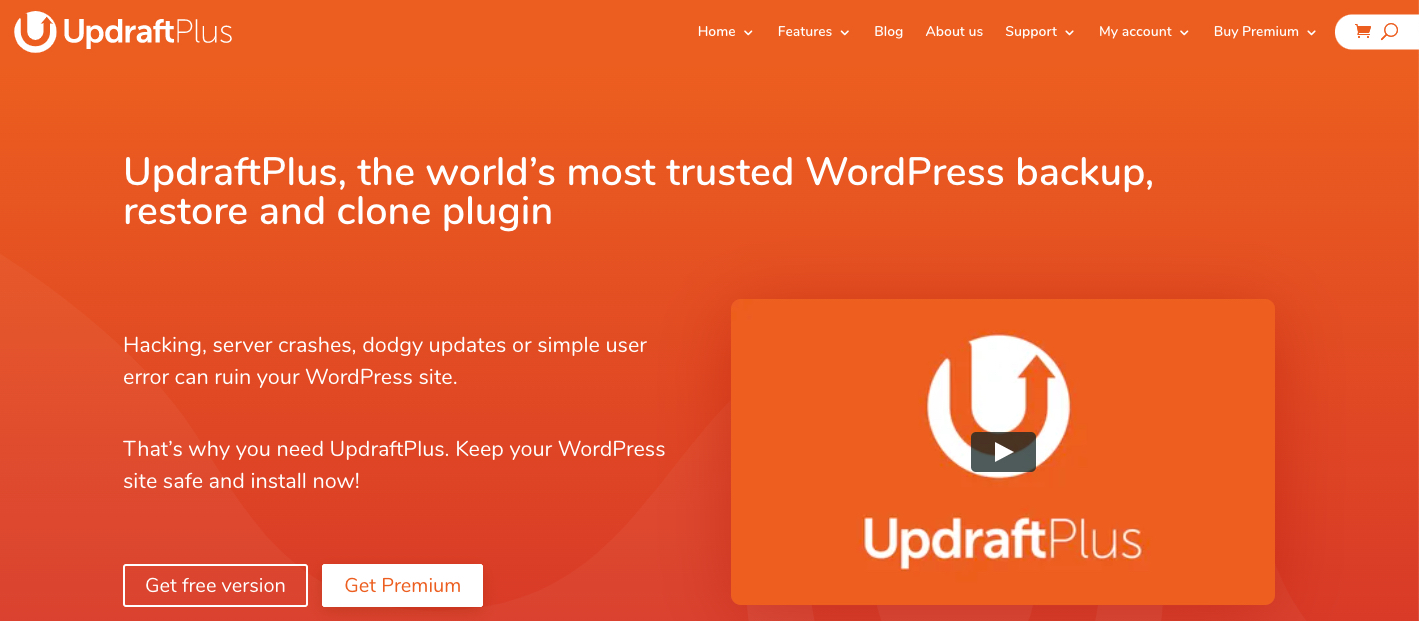 UpDraftPlus is a highly acclaimed WordPress migration plugin that is very popular with WordPress CMS. In terms of functionality, it's a very comprehensive WordPress plugin. The plugin has over 1 million installations and has been tested on various niche websites. With a large audience, you can expect regular updates with new features and builds.
One-click backup to the cloud Dropbox, Google Drive, Rackspace Cloud, DreamObjects, UpdraftPlus Vault and more, and then restore.File and database backups can have separate schedules.
All-in-One WP Migration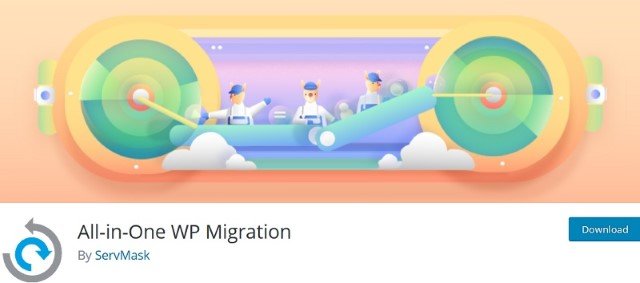 All-in-one WP Migration is a WordPress plugin specifically designed to allow you to export WordPress databases, media files, plugins, themes to a new server or domain.
This WordPress migration plugin imports your site in chunks to a new location so you don't have to worry about exceeding the upload file size limit. This also reduces the chance of your site crashing during the migration process. All-in-one WP migration does not require PHP extensions and works with PHP version 5.2 and above. Also, unlike many migration plugin solutions, this plugin is 100% compatible with mobile devices.
WP Clone
A good alternative to Duplicator and All-in-One WP migration is WP Clone. The plugin will migrate the entire site to the new host without requiring you to upload files or enter commands. The file transfer is done over an HTTP connection.
This is one of the smoothest and safest ways to move or copy your WordPress site to another domain or hosting server. You can also use the plugin to move your site to and from local server hosting, or even make a copy of your site for development or testing. Purpose, site backup, pre-configured version of WordPress installation. You don't need FTP access to the source or destination site, you just copy the user's content and database, not the files from your WordPress system, which improves security and speed. process.
WP Migrate DB
WP Migrate DB is a free plugin to generate backup files for your database. A file in .sql format. You need to upload it to a new host using the PHPMyAdmin tool.
This plugin fully supports serialized data and arrays and can find and replace content. What does this mean for you? This means that database migration is much easier and there is no risk of data corruption.
In addition, it provides the option to search and replace strings in database tables. This is a useful feature if you change your domain name. You can configure this plugin to replace GUIDs, exclude spam comments, temporary messages, and post revisions before performing an export operation.
WP Staging

Like Duplicator, WP Staging comes in both free and premium versions. And like all freemium solutions, the free version of WP Staging is limited.This duplicator plugin allows you to create an exact copy of your entire website in seconds for staging, backup or development purposes.
This means that you can make an exact copy of your entire WordPress website in seconds, for staging or development purposes. In fact, when you clone a website, you will find a copy in the subfolder (including the database) of the main WordPress installation. All data copied and migrated belongs to the user and remains on the server. Huge websites don't time out and small hosting servers are fine.
Any plugin updates and theme customizations must first be tested on the staging platform before being completed on the production website.
Use the same hardware and software environment for your test website and have your staging platform on the same server where your production website is located to catch any errors that may occur during testing. Is recommended.
WP BackItUp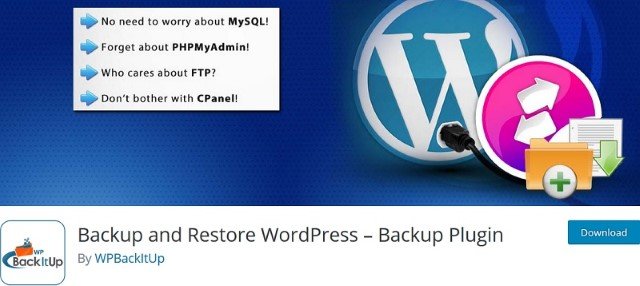 The WPBackItUp backup plug-in prevents hackers, malware, host interruption and even your own mistakes. WPBackItUp can create backups of all settings, posts, comments, revisions, plugins, themes, media files and uploaded files in one click. WPBackItUp produces a compressed backup of your entire website, regardless of the size of your site. Backups are quick and easy to download from your WordPress dashboard.
With this WordPress migration tool, you can perform a simple migration without complicated code or FTP access. No cPanel or MySQL or technical knowledge required. Therefore, it's a great plugin for beginners and webmasters who don't want to use deep technology and want a simple and secure transition.
VaultPress
VaultPress is powered by Jetpack, which makes it easy to backup all your site's posts, comments, media files, revisions, and dashboard settings to your server. This VaultPress can prevent hackers, malware, accidental damage and host interruption.
If you've worked in the WordPress space for a long time, you may have heard about the Vaultpress plugin. If not, we'll explain why you use this migration plugin for your WordPress migrations.
Jetpack
Jetpack is a collection of various tools that provide additional functionality to your website. One such feature is the migration option, which was previously part of the VaultPress, which was previously sold as a separate product.
Activate site accelerator tools to monitor page load time reduction—optimize images and serve images from your own powerful global network to speed up mobile sites and reduce bandwidth usage. Save money, Static files such as images and CSS JavaScript provided by the server, not by your server.
SiteGround Migrator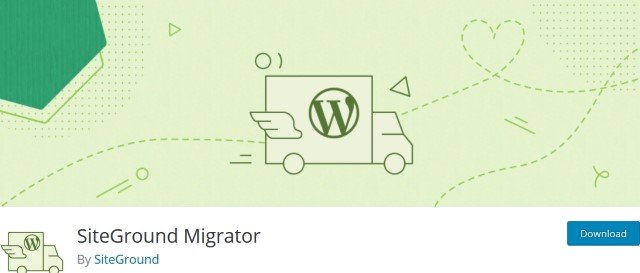 This plugin offers a complete solution for all your backup and migration needs. It cannot be used to transfer your WordPress instance to another hosting provider.
First, you need to get a migration token from your SiteGround account. This can be done using the WordPress Migrator tool in the WordPress section of the SiteGround hosting control panel. When you select a domain name to start the transfer, the system will generate a transfer token.
Cloudways WordPress Migrator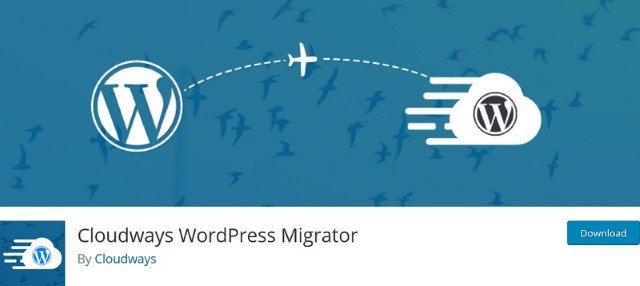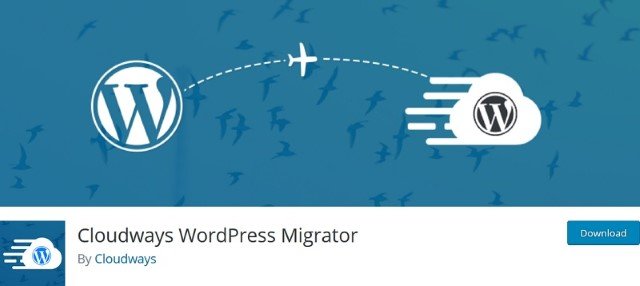 The Cloudways WordPress Migrator plugin can automatically migrate WordPress from other hosting service providers to Cloudways, the world's easiest cloud hosting platform.
You don't need an in-house technical expert to manage the complex process of migrating your website to Cloudways Cloud Platform. Website themes and plugins are kept with great care.
Cloudways WordPress Migrator is perfect for SMEs that don't have the resources to hire a specialist to handle the website migration. Search engine rank position (SERP) does not decrease. The SEO link remains intact. Therefore, SEO is not adversely affected.
WP Engine Automated Migration
WP Engine Automatic Migration allows you to easily migrate your WordPress website. What you need to do is provide the WP Engine SFTP credentials for the plugin, and then let the tool do all the heavy lifting.
All data you copy and migrate belongs to you and remains on the server. Huge websites don't time out and small hosting servers are fine. If you need features such as push and pull from staging site or the ability to select another database and choose a custom directory for cloning,
There are a few things to keep in mind before changing host
Back up your DB and WordPress installation directory. Post data, themes, and plugin settings are saved in a MySQL database. Your database is corrupted, your site may crash. You backed up your site's DB, you can quickly restore your tables when your site isn't open on your visitor's device.
If you own a busy website, change your site's DNS only when the migration is complete. The site is not properly deployed on the new server, users will not be able to access it. Therefore, before changing the DNS settings, make sure that the data in the configuration file is correct and the database is set correctly on the new host.
Finding The Right Migration Plugin
If you are a developer or run a WordPress agency, the most reliable WordPress migration plugin is MigrateGuru.
With MigrateGuru, everything is put together in a handy package, making your work a lot easier. You don't have to be an experienced developer to use the plugin, and you can be confident that your migration will succeed. If you're thinking about money, the best free WordPress migration plugin for you is All-in-One WP Migration. WP Migrate DB or Migrate Guru are all free.
Finally, if you need a fast and dirty solution for migrating WordPress websites, consider using a host-specific migration plugin like that provided by SiteGround, LiquidWeb, WP Engine or Cloudways. Each migration plugin comes with its own unique set of budgets, skill sets, and a number of features that need to be investigated depending on your migration needs.
Final Thoughts
The above WordPress migration and backup plugins make it easy to move and back up your site. You will spare precious time and effort.
I hope after reading this detailed post, the road to finding the best WordPress migration plugin has been easier. Regardless of the type of transition we make, it is very important that we pursue maximum clarity and have a clear vision for our end goal.
If you like this article, please share your query in the comments section below.