As a website owner, isn't it exhilarating to see an increase in incoming traffic? Of course not! We all experienced it! However, when the site begins to gain momentum, spam becomes one of the most offensive you have to do.WordPress anti-spam plugins help remove such spam. The moment many of your websites begin to get a decent amount of traffic, many unwelcome spammers join the party. Most of these spammers are automated spam bots.
There are many types of spam that can exhaust network bandwidth and cause network malfunctions. This can also reduce the performance of your website. Spam can spread at the click of a button and can be sent to many users in a group. These unwanted posts can also be sent to loyal users of your website. This can also reduce the positive and authoritative image of your website to your users. This can also affect the reduction of website visitors and visitors. Therefore, it is very important to stop spam on your website.
That's where wordPress anti-spam plugins come in. By using one of these plugins, you can easily exclude spam comments and keep your website safe. This article will introduce you to the best WordPress anti-spam plugins.
Why you Need A WordPress Anti-spam plugin?
There are several reasons to use wordpress anti-spam plugins on your website. Spam comments generally contain low quality or offensive comments that can undermine your website's rank.Wordpress anti-spam plugins help remove such comments and keep your SEO in place.
You can manually moderate each comment on your blog, but it can be a very time-consuming task. You can use the anti-spam plugin to reduce this manual effort and eliminate spam comments right after they appear on your blog. This saves a lot of time and can be used to improve other aspects of your business. Not deleting spam comments can overload the database and consume bandwidth unnecessarily. Anti-spam plugins counter this and help maintain good performance of your website.
Some comments may contain offensive content. These comments can damage the website's reputation and can negatively impact traffic. Anti-spam plugins prevent this from happening.
Now let's check out the best WordPress anti-spam plugins that can help you exclude unwanted comments from your website.
Akismet Anti-Spam
Developed by Automattic, the company behind WordPress, this is one of the most popular WordPress-based free cloud-based anti-spam plugins. Akismet uses a web service powered by a cloud server, which evaluates spam comments. It's very easy to use and set up.
Akismet anti-spam plugin is pre-installed on every WordPress site you create. Simply activate the plugin and connect to your Akismet account via your API key. This process is as easy as A, B, C. Once connected, Akismet will start immediately and use a complex algorithm to stop spam. rule. The comment is then subjected to hundreds of anti-spam algorithms (we don't know the exact number). The correct comment will be published and the rest will be sent to the spam queue. You can also view the status history of all comments to see what the moderators have spammed, or automatically put them in your spam folder.
AntiSpam by CleanTalk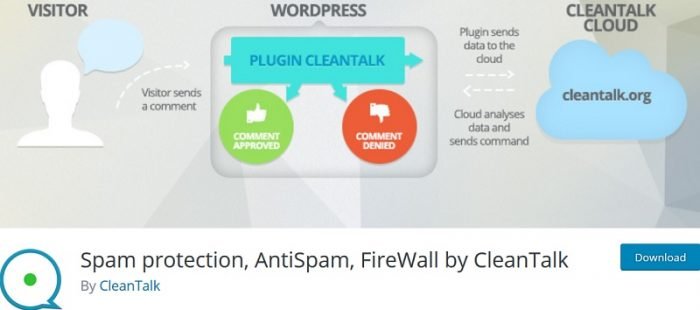 The plugin is very similar to Akismet. Received comments will be uploaded to CleanTalk's cloud server for multiple verification checks. Depending on the outcome, the comment is either moved to the spam queue or approved and published.
CleanTalk runs faster than most other anti-spam plugins. It's common knowledge that the faster your site loads, the better the customer experience, the better SEO, and the better your site conversions. In SEO, conversion and user experience, speed is becoming more and more important.
The plugin maintains a high level of statistics on blocked spam comments and spam comment logs. It also supports a series of third-party plug-in compatibility, such as W3 Total Cache, BuddyPress, bbPress, WP-Members and more.
Titan Anti-spam
As mentioned in the name itself, web-vitaly Anti-Spam is a very easy to use WordPress anti-spam plugin. You can block automatic spam in the comment section without capture. You can also find these block comments as needed. It is stored in the spam area of your dashboard. Then, if you think the comment is not spam, you can convert it to a regular comment.
Anti-Spam by webvitaly uses two additional hidden fields in the user's comment section. Here, you need to enter a unique code in the first field. On the other hand, leave the second field empty. When a user visits a website or web page, the first field will be populated with a code and the second field will not be populated with Javascript and CSS. However, they are completely hidden from the user. But spammers fail at this point because they see the field and try to fill it themselves.
Antispam Bee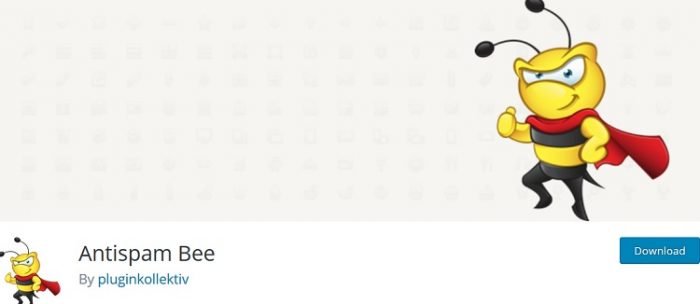 If you want your WordPress Anti-Spam plugin to work immediately without user registration, Anti-Spam Bee is the perfect choice. It's a completely free plugin that will help you create spam-free no matter what website you use.
Anti-Spam Bee has many features for creating protected websites. You can block comments from IP addresses, languages, and even countries to prevent spam from entering your website. This WordPress plugin will notify the administrator by email about the spam received. In addition, you can limit approval to comments and pings. Other comment types are automatically deleted. You can also exclude trackbacks and pingbacks from spam detection if desired.
Cerber Anti-spam
Cerber is a powerful anti-spam WordPress plugin that can be extremely helpful in handling spam, attacks, malware and other inconveniences. Especially for spam, Cerber activates its engine and Google reCAPTCHA for comments, contacts and registration. You can also use Cerber to limit login attempts, monitor logins, create black and white IP access lists, and generate custom login URLs.
By the way, Cerber has various functions and can be used. Block users trying to log in with a forbidden username and stop enumerating users. With impressive Cerber, you can protect your blog or website with anti-spam tools. You can run your web space smoothly and seamlessly.
Wordfence
Wordfence Security is a full-fledged security system for your WordPress website or blog. Instead of inconvenience, let Wordfence Security handle the smooth navigation of your page in the background. Wordfence Security is more than "just" a WordPress anti-spam plugin, it handles everything else as well.
Wordfence Security is a firewall and a security scanner. Of course, this includes spam. And if you want to take things to a whole different level, you can always upgrade to Wordfence Security Pro Plan and enjoy a thicker layer of protection. Administrators can always see what is happening and the number of threats, spam and possible attacks that Wordfence Security has prevented.
WPBruiser
Formerly known as Goodbye Captcha, WP Bruiser is a great WordPress anti-spam plugin. The plug-in applies anti-spam functions on the registration page, login page and password reset page to prevent spam from appearing before it starts.
WPBruiser is a great WordPress anti-spam plugin that helps protect contact forms, lost password forms, login forms, registration forms and comments
In addition, you can get a detailed spam report so you can stay up to date. Besides that,WP Bruiser also provides many extended functions, such as contact form 7, WooCommerce, gravity meter, etc.
BulletProof Security
BulletProof Security is another great WordPress anti-spam plugin for improving website security. The WordPress spam plugin includes everything you need along with firewall options. This firewall helps protect your website from malware and other harmful intrusions. There is a one-click setup wizard. Therefore, you can easily set up a plugin on your website without any hassle.
One of the great features of BulletProof Security is the MScan Malware Scanner. This helps to block all kinds of malware to websites. It also has .htaccess website security protection as a firewall. Combined with login security and monitoring, this plugin provides a spam protection shield for your website.
Stop Spammers
As far as WordPress anti-spam plugins are concerned, Stop Spammers is a well-known spam assassin. Exceptionally easy to set up and use, Stop Spammers provides powerful features to protect you from the demons of spam. It works right out of the box. In other words, you don't have to touch anything to wipe out spammers.
What's more, this is a very simple and lightweight plugin, but it contains so many features and options that you shouldn't be fooled. Specific protection options can be found on the Stop Spammers dashboard. Here you can automatically add an administrator to the allow list that contains the logged-in administrator's IP address. you can also disable the administrator if desired. Also have the option to validate various requests to your website. You can also block some countries if you wish.
All In One WP Security & Firewall
As the name implies, All In One WP Security & Firewall is a full security WordPress plugin that adds a layer of protection around your website. Not only does it scan and stop spam comments, it also continuously monitors the most active IP addresses that generate the most spam comments and immediately blocks them with the click of a button.
This plugin will prevent comments from being sent if they are not from the domain. You can add CAPTCHA to your WordPress comment form to add security to any form of spam comment. Apart from these, it protects your website from brute force login attacks. In addition, it has file backup and restore functions, user registration security, database security, etc.
Spam Destroyer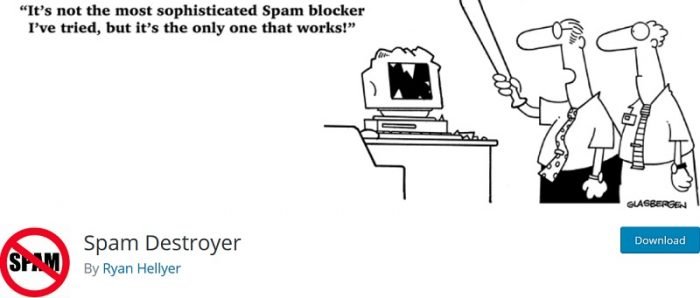 Spam Destroyer is designed to be out of the way of your readers. This lightweight plugin blocks automatic spam without procrastinating commenters. This is something you might consider for small blogs or low-traffic websites.
Perhaps the best thing about Spam Destroyer is its complete simplicity. In other words, the plugin can be used as is. All you have to do is install Spam Destroyer and stop automatic spam without touching a single setting. Plugin does not add items to WordPress admin dashboard after activation.
Zero Spam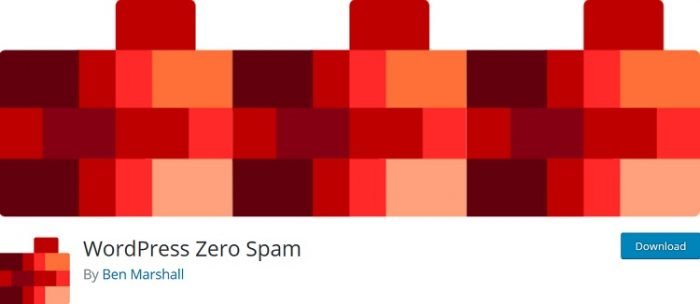 Zero Spam makes it easy to use the WordPress antispam plugin, which provides protection from spambots. With strong zero spam, registration and comment spam are gone. The great thing about this tool is that it requires very little work to install, activate, and function. In fact, these two actions are all you need to do the magic with Zero Spam.
WordPress Zero Spam embodies this approach and allows you to eliminate spam on your website in a stress-free way.
Besides? You can block spamming IP addresses and prevent them from displaying your website. Zero spam features include capture, moderation queues, cache plugin support, blocking fishy IP addresses, and optional logging. In addition, Zero Spam is compatible with numerous plugins such as Contact Form 7, Gravity Forms and more.
NoSpamNX
Many anti-spam plugins focus on user interaction. Automatic comment captures or calculations to protect you from spam bots. Some use JavaScript or sessions. NoSpamNX will handle automatic comment spam protection without these means. No JavaScript, cookies, or sessions required. Comment template fields are unchanged.
NoSpamNX automatically adds other form fields to the comment form and is invisible to human users. If a spambot blindly fills in these fields (which most spambots do), no comments will be saved. You can decide whether to block these spam bots or mark them as spam. In addition, you can put common spam phrases on your local blacklist or on your global blacklist (if you have multiple blogs).
Blackhole for Bad Bots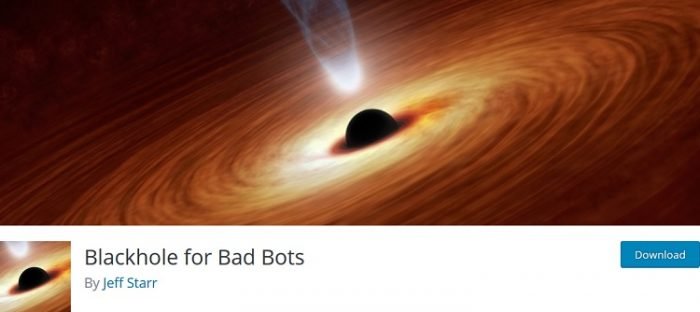 Now you can create your own virtual black holes for spammers and hackers. The operation method of the tool is very easy. It adds a hidden link in the footer of your page. This cannot be found by the human eye. Since then, BlackBot for Bad Bots removes all robots that follow the link and follow it.
In addition, more sophisticated bots that could actually break into the link are also thrown into the virtual black hole. This plugin doesn't affect real users or good bots. Black holes in the BadBots setup process are quick and easy. It's also super fast and lightweight, so it won't affect your website's performance or loading speed.
Caldera Forms Anti Spam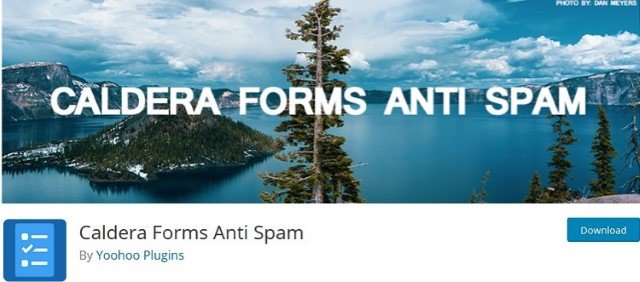 Caldera Forms is ridiculously easy to configure and use, and provides powerful features to protect you from spam daemons. It works right out of the box. In other words, you don't have to touch anything to wipe out spammers.
If the plugin flags a comment or login attempt, the user is allowed to make a second attempt through the rejected request page. Here, the capture screen is displayed so that the user is not blocked. Captcha is a range of OpenCaptcha, Google reCaptcha, or SolveMedia Captcha.
Conclusion
Finally, you also have to choose between a cloud-based solution and a local solution that uses server and client-side data, JavaScript, and cookies to prevent spam.
In my opinion, a local solution is sufficient if you have a reasonable amount of traffic with active/repeating/exploratory comments. If you are new to WordPress, Akismet is a great choice. However, if you run a popular viral site, cloud-based solutions such as Akismet are great choices.
We've covered a lot in this post, but hopefully you'll find an article to help tackle spam blocking. What is your favorite way to fight spam? Do you know a great anti-spam plugin that isn't listed? Let us know in the comments below!