Hello everyone, Today we are going to share a great high-quality 15 WordPress Admin Themes for Dashboard. An easy to install these themes are available as plugins. Finally meet their brand and their customers according to their needs to provide an experience that will make a custom Dashboard is an easy way to offer. So here is the list of 15 Best WordPress Admin Themes for Dashboard.
WPShapere


WPShapere WordPress Admin Theme is a WordPress plugin and a powerful tool to customize your WordPress admin. It will totally white label the WordPress admin section. With WPShapere you have the ability to offer your customers a complete new admin dashboard with your brand name.
Ultra WordPress Admin Theme


Along with White Label Branding features, It comes with 30 Awesome Inbuilt themes and gives you an option to Create your own theme. You can also control appearance of Admin Menu, Top Bar, Buttons, Content Boxes, Typography, Forms, Text and background colors, logo and so on…
Retina Press – WordPress admin theme


Retina Press – The brand new retina display custom theme; designed for the WordPress admin. This WordPress admin theme now gives you the ability to offer your customers & clients a completely new and customised dashboard, ultimately disguising the wordpress dashboard. This plugin has Multisite functionality which detects if you're running a network. If so, then you can completely white label/brand the WordPress admin for your customers.

A WordPress plugin to completely change your interface of WordPress admin dashboard is here. Every ui elements looks great on this admin theme, get it.
Blue Press – WordPress Admin Theme


A social style theme for Admin page with the new context sensitive menu and toolbar, wonderful look and feel. New icon and blue style maybe suitable for you
Forest – Revolution WordPress Admin Theme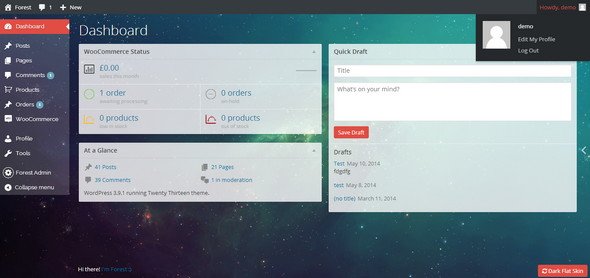 Forest is the new revolution of WordPress Admin Theme 2014. It's time for You and your Clients to get away from boring admin. Forest will make you and your clients be excited with managing a wordpress site. It's the first time, we have a Awesome Quick Panel in admin dashboard
Modern Admin – Flat WordPress Admin Theme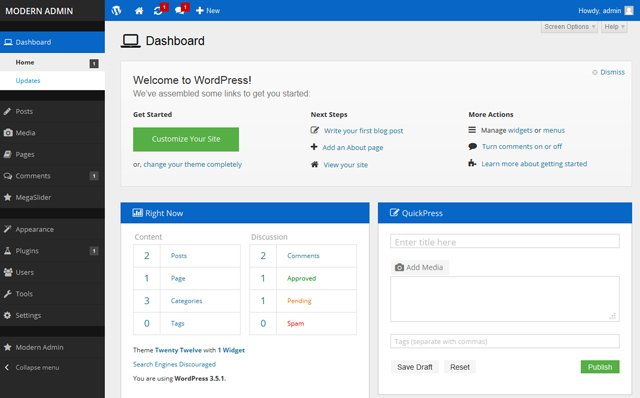 Modern Admin is flat-retina ready template for WordPress admin. This plugin comes with 5 color schemes, custom login form, configurable menu & dashboard icons.
Dynamic Admin Theme for WordPress


WordPress admin theme is available in 11 colors namely red, green, yellow, blue, lightblue, pink, orange, purple, black, brown and lightgreen.
Micropanel 2 – FLAT WordPress Admin Theme


NEW Now with the launch of v2 of our Micropanel there are a lot of changes, but the thing we've kept is our main concept – same minimalistic and classy outfit. The coding part is now optimized better looking and removed some of the old options for the new one that are going to replace them.
Rebrand WordPress Admin Theme – Modern Flat UI


If so, we have the perfect solution for you! Using our Rebrand WordPress Admin Theme – Modern Flat UI Plugin you can change it in just minutes! Inspired by the new iOS7 and combined with the Flat UI Design Trend we managed to develop a plugin that will change your WordPress Administration appearance totally!
Helios Solutions


Helios Solutions Custom Admin Theme Style endeavours to transform your working experience into more enjoyable, systemised and beneficial way. This is the best Admin theme plugin as it can be customized as per the choices of the user.
Cream6 – Free WordPress Admin Theme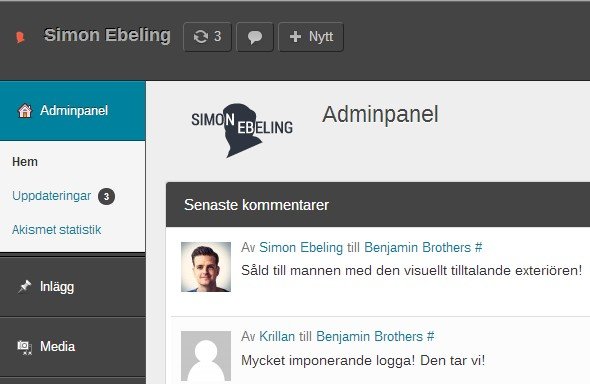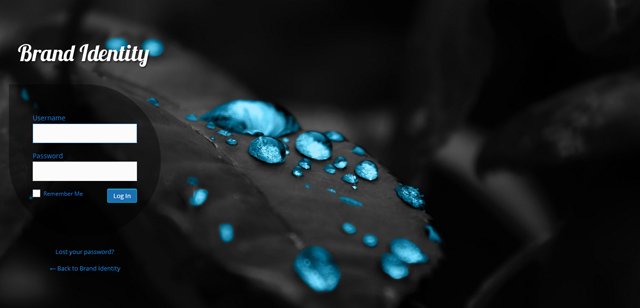 Customize WordPress admin, set your own logo, customize login form, hide admin bar, restrict access to wp-admin for subscribers.
CrispAdmin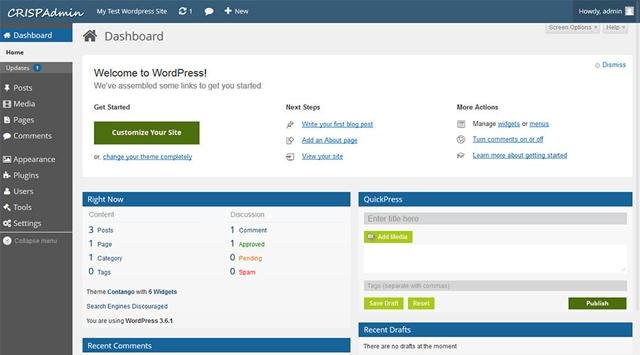 CrispAdmin gives a modern look and feel to WordPress admin area with flat style, vector icons, custom login page and logo changer. Comes bundled with 12 vibrant color themes out of the box and gives you the tools to create even more.
Awesome Admin Color Palettes



The only thing that's limited are the color palettes inside the theme. There are just a few color palettes available, and they don't seem to be on everybody's taste.