Looking for the right WordPress accessibility plugins for your website? The WordPress Accessibility Plugins allows people with disabilities to access your website. These plugins make it easier to recognize, understand, and navigate your site.
There are still many items to check the list so that everyone can access the navigation and content of the site. Thankfully, this is one of the areas that the plugin development community has really strengthened. You now have access to a variety of tools to help you meet the challenges of accessibility.
In other words, accessibility plugins improve the usability of your website and make it easier for users with various disabilities. This article describes WordPress's best accessibility plugins that can help make your website accessible to all users.
Before that, let's take a quick look at the advantages of using accessibility plugins on your website.
Some Advantages of using WordPress accessibility plugins
If you have a website, it's important to make it accessible to everyone who visits it. This is especially true after the United States imposes legal requirements under Section 508. According to this amendment, when an institution develops, procures, maintains, or uses electronic and information technology, it must be accessible to everyone, including people with disabilities.
The WordPress Accessibility Plugin allows all users to access your website. However, this is not the only need to use accessibility plugins. It also helps improve your business in several ways.
The first important reason to use accessibility plugins is to make your site more comprehensive. This not only avoids discrimination and legal issues, but also enhances the reputation of your website.
Some accessibility options, such as image alt tags and video transcripts, are Google's ranking factors. Therefore, enabling accessibility on your website can improve your website's SEO and improve your search rankings. This increases the chances of converting more reads. The more conversions you have, the more money you have.
Finally, and most importantly, accessibility plugins help the majority of the online population browse the content of your site. They even out the online browsing experience so anyone can benefit from the products and services on your site.
Below is a collection of WordPress plugins that can help improve the accessibility of your site.
WP Accessibility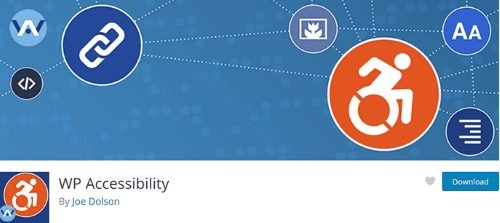 This plugin helps with various common accessibility issues in WordPress themes. Most accessibility issues can only be resolved by changing the theme directly.
WP Accessibility is not designed to make your website comply with accessibility guidelines. You can disable all features according to your theme needs. For advanced users, all features based on stylesheet changes can be customized using their own custom styles by placing the appropriate stylesheets in the theme directory.
The outermost features are the font size and color contract toolbar to make the content easier for users to read. However, it also does a lot of behind-the-scenes work, such as adding skip links to the content and implementing outlines on the links. It does many things, such as improving keyboard navigation in focus and using long descriptions for images. Each feature can be turned on or off from the settings page.
Genesis Accessible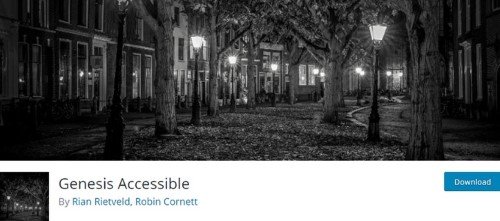 Genesis Accessibility is a great plugin that allows all users to access your website. This plugin is ideal for users of the Genesis Framework and its child themes that do not yet support current accessibility guidelines.
This plugin can be used on WordPress sites if it is version 4.9 or later. It's compatible with other WordPress plugins and works well with all the themes you use on your website. With this plugin, it's very easy to get access to your website.
You also don't need any professional knowledge to access it. It provides you with options for highlighting links, setting grayscale, negative or high-contrast effects, making fonts more readable, adding light backgrounds to make content more prominent, and more.
WP Accessibility Helper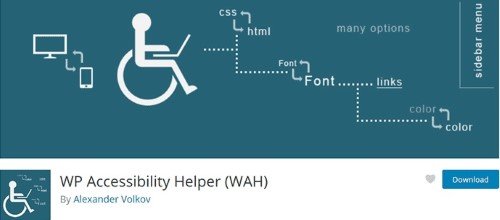 WP Accessibility Helper is an easy-to-use and user-friendly toolbar for websites. This allows the user to choose different color contrasts (choose from a selected color scheme) and adjust the font size to their liking. But in addition to links, grayscale images, font changes, keyboard navigation underlining and highlighting user options, that's not all.
WP Accessibility Helper makes it possible to improve the accessibility of your website, but does not guarantee 100% results in any case (at any level: A, AA, AAA). To give people with disabilities 100% access to the site, you need to consult an expert. The plugin also has a DOM scanner that checks the site for various accessibility errors. There is also a pro version that adds even better features.
WP ADA Compliance Check Basic

WP ADA Compliance Check Basic is a free accessibility plugin that scans websites for accessibility issues. Then provide an easy-to-understand report so that you can fix the problems you find. There is a free version of this plugin, but no issues with theme files are detected. However, there are also pro versions with a wider range of features.
This is a kind of WordPress Web Accessibility plugin that evaluates website content for web accessibility issues. Alternatively, you can perform a full scan of your website to identify any content issues. Accessibility reports follow simple instructions that provide references and make it easy to fix problems on your website.
During the full scan, the basic version was limited to 25 posts or pages and could not identify issues found in the theme files. The full version automatically fixes many common problems with the convenient and time-saving filter options built into the plugin.
Accessibility Widget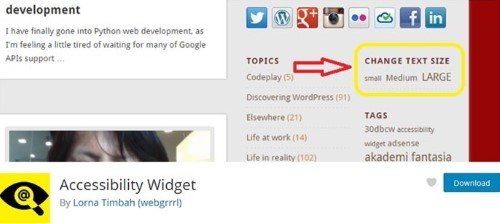 Accessibility is another great option to help users with disabilities access your website. Your users can operate the form even without using a mouse, and the fields on the form can also be translated into speech. This allows visually impaired users to use it. All fields created with this form builder have title attributes, which make it easy for your users to understand the meaning of the field.
Additionally, Useful option if you need an easy way to allow users to magnify text. This is a minimal style widget that provides "small", "medium" and "large" text links. The settings allow you to determine the size (or smaller) of the affected HTML elements and fonts.
Accessibility by UserWay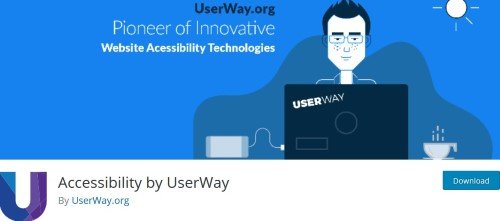 UserWay Accessibility is another free accessibility plugin that works on your website without refactoring your existing code and improves compliance with the requirements of WCAG 2.1, ATAG 2.0, ADA, and Section 508. is.
UserWay provides a simpler and more accessible browsing experience for users with limited mobility. Most of people cannot use a mouse or other pointing devices and nor can they browse websites solely on the keyboard. You must be able to fully navigate your website using the (tab keys, arrow keys, Enter key & spacebar) on your keyboard. The UserWay widget makes smart changes to the elements of your site. And we don't need you to make expensive adjustments to the site's existing code base to complete all the work.
WordPress Accessibility Toollbar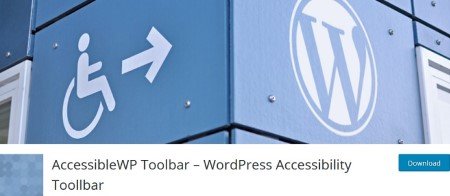 WordPress Accessibility adds a floating button that displays a toolbar that allows you to change the font and contrast when clicked. You can also zoom in and out on the page with the mark link to disable on-screen flash. However, the protagonist of the show is the ALT platform area within the WordPress dashboard. This screen lists the images uploaded to the site that do not have the ALT tag assigned. Even better, you can tag each image directly from this list.
Moreover, It will seamlessly detect any problems found on your website and help you fix them to make your website more accessible. In this way, anyone who logs into your website will get a more convenient browsing experience. For example, you can use this plugin to enable visitors to browse your website without using a mouse.
One Click Accessibility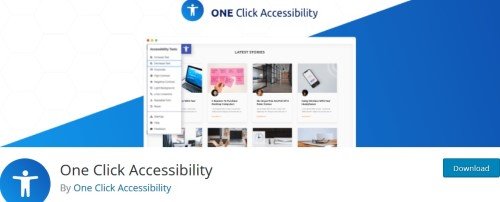 One-click accessibility is a powerful accessibility plugin. The creator of this plugin has since made it compatible with WordPress. This plugin makes it easier to access your website with minimal settings
Also, no expertise is required to make it accessible. It offers options such as underlining links, grayscale, setting negative or high contrast effects, improving font readability, and adding bright backgrounds to make your content stand out. One-click accessibility is a great option to set up and make your site visitors more accessible to your website.
Contact Form 7: Accessible Defaults

The plugin replaces the default template automatically generated by Contact Form 7 with an accessible equivalent of the form, and adds a set of other basic form types that you can choose to model the new form.
This is an important tool as Contact Form 7 is not very accessible by default. The plugin adds some accessible form types to use as the basis for new forms. Note that it does not affect existing forms, it does affect new forms. For existing forms, you will need to recreate the form with the new template. For this reason, we recommend that you install this companion plugin on your site at the same time as Contact Form 7.
wA11y – The Web Accessibility Toolbox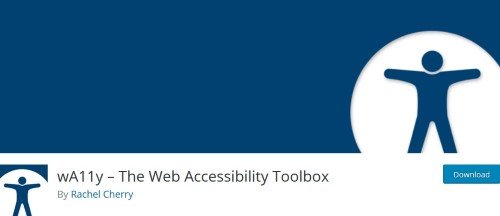 This WordPress plugin provides a set of tools to help you improve the accessibility of your WordPress website. Web accessibility refers to a comprehensive way to remove barriers that prevent people with disabilities from interacting with or accessing a website.
The foundation of good accessibility is good markup. This also means that good accessibility can improve SEO.
Moreover, Tota11y is an accessibility visualization toolkit provided by a friend of the Khan Academy. This is a single JavaScript file that inserts a small button in the bottom corner of your document to help you use assistive technology to visualize your site's performance.
Annotate every element of your web page and point out any issues. Another tool is WAVE, which provides a detailed accessibility analysis of the current page. Each tool has its own button that the logged-in user sees at the bottom of the site (you can choose the user role to display the button). Just click the button of your choice to start the analysis.
WCAG 2.0 form fields for Gravity Forms

The Gravity Form WCAG 2.0 Form field adds some accessibility features to the Gravity Form. For example, wrap a checkbox and a radio field in a field set. It also improves the input error notifications that users receive and displays the number of errors that have actually occurred. The plug-in adds ARIA attributes to various fields, and other behind-the-scenes adjustments.
In addition, accessibility is a complex topic, and mixed opinions can be mixed on how to optimally achieve an accessible website. Achieving accessible forms with different approaches is even more difficult. If you have suggestions, comments, or requests, please leave a detailed message on the Support tab. This plugin does not cover other aspects of accessibility such as content ordering, clear instructions, color contrast, etc. You need to check the theme of the website. The author shall not be liable for any damages, including but not limited to direct, indirect, special, incidental, or consequential damages or losses resulting from the use or inability to use the plug-in.
WP User Stylesheet Switcher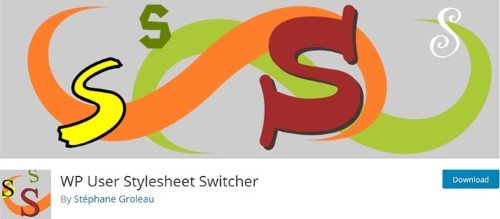 WP User Stylesheet Switcher is not necessarily an accessibility plugin, but it can be used in ways to improve access. If your site's accessible solution is to provide an alternative layout, such as a text-only version, this plugin can make the task much easier.
There are plugins that allow you to choose a different theme, but this plugin only allows you to change the stylesheet. In the management settings, you can set as many style sheets as you need. These possibilities are offered in the list on the front page. The list of available style sheets can be displayed as a drop-down list or a set of icons. You can display it directly on a page / post using a widget, using a shortcode, or directly on a template using a php function. On the front end, when you make a selection in the drop-down list, the web page reloads with the selected stylesheet.
conclusion
In the past few years, people have been highly aware of the importance of creating accessible websites. The process of ensuring you cover all bases is time consuming, but it is worth the extra effort. Using the tools described above is a great way to add features (whether visible or not) that will help each user get the most out of a WordPress site.
These are some of the best WordPress accessibility plugins you can choose. Hope this article is helpful to you.Another thing to consider is that some basic web design components can greatly help you visit a website.