Web site builders are becoming popular for amateurs, small businesses with limited budgets and other firms who prefer a much more "hands-on" approach to their web site design & development.
Typically, free web site builders offer a limited period free version which may include basic web hosting (sometimes with limited bandwidth each month), almost always a sub-domain within the builder's dot com address, and a free template with a few pages as a size limitation. This is usually a good start.
From there, it is possible to grow to a premium version which will often include a more expansive web hosting agreement, own domain name, and a live site with more features & functionality. This provides the room to grow as the business grows or as more is needed from an initial web site beyond a handful of pages.
In today's post we bring together best website builders,here are 16 online website builders.
1 : Wix Online Free website builder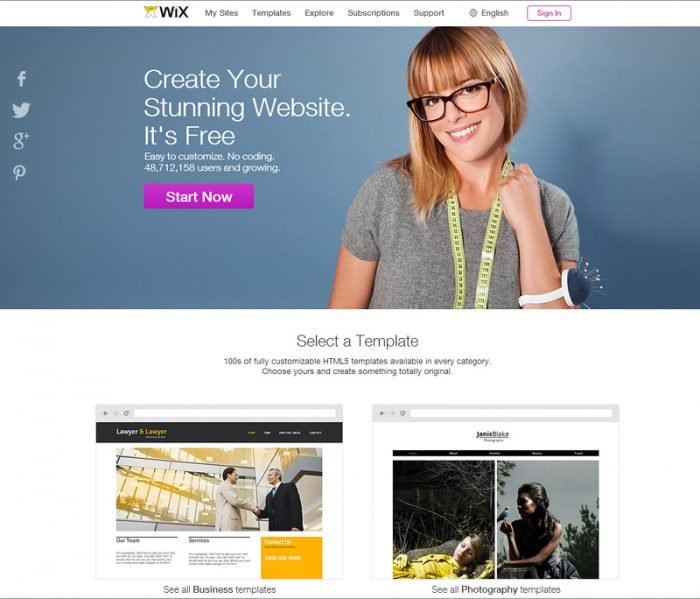 Obviously Wix.com is the most popular free website builder. Wix.com specializes on search engine friendly Flash websites. Apart from personal page you can create professional online shop, mobile website or Facebook page. Free website from Wix will have free second level domain, limited to 500MB storage space and bandwidth, built-in Google Analytics, quality support and Wix ads on your website.
2 : WebStarts Online Free website builder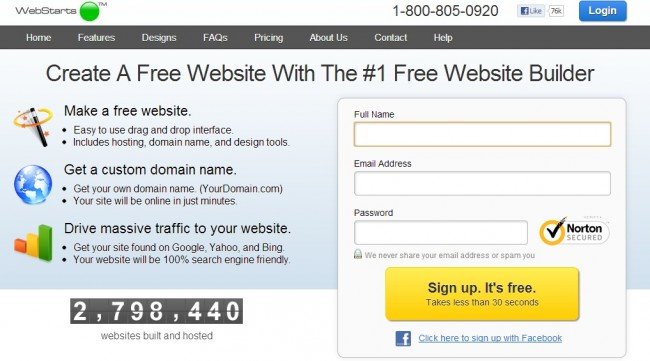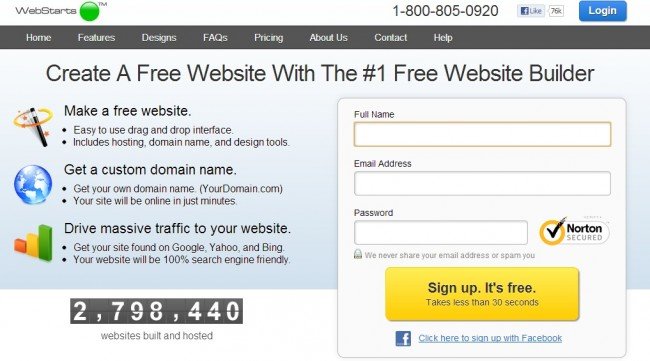 WebStarts.com provides similar services with some difference. Free version of your website will include 5 pages, limited web storage and bandwidth (10MB and 5GB/mo) and WebStarts footer displayed on all pages of your website. Worthy for attention solution for personal websites.
3 : Wopop Online Free website builder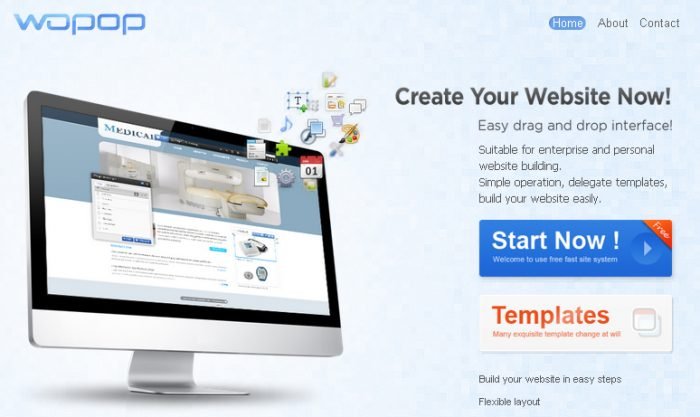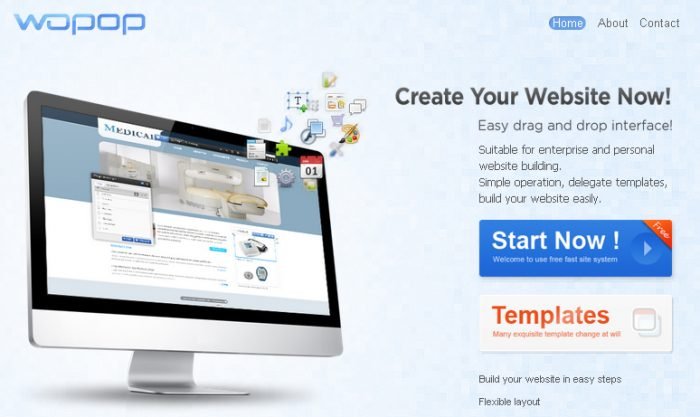 Wopop.com is a web building company offering individual and ecommerce websites for free. Free website from Wopop will have free second level domain, ads at website' footer, ecommerce function and limited to 100MB space. Wopop also offers a huge range of quality website templates. Interesting solution if you want to create online store.
4 : Moonfruit Online Free website builder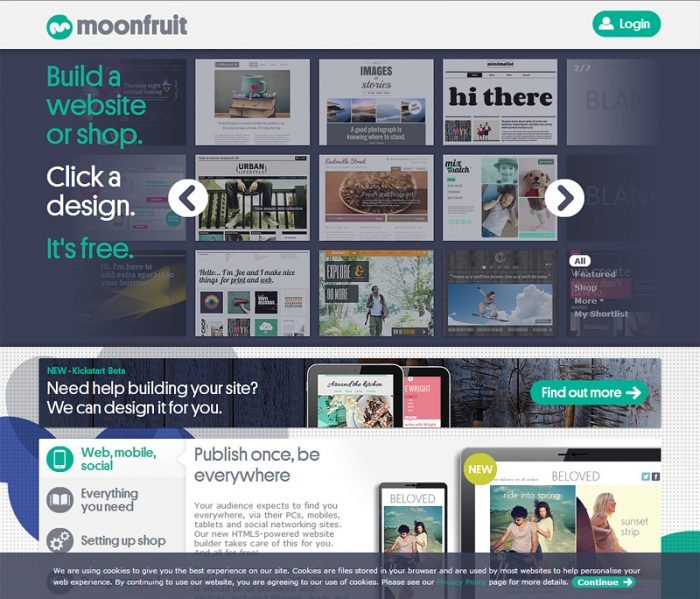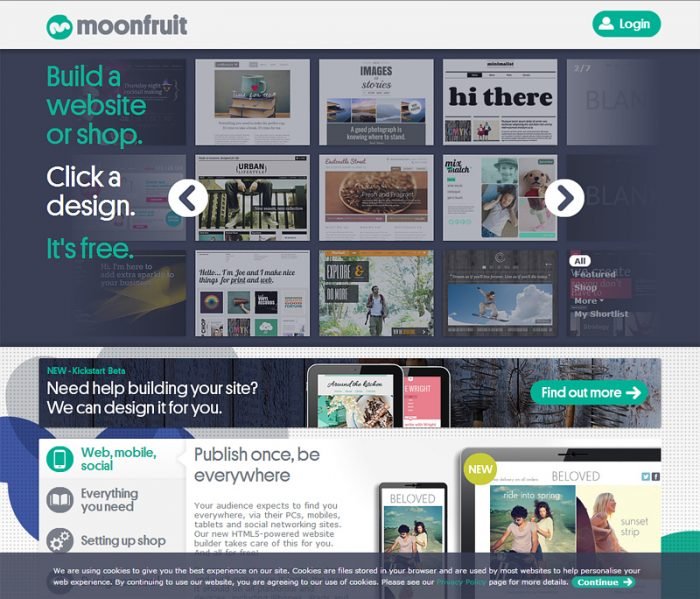 Moonfruit.com is an easy-to-use free website builder with plenty creative templates. Free package from Moonfruit includes only 1 website with max 15 pages on a second level domain, 20MB of storage and 1GB bandwidth, no customer support and some Moonfruit ads. Pleasant feature that alongside with web version of your website Moonfruit software automatically creates a mobile optimized version and can push your entire shop into Facebook with just a few clicks.
5 : WebStartToday Online Free website builder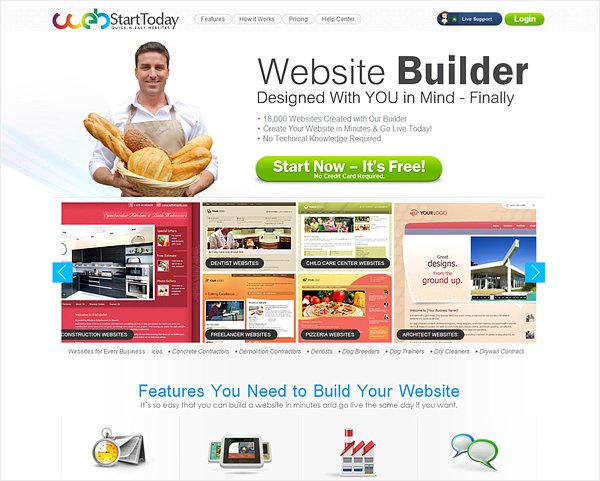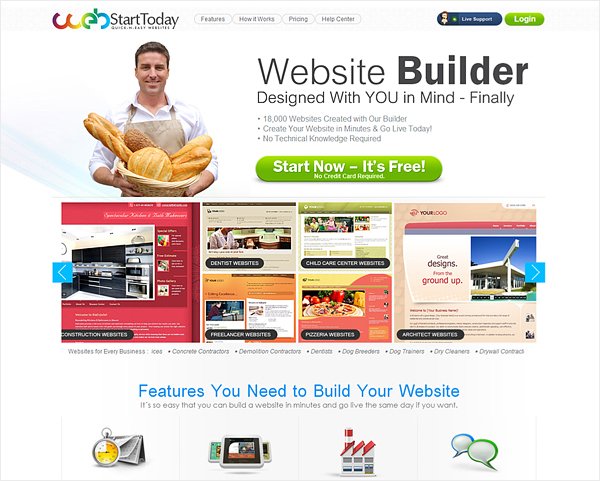 Another great website builder Web Start Today offers pretty interesting options for free websites. Alongside with simple, intuitive CMSfor easy customization You will get access to all premium website templates to choose from, unlimited web storage, free second level domain name and 24/7 online support. As a free user you will have WebStartToday.com ads on your free website.
6 : DoodleKit Online Free website builder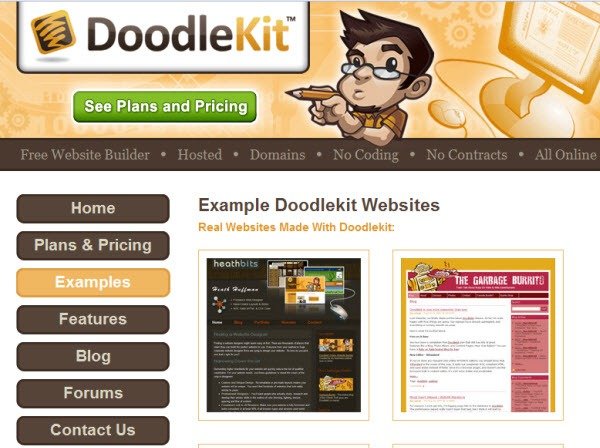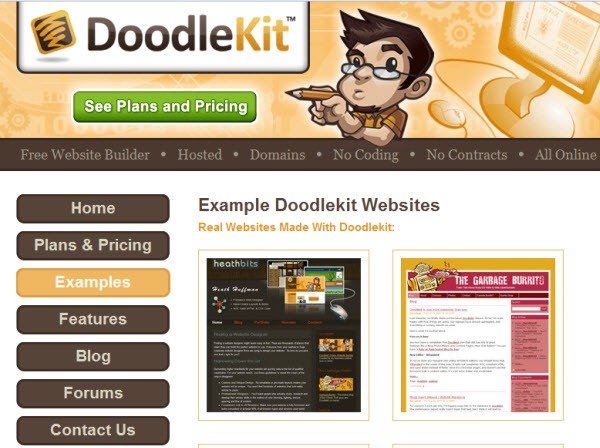 DoodleKit offers several plans including free one. If you decide to have free website with DoodleKit you will have a website on second-level domain name with 5 sub-pages, built-in RSS feed, max 500 photos and max 25,000 hits every month. If it sounds interesting to you – then don't waste your time on reading the rest of the article and go to DoodleKit for your free website.
7 : Yola Online Free website builder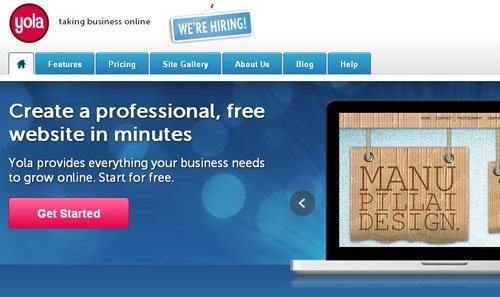 Offer from Yola.com looks very interesting. Free package from Yola provides you 5 websites instead of standard 1, banner-free hosting, quality customer support, build-in website statistic and 1GB storage per site. And as usual your website will be on a second level domain. Of course, Yola provides many interesting features but the main thing is 5 websites on one account and no banner and pop-up ads. Pay attention!
8 : Webs Online Free website builder
You can create your free website with Webs.com. Free package includes 1 website with ads as well as mobile version of your website also with ads, limited to 500MB bandwidth and 40MB storage space. If you decide to create online store then web store items will be limited to 5 items.
9 : ezweb123 Online Free website builder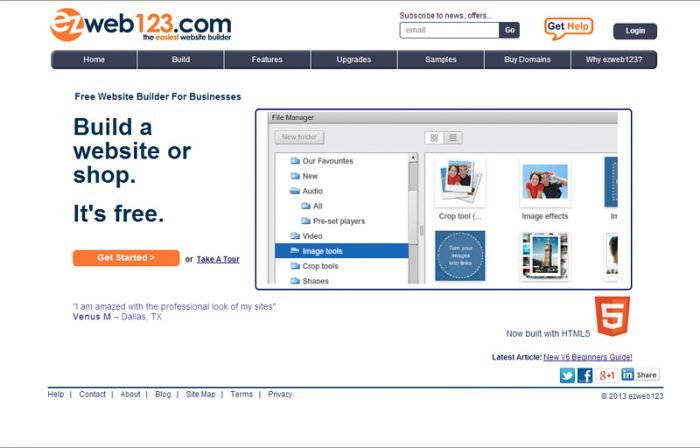 Award winning free website builder ezweb123.com also offers different website builder packages. By using their free package you can create 1 website with up to 15 pages on a second level domain, 20MB storage space, 1GB monthly bandwidth. Free website goes with ads from ezweb123.com.
10 : Doomby Online Free website builder
Doomby.com decided to make their free offer more attractive in comparison with other. Free website from Doomby will have no limits in number of pages and size of bandwidth. Other limits like second level domain, 250MB storage, many ads are the same. And there is no free e-commerce template to choose from since this service could be provided for additional fee.
11 : Jimdo Online Free website builder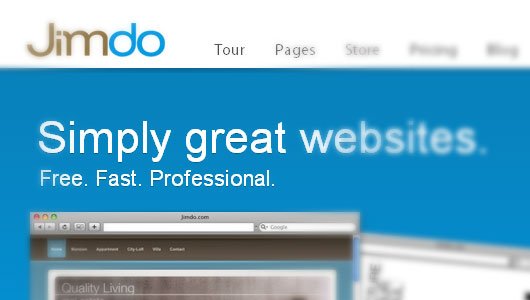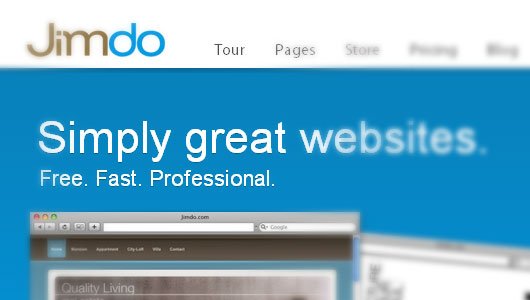 Created in 2004 free website builder Jimdo.com also provides opportunity to create free website. It could be personal page or online store but with limited number of items and small fee for store sales. 500MB storage and many other additional features are included.
12 : Tripod Online Free website builder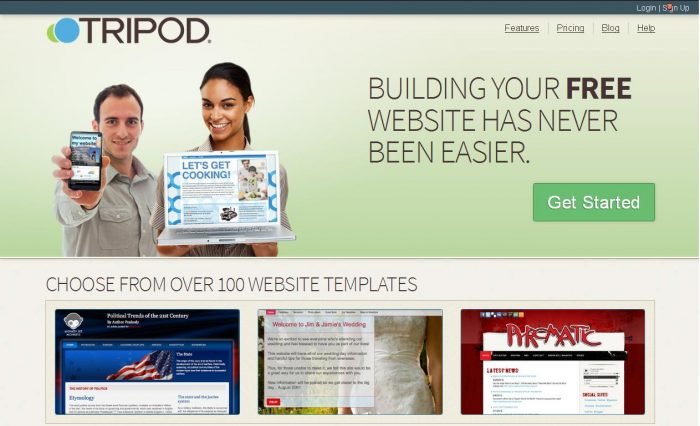 Tripod is another free website builder with opportunity to upgrade your free website to premium version. Free plan provides hosting for 1 website based on one of 150+ templates, 20MB disk space and 1 GB monthly bandwidth as well as site page views statistic. Quite competitive offer don't you think?
13 : Let's Eat! Online Free website builder
If you're in restaurant industry and want to create your website, Let's Eat is for you. Free website from Let's Eat consists of 1 page and iPhone/Android-optimized mobile version. You're slightly limited with number of posted reviews and uploaded photos but have integrated Google Analytics, OpenTable and Google Maps.
14 : Webnode Online Free website builder
Webnode.com offers free versions for personal websites and online stores. Both have similar limitations such as 1GB bandwidth and small storage space (10MB for on-line store and 100MB for personal website). Number of products that you can offer in your free online store is also limited to 10. Free website has mobile version.
15 : SnapPages Online Free website builder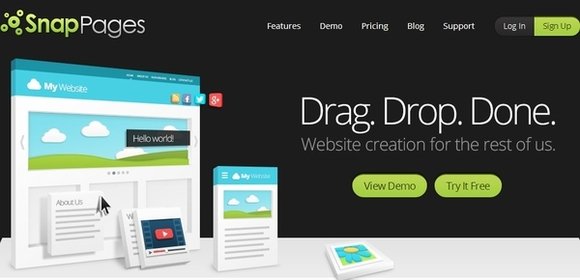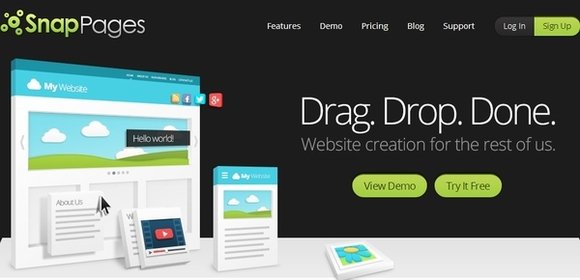 SnapPages.com gives you everything you need for creation your own free website. Your free personal website will have 5 sub-pages and 1GB storage space. Not very unique offer but large number of positive feedbacks force you to pay attention to this website builder.
16: EdicyOnline Free website builder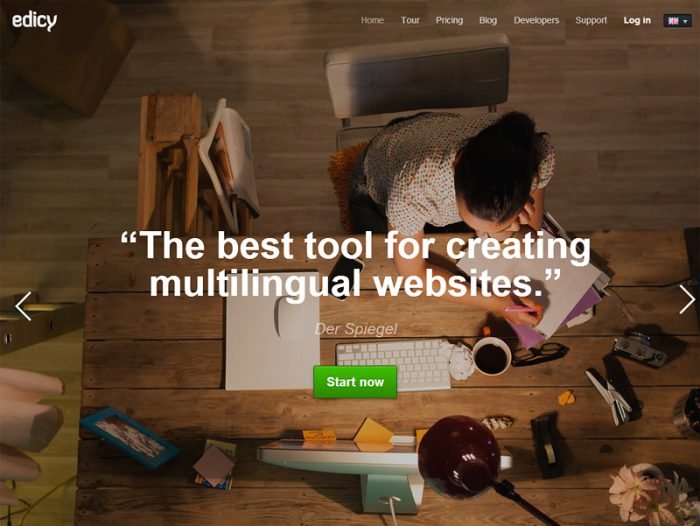 If you want to create personal website and you don't need unique domain name or a lot of storage space then pay attention to Edicy.com. They offer lifetime website with quite standard limitations: 100 MB storage space, standard design, basic statistic and 2 users.
Have something to add to this story? Share it in the comments.