The best thing about WordPress is that you can extend its functionality simply by installing a WordPress plugin. This is the easiest way to boost your site. This means you don't have to spend countless hours just doing simple things on your site. Undoubtedly, placing the content in the form of a table makes it easier for users to read.While you can create tables in WordPress simply using HTML codes, it is best to do the same by installing a good WordPress tables plugin on your site.
When it comes to creating responsive tables on WordPress sites, it is quite possible to get stuck as WordPress has a very simple built-in solution in the Gutenberg editor. If you've tried this, you might already know which is frustrating, but like everything else, we can simplify this using a plugin. There are many WordPress table plugins out there. However, choosing the right one from hundreds of solutions is not easy.
Readers can use them to more easily assimilate quantitative information and statistics, as they can scan the spreadsheet for information that is important to them. If the classic editor is active on your website, HTML tables can be added to your content by entering the HTML code for your table in a text editor, or by copying and pasting the table in a visual editor.
In this post, I have collected seven great free and add-on options that can help you create Excel-like spreadsheets, import data from external services, create charts and graphs, and more.
Why You Need A WordPress Table Plugins for your website?
Creating a website with WordPress becomes easy for a number of reasons, one of which is the availability of plugins. WordPress table plugins allow you to add tables to posts and pages that you add to your site. These tables can also be created using HTML tags, but this will require a good knowledge of HTML, which many users do not have. The main purpose of using WordPress to create websites is to keep it simple and less dependent on code. Table plugins simplify the process of adding a table to a website and eliminate the need for coding.
Basically, the goal is to have an Excel-style spreadsheet in your WordPress dashboard that allows you to import data or enter it manually. The plugin will then present this data in a nicely formatted table with support for multimedia, links, and standard text formats.
You can find several such plugins that you can add to your WP website and add so many feature rich tables for organized data presentation or any other purpose. However, choosing the right plugin for this purpose is extremely important. For example, most of the websites today are responsive and therefore the WordPress table plugin should be responsive as well. Also, the plugin must be compatible with the latest version of WordPress and all its themes. To make it easier for you to choose the best WP desktop plugin
WP Table Builder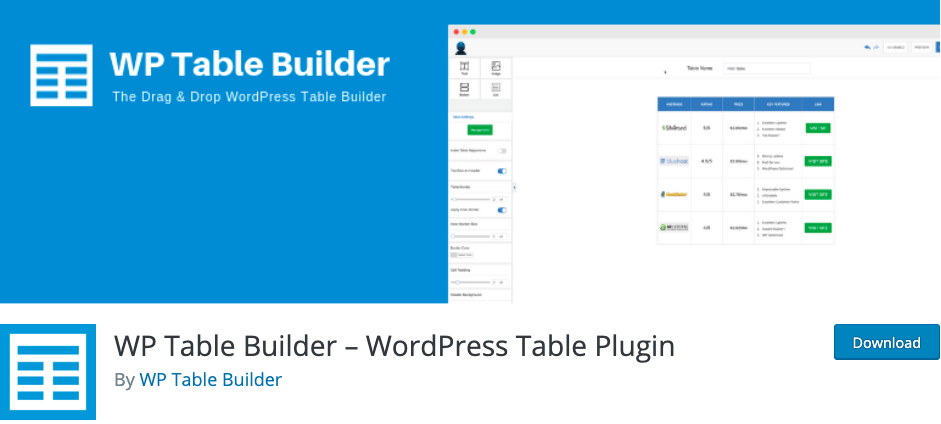 WP Table Builder is a drag and drop table creation plugin for WordPress. It's incredibly easy to create responsive tables with WP Table Builder. WP Table Builder is ideal for creating comparison tables, price tables, lists, and more.
The plugin allows you to insert elements of five different types into the table: List, Button, Text, Rating, Image. The interface is so simple that you can add and remove columns and rows with just a few clicks. You can also change the column and row width and height.
The best part is, using star ratings in your spreadsheets can increase your chances of ranking in Google Rich Snippets. This way, you will also be able to drive more traffic to your site.
You can be imported from CSV or XML files. Fully import CSV or XML files. You will have to compress some files.
TablePress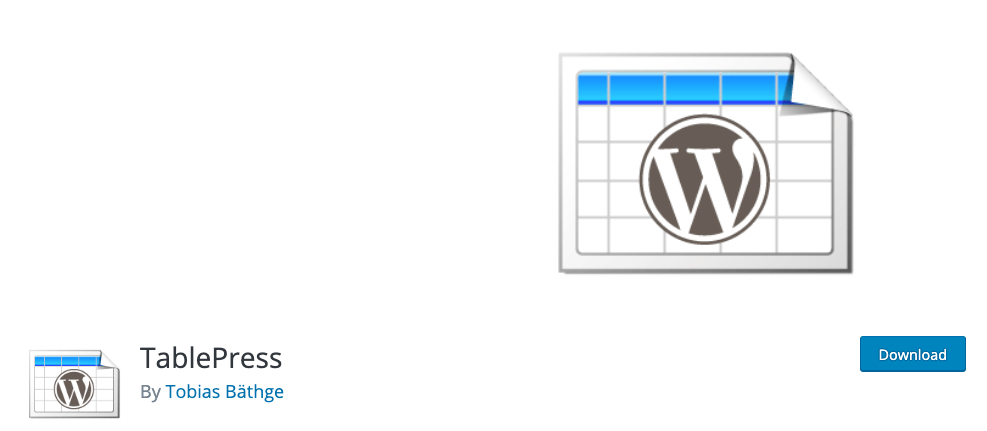 TablePress makes it easy to create and manage beautiful tables. You can embed tables in posts, pages or text widgets with a simple shortcode. The data in the table can be edited in a spreadsheet-like interface so no coding is required.
Tables can contain any type of data, network formulas that will be evaluated.It also has some familiar features such as sorting, search mode, filtering using a simple but intuitive interface.While the plugin is primarily responsive, you may need to add a plugin to make it fully responsive. Also, if you have a decent knowledge of HTML / CSS, you can create visually appealing tables with a few minor changes.
Data Tables Generator by Supsystic
Data Table Generator makes it quick and easy to process and manage SEO-optimized data tables. This plugin can structure information and can be customized to suit any need. Many forms of functional and visual customization of tables improve the design of the site and allow you to change it in accordance with specific individual or specific tasks. An intuitive settings panel and responsive editor will save you a lot of time that you would rather spend on other useful things or leisure. Tables are responsive and impressive across all devices.
It has many features, some of which are as follows: Provides easy search. It supports HTML pages and formulas for data cells. You can add headers, headers and footers to the table. It offers options for many sports such as intense and italic differences, the ability to change cell color and shape. You can import files from CSV, Excel, Google Sheets.
Ninja Tables – Best WP DataTables Plugin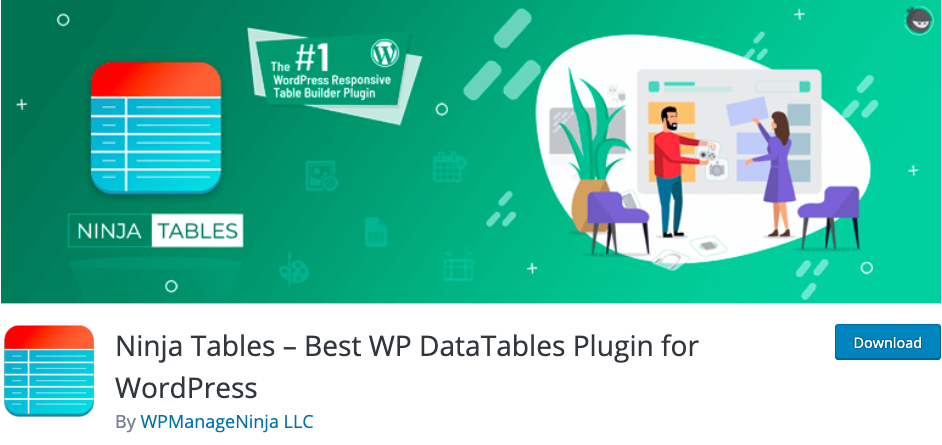 Check out Ninja Tables for all the solutions to problems you run into creating tables on your posts / pages. Ninja boards will give you the experience of creating boards in any way you can imagine. Whatever you come up with with Ninja Tables, you can do it without writing a single line of code! The best part is that Ninja Tables won't slow down your site even if you have thousands of data on your table! You can create and manage tables quickly, efficiently and easily from your administration panel.
The plugin provides you with various table layouts, built-in custom schema, predefined schema and custom CSS. Since the Ninja table plugin is the best version of most of the other table plugins available on the web, you can expect it to have basic functionality such as swiping, sorting, and filtering.
Magic Liquidizer Responsive Table
Magic Liquidizer Responsive Table plugin converts plain HTML tables into mobile responsive tables. This is a simple solution for synchronizing tables on small screens, where the data usually overlaps. Also, it collapses columns into rows and provides an elegant view of the data and provides many advanced features for SEO, navigation and custom media queries in the premium version. It works as a great plugin for responsive WordPress tables, and its basic version is free.
Lightweight WordPress plugin that turns a regular HTML table into a mobile response table. It is a must-have Responsive Web Design (RWD) tool for designing your website. Page tables can be overlaid on small screens or by dragging the browser to collapse to simulate a mobile screen, especially when the table contains large content such as text and images.
MCE Table Buttons
A lightweight plugin that adds table editing controls from the full version of TinyMCE, optimized for WordPress. Note that this may not work in conjunction with other plugins that substantially change or replace the behavior of the default visual editor.
ULTIMATE TABLES
With Ultimate Tables, you can design, create, and manage tables without having to write HTML code. You can embed tables in your pages, articles, posts, or "end tables" widget. Its main features: You can create different tables. Multiple tables can be inserted into a page or message at the same time. Management of created tables. Change the number of rows and columns, reorder and delete. You can enter text or html code inside the cells. Choose from 3 designs or personalize it. Responsive tables. Optional manual class. Search bar. In alphabetical and numerical order. Information about the number of lines and elements. Pagination with options. Customizable width and height.
wpDataTables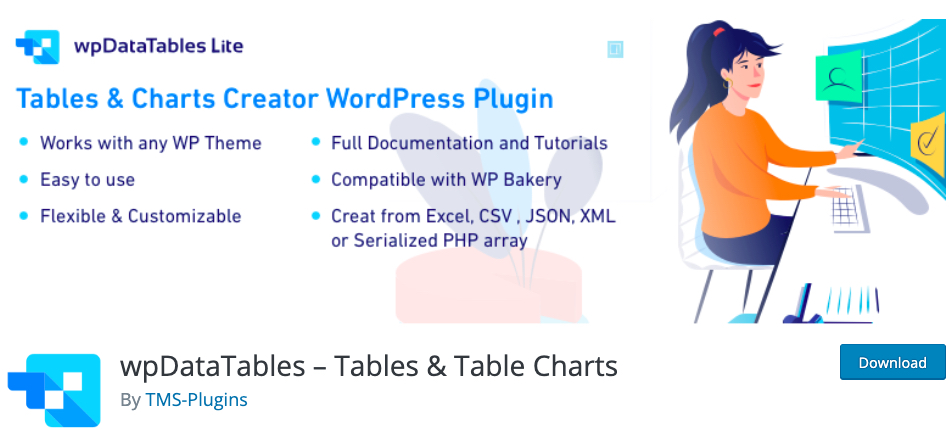 wpDataTables is a popular WordPress tables plugin used to quickly create tables and table charts from Excel, CSV, PHP, and other data sources. While you can also buy paid versions for general use, the free version will suffice if you want to create simple looking tables on your WordPress website.
You can customize and customize your WordPress table columns, rename, reorder, add CSS classes, hide, change colors, and customize and customize table font and color settings.
JTRT Responsive Tables
JTRT Responsive Tables is the HTML table editor for WordPress. Create impressive and responsive tables without having to deal with HTML or CSS. Simple WYSIWYG backend table editor, list of formulas used, convert Excel CSV files to responsive HTML with few clicks, 5 customizable responsive breakpoint sizes, backend table cell editing, easily add links / images to your spreadsheet, custom points breakpoints for each table, support for multiple tables on one page, custom shortcode, easy to use, 3 different response types, edit cell font, font family, text decoration, size of font, font color with one click. Custom borders for your cells. Custom alignment for your cells.
Table Maker
The plugin helps you create different comparison tables. It has several unique features that allow you to use the plugin to create different types of awesome tables: comparison tables, TOP tables, BOM tables, etc.
This plugin is ideal for those websites that need to add comparison tables and specifications to their website. Other types of tables can also be added using the Table Maker plugin. Images can be loaded into a table and used in tables.
TableGen – Data Table Generator
With this handy plugin, you can create an unlimited number of interactive, sortable, paginated and searchable data tables and display them on your website with a little shortcode. You can also create unlimited regular tables using this plugin if you don't want to use advanced features like search, filtering, pagination, etc. If you have big data saved in a CSV file, you can easily import this data and create a nice table based on it. You can also use our extensions for this plugin and import your data in various ways such as JSON, Zip, CSV, HTML, XLS and other formats.
Pricing Table by Supsystic
Create impressive price tables without any coding skills.
This is possible with the Supsystic Pricing Table WordPress plugin. Choose a price table template, edit the content.
Pricing tables should be chosen very carefully so that visitors get the information that would interest them. Available features, available options and costs, and reimbursement. Supsystic's pricing tables with nice templates and drag-and-drop builder are totally unique.
Visualizer: Tables and Charts Manager for WordPress
Visualizer – Tables and Charts Plugin for WordPress is a powerful and easy to use plugin used to create, manage and embed interactive and responsive charts and tables in your WordPress posts and pages.ChartJS to add responsive animated charts, graphs and tables that are cross-browser compatible and easy to display on mobile devices.
This WordPress Charts Plugin provides many charts optimized to suit your WordPress data visualization needs. In the free version, you have line charts, area charts, bar charts, bar charts, pie charts, geographic charts, table charts, bubble charts, scatter charts.
Make your own graphics. Customize an extensive set of options to perfectly match the look of your website. You can use Google Chart Tools with their default settings – all settings are optional and the basic settings are ready to go. However, charts and graphs can be easily customized if your web page uses a style that does not match the provided defaults.
Gutenberg Table Block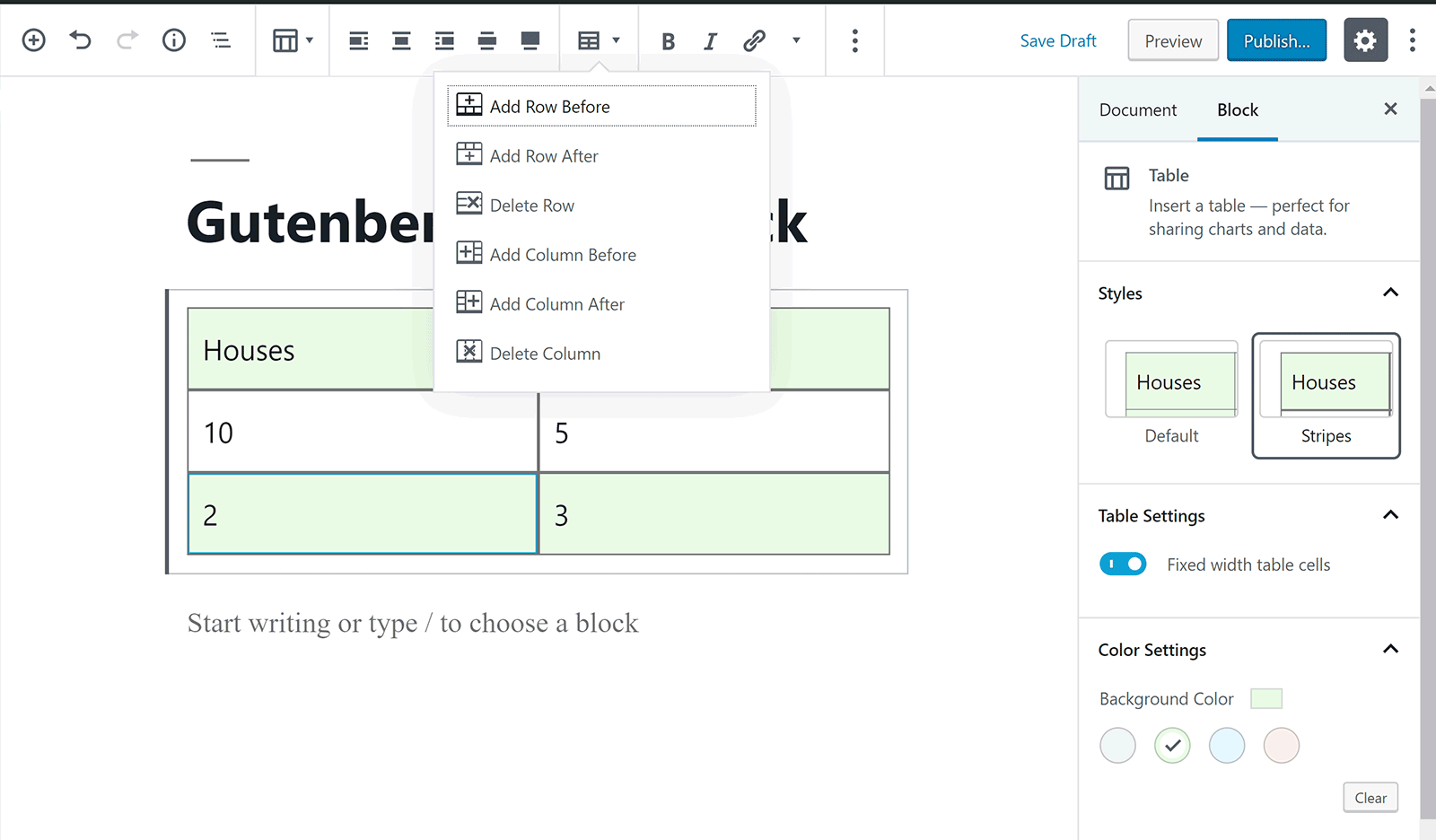 Gutenberg Table Block won't win an award for the best table solution on the market, but its inclusion in the basic version of WordPress makes it a good choice for basic tables. Rows and columns can be easily added to your table. When you click in a cell, the top editor allows you to format the text as bold, italic, or strikethrough. Links, code and images can also be added.
If you are trying to modernize existing tables, you should look into the Liquidizer Magic Responsive Table and WP Responsive Table. These free WordPress plugins can make standard HTML tables responsive, so they look good on tablets and other mobile devices.
Table Sorter
The table classifier converts a standard HTML table with THEAD and TBODY tags to a sortable table without updating the page. Works with all tables encoded in wordpress template file or created in wordpress editor. This plugin is very useful for theme developers. It has many useful functions, including: Sort by multiple columns. The classification of a specific column. Order multiple columns at the same time. Compatibility between browsers
Responsive Table
Say goodbye to the scrollbar on mobile and turn your spreadsheet into a responsive mobile layout. When the screen resolution is less than 767 pixels, the table will change its layout to responsive layout, allowing the table to be easy to read without scrolling.
ACF: TablePress
This Advanced Custom Fields plugin creates a custom field type for TablePress table selection by providing a dropdown menu that allows you to select from a list of available tables. The field can return the ID of the selected table or the full HTML of the table. Provides sorting by multiple columns. You can easily turn off sorting for specific columns. It offers many style options such as background color, font color, alignment, text width, etc.
Visual Table Formatting Lite
Creating and managing colorful tables with this plugin has never been more intuitive or easier. A visual editor will save you the coding and complexity of the shortcode. The plugin has two handy import functions: usable shortcodes and delimited text that will create the table automatically. It also avoids using the site's database entirely, making it lightweight and easy to transport between different WordPress posts or installations.
How To choose the best WordPress Table plugin for You
If you and your organization create spreadsheets on a regular basis, it might be worth exploring one of the premium plugins we've outlined above. However, the casual user should definitely consider a solution like TablePress, Data Table Generator or even the MCE Table Buttons plugin.
Since all the features are discussed with possible pros and cons, you can easily choose the best suit for yourself. The choice of plugin will depend entirely on whether you need a data table or a comparison table. Other important things like cross-browser compatibility, responsiveness, and import / export features can also play a role in your decision. But you will surely get what you need as it has the best WordPress table plugins with all the details.
For the best general table plugin that should work in a mode, I would recommend wpDataTables because of its easy-to-use interface and extensive list of features. Whether you create tables, graphs, or both, you have many opportunities to create something that works great for your users. It also has import parameters, especially if you want to work directly with my database.
If you're looking for the best WordPress table plugin, TablePress is always a good place to start.
Conclusion
These are the best WordPress table plugins. Hope you have picked the right plugin for you. If not, here are some of the best recommendations based on different requirements and criteria.
I would say that all the tables presented here are more or less perfect incarnations of creating tables in your web pages.
All the above plugins have been selected to give you the most reliable and exclusive list of the best plugins for you to create responsive tables on your website.
If you have any questions about the best WordPress table plugins, feel free to leave us comments in the section below. Also, if you are currently using the table plugin, please let us know if you like it.