Looking for the best WordPress recipe plugins. Food recipe websites are popular. You can also share delicious and unique recipes to build an engaging audience on your site.
Quite a few people want to share their cooking experience online, including top chefs, moms who cook four meals a day, single boys who can cook basic meals, and those who can blow a storm to their kitchen. I will. What's a better way to do that than start a food blog? If you're using WordPress, there are many food blog themes and many WordPress recipe plugins to help you get started. You can also fine-tune more specific niche themes, such as bakeries, coffee shops, and takeaway eateries.
With the WordPress Recipes plugin, you can publish your recipes effortlessly, optimize your recipes to be search engine-friendly, and focus on delighting your readers with useful options. A template that just pastes a recipe and uploads an image saves you real time.
You don't have to pay to use the recipe plugin. There are many high quality plugins available for free download in the WordPress repository. This list contains plug-ins that are frequently downloaded and are highly rated. Premium plugins provide additional features and more advanced support. When it comes to recipe plugins, you'll find that the premium plugin has a wealth of customization options. Some of your favorites are in the list below.
WP Ultimate Recipe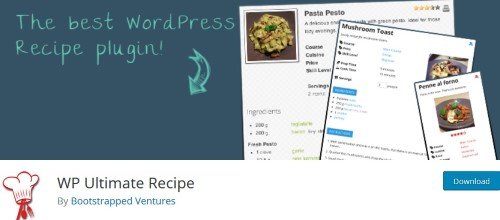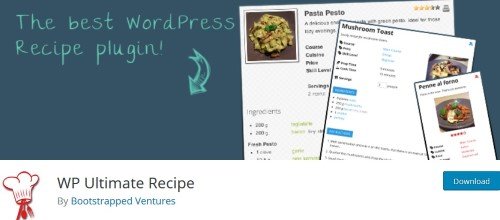 WP Ultimate Recipe is user-friendly and allows users to add recipes to posts. You can add photos to each step of the recipe. Use the convenient shortcode or insert recipe option to publish recipes. If the list of ingredients or the directions is too long, this plugin will help break them up into many smaller parts. Through the index on the page, readers can easily move from one recipe to another.
User-friendly features include text search for any ingredients or cooking methods and omit photos when printing recipes. The responsiveness of the plugin allows users to run recipes on smaller devices. Users can also share recipes using social buttons. The plug-in can adjust the amount of material depending on the number of servings. WP Ultimate Recipe is easy to translate and compatible with Pinterest's Rich Pins and Google AMP pages.
The premium version of the plugin allows you to create templates with the Template Editor. In this version, you can add custom lists to include a complete meal meal planner with a shopping list. Automatically get nutrition information for recipes. Users can submit recipes, rate and share on social media.
Zip Recipes

Zip Recipes is a free WordPress recipe maker plugin for food blogs. It comes with an easy-to-use editor for creating professional recipes in just a few minutes.
In addition, formatting the recipe and adding images is not difficult at all. You don't have to mess with custom post types. Just create a recipe in your post and use the media library to add images. The plugin has a limited number of templates and some style options. However, you can customize it with CSS if you want. There are additional memo fields that describe optional ingredients, special appliances required, additional steps, or quick tips. The plugin will automatically add the post name to the recipe and image.
Boo Recipes
If you've already posted a recipe to your website but don't have the tools to do it, step up with Boo recipes. This is an easy-to-use plugin that uses the Schema.org format. Even if you're not technically savvy, you can create great recipes that go well with Google. This means that any new recipe you create with Boo recipes will also create automatic schema markup. Let Google and other search engines know what your recipe is. Keep in mind that the package also contains documentation for any additional information you may need.
In terms of features, Boo Recipes features three recipe styles, shortcodes and widgets, giving you full control over all elements of your recipe. You can also translate it into your favorite language and share the recipe on social media.
RecipePress Reloaded


RecipePress, by its name, is a free WordPress recipe plugin that can be used to enrich your cooking blog with exciting recipes. Create a custom post for your WordPress admin. You can use it to beautifully style delicious recipes and publish them on your blog. Of course, RecipePress is also compatible with default posts and doesn't require the exclusive use of custom post types. An easy-to-use tool that provides everything you need, then some.
RecipePress Reloaded is a flexible tool for managing your blog's recipe collection. Designed with the editor in mind, it was created for easy and quick use. This plugin adds a new post type of recipe to your website. You can publish a recipe as a standalone post or include it in a regular post.
You can also provide users with feedback on recipes and ask them to rate them on their website. The plugin allows you to create custom recipe templates to control the appearance of your recipe posts. You can make beautiful recipes with food photos in just a few minutes.
WP Recipe Maker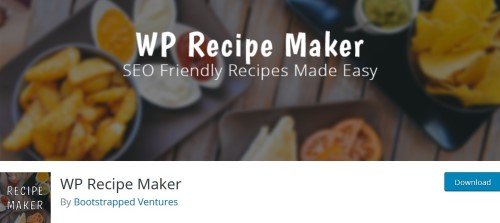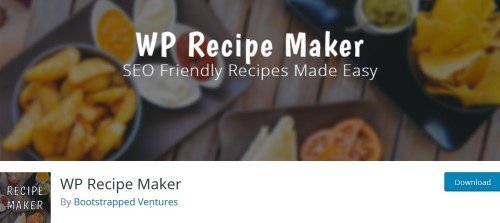 The main advantage WP Recipe Maker offers is a smooth workflow for creating and publishing recipes. Metadata is automatically added, which improves search engine rankings. You can add a photo at any step of the recipe and have an alternative recipe to display when the plugin is disabled. All materials and descriptions can be grouped together for your convenience. A clean print version is available with an optional credit signature. You can also migrate your content from other plugins to WP Recipe Maker.
The plug-in can adjust the amount of ingredients depending on the number of servings. WP Recipe Maker is easy to translate and compatible with Pinterest's Rich Pins and Google AMP pages. The premium version of the plugin allows you to create templates with the Template Editor. In this version, you can add a custom list to include a meal planner for a complete meal with a shopping list. Automatically get nutrition information for recipes.
Blossom Recipe Maker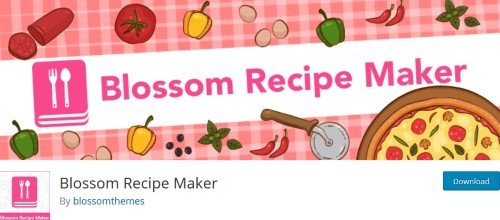 Delicious and delicious recipes shine even more in the form of stunning presentations. With Blossom Recipe Maker, you can do it in no time. This WordPress recipe plugin is all you need to run a delicious culinary blog. In just a few minutes, you'll be ready to go live with the complete recipe and attract more like-minded people. They are definitely hungry to give your creation a try and they can now follow a simple process thanks to Blossom Recipe Maker.
In addition, the plugin can create a single post or add it to an existing blog post or page. In addition, the user can also tweak the serving, check the ingredients, and mark the progress. Yes, Blossom Recipe Maker is very interactive. When working with the amazing Blossom Recipe Maker plugin, there are many features that you can take advantage of for your benefit. Add a video to allow visitors to print the recipe and translate it if needed. Get saliva-producing dishes with the help of Blossom Recipe Maker.
Recipe Card Blocks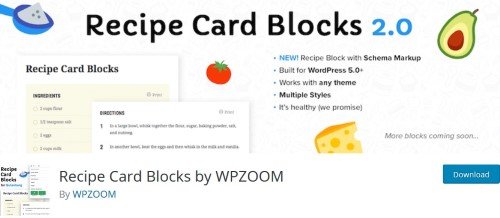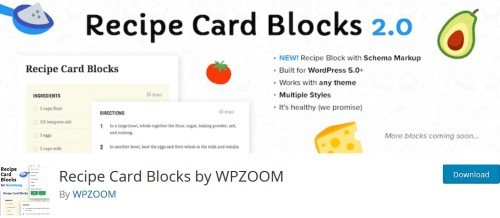 Anyone who runs a food-related website and enjoys Gutenberg will add the WP ZOOM recipe card block to your page. The plugin creates neat blocks that you can use in the Gutenberg editor to implement in your web design. In short, the Recipe Card Block makes it easy to create a refreshing recipe with both ingredients and instructions to add to your website.
Out of the box, the Recipe Card Block offers two different styles and enough features to get you started quickly. Of course, with future plugin updates, you can expect to drop even more good things that will allow you to take advantage of your benefits. Now you can create a single block for a recipe card or a full-fledged recipe with images, ingredients, and instructions.
Cooked – Recipe Plugin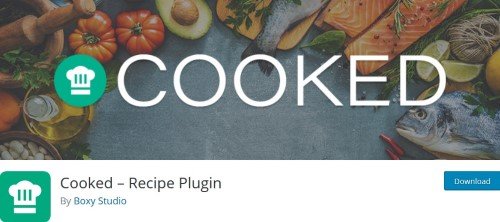 If you want to create your recipes using drag and drop builds, Cooked is the recommended plugin. You can build beautiful masonry grids and put your recipes on them. It allows you to build a beautiful photo gallery and view nutrition facts and difficulty.
You can set up an author template that lists the recipes of individual authors and a serving switcher that adjusts the amount of ingredients depending on the number of servings. Also use the interactive timer to add cooking time. Users can search the text and sort the recipes by category. Due to the large number of hooks and filters, plugins are easy for developers to use.
Create
Create is a versatile, flexible and powerful WordPress plugin that you can easily use to showcase delicious recipes. Instead of doing all the design and customization from the beginning, let the design work all the way through. With this free plugin, you can create eye-catching cards that support any kind of content you publish on your website. Of course with a recipe!
Create is also 100% SEO compliant, allowing your content to be ranked higher on search engines and drive more traffic. Still, content is important. In other words, focus on the highest quality possible, not just the fact of publishing as much content as possible. In short, quality is always more than quantity. Some of the additional features that Create comes with are five predefined designs, lightweight construction, live previews, and of course responsiveness. Last but not least, you can also use Create to monetize your website.
SEO Recipe Snippets

If you want to add rich snippets to your tasty recipes, SEO Recipe Snippets do it for you. This free WordPress plugin helps guide additional information that Google and other leading search engines present to users. SEO Recipe Snippets let you view recipe names, ratings, images, preparation times, and more. This plugin allows/supports one recipe per post. There are many properties you can add, but you also have the option to attach them and exclude them from your snippets. Create compelling recipe snippets to get more organic users to learn from you.
WP Recipe Maker Pro (Premium)
WP Recipe Maker pro is a popular WordPress reciple plugin. There are dozens of templates for displaying recipes on food blogs and websites. You can also add notes, facts, images and Instagram sharing options to your recipes.
Provides SEO optimization for ranking recipes in search engines. WP Recipe Maker allows you to add recipes to WordPress pages and posts. It comes with a CTA button that you can add to the post so that users can click to quickly jump to the recipe. Its simple configuration allows you to focus on your cooking recipes and the WP recipe maker to handle all your backends.
Price: $49 – $149
Recipe Card Blocks pro (Premium)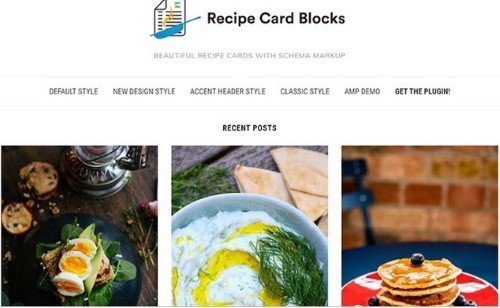 Recipe Card Block pro is a Simple WordPress food recipe plugin. Provides multiple card styles that make food recipes visually appealing. The Gutenberg block allows you to instantly preview your recipe in the WordPress editor. Recipes contain schema markup that allows you to display information about the recipe on search engines and social networks.
The recipe card block works seamlessly with any WordPress theme, ensuring that your plugin has no compatibility issues. , Make the rich snippet even more noticeable.
Price: $69
Cookbook (Premium)
Cookbook is the first product released by SiteCare. They promise to make it easy to publish recipes with this plugin. Process SEO using schema.org and JSON-LD recipe markup. In addition, it provides an opportunity to highlight your Google Rich Card nutrition data in your search results.
This Plugins are full responsive, allow rich formatting, and allow hyperlinking of recipe content. The user does not have to scroll to the bottom to find the recipe they need. The short code on the top can quickly take you to the recipe on the bottom. In addition, the user can rate the recipe. By including hooks and filters, developers can change the way the front end is displayed to visitors. The plugin is translation-friendly, easy for publishers to use, and easy for readers to navigate. More importantly, you don't have to choose important features.
Price: $59.99
To Wrap Up
Recipe Plugin can completely turn your WordPress website into a recipe website. Your choice of plug-in should be based on the features you want and the tastes of your audience. Beginners first select plugins with few options and features, then move on to feature-rich plugins. Users can find a wide variety of dishes and many recipes, from the easiest to prepare to the most sophisticated.
We hope this article helps you find the best WordPress recipe plugin for your food blog.If you like this article, please share your question in the comments section below.