Numbering pages is an important requirement for blogs with a large number of posts. That's why it forms part of the core functionality of WordPress. WordPress provides easy page setup for your blog. At the end of the post, you will be given the option to go to the Next Post or Previous Post. These options give readers access to immediate or previous posts. If you have a limited number of posts on your blog, these limited options are actually sufficient. In such cases, you don't need to install the WordPress Pagination plugin at all, but if you're an active blogger and you're bundling blog pages and content pages, your readers will have a better option to flip through the content. is needed. Without pagination, your web page will display dozens of posts, which can be difficult for your readers. After traversing many pages, you don't have to find relevant content. Instead, you can allow you to skip directly to the page you need.
If you're building a WordPress blog, it's very easy to incorporate pagination functionality. You can integrate features into your blog almost seamlessly by installing specific themes or plugins. To read this article, let's take a look at some of the best WordPress pagination plugins for introducing page numbers to your blog. All the free plugins are great and will help you set up a major pagination system on your website.
Another advantage of pagination is that you can't load all pages at the same time. This will speed up the loading of your site a bit. In addition, it provides links to other pages on your site. Thousands of themes are available for WordPress, many of which include pagination capabilities. However, if you want maximum control over pagination without coding, you can also use a plugin.
Several Reasons To Use The WordPress Pagination Plugin
There are multiple reasons why you need to add pagination to your blog page. It makes your blog user-friendly and helps readers find pages easily, all your pages may not load at the same time, make your website a little faster, and you also have pages You can also use pagination to split a long post into many parts. This allows you to increase the number of ads per post.
Many themes also include Pagination WordPress Plugins. However, if you want to control the numbering of posts, or if you want to style the numbering without using code, the WordPress pagination plugin may be a better choice. The WordPress plugin repository contains many free plugins to help you paginate and use WordPress. Some are useful for styling links and displaying page numbers on sliders.
WP-PageNavi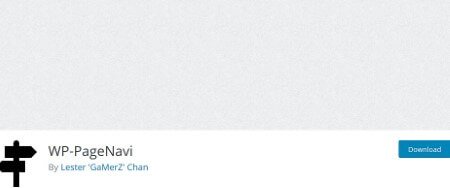 With nearly 1 million active installations, WP-PageNavi is the most popular page numbering plugin. Generating the template tag wp_pagenavi () will help you create gorgeous pagination links for your blog. You can use this template tag to replace the default WordPress pagination.
The plugin adds a new tab under Settings. From this tab you can customize the text for the current page, the first page, the last page, and the number of pages to display. You can set the number of pages and customize the indicators for the next and previous pages. There are several options for setting the pagination style, which you can change from the default style by clicking the dropdown. It is not necessary to display all serial numbers in succession. You can set the number to display in multiples, such as 5, 10, 15 20… This is useful if your blog has a very large number of pages. Another option is to use CSS to style your pagination according to your blog's theme.
SX No Homepage Pagination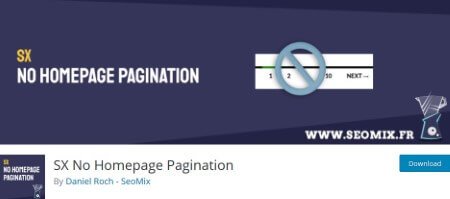 All other free WordPress pagination plugins focus on adding functionality to your page, but the opposite is true. Yes, delete it. In other words, if you want to remove the homepage pagination from your website, SX No Homepage Pagination is one of the plugins. As far as the default settings are concerned, upload / download it, activate it, and you're ready to roll. Indeed, it's really as simple as it says.
The lack of pagination does not mean that the WordPress HTML header does not have pagination. With the SX No Homepage Pagination plug-in, you can completely eliminate sweat without dropping. Last but not least, SX No Homepage Pagination works like a dream on all default homepages.
WP-Paginate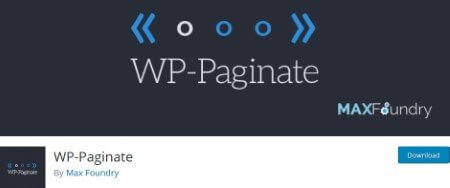 Next is the WP-Paginate WordPress plugin. After installing and activating the plugin, the WP-paginate page under the settings panel on your WordPress dashboard will be integrated. From here you will get a load of options that will help you control your plugin. The options displayed include the ability to adjust pagination and page links for the next and previous page options.
In addition, WP-Paginate is another popular plugin that gives readers the flexibility to provide proper navigation capabilities to their websites. In addition, adding links to your content will improve your SEO. The plugin settings page has a CSS tab that you can use to add custom CSS for pagination links. In newer versions of the plugin, you can also add page numbers to post comments. This is a useful feature if your blog receives a large number of comments. After enabling the plugin, you need to replace some code in the theme file. You can customize the pagination label and use code or plain text to change the links before and after. The page range option allows you to set the number of links to display before and after the current page. Pro version supports multi-site and includes 11 off-the-shelf layouts and customizers
Pagination by BestWebSoft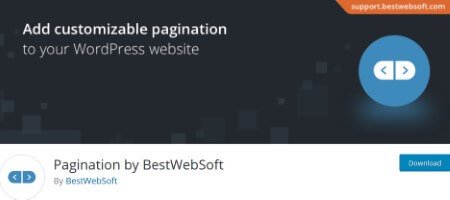 If you're looking for some simple and easy-to-use alternative WordPress pagination plugins right now, Pagination by BestWebSoft is worth a look. The plugin is very easy to use. Simply install and activate the plugin to set up your post's pagination system.
You will also be taken to a dedicated settings page to customize the functionality of the plugin and its behavior. You have the option to activate the pagination system not only for blog posts, but also for categories, tags, author's pages, and so on. There are also several customization options to help you fine-tune the appearance of the pagination block, including options for changing its width, alignment, margins, background color, and text color.
You can also hide the pagination for the selected page and center it to the left, right, or center. You can select a long display type or a short display type. In the long view, all page numbers are listed consecutively, and in the short type, the numbers are skipped and displayed in multiples. The Pro version adds a Load More button and infinite scrolling.
CPTA Pagination
CPTA pagination is an abbreviation for custom post type Ajax pagination. In other words, it's an easy-to-use and free WordPress pagination plugin that performs tricks without spending most of your work and time. WordPress website. Since then, two custom options are available.
First, CPTA pagination contains a shortcode for custom post type pagination only. You can then also access a shortcode to create pagination for custom post types with categories. This tool is easy to set up, lightweight, and very effective for creating custom post type Ajax pagination. After all, it's free. This means it doesn't cost you to try it out and see how it affects existing pages.
Floating Links
Floating Links is a flexible and practical free WordPress pagination plugin with a variety of options and possibilities. First and foremost, floating links add new extensions to your website that are always accessible to all users. It can be named next and previous posts, back to the top button, random post links, and more. If it stimulates your interest and adds great pagination features to your website, now you can use floating links conveniently and easily.
Some features of floating links include a primary bar and a secondary bar, navigation in the same category, post data before and after hovering, options to show or hide selected buttons, copy the current URL Contains icons that indicate the function. Of course, floating links also offer a set of customized configurations to style to your liking.
Pagination Styler for WooCommerce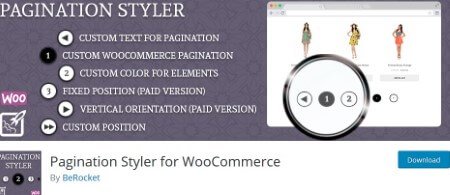 All online stores and e-commerce platforms running on WooCommerce now have full pagination styling. And you don't have to do any type of coding to do that. Simply install and activate Pagination Styler for the WooCommerce plugin and you're ready to go. There is little creative freedom when designing and tweaking the page editing section of an online store.
Some features include custom pagination, text, and colors. In addition, you can change the look to exactly match your brand's regulations. In many cases, you'll succeed by keeping things as simple as possible, but on all other occasions, you want to fine-tune your web space to the end. If you want to take your WooCommerce page breaks to a new level, take the plunge and use the premium version of Pagination Styler for WooCommerce.
WordPress Pagination Plugin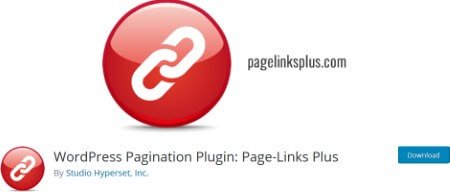 The paging plugin extends the native paging capabilities of WordPress by including a page option for web content. This option allows the reader to view the article on one page. This feature is free and this free version of the plugin acts as a framework for adding professional features.
Plus, Pagination Plugin is free, so no additional investment is required. Now, when you install and activate the plugin, you will have the option to display links to the next and previous pages directly on a single product page. There is also a dedicated customizer that allows you to fine-tune the pagination display. The Pro version of the package uses Ajax to improve the user experience and SEO. The plugin properly adds the next page break to the page content without breaking sentences or words. Plugins also allow you to easily integrate custom links that scroll the page. This plugin helps site admins and WordPress users easily set up, customize and manage pagination.
Sogrid
Sogrid is a great alternative that offers more than just pagination. This Post and Page Grid Layout Builder is a pack of useful features that are ready to use right away. After installing and activating the plugin, you can start using its 10 chin-like blocks within the Gutenberg block builder. Of course, you can also add pagination to the grid to provide great navigation for the entire content.
In addition, the final design that Sogrid is trying to achieve is completely responsive and instantly reshaped into handheld and desktop devices. Each block is highly customizable and can be tailored to exactly the regulations of your website. Last but not least, you don't have to change a single line of code when styling a page in Sogrid.
Plugins also provide many other useful features, especially customization options. This includes about 5 different button layouts, different content load types, and more. You also have the option to place a button at the top or bottom of the post. Best of all, the plugin supports the use of shortcodes, so it's very easy to split a long post into multiple pages. It is also compatible with Visual Composer. You will be given the option to choose from the simplest ones.
Alphabetic Pagination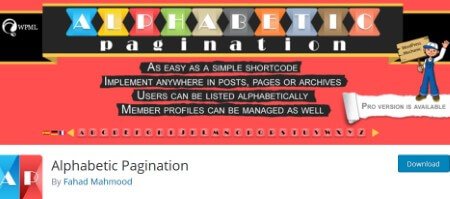 Alphabet page breaks are useful for displaying search results on a single page or post. You can use the post editor to insert shortcodes to filter pages, posts, WooCommerce products, media, authors, etc. in your content. Results can be viewed on a single page or posted alphabetically.
You may have already run WooCommerce first. In addition, Alphabet page are free, so there is no additional investment here. Now, once you install the plug-in and install and activate the plug-in, you will get the option to display the next and previous page links directly on a single product page. There is also a dedicated custom program, through which you can adjust the page display. This plugin is ideal for music websites, bookstores or e-commerce websites. Or you can use it to list users. Some features are only available in the professional version of the plug-in.
Ajax Pagination and Infinite Scroll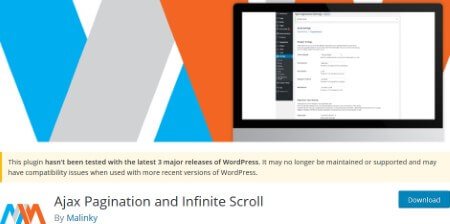 If you want to flexibly switch between the pagination views of the article or have infinite scrolling, then Ajax pagination and infinite scrolling WordPress plugin is a good choice. After installing the plugin, users will be allowed to use Ajax infinite scrolling to load page content, which will extend to all articles, pages, searches, custom articles, and even WooCommerce.
Moreover, Ajax Pagination and Infinite Scroll supports three types of Pagination options. You have the infinite scrolling and traditional pagination styles already mentioned, and the option to boast more buttons to load into your website. The plugin is free to use, but it has many useful features. You will see an advanced settings panel that will help you get the plugin to work the way you want. You can also set multiple profiles. This is useful when running an e-store on your blog or site.
Simple Ajax Pagination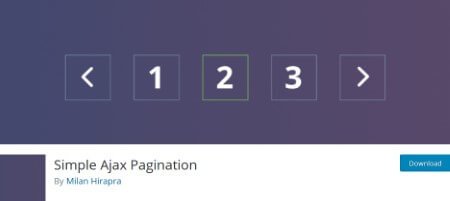 Simple Ajax pagination helps split a long post into several smaller pages. It's not just about adding pagination, you can also add buttons and insert text or images into the buttons. Different button layouts and different content loading types are provided, and you can use them on every page or every post. Buttons can be placed at the top, bottom, or both of posts. You can also customize the buttons from your WordPress dashboard.
In the settings, you can change and customize the paging type. The numbering appears above or below the content and is left, right, or centered. Two display types are possible. A long display version that lists all page numbers in succession and a short display version that displays page numbers in multiples. But that's not all. The former can be combined with jQuery's easing effect. You can customize them all.
Easy Pagination Control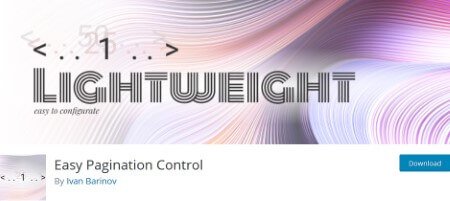 Try Easy Pagination to view your pages and posts as a beautiful slideshow. All you need to do is insert some tags and click on some options. Easy Pagination supports autoplay and is mobile friendly. Three animation styles are available: vertical, horizontal, and fade while moving from one slide to another. But that's not all.Six navigation templates will help you get started and you can customize them all.
If you want, you can create a footer that repeats on every slide. Thumbnail navigation options are available at both the top and bottom. You can use pagination tags to split pages, post to many sections, and create headers that can be displayed on all slides. The plugin accesses the first heading tag and first image in each section to create a slide. Also, don't worry if your slides exceed the display area. The plugin will automatically calculate the height and width of the viewport. The Scroll to Top option is useful.
Final Thoughts
WordPress can handle simple pagination by default. The plugins in this list add additional features that improve the navigation of website content. They make it easier to manage pages and increase revenue by adding more pages to get to place ads. Improves SEO by increasing page views and counting next page visits as page views instead of bounces. However, it's also a good idea to avoid splitting your content into pages with too much content so that Google doesn't consider it thin. Using wise pagination will definitely improve the user experience. A slight increase in SEO rank may be a bonus.
Therefore, these were the best pagination plugin choices for WordPress. I hope you find this article useful. Also, let us know on your blog if you are already using any of these plugins. Also, please describe your experience with the plugin.