A website has several purposes, one of the main ones is to inform visitors about your products or services. One way to do this is to show it all to your visitors, page by page. But if you offer your visitors a quick answer by asking a question, they will definitely like it. The live chat option can help answer specific customer requests and increase the likelihood of conversions.
Even if it isn't, this is an easy way to start a conversation with your customers or even a casual visitor and get them to spend more time on your website. To add chat to your site, check out the WordPress Live Chat plugins in this post.

Most bloggers recognize the benefits of being personalized. Please take a moment and check your favorite blog to see what I mean.
A successful online business, you must create an easy and simple way to communicate with your customers and users. Nobody wants to wait and everyone likes a quick response. Your instant support makes your customers happy, and their satisfaction becomes the key to your business success.
However, all of this can seem like a problem, and people usually try to find online chat rooms and social networking sites to get answers. And if your company's websites do not yet have such an opportunity, what are you waiting for? Adding live chat options to your WordPress site is not only beneficial for users but also for website owners. But let's talk about this in more detail so that you understand how small an element can make a big difference.
Live chat has a number of advantages over a normal phone or email support system. Visitors do not need to wait for a response, they receive instant support in real time. Converting to an automated email system when you are offline helps you generate valuable leads. If you are ticketing, the answer will be easier as tickets can be tracked. This can reduce the number of abandoned carts, and the chat recordings can serve as an easily accessible basis for future campaigns.
Floating Chat Widget
Chaty is a free, versatile live chat WordPress plugin that supports 19 different chat channels. It supports Facebook, Instagram, Twitter, SMS, Skype, Viber and more. Use powerful chat with a variety of features to quickly provide live chat on your website. For reference, you don't have to actually experience it. Well, you don't even need to know how to code.
Visitors are already using their favorite chat apps and most visitors prefer to use those chat apps to communicate with them. Chaty allows website visitors to chat even after leaving the website.
Wise Chat
Wise Chat is a plugin that focuses on social media and improves user engagement through real-time chat capabilities. Easy to install using short code, widgets or PHP functions. You can have multiple chats and multiple chat rooms on the same page.
You have the option to change the name and mute the sound generated by the message. Allows single sign-on to both websites and chats, making chats read-only and requiring registration to post messages. It can contain multiple lines, allowing users to include clickable links and images and attach files. If necessary, limit the number of chat rooms that users can enter. Desktop notifications can be configured for new users and for automatic message cleaning after a certain number of days.
Smartsupp Live Chat
Smartsupp Live Chat, you can start personal conversations with your visitors and turn them into satisfied customers.
Most popular chat solutions is used by 283k websites with Attract visitors. Detailed statistics measure the quality of customer service. Visitor logs can help you better understand what your customers are doing.
EngageBay Live Chat
EngageBay's free live plug-in is a chat service that allows site visitors and customers to chat with you directly from your site.Take your customer service to the next level with our free chat software.
With the EngageBay live chat plugin for WordPress, you can quickly and easily add live chat support to your WordPress site. It allows you to instantly communicate with visitors and customers on the site and quickly resolve their questions or problems.
Join.chat

If you're only looking for a solution that connects WhatsApp to your website and offers live chat, join.Chat is the perfect choice. Get things done faster with this powerful, convenient, and easy-to-use tool. It allows you to provide live chat functionality on your website or online store for anyone to contact you directly.
Plus, you can fully customize the conversation starter message to exactly suit your business. Furthermore, due to its integration with WPML and Polylang, VVAme Chat also supports different languages.
WordPress Live Chat Plugin
The WooCommerce LiveChat allows your customers to chat with you directly from the WooCommerce website.
Enrich your store images with modern chat windows, attractive landmarks, and chat buttons. Pick a theme, pick a color, display a logo, and add more settings to your chat widget. Use the LiveChat WooCommerce Live Chat plugin to give your customers a better shopping experience and generate more sales.
LiveChat has a built-in ticket system that provides customer support during non-business hours. Manage all communications offline without the use of additional software.
Chaport Live Chat
Chaport is a free and easy to use chat room for WordPress websites. Start talking to your customers in real time and increase your sales. Chaport is designed as a instant messaging device that makes communicating with customers as easy and fun as with friends. We also offer a powerful free perpetual plan with unlimited chats.
HappyFox Chat
Turn anonymous visitors to your website into leads with the next generation HappyFox Chat Live chat software.
Online chat is no longer just an "interaction" tool. It is a business customer engagement tool that can help you with customer service, marketing, or sales.
WP-Live Chat

WP Live Chat Support is a free plugin for WordPress live chats, perfect for businesses of all sizes. It's intended for small businesses, but features like built-in premium are worth a try. With this plugin, it seems that there are more possibilities than you can imagine.
After activating the Live Chat plugin, click Live Chat in the left navigation menu. As soon as the visitor visits your website, the details will be displayed in the live chat control panel. Fill in the details and click Start Chat to trigger a sound in the live chat control panel. If you accept the chat, you can chat with the visitor.
Userlike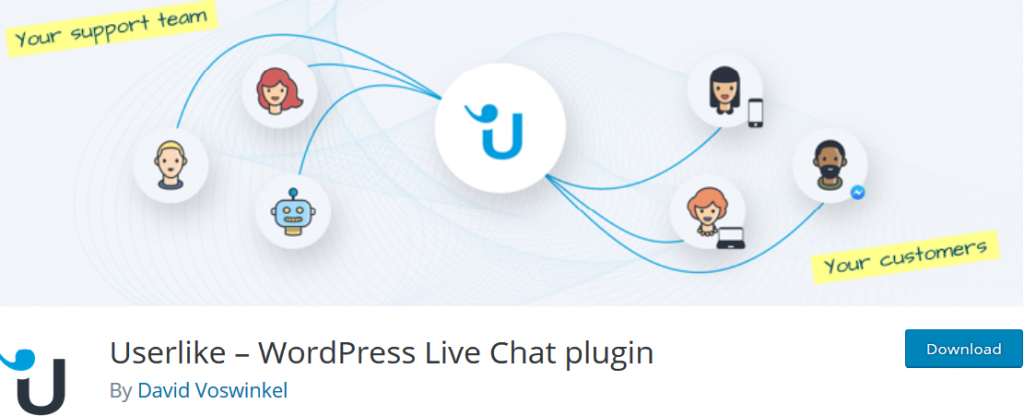 Userlike also helps capture drivers with proactive chat features. It sends a friendly message to customers who have been on the website for a period of time. Users support 7 different languages and automatic integration makes it easy to chat with people around the world. Users are created and hosted in Germany, with privacy as our number one priority and 100% GDPR compliance.
With the free, user-friendly plugin for WordPress, you can chat with your customers directly from your website or through popular messaging applications such as Facebook Messenger, WhatsApp, SMS. Customers can leave you a message and reply when you return online, even when you are offline.
Chatting is easy, as a service representative can communicate with multiple users simultaneously. Unlike the phone, chat does not absorb all the emphasis. You can use your canning message to answer frequently asked questions incredibly quickly.
Tawk.To Live Chat
Another great WordPress live chat plugin that we recommend is Tawk.To Live Chat. This template is free, but has all the features that make it easy for users to monitor and manage visitor questions. Flexible and customizable, this plugin can be customized according to the theme design.
Compatible with all advance browsers, Tawk.to is a free live chat software that was developed due to the growing need for businesses to interact with real people. Tawk.to can be left connected on iOS, Android, Windows, and Mac OS X, or logged in from modern browsers.
Zendesk Chat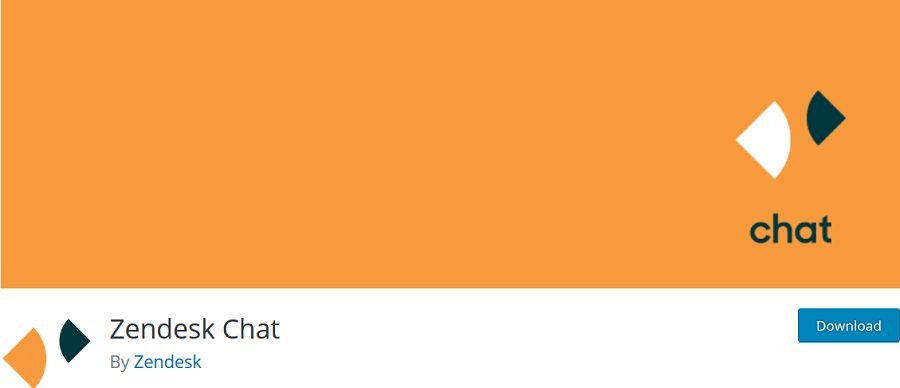 Zendesk Chat is the Freemium live chat services available to WordPress users. It is easy to install thanks to a dedicated WordPress plugin, which is available for free from the official repositories.
To reply to the visitor's message, go to the external Zopim dashboard. If you want to access chat on the go, you can also install the Android or iPhone-specific app.
With a free Zendesk Chat subscription, you are limited to one sometimes, but a chat agent can handle unlimited chats. If your site is small, this live chat plugin will suffice.
WP live chat plugin

Quickly and easily add chat support to your WordPress site with the LiveChat WordPress Live Chat plugin. Provides instant communication with site visitors and customers.
You can add a chat box at the bottom of each page, including checkout pages. Chat boxes may include rating options and sharing buttons. If you want, you can give the chat box a custom look by adding your company logo and choosing a custom color. The agent can scroll the chat box to view the chat history and transfer the call to another agent. It also allows visitors to come in and see questions and prepare answers.
Tidio
Tidio Live Chat is a live chat service that allows you to easily communicate with customers.
Tidio Live Chat is a full-featured, retina-enabled WordPress chat plugin designed to provide an easy way for website owners to communicate with their users. Very easy to customize and free. This plugin is worth a try. Even the installation process is easier than expected. You can change the color scheme, board radius, and even the placement to your liking. For smaller devices such as mobile phones, tablets and desktop devices, you can also use the dedicated app.
What if you're not online, or you want to automatically hire customers to get more sales and opportunities? When you're ready to use the chatbot, you can send messages, collect emails and answer frequently asked questions fully automatically. Then you can easily access all your contacts using one of the out-of-the-box email marketing models available with the built-in Tidio Email Marketing solution.
Pure Chat
Pure Chat, you can talk to multiple visitors at the same time. A transcript history is kept so that you can return at any time. There are many possible triggers for displaying chat boxes. You can also decide what the widget will display when you are offline.
After installing the plugin, you need to create a Pure Chat account. Select the widget on your page and click the link to go to the Pure Chat dashboard. You can change the settings here. You can also customize the chat widget.
Formilla Live Chat
Start online chat with the Formilla Live Chat web interface. After installing & activating this plugin, a live chat button will appear on your WordPress or WooCommerce site.
Formilla's real-time visitor tracking, you can see the number of active visitors to your website and start a live chat with them. Determine the countries that visitors will visit your site.
JivoChat Live Chat
If you are looking for an effective WordPress Live Chat plugin, ivoChat Live Chat is another amazing option. Powerful, versatile is the popular plugins. It offers real-time chat options that allow users to login in minutes.
With JivoChat, you can efficiently provide customer support and increase conversions and sales. Feel free to customize and configure it to reflect your style and strategy and make the most of it.
iFlyChat
iFlyChat is a good option for community and social networking sites. Not only can you chat with customers, but you can also allow them to chat with each other or in private. This makes it suitable for forums and dating sites. After installing the plugin, you need to create an account and get an API key.
A record of all chats is kept and can be accessed using a shortcode. The free version is bookmarked and includes standard features such as file sharing and IP bans. It also uses SSL to automatically encrypt chats on the site.
WP-Chatbot for Facebook Messenger
Simply put, this WordPress Live Chat plugin makes it easy to add Facebook Messenger to your site. Electronically, I can contact you immediately. Most users already have a Facebook account, so starting a conversation is immediate. In addition, it sets up a handy plugin to let the chatbot talk to potential and existing customers instead.
WP-Chatbot offers MobileMonkey OmniChat technology. It is a state-of-the-art technology in automated chat marketing that makes chatbots accessible to all businesses and customers in many popular chat interfaces.
If a WordPress site owner needs to create a separate chat that works in Facebook Messenger or Web Chat, create a bot conversation that works in many of the chat applications customers already use.
REVE Chat
REV Chat is another effective and professional WordPress live chat plugin that allows viewers to stay connected and improve customer service. This is a multichannel cloud-based plugin that provides users with real-time support options. Interact with your audience, stay connected, answer questions and promote the service.
Businesses can instantly interact with customers through a variety of channels, including live chat on the site.
Click to Chat
Click Chat for WhatsApp Chat, its name adds the WhatsApp Live Chat feature to your website. In fact, this WordPress live chat plugin is self-explanatory. If you find WhatsApp is the application that users and customers know best, make sure you bring it to your page and continue the conversation. It is easy to integrate tools to add a new level of professionalism to your page.
If you have the most valuable customer support, you will definitely add in the long run. Now they can learn more about your product or service and get all the answers they need. With WhatsApp Chat's Click to Chat plugin, you can build leading-edge experiences and build customer trust. While free plugins give you some benefit from your users, there are also premium versions where you can take advantage of all-new features.
ProProfs Live Chat plugin
Give your customers instant support with WordPress ProProfs Live Chat. All you need to do is monitor the behavior of your visitors to understand their intentions on your website. As visitors approach, operators have access to customized solutions. Start an active chat with visitors as soon as you see them deviate from your competition.
Post live chat integrations with your WordPress site to easily capture visitor details such as name, email, and phone number. You can also customize the pre-chat form to collect the information you need from your website visitors. With the information available, you can identify what can be easily converted and what can't. This means you can rank high quality opportunities for a hassle-free business and save significant time for support staff.
HubSpot All-In-One Marketing
HubSpot's all-in-one marketing plugin provides everything you need, and then some. HubSpot does the same if you provide live chat on your site. Integrate your entire marketing system into your WordPress pages and take your business and other online projects to a whole new level.
Website forms automatically sync with Hubspot, so you can easily manage your contacts and split them into lists to see all your interactions with the website. The plugin creates and updates each contact entry with integrated contact page access and live chat conversations etc.
Flyzoo Chat
Flyzoo Chat gives you everything you need to build a thriving community. Ideal for dating sites, forums, webinars, social networks, merchants, gamers, radio stations, events, and other types of sites that connect users and drive engagement. Members can log in and chat with existing accounts.Create multiple multi-purpose chat rooms. Add group chats to your page to improve your user experience. Users can have multiple private conversations at the same time. Enjoy fast message delivery without using server resources. Ignore and ban users, block IP addresses, control chat room curses with customizable profanity filters, control maximum message length and sending speed to reduce spam.
Crisp Live Chat
Crisp Live Chat is a beautiful and free chat for your website. This is the perfect free live chat plugin for WordPress if you want to expand your email list, reach leads, and improve customer relationships within the same software.
By adding this plugin to your WordPress site, you have access to Crisp Inbox for marketing, sales, and support, as well as Crisp Helpdesk, our free online educational resources to help you better use Crisp and support your customers.
EchBay Live Chat
Instead of waiting for email responses or dialing a phone number, they can get an instant response via live chat. Plus, Soch supports WhatsApp, Skype and Facebook Messanger seamlessly. Moreover, it supports multiple accounts and allows you to set time availability. your users can know exactly when to find you online to talk to you, without having to wait endlessly for you to contact them. To fully activate chat on your website, you don't need to do any coding or additional tasks.
Paldesk
Paldesk is a live chat add-on that helps businesses actively communicate in real time with website visitors. Connect multiple channels in one panel, reply to all messages from one place. Start collecting leads, guessing leads, and selling more.
How To Choose The Best WordPress Live Chat Plugin For Your Website
Face-to-face options are a convenient way for visitors to answer questions and gather information about their products. It's a tool for building and building trust with your customers and other visitors. This allows you to learn about customer concerns about your product or service and resolve them quickly.
Tawk.to is the best free option overall, especially if you need a free live chat plugin, and Tidio and WP's live chat support are also great options.
With so many WordPress live chat plugins, you have the opportunity and opportunity to expand your user base and engage more with your customers.
so if you have any problems setting them up, you can always contact support and they can help you. With a great WordPress live chat plugin running on your website site, you can rest assured that your visitors won't have any trouble finding the information they want.
If you want a chat plugin that really helps you engage with customers and drive sales, Drift or Intercom are the best options. Support Board and WP Live Chat Support are great solutions if you need a custom plugin that allows you to store all your data on your own servers.
In Conclusion
We hope that, you have found the best option for improving your customer experience.
As we mentioned at the beginning of this article, online chat for websites has many advantages over traditional media. Save time and effort and build.
Add-ons allow online stores to close more sales and significantly increase customer satisfaction. Not only customer satisfaction, but they can help in all aspects of running a business. If your business needs to keep your hardware always available to customers, you should try these plugins.
And if you like this article then don't forget to let us know in the comment section.