Google recently announced their shift to Smart Canvas to enhance collaboration within Google Workspace. Smart chips, which are part of the new smart canvas, can be used to tag people and files.
Smart chips can be used easily – just start typing @ in Google Docs to open a list of people, dates and meetings. To refine your search, continue typing. You can instantly view more information by hovering over or clicking on a smartchip.
See Also: 13 Best EdTech Certifications That Are Helpful
The power of smart chips was something we saw immediately when we first started to see. We thought how incredible they would be for us to improve our Google Docs hyperdocs. (And, in the future slides and sheets too!) Let's get started by sharing our ideas with you.
Google smart chips are now available to improve your hyperdocs
Overview
What is Smart Chips?
Smart Chips Do Not Have the Same Value As Tags in Comments
How can I add smart chip to a Google Doc
You can add a smartchip to your Doc by using the @ symbol
Click Here To Add A Smartchip To Your Doc
What is Hyperdocs?
Smart Chips Vs. Links in Your Hyperdocs
Scenarios For Using Smart Chips In Your Hyperdocs
Scenarios For Using Links In Your Hyperdocs
Hyperdoc Templates To Get You Started
What is Smart Chips?
Google docs has examples of all 4 types of smart chip
Below are examples of each of the four types of smart chips
Smart chips are tags which can be embedded directly in Google Docs. It is very easy to reference other people, provided they have a Google Account, files, dates, and/or calendar events. Although they look similar to hyperlinks in their functionality, smart chips provide more detailed information when you hover them over your document. This makes them extremely useful!
While smart chips can be added within Google Docs at the moment, they should soon be available for Google Sheets. They are not yet available for Google Slides.
Smart Chips Do Not Have the Same Value As Tags in Comments
Since long, it's possible to tag people in Google sheets, Google slides, and Google docs. It is easy to do this – simply type @ with your email address in the comments box. You can also assign a task to this person in the tagged comments.
It's easy to tag someone in your comments. They get an email notification, alerting you of the tag. This can be used to collaborate with colleagues, or alert students of their feedback.
These tags are no longer valid for smart chips. Smart chips can be embedded directly into your text. It doesn't appear to automatically email you when smart chips are attached, but we tested it!
How can I add smart chip to a Google Doc
Two ways can you add a smartchip to your Google Doc. First, type the @ symbol in the search box and then use the suggestions. The second method is to copy the link and click on it.
You can add a smartchip to your Doc by using the @ symbol
Add smart chips to your device by using the @ symbol
Just use the @ symbol when you want to add a smart chip in a Google Doc. Based on the content of your Google Doc, an automatic list will be displayed. This will include people, dates and meeting events related to your content.
You can refine your search by typing in the name or keyword of the person, file or event you are looking for.
Once you find the item you are looking for click on it to add it to your Google doc. That's it! It's so easy and fast!
There are some issues with this feature as it is new. One example is that we tried to search for a file name specific for a Google Form, but couldn't get it to show up in the search. Even if you enter the correct search terms, it won't necessarily find all of the files. This will hopefully improve soon! We believe it would be incredible if they included a more powerful search tool in the sidebar. (We think this would also work well as an embedded tool in the explore feature. .
Click Here To Add A Smartchip To Your Doc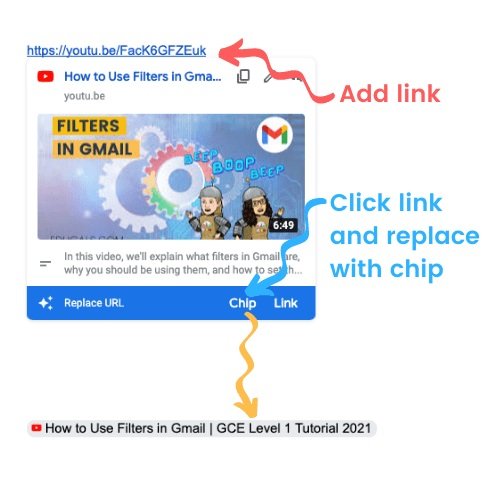 This option works best if you know the exact file you want and have the sharing URL. This trick works great for YouTube videos too!
Copy the link to the file/youtube video and paste it into your document. The autosuggest button should appear to allow you to replace the link with smart chips. If it doesn't, that's fine! Simply hit Enter, then click on the link again. A suggestion to replace the link by a chip will appear.
This method seems to work for most file types except Google Forms.
What is Hyperdocs?
We now know a lot about smart chips. Why are we so excited to use them in Hyperdocs. Hyperdocs can be described as digital lessons with many hyperlinks. All the resources are contained in one space, which makes it easy to use as a learning tool for students.
Hyperdocs go beyond adding links to your doc. They also have a whole pedagogy, which is built on universal design for Learning (UDL) principles as well as great blended learning strategies. While the most basic Hyperdoc follows a Explore, Explain, Apply 3-part lesson structure, there are plenty more options.
Hyperdocs was mentioned in a few podcast episodes. For more information, please check Episode 3 (Streamline & Simplicify Instruction for Remote Learn) or Episode 45 ("The Challenges of Asynchronous learning") for more.
Smart Chips Vs. Links in Your Hyperdocs
Smart chips have the potential to bring a whole new dimension and dimension to your Hyperdocs. This is why we were so excited about them. A smart chip allows you to add a Google Docs and Slides file directly to the Google Docs tab. Your students don't have to open it in another tab.
Although smart chips have some amazing uses, not all circumstances are ideal. Smart chips will not work well if you are trying to force students make copies of documents.
Scenarios For Using Smart Chips In Your Hyperdocs
There are many amazing possibilities when smart chips are used in hyperdocs. Let's examine each type of smart chip (person, file, or event) individually to learn more.
Tagging People In Your Hyperdocs
You can tag people as smart chips in Google Docs and then hover over them to see a small card that contains all their contact information. This is basically pulling all the information about that person's Google contacts. You can really improve your Hyperdocs in a few different ways.
Students can easily reach you by providing your contact smartchip at the top or in the header of Hyperdocs. This is great for distance education, but it can also be very beneficial when you are face-toface or hybrid.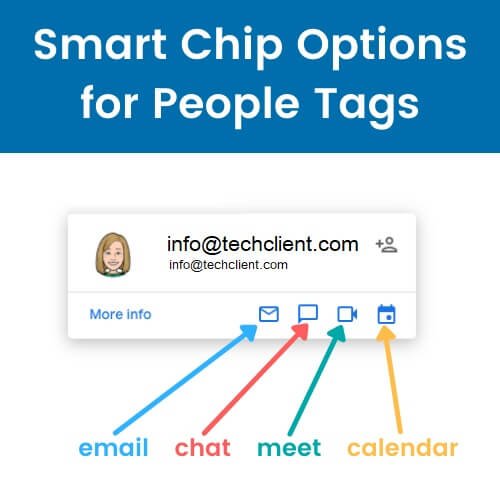 There are four icons that allow students to interact with you in many ways. These icons are in order: send email; schedule event; send message; and start video chat. Place your smartchip wherever you want students to interact. You can give them the option of a modality or request a specific one depending on the task. This could be used to quickly check in, ask questions, submit work or schedule formal evaluations.
Smart chip options for tags
You might also ask students to insert people into your Hyperdocs. Maybe they are adding their colleagues or team members to work in small groups.
Tagging Files In Your Hyperdocs
It is great to tag files with smart chips. However, it depends on the task. Smart chips are particularly useful when you want to tag Google Docs, Slides, and YouTube Video files. This allows you to view previews of all these file types in the same window without having it open in a new tab.
Hyperdocs views this as a helpful way to add Docs or Slides. These are not for students' view, but only informational purposes. This could be a video, reading or slide deck they need to review before they apply their understanding later in the lesson.
A YouTube video tutorial could be an example. You could attach your video to a slide, and then add it as a smart-chip to the slide so that students can view the video directly.
You can also link to the YouTube video and add smart chips directly to your Hyperdoc. This allows students to open the preview and then watch the video without needing to leave the Hyperdoc.
It is great for students to work together in one digital space using smart chips such as Docs, Slides and YouTube videos.
Another way to use this is for answer keys for problem sets. Put your answer key into a separate document, and then insert the smartchip in the Hyperdoc. Students can click on the chip to see their answers.
This feature could be used for instructions and reminders pop-ups to help keep your Hyperdoc tidy and clutter-free.
You can also use this feature for students by attaching a smartchip to your Hyperdoc. This is a great method to submit assignments and keep all your files in one place. If necessary, it will also remind students to modify the file's sharing settings.
Tagging Events In Your Hyperdocs
You can easily access the Google Calendar event by adding a smartchip to your Google doc. This is the simplest and least useful option. It simply links to the event in Google Calendar. This is a great idea. It would be wonderful if the Meet link, description, and other information were included. The smart chip included the Meet link, description, etc. so it is not necessary to navigate to the calendar.
We suggest that class scheduled events be included in your Hyperdoc header, along with your contact smart chips to allow easy access to your synchronous classes meetings. It makes it more accessible to your students.
Scenarios For Using Links In Your Hyperdocs
Links in Hyperdocs are better than smart chips. This is for many reasons. As the @ tagging system can only find files in your Google Drive, it is essential that all websites be linked.
Use links to any file where you want to force copies for your students. You cannot change the link address with smart chips but you can use a proper link (take the file's sharing link and replace "edit" by "copy" to force the copy).
Smart chips are still very new and might not find the file you're looking for. In such cases, you will want to use a link instead.
Hyperdoc Templates To Get You Started
Hyperdocs offers a variety of templates to help you get started. The Teachers Give Teachers resource hub allows you to search for specific topics and lessons that have been already created.