The gaming industry has come a long way from blocky pixel art to experiences that seem almost realistic. The fast development of technology has played a crucial part in determining the trajectory of the industry – one that has pushed the envelope and opened up new avenues. However, what precisely does this mean for players?
The article looks at the fantastic innovations redefining the gaming industry, covering various examples, including virtual reality, cloud gaming, and artificial intelligence. It explores the new possibilities for gamers due to these technical developments.
5G technology
With 5G technology, online gameplay is seeing a technological revolution, as players may enjoy higher frame rates and more stable connections. With 5G, gamers will no longer have to deal with frustrating delays caused by buffering or latency. They may play their games of choice, like slots, at online gambling sites in Australia or elsewhere without worrying about network drops or lengthy load times.
Using 5G technology, developers can create more expansive worlds and more intricate visuals, further increasing the immersive quality of the gaming experience. In addition, 5G allows cloud gaming services to stream their games from the cloud rather than downloading them. It paves the way for players to enjoy games on any connected device.
Overall, 5G technology is transforming online gaming by allowing players to access their favorite games on any device with an internet connection, increasing the size of game worlds, and improving the quality of the visuals in the games.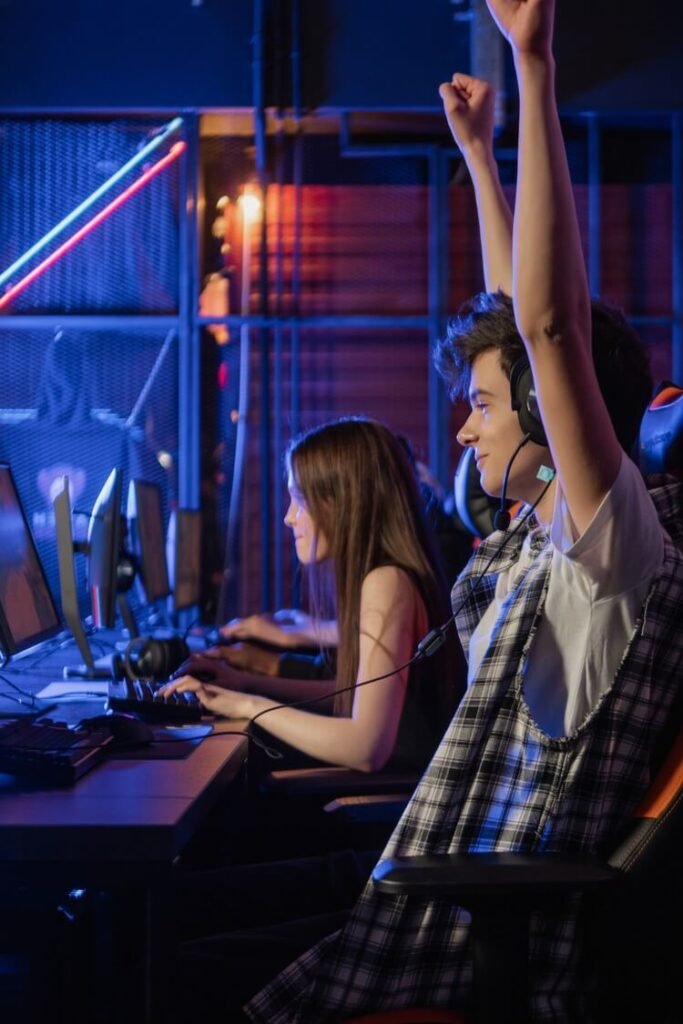 Artificial Intelligence
Nowadays, every game comes with some artificial intelligence (AI) at work. The employment of AI technology allows for the creation of interactive worlds that evolve in response to the player's activities in real-time. For instance, when a player enters a room in a game, the AI may create props and adversaries according to the scenario. Because of this, gamers feel like they are actively participating in the game's universe.
AI is being used to evaluate player actions to propose alterations that make the game easier or harder. Developers are able to create more challenging and exciting experiences for players by incorporating AI into their games through more innovative enemies and more dynamic settings. Moreover, developers are also using machine learning, a subcategory of AI, to help improve their marketing strategies for various games.
Virtual Reality and augmented reality
The advent of virtual reality (VR) and augmented reality (AR) gaming has brought about a sea shift in the gaming industry. These technologies are helping make gaming experiences more realistic using VR and AR. Modern game developers have more options to create immersive experiences for players. For example, VR headsets let players feel like they are moving around a 3D setting and interacting with game objects.
Augmented reality games help heighten realism by superimposing digital elements over the real world. It means that gamers may enjoy many MMORPGs without ever leaving their homes. The presence and immersion offered by these technologies surpass that of traditional gaming.
Cloud Gaming
"Cloud gaming" refers to online gaming in which players do not need to download games on their devices. Instead, the user's device receives a live feed from a server where the game is stored. As a result, players may only shell out a little cash on specialized equipment to enjoy games with cutting-edge visuals and functionality.
Thanks to cloud gaming, there is no need for game CDs or digital downloads. Cloud gaming enables players to continue their game sessions on any connected devices, regardless of where they left off. In cloud gaming the player's information is saved on an encrypted server in the cloud rather than on their device, making for a safer gaming experience.
The bottom line
The gaming industry is constantly evolving as new technologies are allowing more immersion, more room for individual expression, and more ways to communicate with other players. However, every game provided must follow the responsible gaming regulations and statutes to protect players. Virtual reality, cloud gaming, artificial intelligence, and other new technologies are converging to revolutionize the gaming experience and usher in uncharted narrative and gameplay possibilities. There is no doubt that the future of gaming offers excellent potential for both gamers and producers, as people anxiously anticipate the next wave of advances.