Looking to add a beautiful Slider Plugins to your WordPress site? Created with the right tools, WordPress sliders Plugins can make your website more interesting, interactive and fun. However, there are so many different slider plugins on the market that it may seem difficult to choose the perfect plugin. So we chose some of the best for you.
The WordPress Slider plugin needs to be one of the best WP plugin types. In fact, sliders are probably the most modern and popular. Use the slider bar to highlight content of interest, post important announcements, and keep your best content stylish.
Demand for sliders is still high. This is great, and when used correctly, it can also improve the user experience and even increase your conversion rate. Exciting new free WordPress slider plugins are released frequently.
Slider by Soliloquy
Soliloquy has a good reputation in the WordPress community. The people behind it have made great products before, but their responsive WordPress sliders stand out most. An easy-to-use slider with powerful features for personal blogs and business websites. Only when it can be used on systems other than WordPress. So why is Slider so good? First of all, it is a drag and drop builder that supports video and image sliders.
Soliloquy understands the importance of speed in terms of SEO and conversion, and is therefore optimized for web and server use. To be honest, this is the fastest plugin of its kind on the market.
MetaSlider

MetaSlider is one of the most commonly installed WordPress slider plugins. Its intuitive and simple interface allows you to quickly create a slideshow to your liking. You can drag and drop your favorite images directly from the media control panel. Once that's done, adding captions and custom slide data is easy.
The most popular WordPress slider plugin makes it easy to extend your blog or website. Just select an image from your WordPress media library, drag and drop and set slide titles, links, and SEO fields on the same page.
Smart Slider 3

Smart Slider 3 is an all-new intuitive WordPress slider plugin that was previously impossible with the free slider plugin. Smart Slider 3 has all the features you can expect from a free slider plugin.
A beautiful interface allows you to quickly and efficiently create slides. Complete freedom to create what you want, the way you want. Edit the slide as you used it in Page Builder.
The most powerful and intuitive WordPress slider plugin ever impossible. It's fully responsive, SEO optimized and works with any WordPress theme. Create beautiful sliders and tell your story without code.
Master Slider
Master Slider is another slider that has been well received by the community. It supports responsive design and can display content slides and still images. The slider transition effect is enhanced by hardware acceleration. This is especially useful for mobile displays. Plus, it integrates touch and swipe functions to make your mobile experience even more convenient. Built on top of WordPress development best practices, you'll get an unrivaled level of performance.
The master slider remains as lightweight as possible. Above all, we pay attention to load time performance. After upgrading to the pro version, you will see many additional slider options.
Huge-It Slider
Huge-IT Slider is considered to be the most popular plugin in the WordPress community. Intuitive WordPress slider plugin ever possible. It's fully responsive, SEO optimized and works with any WordPress theme. This will be the best WordPress slider ever. With its extensive support for effects, images and video sliders, this responsive slider is a great standard plugin.
Slider by 10Web
Slider WD allows you to create beautiful and flexible content sliders for your blogs and WordPress websites. This powerful Slider Plugins is perfect for quickly adding mobile-optimized sliders to your home or publishing page. Slider WD is based on the concept of widgets, so you can call Slider WD functions from anywhere on your site.
Slider by 10Web is a one-stop solution that allows you to add flexible, SEO-enabled sliders that load fast, anywhere on your website, including page, post, and topic titles. The plugin supports both images and video on slides. Moreover, you can add various transition effects.
When you add a new image to your project, you can choose to upload it using WordPress or the URL of an external image. Whenever you write a post in multiple image galleries, you can use a shortcode to embed the slider instead of the WP gallery. Custom features include image watermarking, image download protection, and versatile design customization.
Slide Anything
With Slide Anything you can create a carousel/slider. The content of each slide can be an image, text, HTML, or even a shortcode.
This plugin uses the Owl Carousel 2 jQuery plugin Owl Carousel is a very powerful and flexible jQuery carousel or Slider Plugins , free to use! Unfortunately, if you're not a developer and need jQuery and PHP coding skills, integrating Owl Carousel into your WordPress site is not easy. This is why I developed this plugin.
Ultimate Responsive Image Slider
Ultimate Responsive Image Slider is a responsive image slider plugins for WordPress blog users. You can use multiple image loaders to add endless image slides in one slider. You can publish an unlimited number of sliders on your blog.
With many successful plugins in your arsenal, you can count on Ultimate Responsive Image Slider as a great helper for your slideshow needs. The biggest feature that the Weblizar developers highlight is its infinite capacity. You can certainly add unlimited sliders anywhere on your site. Save time by downloading all images at once. As mentioned earlier, you can place multiple sliders on the same page, such as WordPress pages or posts.
The free version of the plugin is sufficient for personal blogs and small business websites. However, you may be using a more edit-oriented platform and need a little extra functionality.
Transition Slider
The Transition Slider Lite plugin allows you to create custom sliders with animated text elements, impressive WebGL transition effects, navigation arrows, slider loops and more. There are also built-in options for full screen or full screen sliders.
The Transition Slider is video editing transitions that allows you to use these types of effects on your website. Transitions include effects such as motion blur, radial blur, brightness, and 3D distortion. Transitions are fully customizable and you can set the type, duration, dynamics, direction, distance, and brightness. You can set different transitions for each slide.
Video Slider
If you want to skip traditional image sliders, we recommend using the Video Slider plugin. There is not much need to explain what the tool is. But let's talk about some of the features he has prepared for you. And despite being a free WordPress plugin, Video Slider is packed with great features.
The Video Slider plugins is a great way to create great video sliders without any coding skills. Fully responsive and works on any mobile device. You can bring more people to your website with an effective slide show that will showcase your video in amazing ways.
What's more, Video Slider is amazingly easy to use, perfect for beginners and professional users. You can also enable or disable autoplay and use the slider to indicate the slide / video to start scrolling through the content. Of course, this is not all. Create an impressive slideshow that will amaze all your website visitors.
SlideDeck
SlideDeck is a best free WordPress slider plugins that you can use to bring visual interest to your site. First of all, SlideDeck is free and easy to use. Install and use SlideDeck Manager to create new slides from scratch, or choose a free template to get started.
Create a fully responsive slider for your WordPress website. It looks great and works the same on all devices. Desktop computer, mobile phone, tablet. Introduce the content by creating a full width slider. The full width sliders all easily adapt to all resolutions and screen sizes.
Slider Carousel
A similar approach compared to the latest WordPress slider plugin where the carousel slider is for images. In addition, slider carousels support posts, pages, and other custom content. Plugins quickly adapt to your needs and rules without doing a lot of work. And don't worry about browser performance and compatibility.
The plugin comes with a built-in theme selector that allows you to automatically use some of the great pre-built themes with sliders. This means your slider will look great without any extra effort. Or, if you prefer, do not use the out-of-the-box theme and use the general options to create your own theme.
Slider by Supsystic
Supsystic Slider is a responsive solution that lets you create image and content sliders with some beautiful templates and tons of options.
If your website has this slider plugin, you can instantly download a large photo gallery. You can add both images and videos to the slider, and customize the settings with a variety of professional slider templates and options. All this helps to create an attractive slider for all your site visitors.
SEO-optimized sliders allow search engines to fully index images and captions. Fade, slide, flip, and slice with the Slider by Supsystic plugin. We provide users with a high level of support and even the implementation of some custom sliders is ready to help you.
WP Responsive Recent Post Slider
Viewing the latest posts with sliders has never been easier. Thanks to WP Responsive Recent Post Slider, this tool does most of the work. Not only that, it comes with 4 post sliders and 1 post carousel to add excitement to your site. What's more, the whole installation process is easy and can be used by beginners and experts alike.
If you want to turn your WordPress website theme into something special and creative, you should consider the WP Responsive Recent Posts slider. Help the website view the latest posts as slides.
GIGA Slider
GIGA Slider is a fast and convenient WordPress plugin that allows you to add custom sliders to posts and pages on your WordPress website. This GIGA slider supports unlimited slides per slider, as well as title and description for each slide.
On the other hand, GIGA sliders use rather annoying upsell notifications on plugin pages. It's always there .One of the free WordPress plugins that you should avoid on your client site. But for personal use, it's still a good choice.
WP Logo Showcase Responsive Slider
If you want to add a sense to your partners, sponsors and clients, you can use the responsive sliders in WP Logo Showcase. Created by this WordPress slider plugin. Therefore, its name is a high-profile slider that introduces various logos. This is useful for agencies, freelancers, event planners, or charities. But if you have an e-commerce website and want to see the brand you're wearing, you can also do that using the responsive slider in the WP Logo Showcase.
WP Logo Showcase Responsive Slider plugin helps websites display carousel slider for logos like customer logos, sponsor logo sliders, partner logo sliders.
MotoPress Slider
MotoPress is known for creating high quality WordPress plugins. MotoPress Slider Lite is no exception. This is a great solution for creating slides with a focus on vision.
An intuitive drag-and-drop interface, scrolling navigation and responsive layout let you create slides without touching code. Create SEO-optimized slideshows in minutes and view them on any screen and any computer.
Testimonial Slider
If you're wondering how it's done, Testimonial Slider is a free WordPress plugin that does all the heavy lifting for you. You can create sliders and grid layouts, display customer or customer reviews, and display reviews on your website with a modern and clean design.
The referrals slider allows you to create unlimited shortcodes, set primary colors, add pagination, and specify the number of introductory sentences to display on each line. It also supports widgets, so you can use different parts of your website to display testimonials to make them more visible to your leads and customers.
Slider Ultimate
Ultimate Slider is an easy-to-use responsive slider plugin that lets you add a clean, Advance image slider to any page on your WordPress site.
This plugin is fully responsive and WooCommerce compatible. You can use categories as before to create different slides, but you can also enter your own CSS to fine-tune the appearance of the slideshow. A timer bar informs the visitor when a slide change is expected.
GS Logo Slider
If you are a freelancer, you can view all the companies and brands you already work for. On the other hand, if you run a company, you're probably interested in introducing your partner. Once again, did you think of introducing your brand as an e-commerce website? GS Logo Slider is the WordPress plugin you need to get these results. Therefore, its name mainly creates a slide show with a brand logo. Also, much customization is not required to activate the GS Logo Slider.
The GS logo slider plugin is simple yet flexible and powerful, it doesn't slow down your site like many slider plugins do. The slider carousel displays the stream as a creeping line, and the logo image can be displayed with or without clickable titles. The GS Logo Slider Plugin Shortcode is easy to generate and we have a development team to provide support if needed.
FA Lite Responsive Slider
FA is a WordPress slider plugin that allows you to create sliders from already published content. Create slides from posts, pages and custom
You will find all the standard features such as navigation arrows and pagination, various layouts and animations, slider themes, and more. There are also some non-standard features such as shortcodes and the ability to use widgets to automatically insert them.
Social Slider Widget
Social sliders are for building a brand image. Whether you're a solo writer or a small business, using Instagram is right for your business. You might think sites like Facebook are attracting more customers, but the simple fact is that you don't know exactly where your next customer is coming from. This could be Twitter, Facebook, or Instagram. Social Slider is an easy-to-use social network. With hundreds of millions of users a month, you don't want to miss the chance to get this pie.
The slider widget is a handy widget that you can add to your blog. You can get a photo from any public profile or by a specific hashtag. All images displayed by this plugin will be automatically uploaded to your WordPress site and displayed as local images.
Serious Slider
A free serious slider plugin is a very good option for adding sliders to your website. The plugin is not only easy to use but also SEO optimized, translation ready and fully responsive.
No training is required as Serious Slider uses the familiar WordPress dashboard interface to create slides and sliders. Simply select a media image and click Create Slider. After that, it's like adding or editing a WordPress post with a featured image or other meta information such as a button or URL.
Crelly Slider
The Crelly Slider was one of the first sliders to integrate elemental animation similar to what you saw in slide show software such as PowerPoint. This open source slider is handy and often meets the criteria. You can customize background images, background colors, and transition effects without any prior programming knowledge. Animation effects are done by jQuery.
For foreach elements and slides, you can select inbound and outbound animations using a simple selection menu. You can set the transition speed and the time it takes to enter and exit an item. Responsive means the slider will display correctly at all resolutions used by the user.
Elementor Image Carousel Widget
Elementor is technically a page builder plugin and includes a free version of a pretty cool image carousel. If you want to create your own layout anyway, Elementor already offers an easy way to create a simple image slider-no additional plugins needed. The Carousel Image widget contains options for choosing navigation style, speed, slide/fade effects, autoplay, and pause on hover.
On the other hand, the Elementor Slides widget allows you to create more complex sliders with text, buttons, full screen or full screen layouts, Ken Byrne effects, content animations, custom transitions, and more.
PickPlugins Product Slider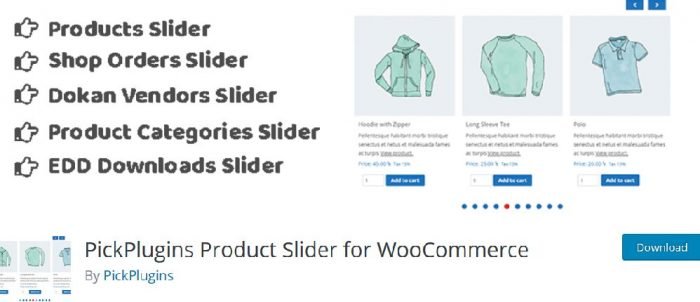 What would e-commerce look like without WooCommerce? This is a tricky question, no matter what the answer is, I'm glad this great plugin retains its quality and functionality.As with some plugins, it's best to use a straightforward solution like this one. WooCommerce Product Slider allows you to view your products in slider style.
It is mobile ready and like any plugin it offers a variety of slider displays. You can set as many items as you want to display for each slider. Similarly, you can customize the number of items displayed in a column. If you are running your website in a block layout, we recommend reducing the size of the columns.
Avartan Slider
Avartan is a free, easy-to-use, responsive slider plugin for WordPress, packed with many features. Add impressive image sliders, video sliders, content sliders, text and animations to your site. It also contains shortcode and button elements.
Avartan Slider provides a simple control interface with the latest features like drag-and-drop slider, live preview, different types of item options, and more. It includes options for featured pages, posts, custom post types, and vibrant multimedia slideshows on your WordPress website.
This is a progressive WordPress slider plugin that works well on desktop and mobile. Avartan sliders give users a great experience with stylish effects. It's not just a slider, it's a new way to bring your ideas to life.
Image Slider
Image Slider Plugin is the best WordPress image slider plugin for your WP site. You can create absolutely beautiful sliders.
The main niche of the plugin is related to images or visual graphics. With many years of experience in this area, the GhozyLab team provides WordPress users with a great free solution to add custom sliders to their site. The GhozyLab Business Module offers two alternative versions of this plugin. The first is the lite version, which can be downloaded for free. The other is the professional version, which contains additional tools and features to enhance your WordPress slider. The lite version is perfect for websites of all sizes.
First of all, there is nothing better than using a simple interface that does most of the work. The best plugin is usually the one that achieves its purpose with the minimum required action.
Testimonial Slider
In this summary of the best WordPress slider plugins for free, we will show you some slider types. First of all, almost every home page nowadays displays a traditional slider. In addition, there are sliders like this, and some others offer utilities for displaying other types of content in a slider format. The referral slider allows you to add personalized testimonials and customer reviews to the slider layout.
Typically, you don't add a review slider at the top of the page. However, it can be very useful somewhere in the home page area. Most WordPress themes today support the full functionality of plugins such as Visual Composer. If you can combine a layout builder with such a smooth referral slider, there is a surefire way to gain the trust of your visitors.
Future feature development is not planned, but if you are interested, you can submit new code for inclusion evaluation. Therefore, we strongly discourage using this plugin on new sites, as it has no new features planned for the future and only keeps it active.
WP Featured Content and Slider
When writing a great blog post or article, I certainly want to tell the reader about it. There are countless ways to do this nowadays, each different from the other. However, the most popular of these are content-specific sliders. You can use WP Best Bets to create sliders.
This may have drawbacks, but it's all your intention to use this plugin. From our point of view, this plugin is very useful for creating message highlights that are useful to your business. For example, you can add a featured content box at the end of every article that promotes a book. How to display the field of interest is a smart option. With short code.
Carousel Slider
Carousel Slider is a highly customizable touchscreen slider plug-in. Stylish design with responsive features. The use of the carousel slider is not limited to using images from the media gallery only. You can also upload videos, embed posts, and use your own URLs. On the backend, this plugin uses the Owl Carousel 2 library. It is a modern JavaScript library that provides professional slider functionality.
Arconix Flexslider
Present existing content with sliders or multi-image carousels that rotate to fit your display. It's easy to customize and supports standard and custom post types with or without images. Displaying content using shortcodes or widgets. Resizes based on user's device and supports touch navigation for phones and tablets. Supports standard and custom message types and image sizes for unmatched flexibility. Traditional single element, rotating slider or carousel with multiple images. Supports CSS and JavaScript settings that can be safely updated.
Smooth Slider
With WordPress you can create a variety of content for your website. To make your site more appealing to your visitors and take up more space on your page, we recommend using sliders or carousels.
You can use the plugin to create various sliders like post sliders, image sliders, video sliders, and more. Just use images from your WordPress media gallery to create an image slider. You can customize typography, transition speed, effects, background color, height, width, and more to make the slider look unique.
How To Finding The Right WordPress Slider Plugin
This is the fastest WordPress slider plugin on the market. It follows all coding best practices, is well documented, easy for developers to extend, and easy for users to use.
You need to make sure the slider plugin is fully responsive. Responsiveness is a core feature that every website should support as more and more people are using portable devices with small screens to surf the web. If the slider does not fit well with such a device, you will miss a lot.
Ease of use. There are several plugins on the market, but few offer a user-friendly interface. Don't choose a complex plugin, as many important things are lost just by learning how to use slider plugin.
Probably the most important thing is speed. It is well documented that slider plugins slow down websites and increase web page load times. If the slider is slowing down your site, there is no point in using this plugin.
Hopefully this article answers your questions about choose the right WordPress slider plugins in terms of performance and quality.
Wrapping Up
All the free WordPress slider plugins mentioned have an intuitive interface, but you can try for yourself the one that offers the best balance of features and intuition. It is recommended to do. Since WordPress websites do not execute only one plugin, it is necessary to consider the load on each website.
Hopefully the information in this article will help you decide which of the best free WordPress slider plugins is right for you. Be sure to let me know what it will be!