It helps you create amazing photography and photo Gallery websites. WordPress   give you the opportunity to offer the best user experience. Therefore, if you are a photographer or a photo-sharing enthusiast, you can start your Website from the list below and introduce your work to people.
Neve free photography WordPress theme
Neve Photography is a free WordPress theme for photographers and bloggers. This theme is great for showing your work and creating a beautiful portfolio. There are plenty of sections to highlight the best work and impress your visitors. This theme supports a page builder that can be customized very easily.
Photolite free photography WordPress theme
Photolite WordPress theme for companies that want to introduce their services on their website Developers recommend photography, photo blogs, business, restaurants, consultants and other industry themes. There was a custom header that I could use to change the branding, which was suitable for combination with a custom background, along with threaded comments, translation files, and some tools for changing the layout of the sidebar.
Hitchcock photography WP Theme
Hitchcock comes in a clean, simple design and blog-like layout, making it a reliable solution for personal blogging. Theme offers search bar and social icons.Minimalist portfolio theme with full screen static images and grid style gallery in the background. Themes are made for designers, photographers and other creatives. Display portfolio items with slow loading effect
AcmePhoto photography wordpress theme
Acmephoto is free wordpress theme includes many premium features, and one of the best and most unique features is that you can control the height of the slider/recommended section. AcmePhoto is a rich and beautiful theme with really amazing and awesome features among photo themes and you can try it.
ClickPic Free photography wordpress theme
clickpic is intersting free WordPress theme.That created exclusively for photographers & bloggers Photo themes include beautiful gallery social, social menus, information pages, network communities and more. Convenient options available. It is the most perfect. Very user friendly and many features
Photoway photography wordpress theme
photoway is super flexible and clean free wordpress theme. Grid layout is a photography technique. Fits all devices with a type layout. That's right.Help to design a professional layout layout for your website. This Photograph theme with awesome video tells story
FotoGraphy photography wordpress theme
Fotography is free wordpress theme that can be use blogging,gallery and business. the theme beautifully designed the slider, portfolio section & service section. There are 4 gallery layouts, 3 blog layouts, and 3 single gallery page layouts. This theme has a team and rating page showing team members and customer ratings.
Photozoom photography wordpress theme
Photozoom is very simple free wordpress theme.The theme has a responsive layout, making your website look great on any device. You can easily display the 3 most important pages on your homepage. You have the option of centering or splitting the header. Photozoom is also a SEO friendly and translation ready theme.
Timber Lite photo Gallery wordpress theme
Timber Lite is a best Free photography WordPress theme for online worker. It is ideal for creating photography websites for photographers,blogging & artists. Responsive design, easy to use, personalized without code, and meets all SEO requirements so people can easily find me.
Besty photography wordpress theme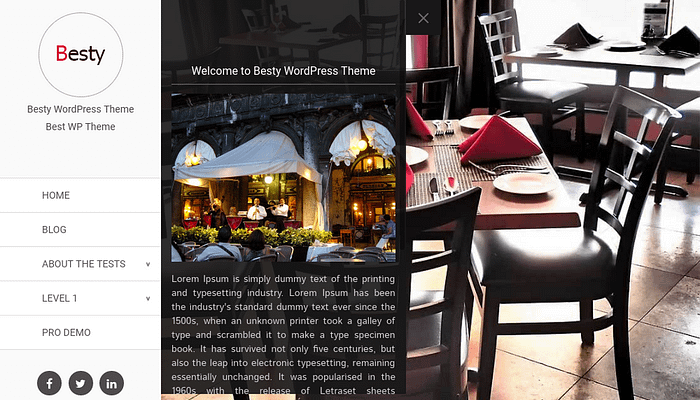 Besty is free wordpresss theme with fresh look.you can use for blogging and photography.It is based on bootstrap. Besty is looks great on all screen sizes. It has a beautiful brick layout, so the content looks attractive.
Infinite photography wordpress theme
Infinite Photography is simple free wordpress theme for all types of devices. This theme is made for photo blogs, photo sharing, food, travel and other photography related websites. This theme has a recommended section where you can introduce your best work or major content. It also supports WooCommerce, which makes setting up an online store very easy. With all this and more amazing features
Bold photography wordpress theme
Bold Photography is use for multi purpose and blogging.Bold Photography is a dark, versatile photo theme with a sleek design and bold appearance. Designed to showcase your creativity in photography if you want a bold and dark website.
Pixgraphy photography wordpress theme
Pixgraphy is free wordpress theme for blogging and photography. It also supports WooCommerce, which makes setting up an online store very easy In addition, the logo is located at the top of the home page, which makes it easier to personalize your site and gives people an idea of your website.
Photo Perfect photography wordpress theme
Photo Perfect WordPress theme offers a great layout to get all the images on your website within minutes. Is centered around the header, which includes the integrated menu and the category of navigational areas. The PhotoPerfect WordPress theme has the latest High-resolution photo showing off the photo Photograph and which image is displayed
Fotographie photography wordpress theme
Fotographie WordPress theme is very attractive as a very visual and free theme for photographers of all skill levels Fotographie are ready for translation, so if you have foreign clients, or if you want to get even more readers from different locations, then the theme of photography can help.
Infinite free photography wordpress theme
The Infinite Photography WordPress theme has a darker tone for a more modern look, but the main reason we like it so much is because of the portfolio settings. It has some camera icons that ask the user to click on the image
PhotoBook free photography wordpress theme
PhotoBook WordPress theme delivers a responsive layout that You don't need to implement a button, but it is recommended given that you are very likely to get clients on your page. This theme is recommended for personal websites for photos, photo blogs, portfolios, and other creative people.
Photograph free photo Gallery wordpress theme
photograpy don't pack too much extra or frills, but this works for you What is unique about photograpy? As for this subject, the photo is a hero. All default layouts have masonry gallery with categories, nunning navigation, and predictable layouts to make it easier to work with
Full Frame free photography wordpress theme
A full-frame WordPress theme if you're trying to create a website that provides a place for people to view your photographic products and services The theme resembles any business website, so you can talk about their services, show some of their work, and give people the opportunity to contact you if they want.
Electa free photography wordpress theme
The Electa WordPress theme features a more modern version of the regular photography portfolio design as it has an impressive grid to present all your photos and a menu on the left side, away from the tradition of placing menus on top. The Electa WordPress theme offers a fully responsive layout for displaying your photos on your mobile interface.
Photomania free photography wordpress theme
Photomania solution takes a fairly unique approach. Although available as a general portfolio, the default design is similar to photo search engines and image libraries. The portfolio section provides guidance filters and all you have to do is upload your images to arrange them in a beautiful grid format. The full-width template makes the page look a little better and has a sidebar to Organize. On top of that 、 you can access threaded comments, multiple columns and translation settings。
Snaps free photography wordpress theme
Snaps stand out from the competition due to their carefully selected typography and extensive customization. However, given its gorgeous design and customization options, there's no reason to pass it. It could be an ideal theme for you.
Katori free photography wordpress theme
Katori displays images prominently and supports photographers who want a simple theme centered around WordPress's traditional blogging features. This theme provides a modern full-screen background slider to showcase your photos, but the default font makes it a classic WordPress feel The header menu also has a handy button that shows the latest post with a full-screen overlay when you switch. It's unique and makes the featured image stand out.
Mansion free Photo Gallery wordpress theme
The first thing to keep in mind is that mansiom is old. Launched over 6 years ago, it really shows its age. I like the idea of a miniature grid layout, but this example is not visually appealing The apartment may be very good. The home page grid layout is a novel idea, but the theme is stumbled upon by the selection of dated fonts, lack of white space, obscure color schemes, and unattractive page layouts.
Freedom free photography wordpress theme
There have been a few themes in this collection that will have a hard time making your photography shine, but with Freedom, you will be free from those worries. Freedom isn't perfect, but it has a clear focus. To provide a simple yet customizable solution for blogging about photography. If that's what you're looking for, it's definitely worth considering.
Fukasawa free photography wordpress theme
Fukasawa asks you to stop and record everything it has to offer. masonry thumbnail layout looks great, and the individual image pages are also great for presenting your photography I often hear the phrase "you have to pay", but Fukasawa-san is an exception. Regardless of your budget, add it to your suggestions list.
Fotogenic free photography wordpress theme
All photo themes have a common goal: you can create the perfect website for presenting your work. If you are looking for a free theme that meets this criterion, Fotogenic is worth a look. The topic also includes review sections, scroll buttons, and features that make navigation easier Fotogenic is an excellent, uncomplicated, free theme for creating a photo portfolio. Since it is completely free, there is no excuse for not missing it.
RokoPhoto Lite free photography wordpress theme
RokoPhoto is a simple theme that serves as an introduction to the premium version. but it's totally free wordpress theme.A gateway to the fully equipped premium version. Therefore, there are many other photo themes that are not hindered and offer relevant functions.
Portfolio Press free photography wordpress theme
Your photo should always be front and center. Your work must always be the star of the show, whether it's on your homepage or in your blog post. Enter Portfolio Press Portfolio Press is another tool worth adding to the list of themes that are good for introducing photos.
Tracks free photography wordpress theme
Some themes specialize in photography, such as Tracks is best free wordpress theme You don't have to stick to the vague color scheme, but the layout is fun to look at. The position of each image on the website is alternated to eliminate monotony. I also like that each image is balanced by a title and excerpt that keeps the image away from attention The design of the truck is sophisticated and you can use a bit of color, but there is a lot of convincing photo bloggers to download a theme with the ability to prove that there is no price tag.
Online Photography  wordpress theme
There are hundreds of topics aimed at photographers, but not many are suitable for photo bloggers If you don't need a general portfolio and prefer image-centric blogging themes, online photography This refreshing theme will encourage readers to come back to more with an immersive browsing experience. Nevertheless, the simple and messy features and effects are stylish.With few customization options, you can set up quickly and share your content right away.
Fifteen photography wordpress theme
Fifteen tries to combine visual elements that draw attention to make it stand out. The minimalist element is gone. Fifteen can hold their heads up. Apart from the color scheme, it offers enough visual interest to stand out from its competitors It may be ideal for anyone looking to introduce their portfolio and add some modern prosperity.
Origami free photography wordpress theme
For beginners, origami is a Japanese art of folding paper. A skilled origamist can turn a piece of paper into almost anything you can imagine charm of origami is summarized in the bundled PageBuilder plugin. The thin single-row layout is attractive, but the real trading partner is able to create almost any layout you choose.
Make free photography wordpress theme
Make is a popular theme for multipurpose suitable for many different applications and is familiar to many WordPress users. Make is a beast that differs slightly from the other themes in this collection. Well supported, the documentation is comprehensive, and the bundled Make Layout Engine gives you more flexibility than most of the time. Decide if a company will sell the premium version using the free theme. In many cases, it is just the announcement of the Premium parthers. Not so for Make. Even the free version is a comprehensive theme with good support and documentation.