Musicians are known for their live shows and on-air appearances, but they have never had a presence on the web. In the era of social media, which focuses primarily on video content, users instead of visiting the websites of bands and artists who want to listen to music, go to YouTube, SoundCloud, and other platforms. As a result, artists don't focus on creating their own websites, and social media profiles are often fine. In our edits we have collected a great list where you can quickly find the top free music WordPress themes.
In addition, these sites often include off-the-shelf designs that look great and are fun. Having a free music WordPress theme on hand is very helpful as it only takes a few minutes to set up and doesn't cost anything. As the industry grows and more artists create their own websites, the same must be done if you want an online presence. In this edit of our music WordPress theme for musicians and bands, we chose only the best, beautiful, flexible and all non-professional. The developers of these themes have come to integrate each theme with e-commerce so that artists, bands and event managers can sell digital content (music, albums, other products, etc.) directly from the site.
The above reasons are only a small part of all the benefits that an artist can get by launching a website. Be sure to check each theme in this article, as the design variations are very diverse and the features vary by theme. This ensures that most people, regardless of genre, have a strong presence and identity on the Web.
Euphony
The free Euphony theme should help musicians and bands by providing the exact feature set these people need to launch an effective website. The design itself is very minimal, but don't be discouraged. Minimal does not mean lack of functionality. In fact, that only means that the design uses a lot of whitespace and the information you want to get is displayed prominently and undistracted.
Currently, some of the features this theme offers include portfolios, customer feedback, service sections, and featured content and sliders. This allows you to view not only the best jobs, but also information about prices, services, and what previous customers thought briefly about your job. It also comes with a sticky playlist so you can play the latest hits in the background while your visitors are browsing. The Euphony theme is suitable for solo artists and bands, but it also has features that are useful for podcasts, DJs and music lovers.
The design is responsive and looks good on mobile devices. It also supports translation and you can use the premium version, but the free features are feature-rich and perfect for getting started. Feel free to customize the appearance of this theme. Ultimately, you can be confident that your music will reach your intended audience.
Shapely
Shapely is, of course, the best free WordPress theme with a single page layout. If that's what you like and you need to build a music website, you can use Shapely to quickly launch it. This tool is highly adaptable and is perfect for your needs and needs. Shapely keeps things simple and eye-friendly. This means that all your content will look beautiful while you manage and maintain your pages effortlessly.
In addition, Shapely comes with free support and comprehensive documentation. Shapely is above average as a free tool. It also has all the technical elements of responsiveness, browser compatibility, search engine optimization, fast loading speed, and more. Check out Shapely now to get your music project stylish.
Audioman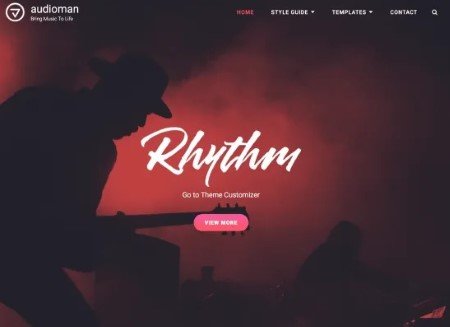 Another great free music WordPress theme worth considering is called Audioman. This is a slightly more modern style, firmly aimed at playing musicians and bands. Its main focus is on promoting music events, with the right set of features to make this possible and easy. It contains a variety of easy-to-use modules that you can configure to create your own compelling site.
This feature set is what you would expect from a free WordPress theme. But that's not a bad thing. The content contained here is enough to start a fully functional and beautiful website. Notable features include featured images and sliders, featured content sections, hero content, and playlist widgets that allow you to see the best songs in the front and center.
In addition, Audioman supports portfolios and introductory texts, allowing you to showcase discography and feature citations from previous clients and fans. This responsive theme looks great on all devices and includes social media integration to make your audience easier and more intuitive. If you want to build a professional music site, Audioman is definitely a theme to consider.
Antreas
Antreas is a versatile free WordPress theme that can also be used to create music related pages. Its stunning one-page approach allows you to share everything about music and artistic adventures without having to introduce additional sections. It's a modern practice that saves a lot of time while ensuring a prestigious online presence that catches everyone's attention. A neat page can make a strong first impression on all visitors and existing fans.
Antreas has all the important features such as mobile layout, browser compatibility, search and speed optimization. With Antreas, instead of learning code and design, you can avoid both from the beginning. No experience is required and you can build the essential website in a short period of time. Of course, Antreas is free, so you will not lose any.
My Music Band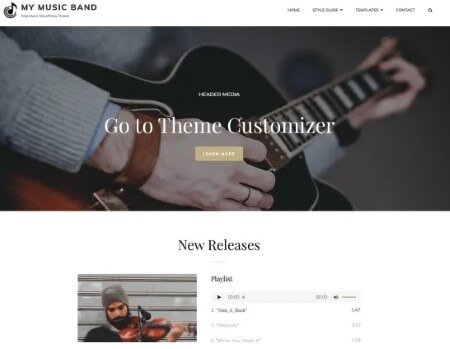 Create a professional and simple website for your band or as a solo artist with the theme of My Music Band WordPress. Of course, it's music-centric, but it has an overall business feel. This is great for musicians playing at corporate events. An element of seriousness in design can convey the tone you want. The theme itself is feature-rich and can be customized for a variety of purposes and genres.
For example, the design is responsive and works well on any device that displays it. You also have the flexibility to use or opt out of various features to create the site that best suits your needs. Notable features include many standards, including recommended sliders, recommended content, and hero content. It also supports portfolios, playlists, and a variety of color options to help you easily customize your theme for your branding. The atmosphere here is clearly business, but this theme is very helpful in bringing music to the fore and center.
Pixova Lite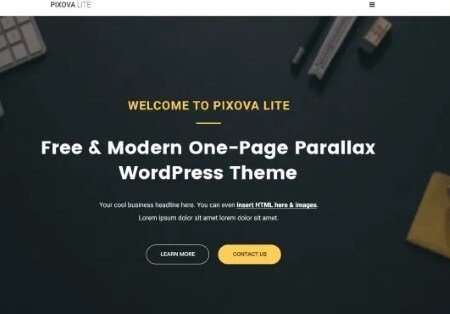 Pixova Lite is the best free 1 page WordPress theme on the market. It was made especially for those who want to get started. Pixova Lite combines a minimalist style with a modern edge. It is considered versatile and does not cost anything. Pixova Lite reassures users and developers. Perfectly fits all screen sizes and browsers. Its direction is primarily creative business and freelance sites. Comes with Retina compatible image quality and WPML translation. Pixova Lite is an option for those who need to maximize their quality expectations on a budget. This is a pixel-perfect, retina-friendly theme with high standards of image quality. You get it with unlimited colors and fonts.
Pixova Lite offers a new way to live your website building experience. It's easy, cheap, and fast. The theme layout itself is dynamic and provides a movable sidebar and headers. Pixova Lite is ready to set up a shop with WooCommerce. All types of businesses have access to the features of this theme. Updates are constant and custom support will be provided! Download now and discover more features! Try a great pro version with the CSS editor! Get Pixova Lite!
Musicsong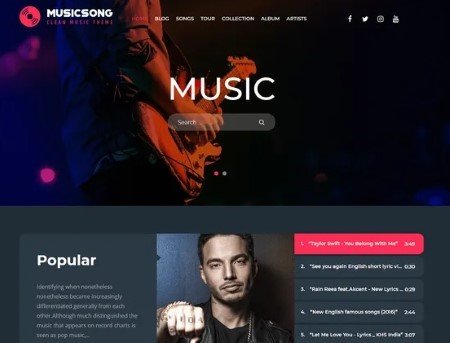 Musicsong can be used by any musician or band who wants to promote their work online and create their own virtual portfolio. With a clean and professional look, it is suitable for workers in all music industries, not just all genres and music styles. That said, Musicsong is clearly designed to be used to promote events and concerts, so it has an overall look that accommodates musicians' performances and tours.
This theme includes many other features you might expect from a music theme, such as recommended sliders and content, playlist support, social media integration, and specific page templates for artists, tours, collections, albums, and more. I have. It also supports blogging and includes an option to use the sidebar.
What I like most about this theme is the appearance of playlists. Large and prominent, visitors can quickly access your music and play it directly on the site. Is there a better way for potential listeners to get you to taste all the music tastes this way?
Musik
Musik is a responsive music theme. You can combine front page and post to reposition the sidebar, place the logo in three different locations, paste specific posts, add custom headers and threaded comments. You can also change the width of your site to display blog posts in a three-column grid. Each section of the site has different opacity, so the background image can be seen through.
This design is meant for artists with dark layouts in fashion and style. Due to its unique style, Musik is perfect for pop music and, in some cases, bands and artists who are deeply involved in rock. The specific background image, the style of the post used, and the image suggest this. Musik seems to be the perfect solution for creatives who want their content to stand out as their primary goal.
Music Freak
The Music Freak WordPress theme offers a simple yet stylish design that meets the needs of solo artists, bands, DJs, promoters, and everyone else involved in the music industry. This theme offers many opportunities to attract visitors by displaying high resolution images and graphics. It's also customizable, so you can adjust the colors, layout, and overall look to meet your specific needs and meet your visitors' expectations. If you're not sure what your visitors are expecting, always visit other musicians' sites to see what they have and how they lay out their content for inspiration.
This theme is very simple, but it supports audio and video format posts, standard blog posts, and includes social media integration, so visitors can easily make you on all of the popular social platforms. You can find and follow. You can also use the space to discuss albums and collections in a convenient way. I think Music Freak is a great starter theme for musicians who need to get their site up and running quickly. It looks great and works well. However, if you need a more robust feature set, it's a good idea to look elsewhere.
Blackoot Lite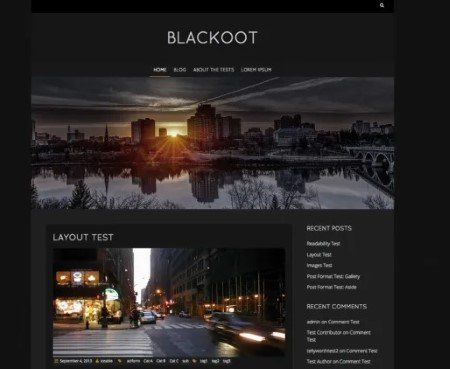 Blackoot Lite is a completely free WordPress theme for photo and music blogs. It is also suitable for portfolios and business sites. Get two different areas for widgets in the sidebar of the page. The second is optionally in the footer, the other is the location of the custom menu in the navigation bar, and the other is also in the footer. You can also customize your website logo and favicon, add a custom header image, and customize your background image.
Disseminate information with stylish and simple pages created with Portum Material. The large slider draws their attention and continues to fascinate them with all the other resources and details they have available. Blackoot Lite also supports the video content of official music videos.
Music Lite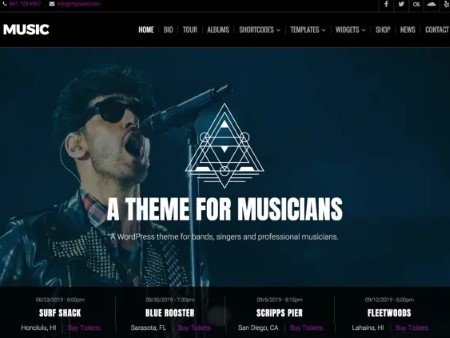 Music Lite is a surprisingly robust WordPress theme that you should definitely consider on your music website. At first glance, the demo looks very professional and conveys the impression that site owners need to be very legal. It works well for anyone in the music industry, including singers, orchestral performers, bands, DJs, and others who are somehow related to this sector. This is also suitable for other performers such as speakers, podcasts and comedians as it allows you to promote your event. It has an attractive design that catches your eye everywhere, including prominent widgets that highlight upcoming shows and events.
This theme also works with your default WordPress audio player, so you can highlight playlists and let visitors listen to your music without leaving the site for music services. It also supports the Organic Customizer Widgets plugin. This makes it very easy to create new pages and create content sections that have not been pre-created for this theme. You can use it to create custom pages for albums, band members, events, history, and more. This is separate from the standard customizations you can make from within WordPress, such as adjusting fonts and color schemes.
What's more, this theme is optimized for Gutenberg, so you don't need to know the code to make more complex layout changes. A premium version of Music Lite is available, but the free version has some features to try. This is always a promising start.
Verbosa
If you are an artist, photographer, blogger, movie reviewer, or creative writer and want a fantastic and creative multipurpose website, take a look at this free WordPress theme. Verbosa has all the tools you need to customize your website. It has a clean and proper design that everyone will love, giving you the desired results as you mess around.
Verbosa's designers have used many tricks to achieve and enhance its simplicity. It aims to be as user-friendly as possible with prominent accents and proper design flow. You can personalize your design with customizer features that include over 100 different settings. Verbosa has a wide range of microformats and other microdata to help you achieve the best SEO results. It also includes a social menu with over 100 social icons, taking advantage of the incredible benefits of images, foundations and Google text styles. Also, it is ready for translation.
Musical Vibe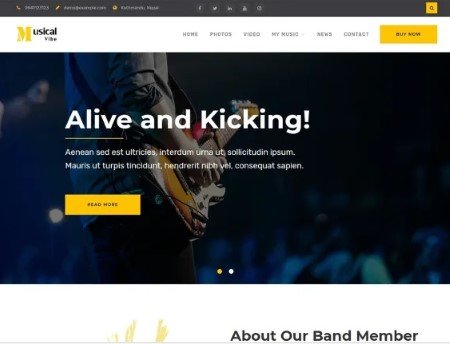 Musical Vibe is another great WordPress theme that is worth considering for both musicians and music lovers. It has a very attractive design that looks like any business on the surface, but you can easily give it more personality by the color you choose and the image of the main header or slider you choose. This theme works perfectly for bands, solos and other performance artists. Easy to customize and relies on visual editing. No coding is required to get the most out of this theme.
The Musical Vibe theme is responsive, so it looks great on any device. And with translations ready, you can talk and contact anyone anywhere in the world. It supports a bar at the top of the home page that you can use to view your contact information and social media accounts. In addition, it includes photos, videos, audio, contact forms, blog page templates and sections.
It also supports testimonials, and the sliders on the home page are immediately appealing, especially thanks to the buttons that encourage its outstanding action. There is even e-commerce integration. Overall, Musical Vibe is a very effective theme and will be useful to anyone in the music industry. Before diving first, make sure its appearance suits your taste.
Rock Star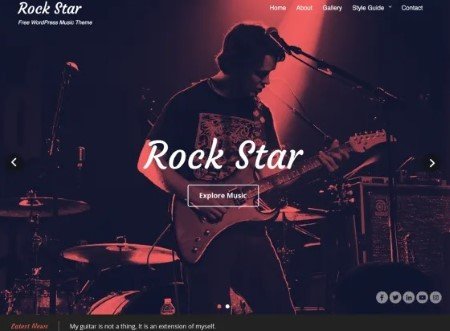 Rock Star is a beautiful, smooth and responsive WordPress theme for music built for artists and bands who want to promote their work and upcoming events online. The theme uses HTML5 and CSS3 as its basis. The theme is very beautiful and easy to use. The simple modules included in the theme allow you to quickly build a complete custom website without the technical background to build your site.
The Rock Star theme also makes it easy to update your followers, so you can take advantage of social media. The home page consists of a logo, tagline and full screen background image. This free music WordPress theme comes with a news ticker, featured content, featured sliders, bread crumbs, videos, and Instagram images for a wide range of customization.
sonaar wordpress theme free download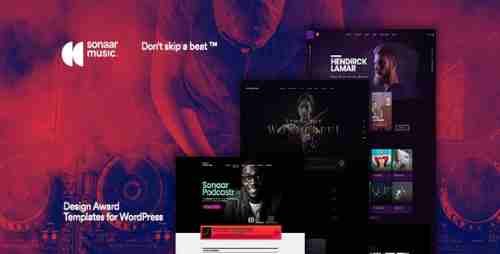 Sonaar, a premium WordPress Theme, has a minimalistic design. Elementor Page Designer is used for creating each page layout. Sonaar has the multipurpose theme you need for your audio project. The theme has many customizable options including multiple page layouts (custom widgets), parallax scrolling and unlimited Google fonts.
Sonaar, one of the most responsive themes, is ideal for musicians, musicians, podcasters and promoters. The theme allows you to create an unlimited number of product pages online to sell your music. We offer several ecommerce solutions that can be used by any type of business. Sonaar is the only e-commerce solution that doesn't leave you indifferent.
Download
Music Club Lite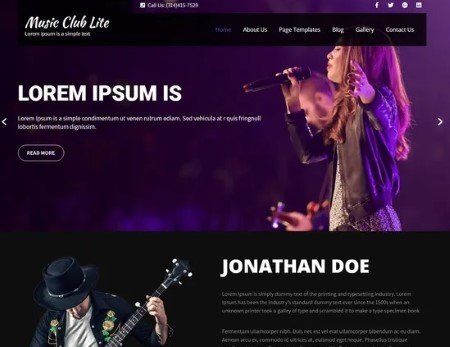 Music Club Lite is a very professional free theme that gives people all over the world a stylish option to showcase their work. It's a really modern design with minimal and feature richness. The design is smooth and slick, with a pseudo-one-page style that quickly conveys the most important parts of the music. Visitors scroll down the home page to see artist details, gallery previews, audio clips, blog post previews, and more. In this way, the visitor can take a quick look and get a strong sense of who you are and what you are.
Being mobile-enabled, it looks great on any device, and all buttons and layouts are effective and functional on desktops, smartphones, and everything in between. Insert audio files directly into your site, configure parallax scrolling effects, list upcoming events, show where you can buy tickets, and showcase your previous albums. The album section is clever and features record images that rotate when hovered. You can showcase your video, highlight your artist's background, or insert a full-width video clip. This theme is well-balanced and will be useful for any touring or performance artist.
EDigital
EDigital is a multifunctional free music WordPress theme that works perfectly. In this theme, you can sell your digital products using the plugins listed above. This makes it easy for bands and artists to sell music and merchandise online without the help of music labels. EDigital is also great for business and blogging. Includes free support from developers. Overall, digital seems to be the right choice if you're looking for a theme that focuses on selling digital items.
EDigital is easy to use as it does not require any coding or design knowledge. In fact, you are free to use the theme as is and get ready to quickly access your online space. Of course, additional customization is possible. EDigital on the foldable has a slideshow to help you capture your interest instantly. You can use the killer page to promote upcoming events and gigs, sell tickets, push music videos, and share playlists.
Surplus Concert
Surplus concerts are immediately eye-catching and don't have to be free. At first glance. This responsive theme is designed for all types of musicians and artists and can be widely used to promote live music events. However, other performers such as comedians, speakers, and instrumentalists can easily use it. There are several sections where you can enter custom content for artists, upcoming events, and photos.
The theme itself relies on visual editing, so you don't have to touch a line of code to get the exact look you want. Some areas that you can customize include headers, sliders, footers, and social media links. In addition, you can change the layout of the sidebar, use bread crumbs, and post excerpts. Surplus Concert is responsive and ready for translation. In addition, the prominent behavioral phrases on the home page slider will definitely encourage clicks. This is another powerful choice for touring musicians and artists.
Deejay
The Deejay theme is very useful for musicians and DJs. Themes are another accessible theme that offers a responsive design with multiple menus. In addition to the widget area, it also includes color and layout options for added flexibility and flexibility. Themes also include header background video support and three custom widgets for recent posts. Optional plugins available for key functionality are Easy Digital Downloads, Jetpack, WooCommerce and Events Manager. Selling products, sharing content, displaying portfolios and introductory texts are one of the key features of The Deejay, a free WordPress music theme.
Musican
Musican WordPress themes are also a high quality option that provides an instantly immersive experience for your site visitors. Upon arrival, the visitor will be greeted with a full-width image overlaid with the text of your choice and a not-to-be-missed CTA button. When a visitor scrolls down the page, they see a playlist section, a gallery image with a clickable slider, a date with a link to buy an upcoming event or ticket, a full-width video, and the next countdown. Increasing shows, blog posts snippets, and contact information. If you choose to use this theme, you can rearrange these sections in any order you like.
This theme works for everyone in the music industry. Even music fans trying to put together a comprehensive resource on genres, styles and artists. With social media integration, responsive design, contact pages with maps, full calendar event pages, and a compelling blog layout, Musican is a practical theme for musicians who need a website. It's quick and easy to set up, the design is customizable, and it's search engine compatible. What do you really want?
Sungit Lite
Sungit Lite is another WordPress theme that is clean, trendy, visually appealing, and fully responsive. Musicians, artists, bands and concert organizers are the main users of this theme. With Sungit Lite, you can fully customize your website without touching the theme code. It's also a free WordPress theme with features such as customizable middle sections, custom menus, banner sliders, and customizable footer sections along multiple page layouts. Custom CSS and three footer widgets are just a few of the features provided.
MH MusicMag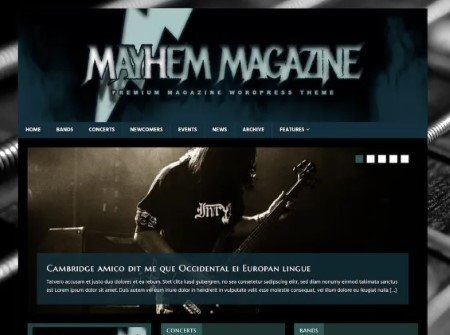 With all the free music WordPress themes on this list, you can be confident that your results will always be a masterpiece. And you can get these great results without asking the developer for help. MH MusicMag, like everything else, is a cracking page canvas that requires quick website modifications. If you get it and stuff the layout with content, it may already be live. Disseminate information on stylish and simple pages created with MHMusicMag. The large slider draws their attention and continues to captivate them with all the other resources and details they have available. Layout options make it easy to configure a premium version of MH Magazine. Therefore, the site contains additional widget areas such as multiple unique custom widgets and extensive layout options.
In addition, the beautiful and elegant design makes it suitable for start-up companies and business sites. The theme also implements a customizer that makes it easy to edit and update settings on any aspect of your website. In addition, professional designers and developers support the theme of ongoing ease of use. The package contains dummy import data for layout testing and documentation with detailed instructions on how to use the theme.