The best collection of free WordPress gallery plugins is a wise decision. The default WordPress installation comes with a gallery, but it lacks features. It can't be flashy, but try to be as simple as possible. If you want to impress users with really great media, this article is for you.
Looking for the best WordPress Gallery plugin to display a beautiful gallery on your website? There are many popular and established gallery plugins on WordPress.org and other markets. So browsing all the options is like a needle in the hay, which has always been a hot topic.
The plugins listed below, even if they are free, have many useful features. However, some of them take a more minimalist side, while others are quite complex. With this in mind, setting up most tools takes little or no time. On the other hand, you can also read the documentation and get the gist first. But this does not mean that it will be difficult for everyone without technical knowledge. Far from it! Everyone will be crazy about creating outstanding galleries and portfolios for WordPress websites.
Whether you're a photography site, a portfolio site, or a travel blogger, creating a great gallery is inevitable. For the best user experience, you should first optimize the images before creating the gallery so that the latter art loads very fast. If the images take a long time to load, nobody is interested in flipping through the gallery.
Why You Need A WordPress Photo Gallery Plugins?
If you're building a new website, or you already have one, or if you're looking for a great way to showcase your amazing photos and portfolios, I suggest you use one of the free gallery plugins. I will. Easy to use, customizable, and fully responsive.
Almost every website uses images, and the WordPress Photo Gallery plugin makes it easy to display them in an engaging way. Features, aesthetics and ease of use.
To make it easy to find this plugin, we've compiled a list of the best WordPress photo gallery plugins, analyzed their feature list, and took representative screenshots to figure out what type of gallery each one can create.
Gallery PhotoBlocks
Gallery Photo Blocks is a free WordPress plugin. Instead of relying on default features, you can always line things up and stand out from the crowd. This is the perfect image and photo gallery plugin to create edge-aligned galleries! You can scale your images thanks to the fast lightbox. Add special effects to the grid gallery.
PhotoBlocks Grid Builder is a great feature that makes PhotoBlock special and unlike any other gallery.With this tool, you can create a gallery layout by simply dragging and dropping images.
Modula
If you are looking for something more creative and modern, then Modula should be your choice. As soon as the control panel opens, you will notice that Modula is very different from most free WordPress gallery plugins.
Impress potential customers with a fully customizable WordPress gallery plugin that's fully mobile responsive, doesn't slow down your website or even require a single line of code to run. Looks good, incorrect cropping of images, lack of control over photos and videos and how they look on your mobile device – look no further.
NextGEN Gallery– WordPress Gallery Plugin

You are looking at a large 1M upload WordPress gallery plugin called NextGEN Gallery that I mentioned earlier. It has been around since 2007 and continues to grow. While looking very simple, NextGEN Gallery also offers a great opportunity for the most demanding photographers and creators. You all have the perfect solution to create a stunning gallery full of your gorgeous creations.
The free version of NextGEN Gallery offers two main gallery-style slideshows, a thumbnail gallery, and two album styles. They all offer a wide range of options to control size,controls & lightbox effects etc.
Final Tiles Grid
This is a free WordPress Gallery plugin that will help you create a great gallery to add to your website. What's more, Final Tiles Grid Gallery is fully responsive, compatible with modern web browsers for perfect performance. Plugins can be used for a wide range of purposes, both professional and amateur.
There are ton of WordPress photo galleries out there, but the problem is they always look the same. Keeps the original size without cropping the image. This is a completely new way of creating a photo gallery. Now you can think of images as tiles of different sizes, so you can use larger sizes for covers.
Photo Gallery by Supsystic
Supsystic's WordPress Gallery plugin provides the versatility to create any type of gallery. Select a shadow preset and set the color and thickness to your liking. Highlight the image. Add a photo description and icon to each image in the gallery, using different types of borders.
Make your gallery SEO-enabled by setting a title and description for the gallery media. The plugin social sharing button has been integrated into the gallery. You can now share your photos and get likes from your followers on Facebook, Pinterest, Twitter, and other social media. Stay connected to your audience. Protect your photos from theft and watermark them to make them unique. You can also display your organization logo on all photos to create a brand gallery.
Easy Image Gallery
This plugin makes it easy to create an image gallery for posts, pages, or custom post types. You can add and preview images from the metabox. Images can be rearranged using drag and drop. There are times when you need more flexibility than the standard WP Gallery offers. At that time, this plugin will appear. The purpose of this plugin is to make it easy to create a gallery and place it anywhere. A good example is to create a product gallery for your e-commerce website so that you can position it according to your theme design. Added the ability to add two or more different galleries on one page, change drag and drop order, and add galleries to any post, page, or custom post type. When multiple images are added to the gallery, the images are grouped in a lightbox so you can easily view the next image. CSS and JS are only loaded on the page.
EverlightBox Gallery– Lightbox
EverlightBox is a great feature that you can add not only to the default gallery in WordPress, but also to the final tiles and photoblock gallery plugins. However, you can integrate EverlightBox with almost any gallery plugin by activating your own CSS selector. The option is at your fingertips and you're all set up and ready to take full advantage of it.
EverlightBox is also perfect for mobile devices. It supports swipe gestures to give users a more natural way to view images.
Envira Photo Gallery

Envira is web and server optimized because it understands the importance of image and gallery load times and speed for SEO and conversions.
Another very popular and high quality WordPress Gallery Plugin which focuses on providing the interface as easy to use as possible. Everything is drag and drop. You can also get various gallery templates to make your work even easier.
Envira Gallery is a drag and drop gallery builder that requires no coding or design knowledge. Easy to use, the final product looks like the skilled professional who built it. In addition, the gallery loads very fast, improving the user experience throughout the site. It also keeps your website search engine optimized. The simplicity of Envira Gallery will captivate you as soon as you start using it.
Gallery Custom Links
Custom Gallery Links allow you to link an image from your gallery to a specified URL. Tested with WordPress Gallery, Gutenberg, Meow Gallery and more. Two fields are added to the image. Link URL and link destination. If at least one link URL is configured, this image will link to that URL every time it is used in the gallery. The lightbox is automatically disabled for these images. He currently works with the local galleries of WP, Gutenberg Gallery and Meow Gallery. It should work with gallery classes and gallery plugins that use responsive images. If you would like to support more galleries, please let us know easily.
Photo Gallery by 10Web
Add a responsive, mobile-friendly photo or video gallery to your WordPress page using Photo Gallery with WD Plugin and it takes just a few minutes. The plugin is one of the most popular among hundreds of thousands of active users. There are many advanced features supported by WD Photo Gallery.
Photo gallery is packed with stunning layout options, gallery and album views, multiple widgets, and numerous enhancements to further expand its capabilities. WordPress Photo Gallery is ideal not only for photo sites and blogs, but also for sites that need a reliable and easy-to-navigate image gallery.
Gmedia Photo Gallery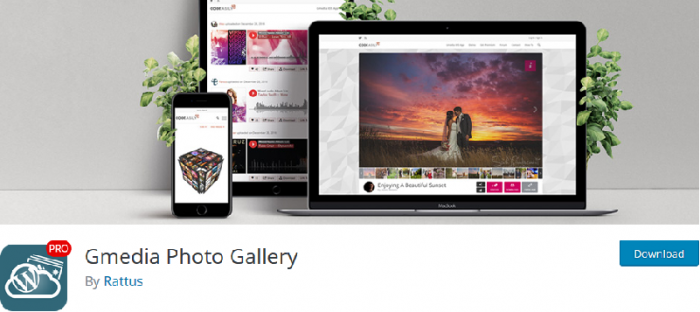 With the Gmedia Gallery plugin, you can manage your files, view image galleries and photo slideshows, and play music on your site. The Gmedia Gallery plugin provides a complete interface for working with galleries, images, videos and audio files. With the GmediaGallery plugin, you can upload an unlimited number of photos and audio files, create dozens of galleries and playlists, group and add images and other files to your albums. Tag for each file. It handles any file format and links all files to images with just a few clicks. You can import images with captions into the Gmedia library from Worpress Media Library, Flagallery plug-in and NextGen Gallery plug-in.
No skills are required to add and manage content using Gmedia Photo Gallery. You can upload as many pictures and as you want Video too. Creating all the galleries and playlists you need is a fun task. You can use tags to group items in an album and save a lot of time. After uploading the file, you can add images and sounds to different groups all at once with relevant tags.
FooGallery– Responsive Photo Gallery

Make WordPress gallery management great again! With FooGallery, you can easily add amazing photo galleries to your website in minutes.
FooGallery is an easy-to-use image gallery plugin with a stunning gallery layout. It is also responsive, retina ready, and supports very fast lazy loading of photo galleries. Live preview is available when creating an image gallery. It is also available in the Gutenberg block editor using the FooGallery block. FooGallery is a developer and freelancer.
The FooGallery plugin is ideal for users of all levels, from beginners to advanced users, but also intuitive to developers. Used outside the box and customized to suit your T's needs. The available features allow you to do a lot with this free gallery creation tool. Full support for video gallery and album creation. The latter is provided as an extension that you can enable on the Extensions page. When enabled, you will see a new menu item where you can add albums in the same way you would add a gallery.
Jetpack by WordPress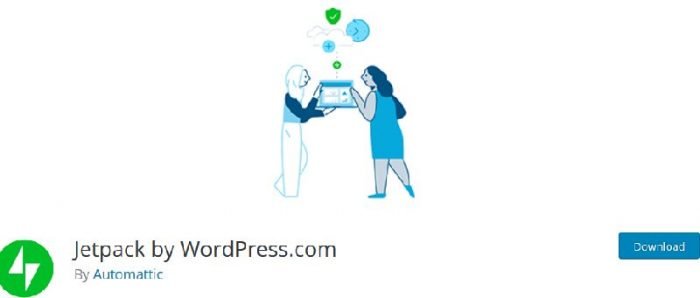 One such feature is an extension of the core features of the WordPress gallery. Jetpack's gallery isn't as powerful as the previous WordPress photo gallery plugin, but it's a good option for creating a basic gallery type, especially if your site already uses Jetpack. Plus, the Jetpack gallery is free. There are no additional updates to worry about. Of course, Jetpack has some paid add-ons and features, but all gallery features are included in the package for free.
The Jetpack gallery is not as flexible as the other WordPress photo gallery plugins featured in this article. Also, the gallery is not activated immediately after installing Jetpack. You need to go to settings and activate the gallery in the performance area. The image CDN must also be active for the gallery to work properly. Jetpack makes sense for many site owners who dream of compiling multiple plugins into one. So if you're just looking for a simple, clean, free gallery, Jetpack seems to be the winner. In addition, you have the option to use other Jetpack features for backup, brute force blocking, social media sharing, and more.
Video Gallery
video gallery supports all the latest WordPress themes and you will have no problem getting used to different types of websites. Whether you run a blog, business page, or entertainment site, Video Gallery works perfectly with all of them.
This software is intuitive and responsive and can really improve your view of the site when searching for related topics or videos on YouTube, Vimeo, Wistia, or popular search engines. Getting your Youtube, Vimeo, or Wistia extension working is easy. Here are some simple steps needed to create these amazing video assets on your WordPress site.
The plugins are designed to look crisp and clean on any screen size. No matter how small your device screen is, it will automatically adjust to fit perfectly.
Image Gallery by Ape
Ape Image Gallery is a free WordPress gallery plugin that will decorate your website or blog beautifully. And it's one of the plugins that supports both image and video content.
They just described the gallery features they are looking for. Collect the most popular features, image tools, thumbnail hover effects and a set of sliders. Create premium imaging equipment that includes most of the latest popular trends in portfolios, videos and photo galleries. For video sources you can use the media resources of YouTube or Vimeo. Our plugin has various layouts and a flexible interface design. The user interface supports touch screen mobile devices. Tested on various platforms and browsers. Our plugin is suitable for experts, but it won't be lost for the user opening the WordPress plugin settings for the first time either.
Robo – Responsive Photo Gallery
The gallery on your website is really an interesting and very important part of your pages.If you are looking for a quick and easy plugin with a simple and very beautiful design, highly customizable.With our plugin even WordPress beginners will be able to create your first gallery in minutes and at the same time WordPress professionals gain advanced tools and freedom of creativity.
Like some of the other WordPress Photo Gallery plugins with Gutenberg blocks, this particular feature speeds up the process considerably. It doesn't matter if you forget to save the gallery or how it will look before it's published. You can test the gallery to see what you can expect before launching your collection.The default settings of the Robo Image Gallery plugin appear elegant and easy to use.As with most of my tests, I didn't touch a single setting to post the gallery and see what it looks like right away.
Photonic Gallery & Lightbox for Flickr
Photonic is a free and versatile WordPress gallery plugin that helps you make great galleries. If you want more and more functionality in WordPress default gallery features, use Photonic. In addition to adding custom content, Photonic also supports third-party image platforms like Instagram, Flickr, Google Photos, and SmugMug. You can also use Photonic to create a video gallery. Plus, Photonic works really smoothly with the new Gutenberg block generator. Indeed, Photonic works like a dream with and without the content created by Gutenberg.
When used without the Gutenberg editor, Photonic will replace the gallery shortcode by default. If you use a theme or plugin that has already overridden the gallery shortcode, Photonic gives you the option to use your own Photonic gallery shortcode. This allows plugins to coexist. If you turn Photonic off, you must remove all instances of this custom shortcode. This is not needed if you use the gallery shortcode.
Portfolio Gallery
All you need to quickly fix your galleries and portfolios is Portfolio Gallery, a free WordPress gallery plugin. First and foremost, you don't have to be technically savvy to get all the great benefits of this great tool. With Portfolio Gallery, anyone can create compelling additions to their website or blog in the form of compelling content presentations through the gallery. We welcome everyone from beginners to professionals.
The free features of the Portfolio Gallery are a very easy way to create beautiful and responsive portfolios for your WordPress website.The Portfolio Filter Gallery is fully responsive and works on all devices including Macbooks, tablets, and mobile.
Meow Gallery
This is one of the fastest WordPress photo gallery plugins. Compared to all the other tests I did for this article, Meow Gallery saves a lot of upload and post time.
Use WordPress and Gutenberg of course without hacking. More importantly, don't force your system or make your website depend on it. This means you can use Meow Gallery to switch to WordPress master rendering etc. One day. It works easily anywhere and naturally adapts to WordPress. Never explode with features that most users don't need.
Designed to work with WordPress FiveGutenberg Block and standard gallery shortcodes as well. It's responsive, retina compatible, has a modern layout, is extremely fast and optimized. When you want to check the layout in action.
Vimeo and YouTube Gallery– Video Gallery
If you want to add a video gallery to your website, Vimeo and YouTube galleries are free plugins. You can use various plugins and extensions to inspire your page or blog at any time. And to add more visual content in a beautiful and eye-catching way, create a gallery.
Create a video gallery for WordPress with our responsive, multifunctional video gallery plugin with multiple ways and designs for uploading and viewing video plugins. The video gallery looks very impressive and functional. The process of creating a video gallery takes only a few minutes and you can view the created gallery on any page.
Portfolio Gallery– WordPress Portfolio Builder
Portfolio Gallery is a great plugin for adding a special portfolio gallery. Use or display your awesome portfolio gallery with Portfolio Hub! We put the best WordPress experts on our team to create a portfolio plugin with the lightest code, the most responsive design options, and the easiest user experience in the field.
You can also use your own content or use YouTube or Vimeo videos.Use portfolio gallery to create the perfect portfolio for your website. You can add unlimited images and videos to create an unlimited portfolio gallery. With the automatic shortcode generator and widget, you can quickly add your newly created gallery anywhere on your site. Very easy! Before you publish, make the latest customizations and styling changes to customize the look to fit your theme perfectly.
Gallery Bank– WordPress Photo Gallery Plugin
Gallery Bank is a powerful photo gallery plugin designed with advanced features to display your image gallery in the most beautiful and authentic way possible.. Whether you specialize in photography, creative design, or the quest for journalism, your photography tells and deserves a unique story. Will be presented in the best possible way.
The developers boast that the plugin includes over 200 features that let you create anything from masonry projects to sketching layouts. The interface turned out to be quite easy to understand. It may look a bit messy, but all the settings have been merged into one area, and the buttons to load the image and get the shortcode are clearly marked.
Grand Flagallery
Grand Flagallery is a free and versatile WordPress gallery plugin. It's not just for creating image galleries.
With this gallery plugin, you can easily upload images, create music or video playlists, create photo galleries, group images into photo slideshows, individual images, mp3s, videos, etc. You can add a description. Briefly describe the product or any event. Grand Flagallery makes it easy to your site with photo gallery & cute slideshow widget. SEO optimization, compatibility with all major browsers.
Various skins are also available for installation. If you are looking for what is already available, you don't have to invent your own style. One day you want to create an image gallery, but the other day you are finally ready to put all your video footage into a slideshow. With the Grand Flagallery plugin.
Photo Gallery by GT3
The GT3 Photo Gallery plugin has strong security and performance advantages. Free plugins allow you to create fast and beautiful galleries as well as cheap updates to fully protect your photos. Easily customize the look of your photo and video galleries using the GT3 Photo Gallery General Settings panel and custom settings for each gallery.
Easily create the look of your photo gallery. The plugin version of GT3 Photo & Video Gallery now works. You can easily add image and video galleries to your site using GT3 blocks.
Photo Albums Plugin
This is a free WordPress gallery plugin that you don't have to spend a lot of time setting up. Meanwhile, it has many features to create many of the required galleries. With the Easy Media Gallery plug-in, site visitors can have an even more enjoyable browsing and viewing experience. No matter what device they use, galleries and portfolios, combined with Easy Media Gallery, adapt to your screen like a dream come true. However, you don't need to worry about the user experience. In fact, it can be improved even after being placed on a user-friendly gallery page.
This gallery plugin is also highly customizable, allowing you to customize colors,hover effects and one simple control panel. This simple control panel for experts saves time and makes managing all your media much easier with this Image Gallery plugin, of course, without any additional knowledge of web programming.
Grid Kit Portfolio Gallery
Portfolio Gallery is a powerful and versatile WordPress plugin for creating almost any layout.The main features of the free version are responsiveness, layout composer, shortcodes, customer support and come with one layout style. For the basic user, these may be more than enough to display the work in a way that will attract more visitors. You can also use it for photos, creative projects, YouTube videos, and showcase your clients and team members. Portfolio WP is a versatile plugin that can be used for a variety of purposes. Whatever you think works best when displayed in a grid, the Portfolio WP plugin does just that.
Responsive Image & video Gallery plugin
Responsive image and video gallery plugins are a very important tool for any website. Most users have a gallery on the site. You should try the plugin as it allows you to display galleries with great views and animation effects.
We have many different standard and canvas animations for you to enjoy. You can create your own designs and make your own style.
Simplest Gallery Plugin
The simplest gallery is the easiest way to integrate a built-in WordPress photo gallery into your page with beautiful visuals. WordPress has great built-in gallery functionality that makes it easy to create, organize, and host image galleries on your pages and posts. If your theme isn't displaying the gallery as you expect, this little plugin will add some magic without any hassle by rendering it using jQuery's fancy box effects.
Circles Gallery
Easily create galleries with WordPress Media Panel. Use handy shortcodes to place your gallery wherever you want. Choose a place for your text. Adjust the size of the text inside or outside the circle, set 5 Fontawesome icons and specify the number of columns. Set different number of columns for tablets and smartphones. Sets an arbitrary width of the circle. Use multiple galleries on one page or post. Choose a background color for the circle, set fixed or automatic text height, and set the default settings for all galleries.
Xpand Image Gallery
Inspired by the Google Image Gallery, I created a WordPress gallery that replaces the standard with something that can open an image in content without loading a new page or using modal. It improves the user experience and improves site dynamism, speed and ease of use. Seamless Rendering: Enlarge images on the same page that the user is viewing. Responsive design: Mobile and desktop devices are fully supported. Customize as needed. The Options bar in the WordPress backend makes it easy to integrate with design, navigation with keyboard arrows, and image preload with Aja.
Simple Image Gallery
Simple Image Gallery has many great features. For example, if you are visiting your site from a touchscreen device, you can slide your finger across the screen to slide your finger across the image. If you are viewing pages on the desktop, you can view images using your keyboard.
There are many free WordPress image gallery plugins available, but this is the best because we have the simplest, cleanest and most beautiful designs. Plus, it's the easiest gallery plugin to set up available on the market.With Simple Image Gallery, you can create multiple image galleries. Easily add countless images to each gallery and use each gallery on different posts and pages.
Finding the Best WordPress Photo Gallery Plugins For Your Website
In our opinion, the ideal WordPress gallery plugin should be fast, easy to use, and have all the features you need to create beautiful galleries like lightboxes, image navigation, albums, pagination, etc. Gallery plugins can also improve user experience and improve image SEO.
But it's a good starting point for deciding what is most important to your business when looking for a photo gallery plugin. Some companies find copyright protection to be worthless, while others may not consider WordPress gallery plugins without this feature.
If you are looking for an opportunity to create a beautiful image gallery in no time, Modula is probably the best choice.Photographers who browse albums and sell photos will be satisfied with something more reliable, like Modula Gallery and Envira Gallery. On the other hand, if you are more interested in finding a template style that suits your needs, you need to make every effort to browse all the different demos from the WordPress Photo Gallery plugin.
We also encourage you to browse the list above to see what is integrated with Gutenberg. It's amazing how Gutenberg blocks speed up the gallery creation process. Other plugins will add this feature in the future, but for now, I highly recommend that you consider a WordPress photo gallery plugin that already has this feature.
All of these WordPress photo gallery plugins are available for free, so you can try them out and see your template and interface settings.
Conclusion
We hope this article helps you choose the best WordPress gallery plugin for your website. You can also choose the expert WordPress plugins that you need for all of your sites.
It's your turn. Have you missed a great gallery plugin? Let us know in the comments!