Origin
The movie Witch adaptation of C.S. Lewis' book was premiered on December 7th, 2005, at the Royal Film Performance.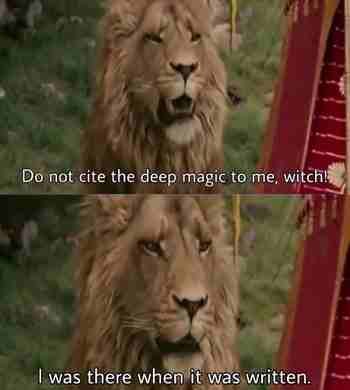 The Lion, the Witch and the Wardrobe[1] premiered in the theatres based on the children's book of the same name by C. S. Lewis[2]. In one scene of the film, Aslan, a lion, interrupts the White Witch by telling her not to cite the deep magic to him.
One of the scenes depicts Aslan discoursing with the White Witch, who is uttering the ancient words of the deep magic, to which Aslan disrupts her with the iconic quote, "do not cite the deep magic to me witch".
Spread
On April 11th, 2018, Redditor[5] dickfromaccounting posted the macro with a similar caption to /r/memes subreddit (shown below, top left), where it gained over 35,300 upvotes in six months. In the following days, variations of the meme also appeared. Within months, comic captions, paired with the macro, would show up at sites like Twitter and various Reddit threads.