In this post we present 25 Best WordPress Themes For Business Trendy in 2015. Here 25 themes is a professionally designed theme that is ideal for businesses Trendy in 2015, agencies, corporations, and freelancers, who are looking to grow their business. There are so many website to present great WordPress Themes out there and we have collected some of the very best among them. So here is the list of 25 Best WordPress Themes For Business Trendy in 2015. We hope you enjoy this collection.
Optimus – Multi-Concept WordPress Theme

Optimus is a Powerful, Responsive & Raw and Easy to Use Multi-Concept WordPress Theme. Build whatever you like with this Template. Be it Business, Corporate, Portfolio, Agency, Magazine, Parallax, Wedding, Retaurant, Blog or App Showcase, Photography, just everything is possible with Optimus. Amazing flexibility, Dark Scheme, Super Shortcodes, Raw Bootstrap & Scalable Responsive Features makes Optimus standout from the crowd.
Voltov – Blog and Magazine WordPress Theme


Voltov is a simple blog theme could be used for magazine, newstands, and personal blogs. And it has many awesome features namely infinite scrolling with pagination, Adsense multi color options for header, footer other sections. And Its quite easy to modify use.
FoxEstate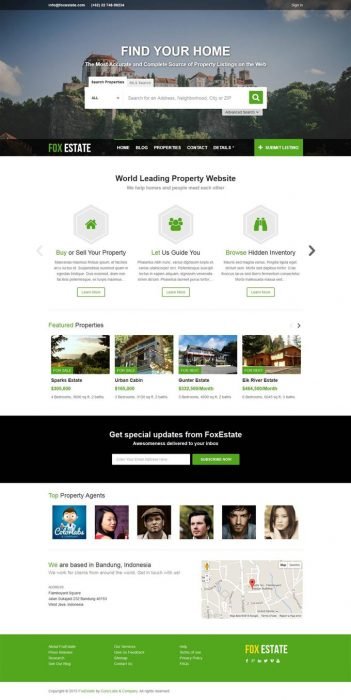 FoxEstate is designed for you who are in need to start an advanced-functionality Property Listings website. We welcome real estates brokers and agencies. Now you can build your own neat and modern Real Estates portal and allow users to submit properties.
Eveny – Events, Music & Gallery WordPress Theme

Eveny is a great theme to manage your events or show of your music, or better yet, why not both? Home page sections allow you to easily choose what you want to show on your welcome screen and in which order. All settings are now placed in default WordPress Customizer. After your content is added spend just few minutes in Customizer and your site is ready for the world!
Djuci

This Web Design WordPress Theme features user friendly interface, dropdown menu, back to top button and large hero areas with slider. Thanks to fully responsive metro style design your website will engage new visitors converting them in new customers. It is recommended to use the template for web design studios however you can easily customize it the way you want.
eMaxStore

eMaxStore is a beautifully designed eCommerce theme that can serve multiple purposes. It can help you showcase your products and generate more sales, and it also includes an beautifully designed blog that means it can either be a standalone blog or part of a large eCommerce website.
In Shape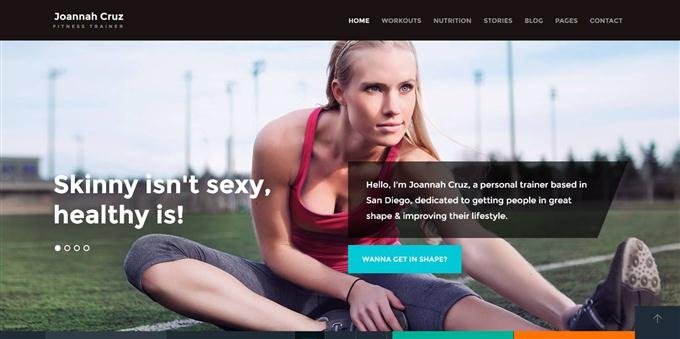 A responsive fitness WordPress theme that has tons of features specially created for a personal trainer website.
Stack Metro Masonry Portfolio WordPress Theme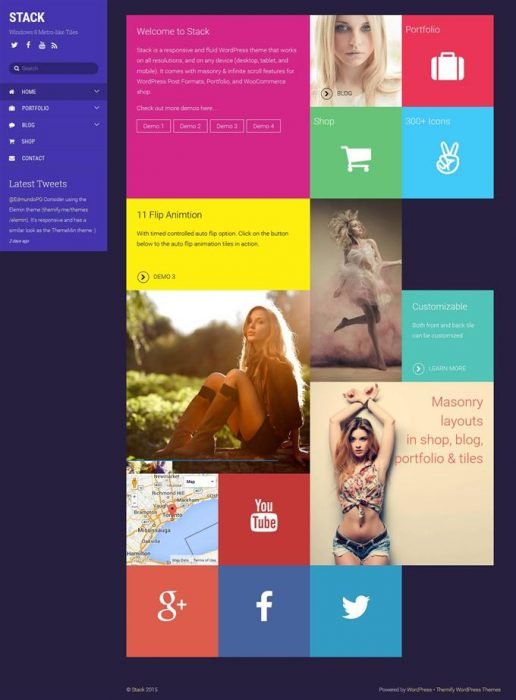 Stack is a colorful and modern metro style masonry portfolio premium WordPress theme by Themify. This theme features a completely fluid responsive design that makes your content easy to read on any device.
Rockafella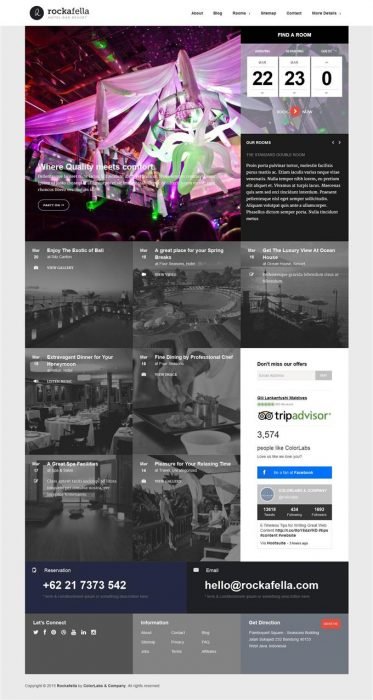 Rockafella is a professional and beautiful WordPress theme designed specifically for hotels. To create a hotel website with WordPress you would probably want to showcase your rooms, highlight your location, list the facilities and features, and provide easy ways to book the room. Rockafella has got you covered, each part of the theme has been designed with all the features that a hotel website might need. Not only to work, but to also look great.
Inspiro


Inspiro is a professional photo-focused theme with a modern design and packed with great features like fullscreen slideshow, widgetized homepage, gallery module, and much more!
The Flavour


Your only stop if you need a modern restaurant WordPress theme that has all the bells and whistles to push your business forward.
SoftPlan Mobile Apps Promotion WordPress Theme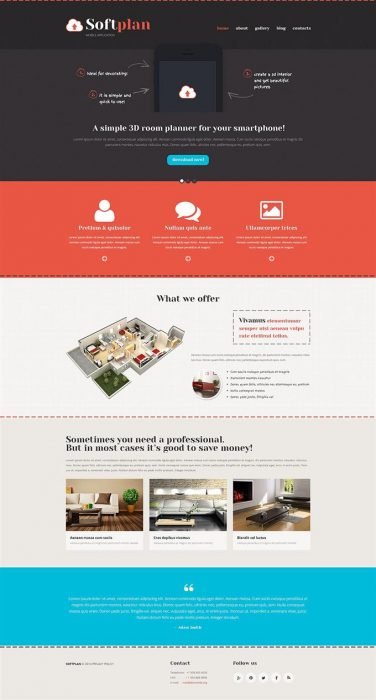 Everyone who likes flat web design and wants to add stylish, elegant look to their websites will like this theme. With special emphasis put on typography and services provided, it can be a great starting point for developing a mobile apps website. On reaching it, people will be introduced to the functional side of the promoted product, whereas the vibrant blue call to action button placed in the center of the page welcomes users to make a deal.
Spooner Restaurant WordPress theme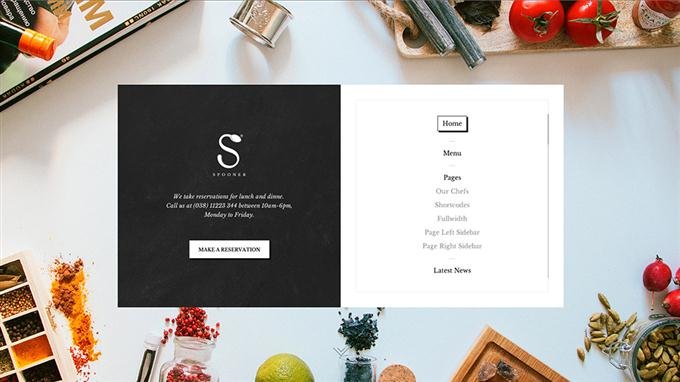 This WordPress theme is for restaurants and anything alike. Simply choose elements for your Home Page and impress your customers! It's designed to make your food look even more delicious. It allows you to tell your story in a dynamic, narrative and enjoyable way, making it perfect for restaurants, bakeries, bars or coffee shops.
Angle Portfolio WordPress Theme

Angle is perfect for displaying your portfolio in a beautifully simple and unique layout. The minimal design and clean typography allows the viewer to focus on your work free of distractions.
Photex Photography WordPress theme

Every professional photographer wants to present his portfolio in the best possible way. Photex is a premium WordPress theme that have all required features one photographer needs.
Creo Furniture Responsive WordPress Theme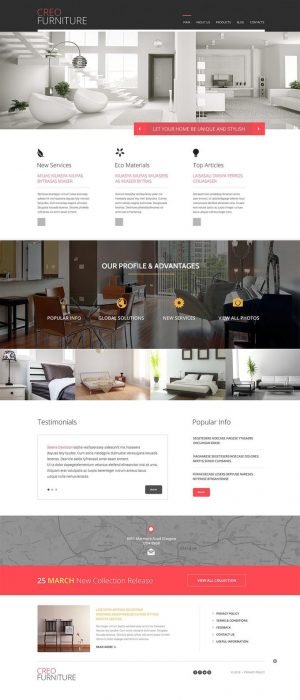 Creo is a well-coded WP theme that can be used for creating or updating interior & furniture, Real Estate, design, and hotels websites.
Lensa full-screen slideshow WordPress theme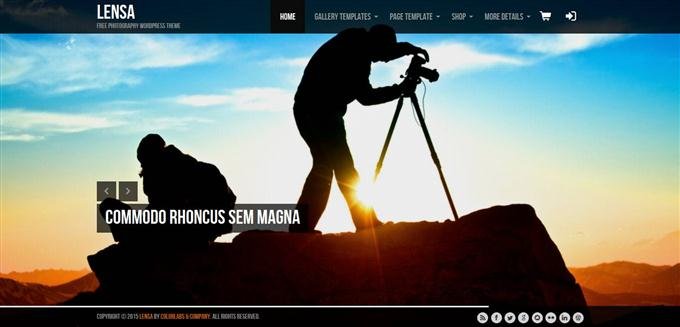 Lensa is a full-screen WordPress gallery theme designed for those of you who are addicted to high-resolution photography. With Lensa, your visitors will be immersed in your world, seeing what you see through your camera lenses. With its dramatic full-screen background slideshow effects, Lensa functions as an exclusive online photo gallery that looks equally awesome on desktops, tablets and smartphones.
Freelancer One Page WordPress Theme


A responsive one page WordPress theme dedicated to freelancers, web designers, developers or even contractors.
Seasons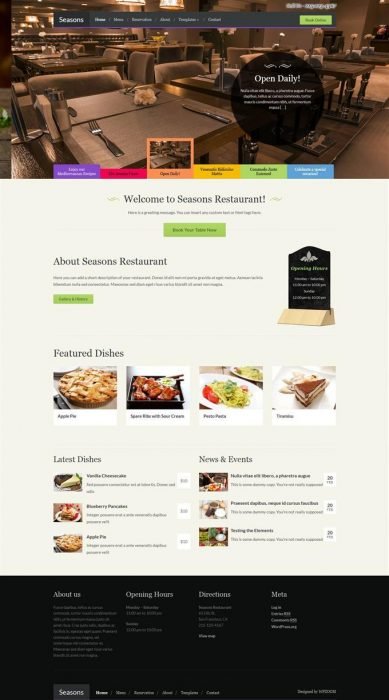 Seasons is an elegant WordPress theme with a layout and features that perfectly suits for restaurants, bars, cafe's and other businesses from the food related industry.
Radioos Photography WordPress theme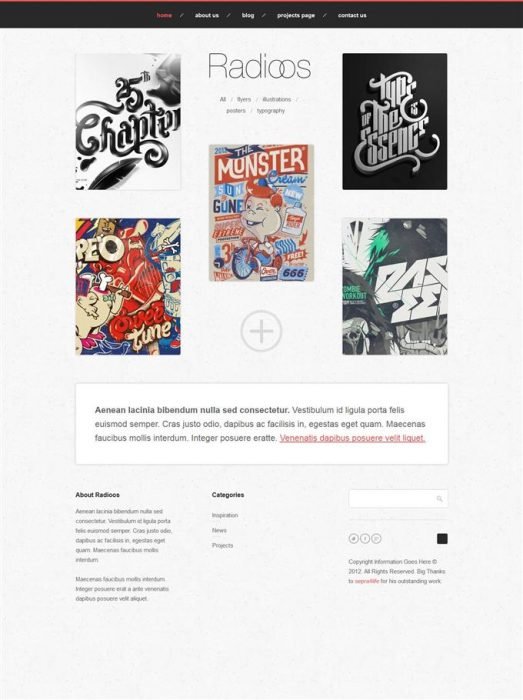 Fully responsive design The layout adapts to the Screen size of whatever devices your visitors are using, looking great from a desktop view down to a smaller mobile resolution.
Delicious Modern Cafe Restaurant WordPress Theme


This responsive theme with super clean visual frame and breezy colors will nicely reflect the primary focus of any restaurant and food related website, welcome people in and impress them. Full width top slider, boards grids structure of the content part, featured blocks they all present the menu and its parts in a tasty way, so the site viewers feel their mouths water and want to try one of the dishes.
Alpha

Alpha is probably one the most complex magazine theme from our collection to date. Includes two skins: Magazine and Newspaper, which offers you two absolute different looks.
Evangelist Church WordPress Theme

A warm church WordPress theme that will fit perfectly if you are looking to build a church, charity or a prayer group website.
WP hotel WordPress theme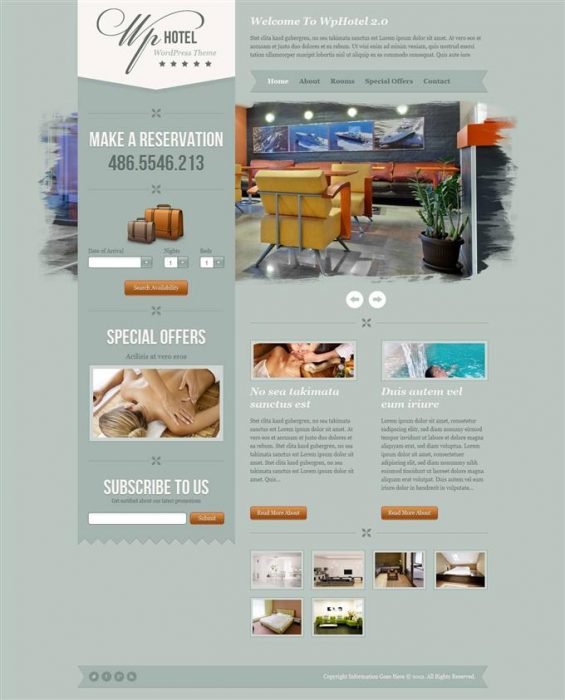 WP hotel WordPress theme is a premium WordPress theme specially build for hotel owners, theme that transforms your WordPress site into a fully functional Hotel web site with custom room booking system.
Corporate Ultimate Business Solution WordPress Theme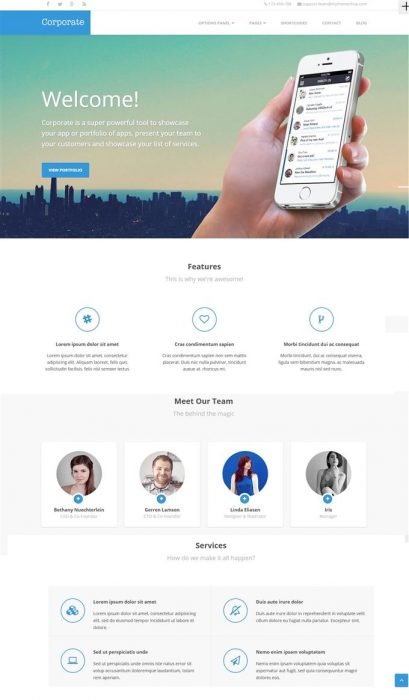 Corporate is a professionally designed WordPress theme that is ideal for businesses, agencies, corporations, and freelancers, who are looking to grow their business. Show your experience, portfolio, team members, and services, and help grow client relationships and your company, with Corporate.