No one can argue that online shopping has become a part of our daily lives. At some point or at other times, most website owners and bloggers want to monetize their website. This is made possible by the availability of numerous payment gateways, such as PayPal and Stripe, that allow you to easily collect payments directly from your website. As soon as you select a product or service, your customers will be taken to a checkout page where they can select their payment options.
PayPal is a popular payment option for many buyers around the world. If you're using WordPress, you can get even more help from the number of WordPress PayPal plugins that make it easy to collect payments via PayPal. Most e-commerce platforms come with built-in options for payment. And many of us sell our products and services online, but if you choose to use a full-fledged e-commerce solution, that would be overkill for us. For a significant number of small online businesses, simple payment options will serve the purpose of collecting payments.
Placing a convenient button that users can click to pay will definitely increase the chances of conversion. These WordPress PayPal plugins allow website owners to sell their products through PayPal and at the same time offer several payment processing options. When it comes to support for PayPal's payment options, the free plugin is great. The WordPress repository offers a wide selection of downloadable plugins that allow users to collect payments and donations directly from their website.
WP Easy Paypal Payment Accept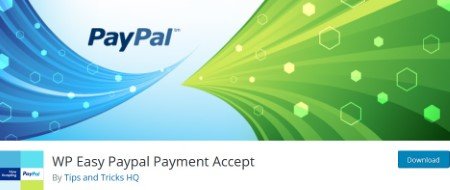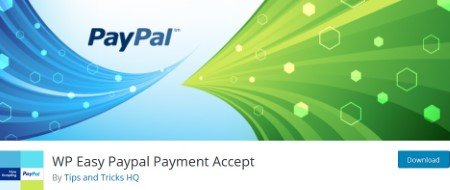 The WP Easy PayPal Payment Accept plugin helps you collect payments via PayPal for any product or service by placing options on any page, post, or sidebar. In addition to payments, you can also collect donations. With a shortcode, you can create a PayPal Buy Now button and embed it anywhere. You can also create multiple widgets for different products and services.
Of course, you need to have your own PayPal account and set it in the currency you accept payments for. To facilitate donations, set the payment widget to accept any amount so that users can specify the amount. Also, set the country code for selecting the language on the checkout page. You can use text or image-based buttons, or create custom images for the buttons. The payment window can be opened in a separate tab or window, allowing the user to return to a particular page.
Contact Form 7 – PayPal & Stripe Add-on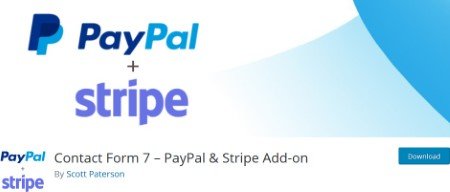 If you want to integrate Paypal and Stripe payments into Contact Form 7, it's easy. This WordPress Paypal plugin is quick and easy to use, so users have two payment options available immediately after filling out the form. Keep in mind that this tool can integrate Paypal, Stripe, or both at the same time. In addition, if your website is running different forms, you can run your own set of settings for each or both payment methods.
The process is safe and secure, whether they choose to pay with Paypal or Stripe. After all, it's the payment platform that handles the process, not you, the owner of the website. In addition, if you want to unlock more features, you can always use the professional version of the plug-in.
PayPal Donation
Regardless of the website you run, you can raise more money by adding a donation button. Also, for charities and nonprofits, accepting online donations can be very rewarding. PayPal Donation is a simple free WordPress plugin that allows you to add a golden donation button anywhere on your website. It could be in your post, page, sidebar, or even footer. In addition, you can test different locations to see which one works best.
Anyone ready to make a donation can pay by Paypal or credit card. Of course, as the owner, you must have a Paypal account linked to the PayPal Donation Plugin so that you can accept donations. There are various default button styles, but you can also use custom ones. Start donating today.
WordPress Simple PayPal Shopping Cart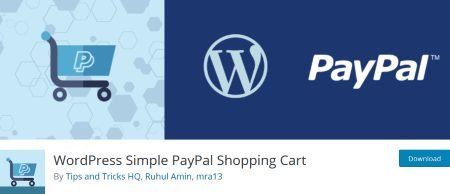 You can also add dynamic carts directly to your theme. The cart has many options such as pricing and shipping. Visitors can easily view cart items and add and remove items from them. Customers can leave special instructions on the PayPal checkout page.
The plugin is responsive and integrated with the PayPal sandbox for testing purposes. You can sell almost anything using plugins, such as media files and digital downloads. A confirmation email with a download link will be sent to the buyer. After the PayPal payment is processed, the customer can be redirected to the specified page. If a visitor cancels your purchase on the PayPal page, you can be redirected to the cancellation URL.
WordPress PayPal Donations


WordPress PayPal Donations is a free WordPress plugin that allows you to start accepting donations. Whether you're an organization, a charity, or selling a product, WordPress PayPal Donations is a great alternative to getting started. This tool can be easily integrated into your website, either in pages, posts, sidebars, or footers. With so many options to choose from, little work is required to roll the ball in the right direction.
The bundle contains various PayPal forms used for custom and fixed donations. Give it a name. Some other features of WordPress PayPal donations are widgets, customizable forms and buttons, multi-currency support, and compatibility with any WordPress theme. For reference, the three plugins are actually blended into one in the free version and five in the Proplan.
PayPal Buy Now Button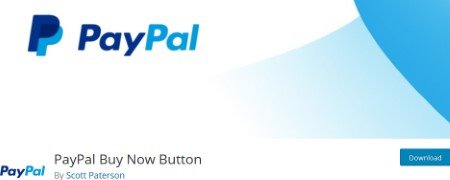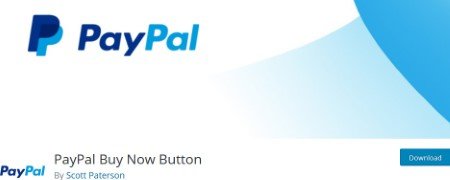 If you occasionally sell goods or services, you don't need to configure your entire e-commerce system. With a powerful yet simple and minimal plugin like PayPal Buy Now Button, it's easy to sell individually. This WordPress PayPal plugin requires little effort and you can already start a new order. In addition, the Buy Now button works almost anywhere on your website.
What's more, you need to have a Paypal account, but end users can also pay with a debit or credit card. It's Paypal that handles the payment anyway. PayPal's Buy Now button features include 4 button styles, compatibility with any WordPress theme, and support for 18 languages and 25 currencies. You can also set whether the Paypal window opens in a new window or the current window. Start selling today and boost your project from the rooftop.
WooCommerce PayPal Checkout Payment Gateway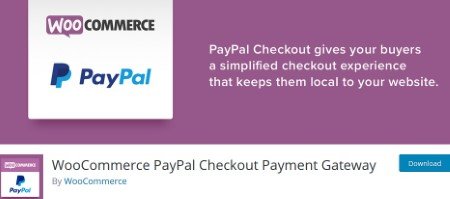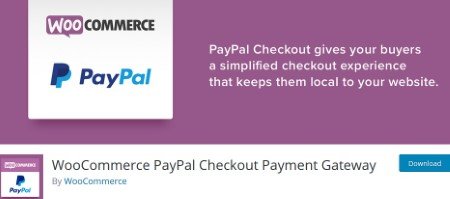 PayPal is certainly one of the fastest and easiest ways to pay for goods and services. If you run a website powered by WooCommerce, you can use this handy WordPress Paypal plugin to add a new payment gateway. However, whether you sell a product, service, or subscription, users can easily pay with Paypal. You don't have to fly around to pick up the card and enter all the details. The process starts with just a few clicks.
This payment plugin uses context checks that will not affect website performance. This tool is lightweight and provides complete security for payments. In addition, when the customer decides to pay with Paypal, a Paypal overlay window will appear to complete the purchase. The Paypal window is also hosted on the server, so your website will not slow down.
PayPal Plus for WooCommerce


PayPal Plus for WooCommerce is another useful and free WordPress plugin that can add other payment methods to your web platform. With the integration of Paypal Plus, we are now able to offer buyers Paypal, credit card purchases and even invoice payments. The more options you have, the more likely the conversion will take place. And having Paypal as a payment gateway is almost important in this era. When the checkout page is displayed, a Paypal pop-up will appear showing all available payment methods.
You can now offer multiple payment options with one simple WordPress Paypal plugin. Also, the customer does not need to have a Paypal account. As mentioned above, you can pay with a debit or credit card or later at the time of billing. No prior experience is required to install and activate PayPal Plus for WooCommerce quickly and efficiently.
CP Contact Form with PayPal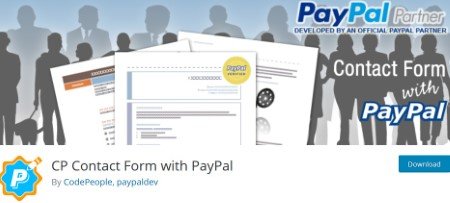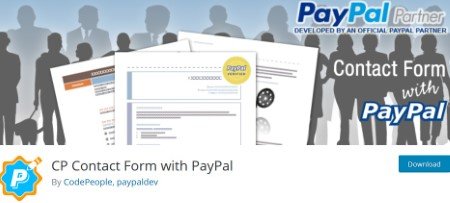 CP-Contact-Form-with-PayPal provides a predefined form that guides visitors to PayPal payment options (PayPal Standard or PayPal Express / PayPal Credit payments), depending on availability. You can publish the form on any page or post, and you can use CSS to change the style and color of the form. When the visitor fills out the form, the form is saved in the WordPress database and the user is redirected to PayPal to complete the payment. Once payment is complete, you will receive an email with the form data and your visitors will receive a thank-you note or confirmation email. The "paid" and "unpaid" forms appear separately on your WordPress backend so you can track your payments.
You can use this form whenever you need to collect payments for a product or service, such as event registration, hotel reservations, subscription fees, etc. You can add as many forms as you like for each product or service, and export form data in Excel / CSV format. Options include donation collection, recurring payments, EU taxes, capture confirmation, and physical delivery request addresses. Advanced plugins include visual form generators and widgets. It offers additional configuration settings, coupon / discount codes, WooCommerce integration and works without PayPal. Supports multi-site.
WooCommerce PayPal Gateway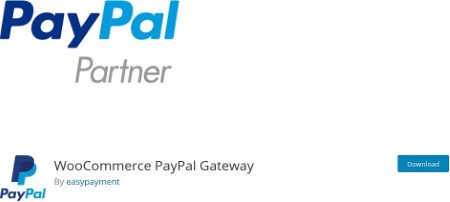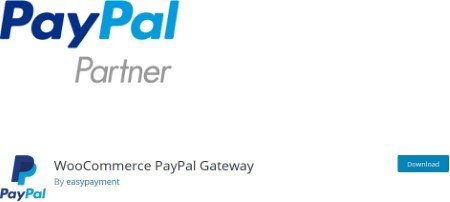 You can now add PayPal payments using WooCommerce PayPal Gateway regardless of the online store you operate. You don't really have to do the difficult tasks to integrate your new payment gateway into your e-commerce website, just use the WooCommerce PayPal gateway and it will make a difference quickly.
After all, paying for goods with PayPal is probably one of the easiest options available to users today. If it gets your attention, now introduce PayPal checkout or PayPal credit button in your store. You also have the option to add PayPal Express Checkout or Braintree Payments. You understand the point of it, and with all the different solutions, you will surely serve your users correctly and simplify the process of completing the purchase. We look forward to future updates that will allow WooCommerce PayPal Gateway to take advantage of even more features.
PayPal Events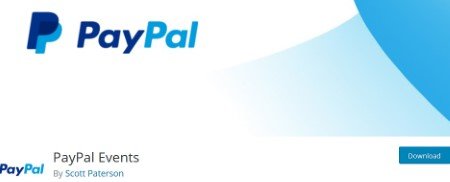 If you're hosting an event, gig, conference, or other gathering, you don't need to use a third-party platform to sell your tickets. The PayPal event WordPress plugin makes it easy and easy to set up on your website. Please keep the charges yourself, without using an intermediary. In this way, you can also get a complete overview of the tickets sold. Needless to say, PayPal events can help you organize everything very much.
First, install and activate the plugin. Then enter your Paypal information in the plugin's settings section. Third, create an event and embed the shortcode for your PayPal event. Fourth, well, market your event and sell your tickets. Fifth, all participants will receive an e-ticket via email with a QR code. And sixth, when they visit the event, you scan the code to check their e-tickets. Yes, it's really easy.
Subscriptions & Memberships for PayPal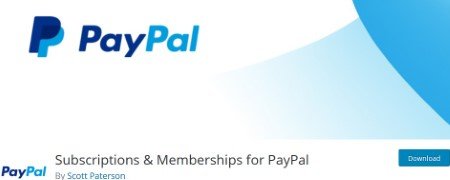 One of the easiest ways to get a customer to pay for a subscription or membership is to use PayPal. PayPal plugin subscriptions and memberships allow you to easily integrate your new gateway with your website to prevent non-subscribers from accessing your premium content. You can use a variety of features to quickly tailor your PayPal subscription and membership to your needs and desires, and offer different subscription packages on your page.
For example, you can set it on a daily, monthly, or yearly basis, or you can offer lifetime options. PayPal subscriptions and memberships track everything on the backend and provide a complete overview of your subscription or membership business. It supports 25 currencies, 20 languages, free trials, testing in sandbox mode, and various options on how to open PayPal windows. You can also choose from 11 different PayPal button designs
PayPal Express Checkout Payment Gateway for WooCommerce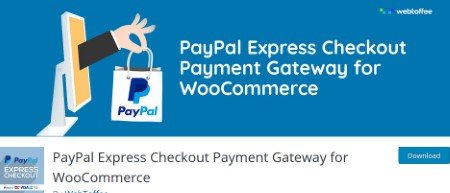 WooCommerce's PayPal Express Checkout speeds up the payment process for goods and services. This is a free WordPress PayPal plugin that creates a quick solution when accepting credit card and Paypal payments. Yes, they can actually choose the option they like, that is, they don't have to have a Paypal account. It's really convenient. Paypal's payment options appear on the cart page, but if you're a professional, you can add them at the product level as well.
In the settings section, you can select Paypal Express and credit card payment (both or only one), select the button size, add a description and attach a logo. Of course, there are many other features provided by the PayPal Express Checkout for WooCommerce plugin. Selling has never been so easy.
Quick Paypal Payments


Quick PayPal Payments is another plugin that makes collecting payments via PayPal much easier. All you need to do is to set up the payment form with a shortcode. It can be placed anywhere on the site and you can choose from a variety of shortcode options. We accept flat or variable payments in all PayPal-approved currencies
The plugin is fully editable and the auto attendant feature is also editable. It offers many styling options, supports many languages and allows you to download payment records. You can also add custom forms everywhere to receive instant payment notifications.
WordPress PayPal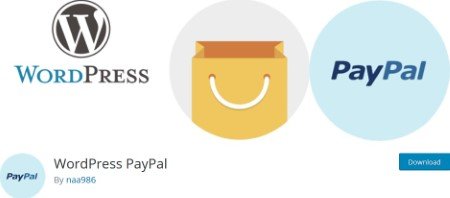 Using the WordPress PayPal plugin on your website, you can create many buttons-PayPal buys immediately, add to cart, subscribe or donate. After installing the plugin, you will need to go to the settings page and enter your PayPal email address and default currency. The plugin uses shortcodes that you can add anywhere on your website to generate dynamic buttons. You also have access to the PayPal sandbox so you can test the payment process between your buyer and seller accounts.
Plugins help you collect one-time payments, recurring payments, and donations. You can also configure the plugin to accept daily, weekly, monthly, or yearly donations. WordPress PayPal offers discounts and helps you collect taxes and shipping charges.
PayPal Donations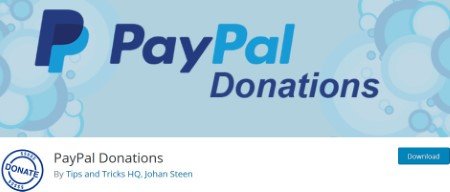 PayPal Donations adds a PayPal Donation shortcode and a ready-to-use PayPal widget that you can add to your sidebar. Insert the button shortcode into the post or page and enter the text field and title of the widget. You can choose donation buttons, currencies, button text localization, and custom payment page styles. After receiving the donation, you can return the donor to the thank you page.
This plugin is a good option if you only receive donations and no other payments. We don't offer too many options, but if all you want to do is collect donations and thank your donors, that's more than enough.
Sell Digital Downloads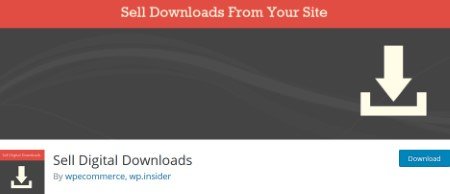 There is only one main purpose for selling digital downloads. It sells only digital products and nothing else. There is no swelling. Also, if you want to collect sales payments via PayPal, this plugin works well. This is a plugin that will satisfy both users and developers. The user interface is easy to use, and the plug-in integrates smoothly with PayPal.
You can upload files via the WordPress media uploader and a digital download will be automatically sent to your customers after you pay for PayPal. Create a product display box using the shortcode and upload a thumbnail for download.
Conclusion
WordPress is a great platform for successful online business in combination with e-commerce solutions. In addition, there are WordPress themes to help you build your online store using WooCommerce, the most popular e-commerce platform. You can use it to sell whatever you like, from hotel subscriptions to e-books. However, the transaction will not be completed without the payment option. The number of payment gateways available allows you to collect payments. These WordPress PayPal plugins facilitate the process of collecting payments directly from your website via PayPal.
If you've omitted some of the top options or favorite plugins, let us know in the comments below.