Forums are places where like-minded people meet and connect. As the Internet grows, it's easy to build online forums with very low installation costs. They serve as a platform for sharing ideas and allowing members to join the community. If you're using WordPress, you can easily add communities and forums to your website using the many forum WordPress plugins available.
If you're trying to build a community of users, regular interactions are a necessary component of that relationship. Not only interacting with you, the wise leader, but also interacting with members of the community. Forums are a proven way to talk to people about topics of interest, such as trailers for the latest movies in Classic Space Saga. There are many forum platforms available, but I love WordPress and integrate with it. Fortunately, there are also some WordPress plugins that allow you to easily create and manage forums.
Forums serve many purposes, including support forums, sports clubs, dating sites, question and answer websites, a type of discussion board, fitness clubs, and almost all types of group activities. You may also be surprised to find that forums can be added to SEO. The content of the forum thread may only have an answer to a particular Google search. Most importantly, it provides a simple and convenient way to stay in touch with other people who share your interests.
The forums can not only help websites communicate with readers, but also help readers communicate with each other. Niche sites in education, online business, recipes, crafts, wine, arts and technology can all benefit from them. Setting up a forum is easy. Once they start, you can get involved as much as you like, or move away from it, tip in from time to time, and moderate. It's entirely up to you. The forum can also be customized and monetized, and can be used as a place to receive feedback and suggestions.
Advantages of Adding Forums To your Website
With the help of forums, you can create user-created content for your visitors. It is provided in the form of comments, reviews, images and videos shared by others. Forums are a great platform for providing customer support. You can create discussions on the topics you need and categorize these topics. This allows users to easily find the information they need.
You can create a huge social network of website users where you can participate in various discussions, share ideas and solve each other's problems. Forum threads, unlike any other content on the site, may contain the most useful content. This can make the forum the top of the search results and generate a lot of search traffic. This can have a significant impact on the overall SEO of your website.
This article introduces you to the best free plugins you can use to create forums on your WordPress website.
bbPress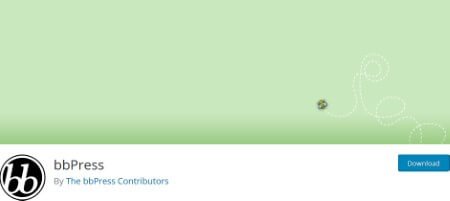 bbPress is a great plugin for adding forums to your WordPress website. It uses the same core as WordPress to build the forum, so it can be easily integrated with WordPress. It follows the same coding method as WordPress, so it works smoothly with WordPress and all WordPress themes. No need to change to match the theme.
Due to its lean and fast design, it's not very feature-rich, but there are many add-ons that can greatly extend the functionality of your plugin. One-click installation is easy to set up and allows you to manage and moderate everything from one central account. Templates can be customized to make the forum look the way you want it to. You can use RSS feeds to procure forum content or help users create their own forums to generate content. With built-in Akismet support, you can keep spam on your door.
bbPress is a plugin needed to add forums to posts and pages so that readers can leave comments and start conversations. This is a great way to start a new topic, encourage readers to join the comments section, or develop an interesting discussion.
BuddyPress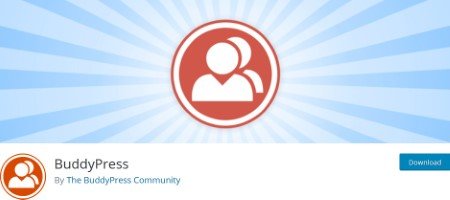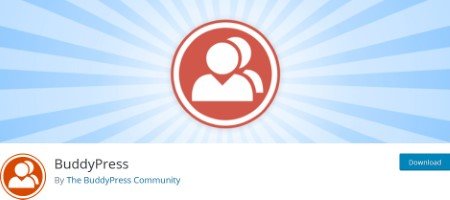 At the same time, you can't talk about bbPress without referring to BuddyPress. BuddyPress is a social network plugin that provides the foundation for forums to take off. Like bbPress, BuddyPress is an official WordPress plugin that adheres to WordPress coding standards. It integrates easily with WordPress and works with most WordPress themes and plugins. When you activate a plugin on your website, you have access to several extensions that create groups and add functionality. Registered users can create profiles, social connections, activity streams, private connections and more. You can also use points to reward your activities.
BuddyPress is also deliberately streamlined, allowing users to add only the extensions they need. The plugin is available in many languages. If you have multi-site capabilities enabled on your website, you can use a little code to track blogs, posts, comments, and even custom post types globally with a plugin.
wpForo Forum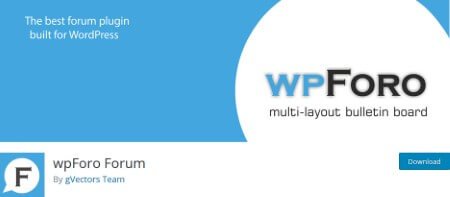 wp-Foro helps you build both small and large forums. It offers three different layouts. A simple layout of forum and topic lists that show topics and poster avatars, an extended list that also shows the next level of information, and a question and answer layout that acts as a discussion board. You can use them to build a community similar to Stack Overflow.
The board comes with customizable colors, styles, settings and themed options. There is also a built-in user group system with a user rating system based on the number of posts. The drag-and-drop feature makes it easier to manage, and forums can be easily moderated with the moderator tools for each topic. Users can create beautiful profiles, become members, and vote for questions and answers.
This is the perfect platform for asking questions and receiving answers. Add-ons can be used for embedding, ad managers, private messages, and more. This plugin supports built-in SEO, cache system and anti-spam. It also helps you migrate data from various forum plugins to itself.
CM Answers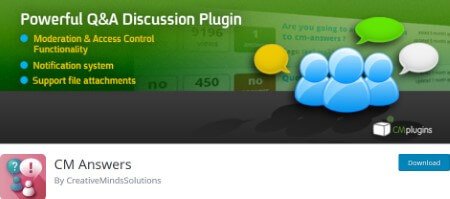 CM Answers is a plugin for building a Q & A community on your WordPress website. Basic plugins allow you to quickly set up forums like Stack Exchange. Helps set up communities, support forums, and customer support. It easily integrates with most WordPress themes, comes with customizable templates, and supports many languages.
The plugin keeps a number of views and answers. Site administrators can manage questions and answers, receive email notifications, limit user functionality, and create multiple forum categories. You can also customize questions and answers, filter unwanted content, add answers, and track user actions within the forum. Readers can sort questions, vote for questions and answers, upload multiple files, join private messages, subscribe to specific categories and topics, and receive alerts when new content is available. I will.
More compelling features, such as best answers, profiles, comments, and the ability to select social media logins, are only available in the premium version. Anonymous posting is allowed in the add-on. If you want to look for negatives and your forum is limited to Q & A format.
WP Symposium Pro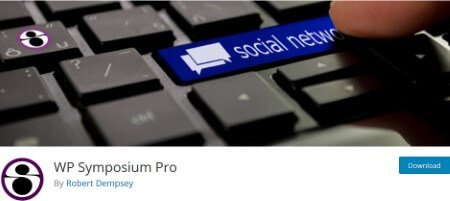 The WP Symposium adds the entire networking site to your website, so you can create groups and forums such as clubs, schools, support sites, gaming sites, and dating sites. Compatible with most themes and plugins, it is highly customizable and allows you to change layouts, buttons, text and more. Many shortcodes will help you with your design as you like.
The plugin is compatible with WPML and can change the language of text content. Once the plugin is active on your website, go to the plugin's Settings page and click the Add Profile Page button. The default profile page has a profile editing option that allows you to change your avatar and build friendships. You can then click Add Forums to add as many forums as you need. Registered users can then join the activity stream and receive customized email alerts.
If the basic plugin features aren't enough for your needs, you can try premium add-ons.
Asgaros Forum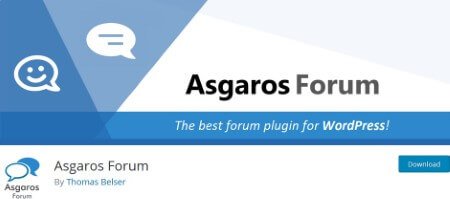 Asgaros Forum is a lean, fast and simple forum plugin that makes it easy to set up a lightweight discussion board. Create a new page and enter the shortcode. Then the forum will run in a few minutes. To access the forum, add the page you created to the menu. You can then manage posts, topics, and guest posts, create sub-forums and user groups, and make forums searchable.
You can ban users from the user edit screen of the WordPress dashboard. In addition, you can track activities in the forum, upload files, grant permissions, access statistics, etc. The plugin supports many languages and multi-sites and is developer friendly with many hooks and filters.
Simple:Press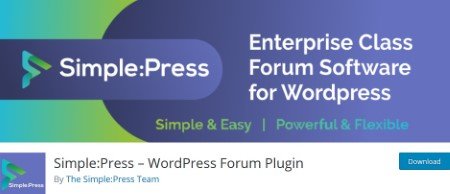 Simple: Press is an all-in-one WordPress plugin that you can get for free. This tool is completely free, but it still contains a lot of features. Now you can comfortably work on creating a forum that asks for great additions to your website or blog. With so many feasts and amenities, you can easily tailor your forum to your T needs.
Bundles include forum groups, sub-forums, custom avatars, user access restrictions, post moderation, rankings, and more. You don't really need anything other than Simple: Press to successfully manage and maintain your WordPress forums. It works with all WordPress themes, multi-site networks and can be easily integrated with other plugins as needed.
PeepSo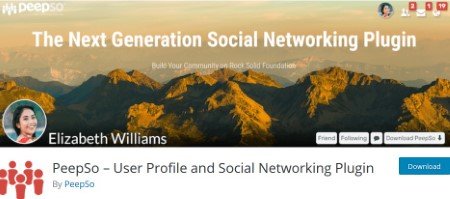 PeepSo is a bit different from the WordPress forum plugins included in this collection. It's a great solution for building your own social networks. With PeepSo, you can create a modern, clean and highly engaging eye social network within your WordPress website. How cool is that sound? Instead of hiring coders and designers to pay a lot of money, you can do that with simple and powerful plugins instead.
The capabilities of PeepSo are endless. You can also upgrade to a premium plan to take it to a completely different level at any time. However, the free version is ready to go and can be used forever if needed. Front-end user profiles, custom reactions, blog post integration, email notifications, real-time user notifications, built-in security, and RTL support are some of the features of PeepSo. Style it accordingly and it will be live most or soon.
Discussion Board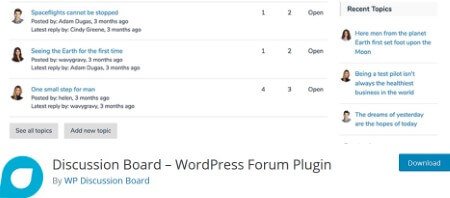 In job boards, school websites, technical forums, e-commerce websites, and community forums, discussion boards can help you add forums that are useful to your website. When you activate the plugin, the page is automatically created, a shortcode is inserted, and a working forum is attached to your website. This can reduce spam by allowing users to log in and register with the front end and requiring new users to click a link in the email to complete the registration process.
For more control over spam, you can use the anti-spam field on the registration form. In addition, you can register new users for specific roles, assign different levels of access to different roles, and block registrations from specific emails. The plugin comes with a simple style that matches any theme, whether it's a topic archive, recent topics, or log shortcodes. -In the format, you can include or exclude icons. The user can edit the comment. The pro version of the plugin adds additional features such as multiple discussion boards, topics, categories, tag status settings, image uploads, user profiles, WYSIWYG editors and more.
Vanilla Forums


Another free forum plugin is Vanilla Forums. Not only does it allow for a high degree of customization, but it also encourages member participation in the reward system and allows members to manage threads. Vanilla also offers paid hosting services to forums and communities. Provides a compatible native mobile version for viewing forums on mobile devices.
Site admins can manage forums directly from the WordPress dashboard. Users also find that the interface is an easy place to interact. The plugin includes curation capabilities that leverage blog traffic to grow your forum. It acts as an integrated comment and forum community that will increase your readership.
AnsPress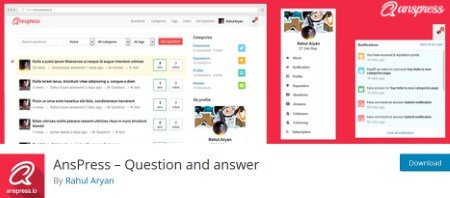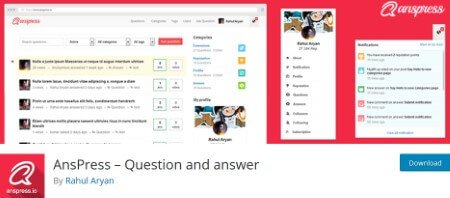 AnsPress adds the appropriate question answering system to your WordPress website, like Stack Overflow and Quora. Instead of building the entire site, you can also add pages to an existing site. It can be used on any theme or website of any kind, but it's not the only way to use this plugin. It can also be used as an internal QA board for your company or as a FAQ site for support ticket forums. Fast and developer friendly, supports multilingual, shortcodes, reCAPTCHA, email and push notifications, tags, categories, labels, comments, featured questions, sorting options, question and answer votes, user profiles , And a point-based reputation system.
DW Question & Answer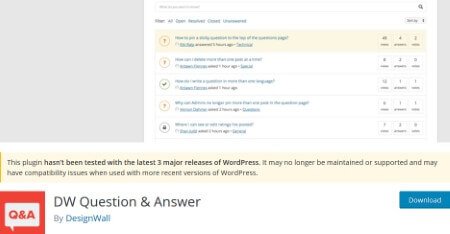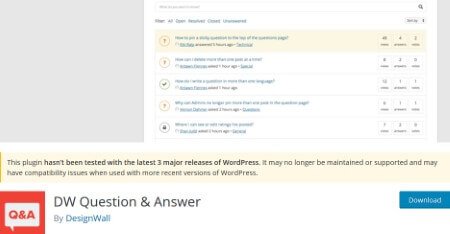 DW Question and Answers, like Quora, is another plugin that allows you to add complete Q and A type forums to your website. Content submitted by users is also indexed by Google, improving your site's SEO. The plugin supports multiple languages and uses reCAPTCHA to reduce spam and email activity. You can add categories and tags to your questions to filter, edit, or delete your questions.
Users can answer, comment on questions and answers, vote on comments and answers, select the best answer, search by keyword, and follow a specific question or answer. Multiple shortcodes are available and you can pin a question. So that the question or answer can only be viewed privately. This will help you create a support forum. Many premium add-ons available for features such as embedding questions
Muut
Muut describes himself as a better community platform, and they revisited how conversations on WordPress websites take place. It is combines the functions of discussion forums with the immediacy of comments to provide a full-featured real-time forum, including flat or topic comments, spam filtering and email notifications. You can also use CSS to fully customize it for your site.
Muut is completely free to use, but you can upgrade to a premium account to get more features. This has caused some confusion in the past, but the developers have updated the documentation and the notifications have made it clearer. The plugin is still in its infancy, but if you don't like the standard discussion forum concept, it's an interesting direction.
Simple:Press (Premium)

Simple: Press is a free third party plugin that can be extended to meet the needs of any forum. It comes with a huge plugin library that you can use to add functions. Plugins are lightweight and fast, allowing you to create sub-forums and moderate comments. It is integrated with many plugins and services, such as Share This, BuddyPress, Site Maps, Gravatar and TinyMCE. Many themes and templates make it easy to customize.
You can create public and private forums, rank and badge them, and implement a permit system. In addition, you can use image thumbnails and enlargements, custom smileys, and custom icons for groups and forums. Comprehensive search options, forum statistics, optional support for WP shortcodes, and email notifications for admin posts are all available in the plugin. Also, if you register as a member, you can visit the plugin support forums for one-on-one help and discounts on plugin libraries.
Simple Forum (Premium)
Simple Forum is a responsive bulletin board, perfect for anyone who wants to build a forum for their WordPress site. It is bundled with three user roles (administrator, moderator, member). The forum will always reflect one of three modes: private, public, and maintenance. Custom fields are available and you can create fields of any category, including slugs and descriptions. You can add pages with slugs and descriptions as well as categories. You can also pin forum threads to limit who can view them and keep them active.
Administrators can use three editors: HTML, Markdown, and BBCode. You can also create badges with users and assign badges to users. The plugin is multilingual and can serve ads in four ad areas. There are eight different styles of forums, and you can adjust many details from the settings page. Other features of the administrator include email template files, forum statistics, and a list of logged-in users. Users can log in with their social profile to search the forums and give threads for or against threads. Other user-friendly features include user registration and user password reset options, user avatars, and links to social profiles.
WPForms (Premium)
WPForms is a robust form builder plugin that helps you create custom forum login and registration forms without coding. It provides a powerful drag-and-drop interface that simplifies form design. You can also use these forms to register as a user in the forums. The instant notification feature helps you get notified whenever a new member requests.
You can also use spam protection and conditional logic in forum forms to enhance security. It is integrated with several advanced email marketing services such as Mailchimp and AWeber. With many other useful features, WP Forms is a great plugin for creating custom login forms for forums.
ForumWP (Premium)
ForumWP is another great forum plugin that provides all the tools needed to build an online business community. Adjust button styles, fonts, and colors to blend beautifully with your theme for easy integration into your existing website.
You can use it to add different forum layouts and give your forum a great look. You have better control over who can browse the forum. Instead of an icon, you can upload a different image for each forum. It's also easy to apply custom settings from the admin area.
ForumWP is very powerful and allows you to quickly create a complete Q & A style website. Also, I have no coding experience before. Some benefits include question forms, polls, view counters, email notifications, instant searches, and reCAPTCHA to avoid spam.
Wrap up
Building a community or forum is a great way to build an audience for your website. It can keep your website on the reader's radar and improve SEO. The plugins in this list will help you add forums to your WordPress website. Please tell us about your experience with these plugins.
From the list above, you should be able to choose the right forum plugin for your needs. If you're thinking about setting up a forum, choose one to get started.
Is there a forum? If so, which plugin are you using? If you don't have one, what's the cause? Share your experience with the forum plugin and any comments we may have missed in the comments.