Hello everyone, Today we are going to share a 20+ best Android Email Apps You Need in 2015. Sendin and recieving e mails are very commom and frequent now a days but for sending and recieving e mails from our smart phone we need e mail apps.We have compiled best e mail apps list for android.
So here is the list of 20+ best Android Email Apps You Need in 2015 of take a look.




Outlook.com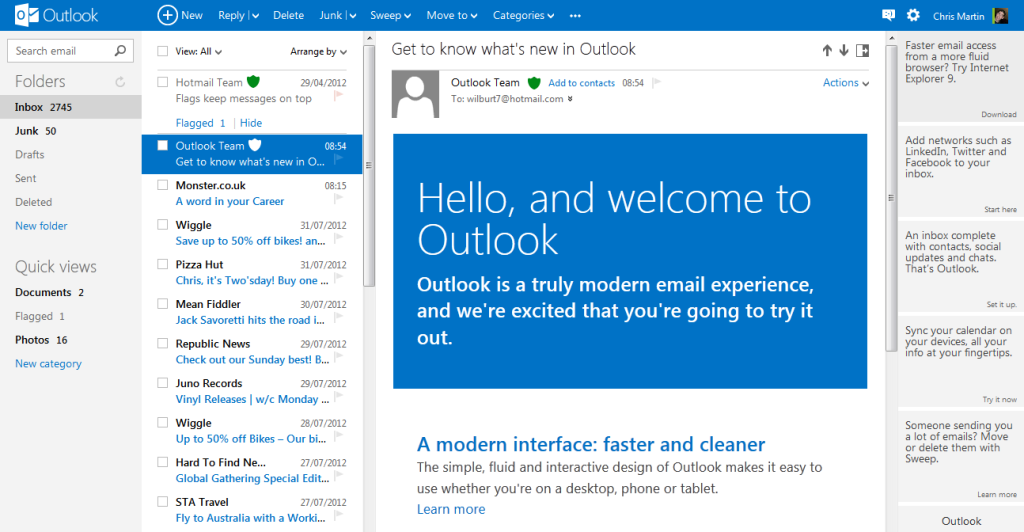 The Official Microsoft Outlook.com app gives you the best mobile experience for your Outlook.com account.
Sign in using your existing Microsoft account, which is usually your Outlook.com email address and password.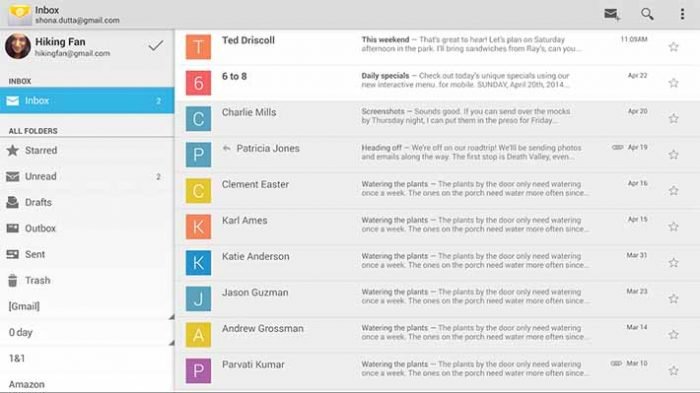 The Email app is pre-installed on Nexus and selected Google Play edition devices.
The Email app lets you read and manage email from different accounts all in one place. Do you have Hotmail? Yahoo Mail? Outlook?

Experience GMX Mail on your Android phone!
Have all the GMX features ready and available at your fingertip on a familiar interface. Quickly access your address book, messages and settings on your smartphone on the go.

AquaMail is an email app for Internet and Exchange mail, for Android 2.1 and higher.
Easy automatic setup for popular email services: Gmail, Yahoo, Hotmail, FastMail, Apple mail services (@me.com / @mac.com), GMX, AOL, and more. Recognizes mail accounts at domains hosted by Google Apps, Yahoo BizMail, and others.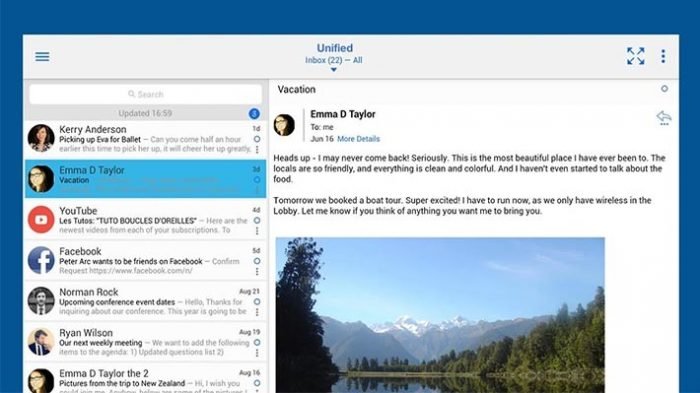 Blue Mail is a free, beautifully designed, universal email client, capable of managing unlimited number of mail accounts from various providers, allowing for smart push notifications while enabling personalization across multiple email accounts.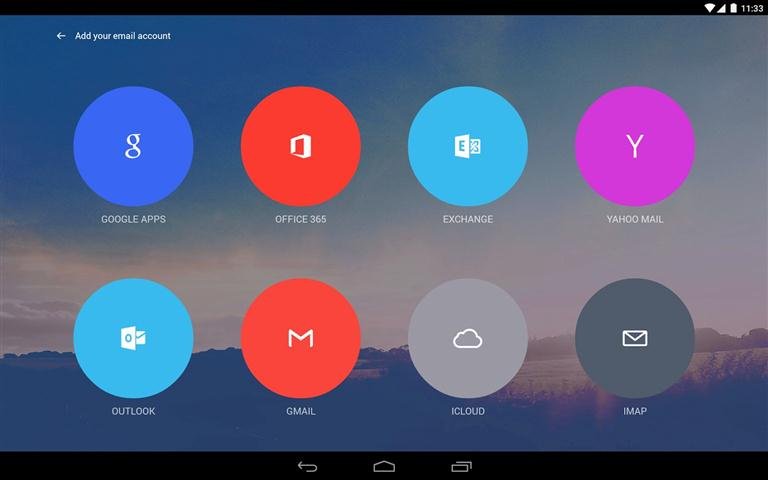 Works with Gmail, Exchange, Yahoo, Outlook, iCloud, Google Apps, Office 365 and any IMAP account.




Email for Exchange & Hotmail +


Mail Wise – Read Just What You Need. The best conversation threads ever. A free email client that transforms messy emails into clean and clear conversations. Get all your mail done in one simple and effective email app. Easily setup multiple email accounts including Exchange ActiveSync, Yahoo, AOL, Hotmail, Live.com, Outlook, MSN, Gmail, GMX and IMAP accounts (multiple email accounts supported).

Gmail is built on the idea that email can be more intuitive, efficient, and useful; maybe even fun! Get your email instantly via push notifications, read and respond to your conversations online & offline, and search and find any email.

Your email inbox should help you live and work better, but instead it often buries the important stuff and creates more stress than it relieves. Inbox, built by the Gmail team, keeps things organized and helps you get back to what matters.

Mailbox is a completely redesigned inbox that makes email light, fast, and mobile-friendly. Quickly swipe messages to your archive or trash. Scan an entire conversation at once with chat-like organization. Snooze emails until later with the tap of a button — they'll return to your inbox automatically so you can focus on what's important now.




Windows Live Hotmail PUSH mail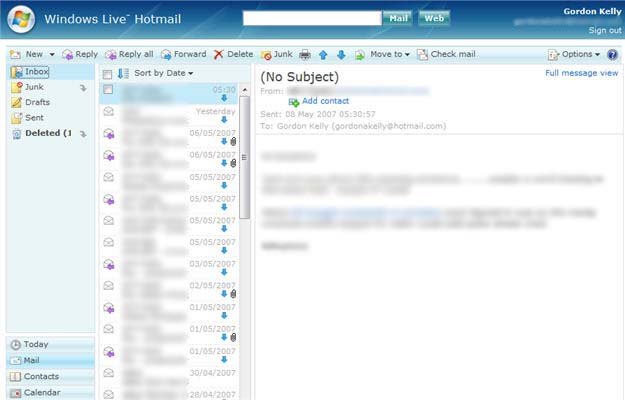 Login with Windows Live Hotmail account (such as hotmail.com or msn.com or live.com) Setup another company or personal POP3/IMAP email account. Also include Google Mail™ or Premium Yahoo!® Mail or AOL® Mail and etc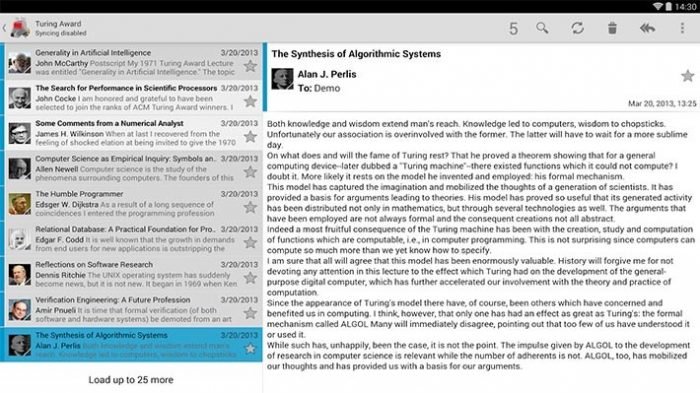 K-9 Mail is an open-source e-mail client with search, IMAP push email, multi-folder sync, flagging, filing, signatures, bcc-self, PGP, mail on SD & more!
K-9 supports IMAP, POP3 and Exchange 2003/2007 (with WebDAV).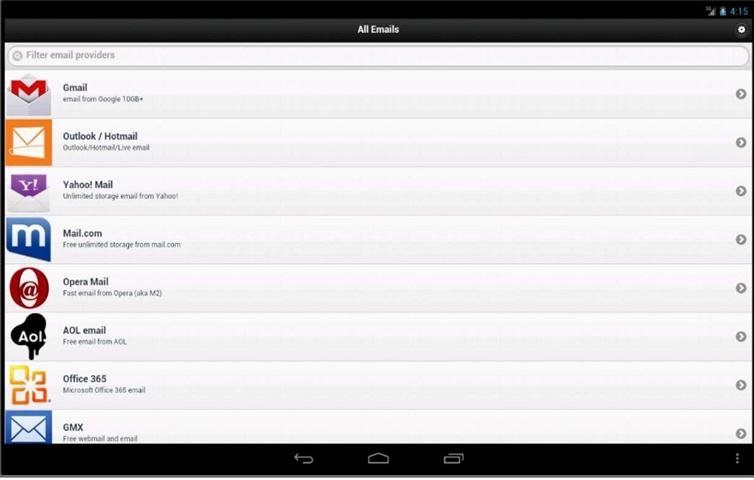 Access all mail from all email providers in one fast, simple app! – Over 80 compatible mobile email providers!

Official mail application Mail.Ru. Convenient Mail for smartphone Android.
Simple and fast application for simultaneous work with several Mail.Ru, Yandex, Gmail, Yahoo, Hotmail and other mailboxes. Receive and send messages, share photos and documents. Get instantly notified about new messages.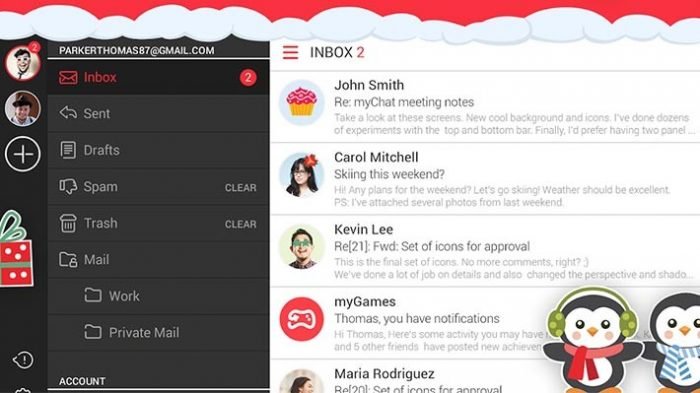 myMail – Manage all your email accounts at once! Whether it's Hotmail, Gmail, Yahoo, AOL, Outlook, iCloud, Live, Exchange or GMX, myMail supports all major email providers and any other IMAP or POP3-enabled mailbox.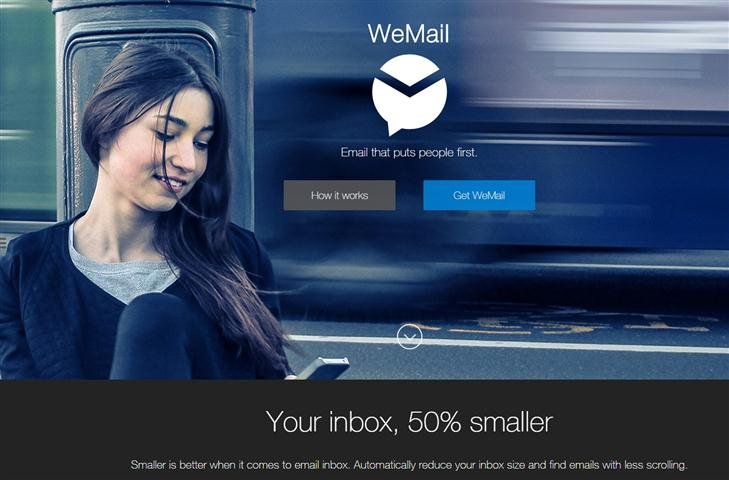 WeMail is a free email app that is designed from the ground up for the way you naturally communicate using your mobile phone. Automatically organize emails by sender, reducing your inbox size by more than 50%.

Meet the multi-talented Yahoo Mail app. The email app you love is now enhanced with personalized news, Web search, and daily snapshots of the weather, News Digest, sports scores, popular videos and more.

InoMail is an all in one email app that allowing you to use, and manage all your email accounts. Including (but not limited to) Gmail, Yahoo, Outlook.com, AOL and many more.




SolMail – All-in-One email app

Global IT Media 'TNW (The Next Web)' introduced SolMail as one of the '30 of the most beautiful and well-designed Android apps'. ***
*** Chinese Android Market 'Wandoujia' selected SolMail to the Design Award.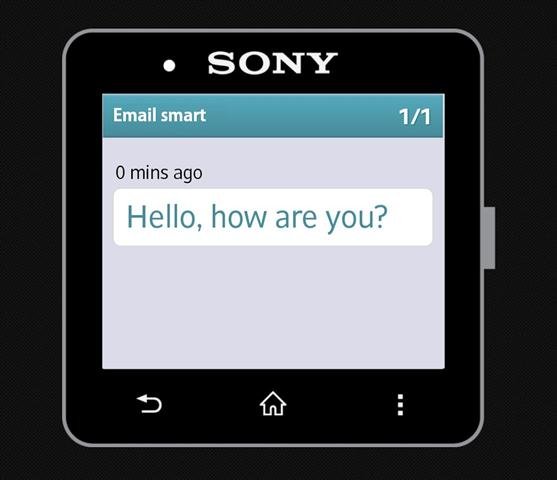 This is the official email application for your Sony smart accessory. Support for Xperia™ smartphones and tablets only.
With this app, you can view email notifications and content in your SmartWatch or smart audio accessory. Email smart extension will only interact with the default email application in Xperia™ smartphones from Sony.

MobiMail is a native app that connects directly to Microsoft Exchange (Exchange 2007, 2010, and 2013), Office 365, IMAP and POP3 accounts – to effectively and professionally manage your Email from your mobile device!