WordPress is really a amezing platform for creating a great portfolio online.
Portfolio Themes is great theme for any creative agency, with clean design and minimal
layout. We have over 70 designs you can choose from.
See Also:  30 Best Business Premium WordPress Themes
LENS – An Enjoyable Photography WordPress Theme

Photographers have more important things to worry about, and this theme makes sure that everything is made easy. There's a one click demo install so that you get everything in one go, and it's very easy to customize. It's also integrated with all of the most popular social media networks, just to make it even easier to get everyone to see how good you are at what you do.
Lookbook – Minimalistic WordPress Portfolio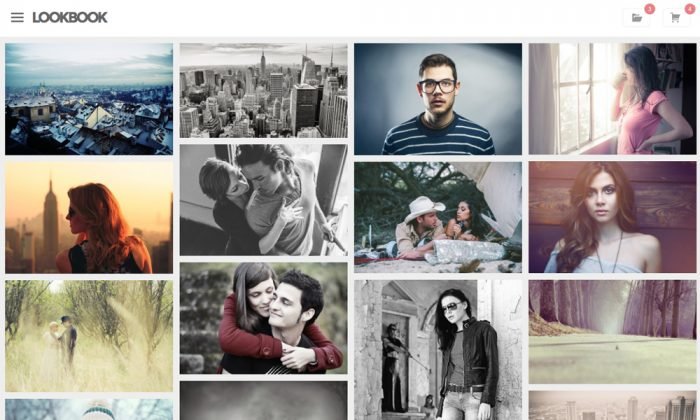 Lookbook is a grid photography portfolio for photographers who are fans of minimalist designs. It's very hard to create a website which holds lots of information, without making its visitors feel clogged with information. However, Lookbook has achieved just that. The theme is also eCommerce integrated, which allows you to sell photos and licenses directly on your website. All of this is also fully responsive. The portfolio looks amazing on mobile devices.
Vertex Portfolio & Gallery Theme

The Vertex portfolio template was created by ElegantThemes and is super neat and easy to use. Besides being responsive, clean and fas to load, you are getting a bargain when you are signing up with these guys, check their $39 bundle out!
Shiner
Howdy folks, welcome to BlingThemes newest offering: Shiner. Shiner is a simple, but attractive parallax theme, perfect for your portfolio, personal blog or whatever you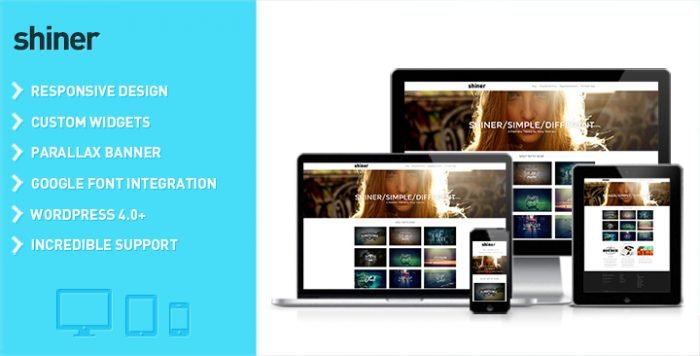 want to throw at it. Shiner is simple to use, but powerful enough to produce a really amazing look, right out of the box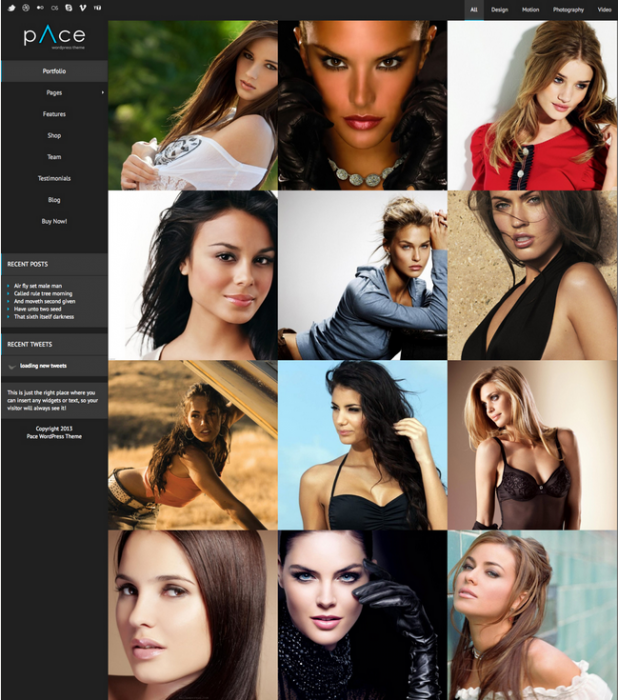 It's fully responsive and ready for high resolution, which is perfect to display your work to maximum advantage. With multimedia support, unlimited colors, and custom widgets and shortcodes, you'll be sure to reach more people much more quickly.
Zoomy – Responsive WP Portfolio Template

Whether you are a photographer who wants to create his own portfolio, or just a blogger who likes to add photos and images to his stories, Zoomy is certainly a theme to consider. The design of the theme, apart from being fully responsive, is very interesting and modern. You can upload your own logos and favicons, and the theme comes with many custom widgets to help you build a more interactive website.
Photocrati – The Ultimate Photography Framework

Photocrati is a sepcialized theme company which offers endless possibilities for photography related websites, portfolios included. Create endless designs and layouts using Photocrati builder, gallery and proprietary plugins.
ePix – The Photography Dream

ePix is a fully-responsive-fullscreen template which will portfolio your work amazingly. This premium portfolio theme was created by Themeva and is presented to you on the ThemeForest marketplace. From what i'm hearing, this portfolio theme is going to lead 2014, just take a look.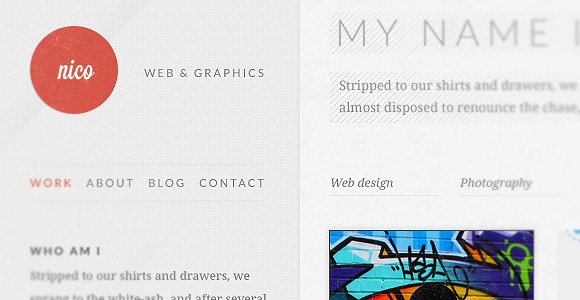 As part of the CssIgniter bundle, Nico stands out and really seems like a bargain even without all the other themes.. The layouts options are nice, the documentation is nicely put and the general feeling of the theme is positive. Would definitely check it out.
U-Design – Robust WordPress Portfolio Theme

Great for any digital agency & individuals, this full-on theme is damn robust! Packed with fonts, shortcodes, widgets and different layout options, adding the "sortable portfolio" feature is unique and you should definitely check it out.
Photolux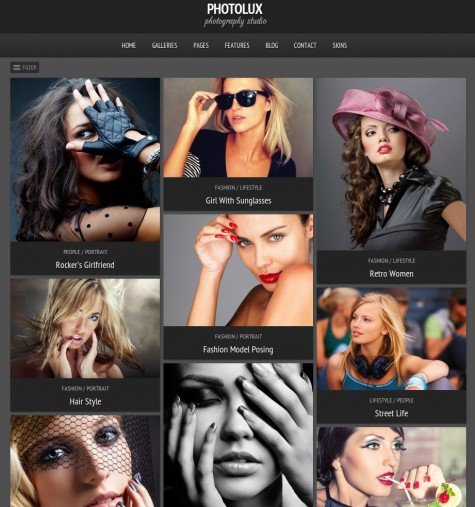 A leading theme from the ThemeForest marketplace. Coded by an Elite author and has raving reviews. Surely you cannot go wrong with this one.

Why be mediocre when you can shine? MediaStar can help you with that, as this premium fully responsive theme can make you stand out from the rest of the pack. With various web fonts, blog styles, and background styles to choose from, there's no need to look ordinary.
Delight

If you have the server to handle this powerful theme, then it can be a true delight. It comes with a long list of formidable features, including numerous jQuery effects, lots of page templates, unlimited skins, a stupendous number of shortcodes, the option for a full screen slideshow or video for background, and a drag/drop system for making slideshows and contact forms.
Omni – A Powerful Creative Platform

Featuring great fullscreen options, Parallax & Video headers,sliders, styles and much more, Omni is a great choice to go for, and is probably one of the best wordpress portfolio themes out there today.
Angula

It comes with a responsive design that's already SEO optimized, and it's compatible with WPML as well. Customization possibilities are virtually endless, starting with 28 skins that you can easily edit. Unique sidebars for each page are allowed, and support for videos from the major hosting sources is offered.
Prestige – 400 Choice WP theme

For those who want to carve an impressive reputation with their portfolio, then the Prestige theme offers a lot of options. Not only does it come with 5 homepage sliders and more than 130 shortcodes (with full lived documentation), but it also offers an astonishing 400+ skins to choose from!
This Way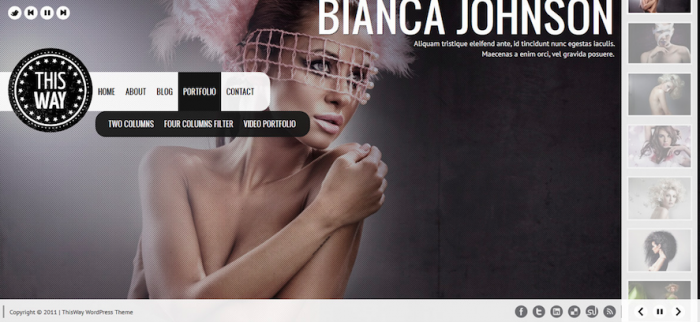 This is an excellent option if you want to display your portfolio to its best advantage. It offers full background video and image sliders, along with multiple audio support. There's a portfolio filter, along with Google Map and more than 617 Google fonts.
Duotive

Here we've got lots of different sliders to display your portfolio beautifully, and there's even a custom designed video player that can showcase YouTube, Vimeo, and self hosted videos. Included are 18 predefined color schemes, 9 attractive predefined fonts, and 7 custom widgets to make the site more interactive.
Workality Lite – Free Premium Theme

Definitely a theme you should try out, even if it would cost you anything. Clean and appealing, Workality does the job.
Magnat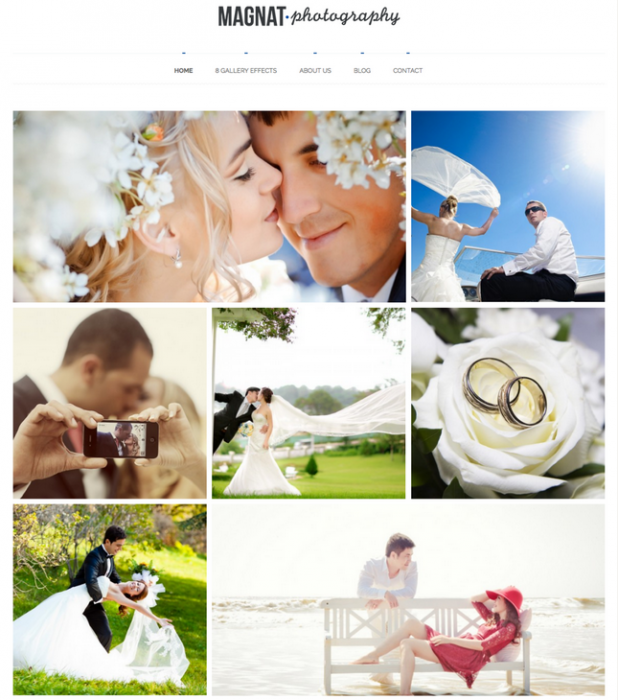 SEO-ready and fully responsive, you have lots of choices when it comes to background, effects, and widgets with this theme. Perfect for newbies and pros alike.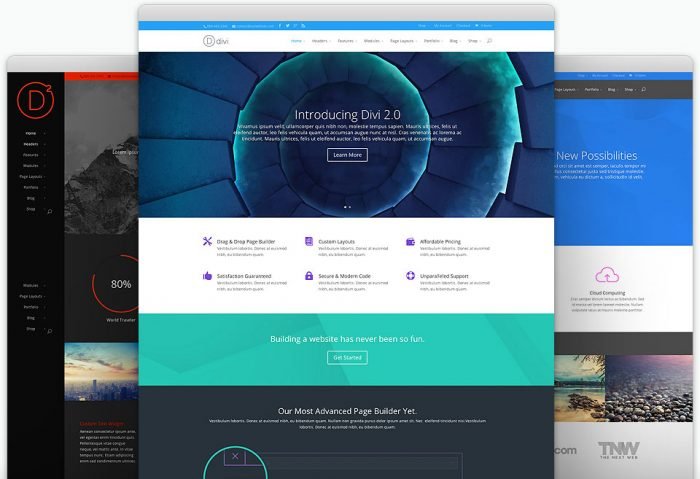 Divi is one of the most impressive themes to come along in the last few months.  Divi is a true multipurpose theme, with tons of layouts and features included, so you can certainly adapt it for use as a photography or design portfolio.  Best of all, you can also take advantage of WoOCommerce to sell your products online too.  Pretty cool!  We think you're going to love just about everything about this theme, the functionality, the design, the support from Elegant Themes and best of all, the price.

Enfold is among the fully premium multi-purpose WordPress themes to choose from. Responsive design and style and retina display is barely the beginning. Kreisi adds on a few different blog and header designs, countless versions, Optimization possibilities, slideshows and also shortcodes. Enfold offers countless exceptional options. To say that this multipurpose theme is adaptive is an immense understatement. Create your own private "skin" or use one of the well designed predefined skins which are in the download package. Fun! With around tens of thousands impressed purchasers as well as an important 4.8+ grade on ThemeForest can't be entirely wrong!  WordPress portfolio themes are a amazing idea for a dreamy WordPress website.Demo | Purchase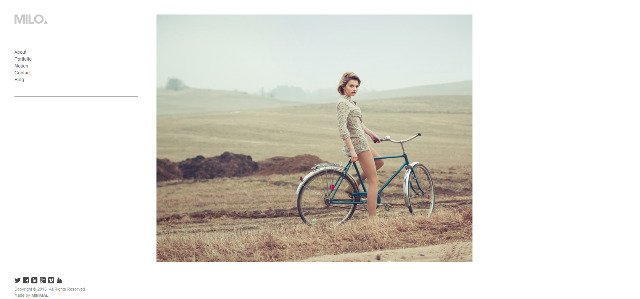 Now, this WordPress theme work is a shiny and snazzy, entirely template that merges a lot of fun and professionalism and trust into one excellent bundle. Great for startups, modern technology businesses or design agencies, this template could charm visitors with its really advanced layout. The template also happens to come sold with a ton of great features, such as responsive design, customized background imagery and more!  This totally simple and supreme WordPress theme is crammed with second to none things that make it very painless to generate a new WP site really quickly!  The whole design of this WordPress theme is totally eye-catching and everyone who sees it will like their visit.
Showcase Minimal WordPress Portfolio Theme 

Showcase is perfect for displaying artwork and video in a beautifully simple and unique layout. The minimal design and clean typography allows the viewer to focus on the artwork free of distractions.

Wright is minimalism at it's finest.  I love the responsive layout and the grid based design of this theme.  There's not a pixel out of place and absolutely nothing will get between your content and your readers.  Wright is like a major league portfolio from MadeByMinimal and it's a simple way to highlight all of your best your work.  This special WordPress photography theme is solid for any photograph portfolio. If you've got to have a lovely, sleek and durable theme with awesome SEO and a massive amount of clear features, this terrific one is perfect to suit your needs. If perhaps your enterprise desires a technique to present stylish photographs, you may like this outstanding WordPress theme.   This stripped down theme is pure and clean.  While it's simple, it's not simplistic.  Made By Minimal has put a lot of thought into this theme's design and it shows.  Built in blog makes it perfect for a personal blogging site as well as a photography portfolio.  A portfolio WordPress theme is a near perfect solution for a solid webpage.

Dorsey is one of the better minimalist portfolio themes I've seen in a while.  It's easy to see why.  Dorsey has a lot of great, simple style that makes your content the star of the show.  Portfolio style WordPress themes can be an amazing way for designers and freelancers to have an inspiring WordPress portfolio put in place immediately.   I think the basic design of this WordPress theme is very elegant and your potential clients will like their time on your site.  This straightforward and good portfolio portfolio theme is completely stuffed with a great amount features that make it manageable to craft a portfolio new site super-fast!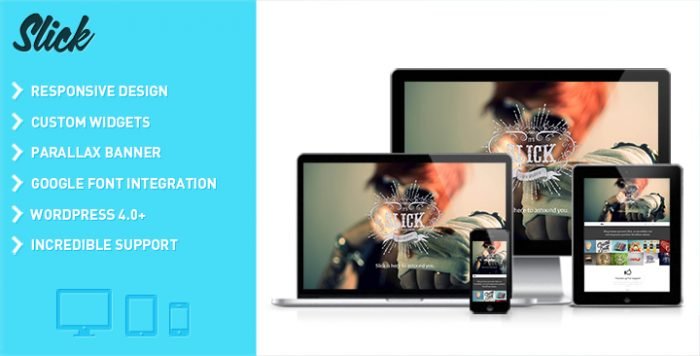 Howdy folks, welcome to BlingThemes newest offering: Slick.  Slick is a simple, but attractive parallax theme, perfect for your portfolio, personal blog or whatever you want to throw at it.  Slick is simple to use, but powerful enough to produce a really amazing look, right out of the box.

Origin is a staggering grid-based theme that tells a story through imagery. Origin builds an engaging user experience (which Google adores by the way!) by saturating the screen with your amazing artwork or photos. Origin, which is made by Elegant Themes, is responsive too, so it's going to look and perform great on desktops, laptops, tablets and mobile devices as well. If you need a fundamentally sound place to showcase your latest pictures or art, or if you're a blogger who wants to give your readers an engaging and rewarding way to browse through your latest posts, Origin is perfect for you!  In fact, A portfolio WordPress theme is a near perfect pick for a first-class internet site.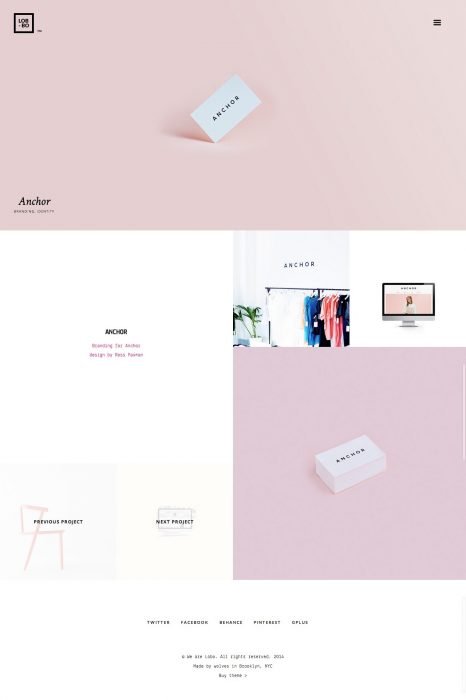 Lobo is a new portfolio concept for creative agencies and freelancers. Graphic designers, illustrators, photographers or any kind of creative is now able to create a quick & easy portfolio to showcase their work with a distinctive and creative touch.  Lobo is modular, this means that your contents will be created in the basis of a custom module builder that will allow you to compose and create your own layouts in seconds.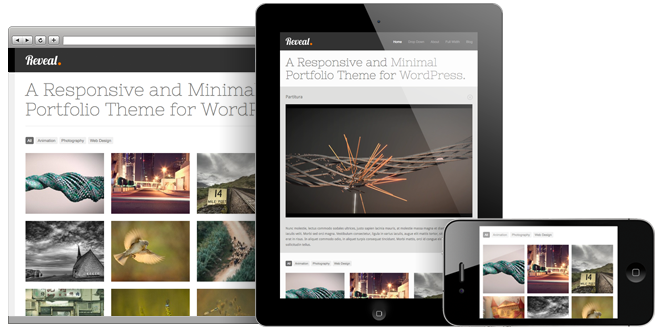 Welcome to our outstanding totally responsive WordPress portfolio themes design. What makes this theme so outstanding is its ability to adapt to every type of screen size. This new site comes with several distinct layouts, each meant to make the most of your user's experience when surfing on mobile phones and tablets. No longer will they need to zoom and scroll to view your site, as the template's layout can change to the tablet screen and display your posts in an visceral way automatically. Just try resizing your browser's window size when scoping out the theme to see the amazing effect in real life!
Startup Premium WordPress Portfolio Theme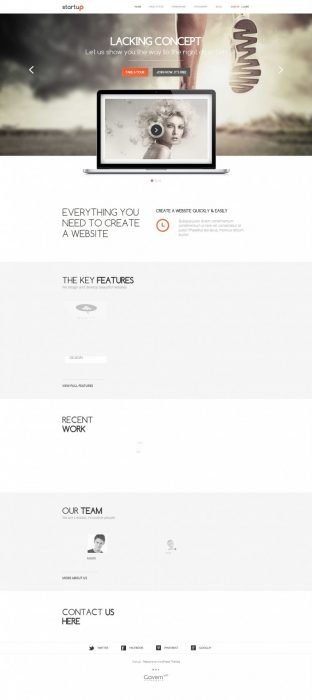 Running a startup? Fancy spreading your wings? With this theme help, you will create a sophisticated, the same as, clean project which will leave your visitors breathless…Be on the top; use this easily adjustable business theme in order to be successful in yourbranch and stand out from the competitors! Create your online image by using the theme's modern design.

Kappe is very modern looking, with a responsive grid layout and a clean, almost minimal design.  This marvelous WordPress photographers portfolio theme is definitely perfect for a great picture portfolio. If you want an appealing, smooth and dependable WP template with nice Engine optimization together with a large amount of fun and easy characteristics, this incredible website is appropriate for everyone. In cases where your small business demands a portfolio to display spectacular images, you might love this excellent WordPress theme.  Portfolio WordPress themes are a ideal theme for a some of the best web-site.    The theme is well structured, with easy to navigate design and a nice, full set of retina icons to boot.  The final product will please your readers and I think you'll be very satisfied with the results.

Quasar is a WordPress portfolio theme with a built in page builder (drag and drop style), it's WooCommerce compatible, has both boxed and full width layout options and more.  This clean, lightning quick theme is built with a 12 column grid and it's perfect for any business portfolio or corporate website.  I think your readers will love the clean, fun layout options that highlight your content without bogging the site down with a bunch of 'code-bloat'.  Oh yeah, it's got Rock Form Builder too, so you can build new forms to your heart's content.  Sweet!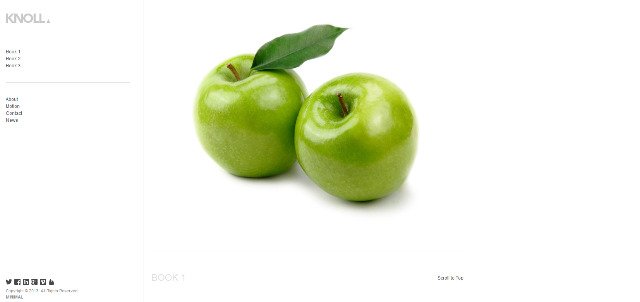 With Knoll, there's nothing to get between your readers and the content on your page.  You're going to love the brisk, super-scrubbed design of Knoll and the masonry option too.  This really gives your content a sophisticated look, despite the absolute minimalist design of this theme.  Site navigation is a snap too, thanks to the 'Zoom' site navigation, which is included in the download.  Easy to customize, easy to love.  A portfolio WordPress theme is a nearly perfect solution for a perfect web-page.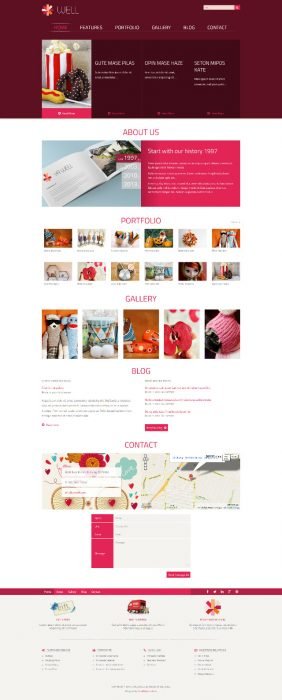 Well, from SmartAddons, is a gorgeous WordPress portfolio theme with spotless HTML5 and CSS3 code.  That's going to really please the developers out there.  Every post format is styled to perfection, video, image and audio.  The customize panel, which is included for free, makes it a snap to change a wide variety of display options.  A portfolio WordPress theme is a great idea for a excellent website.

Camera 7 is definitely one of the the better WordPress wedding portfolio themes I've seen.  What do you think?  The minimalist design really accentuates your incredible photos and images.  UpCode spared no detail when coding this theme, so it responds quickly to every command and loads with cheetah-speed.  Build a blog or a portfolio, either way will work out great with Camera 7.  A portfolio WordPress theme is a nearly perfect choice for a some of the most epic internet site.

Zig Zag is a responsive portfolio theme, with a really powerful looking layout, ideal for your products, visual art or graphic design.  The grid portfolio is pretty sweet looking, wouldn't you say?  I think ZigZag is a premium theme at a really reasonable price.  A portfolio WordPress theme is a good idea for a the best choice internet site.

Producr is built on Bootstrap, recently updated, and it is powered by the Vafpress Framework.  That makes this theme perfect for businesses and professionals who have a portfolio to show and who want it to be rock-steady and intuitive.  A great site for beginners, this portfolio page will ket you construct a website with Vafpress' "page blox" which are super easy to use and allow a lot of variety to your WordPress site.  A portfolio WordPress theme is a nearly perfect pick for a some amazing WordPress website.

Get to creating with Mana, a wonderful portfolio builder for WordPress.  You'll love how easy it is to craft a stunning, responsive WordPress based portfolio with the included page builder plugin.  Oh yeah, parallax scrolling, metro loop, a sophisticated menu system and more, all make Mana a really solid value for the money.  Portfolio WordPress themes are a great pick for a some amazing web-site.

A portfolio WordPress theme is a nearly perfect idea for a some of the most epic website.
This Genesis Framework Child Theme, called Prestige, is a shiny and flash design.  The folks at ZigZagPress built this theme with flexibility in mind, so you can build any sort of site you want with this theme.  ZigZag also offers a high level of support for all their themes, so you can buy with great confidence.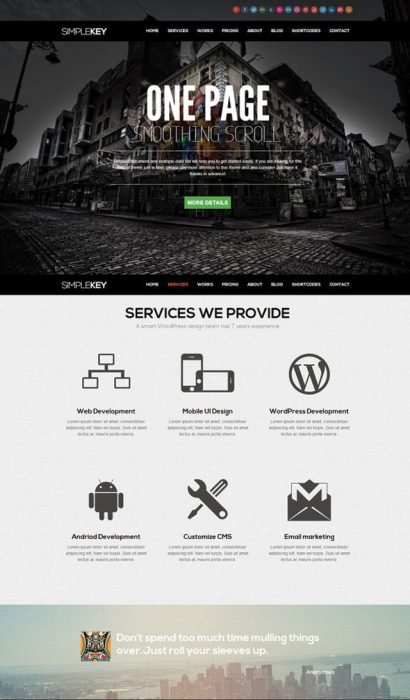 Simplekey is a powerfil multipurpose WP theme with a one page design.  The smooth scrolling and clean code make for a great user experience and this portfolio theme looks great on every device I've ever tried it on.  Maybe not an abacus or a Commodore 64?  Includes 33 short codes and, my favorite thing…sample data to get started fast!  SimpleKey is an awesome adaptable one page WordPress app programmer theme. SimpleKey is ideal to be an app sales page, nonetheless it will agree with everyone who would like to display their portfolios as well as introduce their firm assistance. For everybody who is an iPhone or an Andriod APP developer, you may even work with this theme for your APP solutions presentation, or maybe you may simply utilize it for your daily posting.   A portfolio WordPress theme is a picture perfect option for a solid internet site.
Jarvis Parallax Portfolio Theme

A portfolio WordPress theme is a ideal choice for a splendid web-site.  Jarvis is certainly one of the best and most popular parallax portfolio themes on the market.  Corporations, non-profits, artists and agencies will all benefit from the recent update to Jarvis 2.0.  The features are pretty astounding if you look at them.  Tons of hom epage variations, even more fonts and navigation styles.  Jarvis is here to stay too, with over 6,000 sales to date.  Wow!  That makes for great support.
Infinity WordPress Portfolio Theme

To Infinity and beyond!  Yeah, I bet this theme has never heard that before.  If you're on the hunt for a minimalist portfolio theme with a rad looking grid layout, Infinity may be the one for you.  I love Themetrust's themes, clean yet dynamic and from what I've experienced, their support is pretty great.  And as always, Themetrust offers buy one get one free themes all the time.  Just look for the code on the right hand site as you click through below.  We think a grand WordPress portfolio theme with ideal features is a amazing option for your site.
Single Portfolio WordPress Theme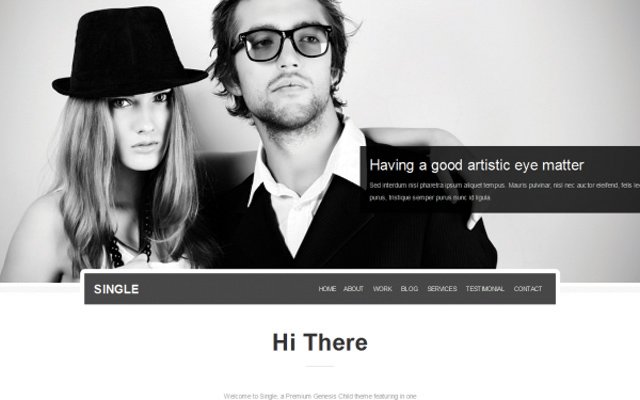 ZigZag Press has done it again, another slick and modern looking portfolio theme for WordPress.  Zingle is a clean and well laid out theme with easy navigation and more.  A portfolio WordPress theme is a nearly perfect option for a first-class website.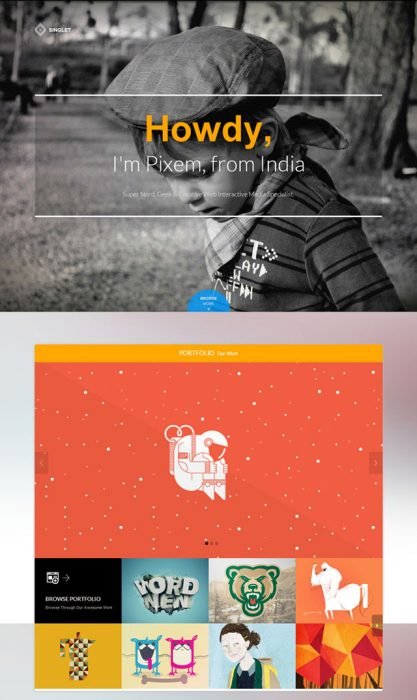 Singlet is for professionals and agencies who want a portfolio that goes the extra mile.  I give Singlet very high marks for efficiency and ease of use with an attractive and simple grid layout.  Singlet is, like most of these portfolio themes, completely responsive.  Take it for a spin and let us know what you think.  We think a cool with first-class features is a good option.
Alexx Portfolio WordPress Theme 

Alexx has user experience in mind with this design.  Pixel-Industry really cranks up the heat with this multi-purpose WordPress portfolio, blog and corporate site.  Extensive documentation means you'll be up and running with a new portfolio theme in no time flat.  We think a fun portfolio WordPress theme with supreme features is a ideal pick for your site.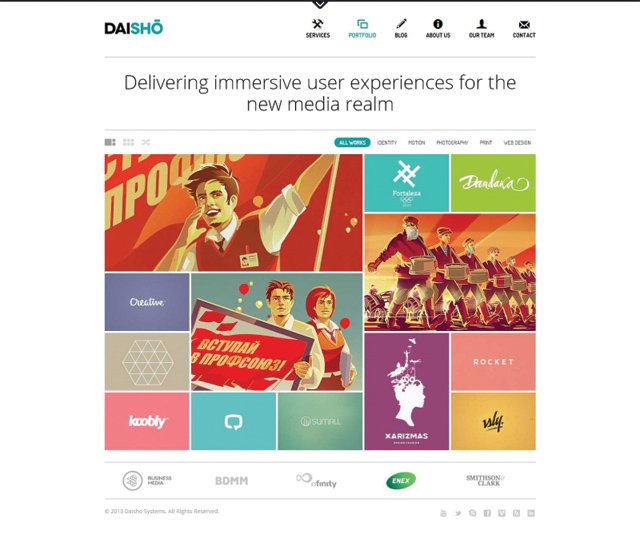 Daisho is perfectly for experts and also agencies who should a modern and well crafted expert portfolio theme. Daisho guarantees your hard work, and your services, are right up front without having any disturbances. Take this fantastic theme for spin. We suspect it's the perfect value too.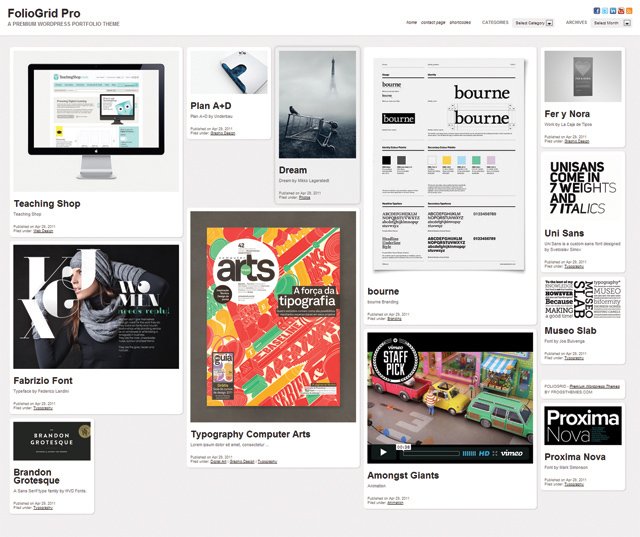 Just a hint of Pinterest inspired design, a boatload of amazing features and crisp and clean code set this theme apart from the rest.  Frogs Themes have created a theme that will get your attention and hold it for a great user experience.  We think a pretty portfolio WordPress theme with supreme tools and features is a ideal option for your site.
Prospector WordPress Portfolio Themes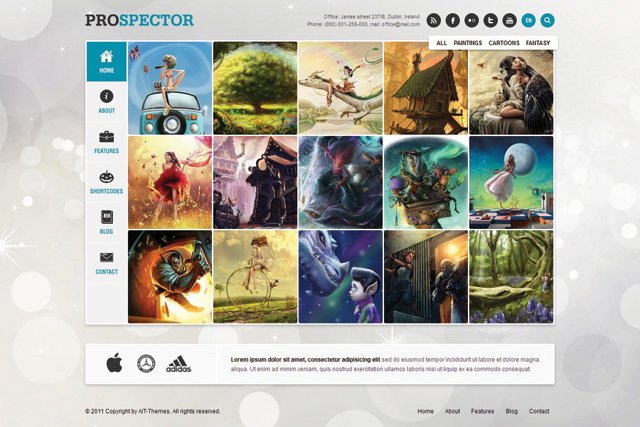 Prospector is a fluid designed theme, meant for mobile devices and tablets.  It's highly adaptive, responsive nature makes it ideal.  If you get a large amount of traffic from mobile devices, this theme is going to help you really deliver a great user experience every time.  We think an elegant and powerful portfolio WordPress theme with some outstanding features is a wonderful selection for your site.

Nemesis is a responsive portfolio theme built for freelancers, designers and any other creative users.  The shortcode generator and Google font support make this theme easy to customize as much or as little as you want.  I love a skin manager, and ThemeGoods delivers one with this template.  We think a elegant WordPress portfolio theme with out of sight things is a incredible option.

Up next, this WordPress work is a sleek and elegant, absolutely template that incorporates excitement and professionalism and trust into one breathtaking parcel. Ideal for startups, tech websites or design firms, this design will impress internet users with its top of the line layout. The template also is packed with lots other great features, like responsive design, customized backdrop photographs and more!  This fun and easy and cool WordPress theme is filled with some incredible elements that make it painless to craft a brand new website with almost no problems!  I think you'll agree, the design of this great WordPress theme is very good and your audience will have a fun time with their time on your site.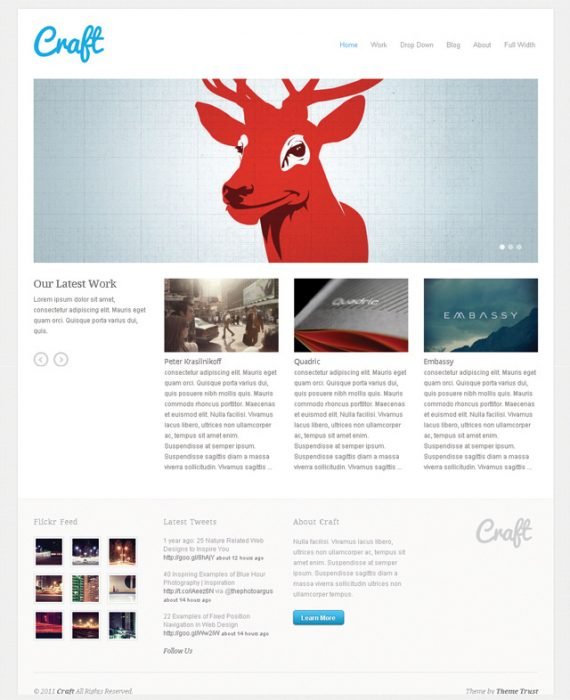 Craft, from Theme Trust, is a simple and powerful portfolio WordPress theme that's ready for your content, no matter what.  The sleek presentation provides a classy feel to this theme and you can be sure your audience will react positively to the user experience that Craft delivers.  Like all Theme Trust themes, it's very flexible and has incredibly detailed documentation and a high level of support.  We think a fun and powerful portfolio WordPress theme with boss features is a incredible pick.  A portfolio WordPress theme is a amazing option for a out of sight WordPress website.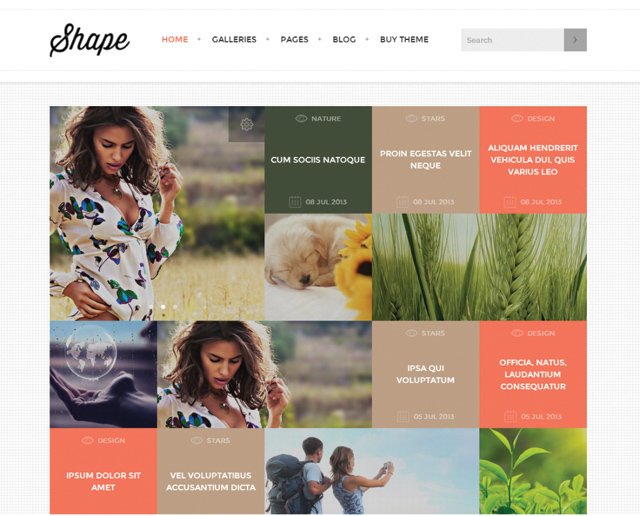 Shape is a wonderful theme for agencies.  Establish a grid-layout portfolio with relative ease with Shape.  We think well crafted portfolio WordPress theme with good components is a incredible selection.  Portfolio WordPress themes are a nearly perfect option for a supreme web-site.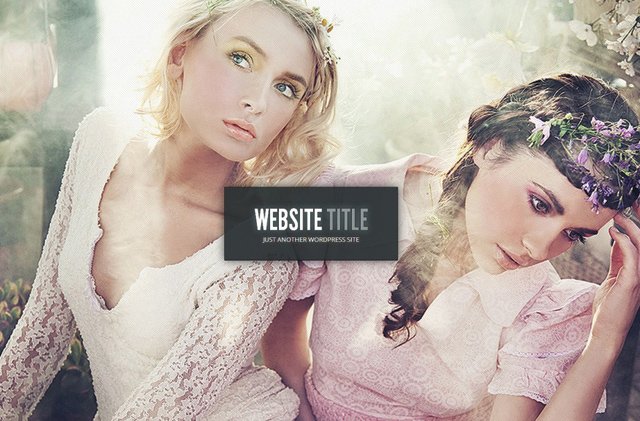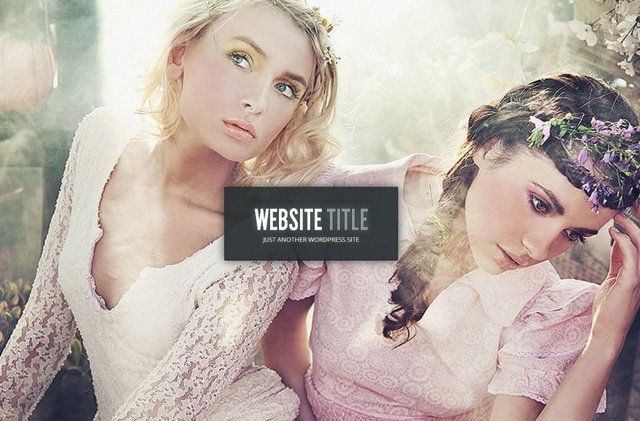 Gleam is a dreamy looking WordPress theme for portfolios.  They say this theme was 'built to dazzle' and I agree.  Awesome looking effects and slick AJAX loading techniques make it a really attractive and useful theme.  One great aspect is the full screen background image support.  We think a gorgeous portfolio WordPress theme with terrific features is a amazing road to take.  Portfolio WordPress themes are a nearly perfect solution for a tops webpage.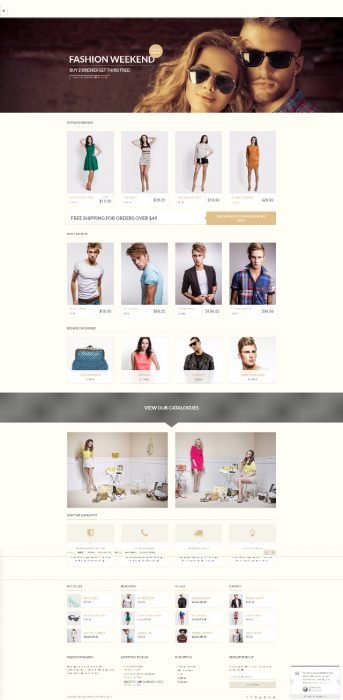 Blaszok is a powerful theme from MPC, one of the Elite Authors on Themeforest.  There's no better word to describe Blaszok than premium.  This portfolio style WordPress theme has so many options and features, it's hard to go over all of them here.  And based on the reviews, this one is popular with end users.  A whopping 4.9 rating on Themeforest tells me this is one of the best themes out there.  We think an alluring portfolio WordPress theme with powerful tools is a incredible option for you.  Portfolio WordPress themes are a ideal solution for a absolutely perfect website.

Port is another sleek and stylish WP theme from ThemeTrust.  The parallax scrolling effect and clean layout make this a perfect and functional portfolio theme for any sort of content.  Add a responsive layout and you've got a real winner in Port.  We think a well-crafted portfolio WordPress theme with good features and tools is a wonderful road to take.  A portfolio WordPress theme is a near perfect option for a dreamy website.

Tripod is a professional WordPress photography portfolio with built in page builder to make setting up a WordPress installation a breeze.  Tripod has a ton of downloads already, in fact it's Cosmo Themes' biggest seller, which is saying a lot.  Tripid has unlimited custom layout templates, eye-popping animations, a drag and drop page builder and a whole lot more.  We think a charming with some of the most epic features is a great pick.  A portfolio WordPress theme is a wonderful solution for a dreamy site.

Pluto is a slick and fun looking portfolio theme, exclusively available on Mojo Themes.  It's a multipurpose portfolio and blog template with room for expansion and customization.  There are ten pre-defined pages already, but you can create unlimited custom pages with the options Pluto provides.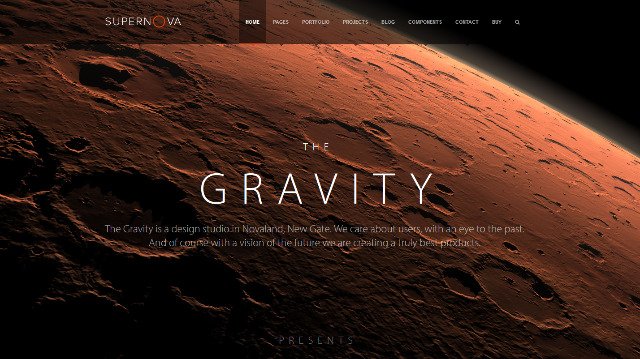 Supernova – Multi-Purpose Theme includes the innovative and state-of-art techniques and design features such as transparent menus and elements, parallax effects, motion backgrounds etc.
bazinga wordpress blog portfolio theme

This is Bazinga, a personal blog template, a portfolio theme and more, all with a sweet looking flat design and a clean layout.  The navigation is simple too, locked and loaded to the left.  I love the typography on Bazinga, not to mention the page templates and short codes included with every purchase.  The developer, SnoopyIndustries (tee-hee), promises constant upgrades as well as customization help.  You don't see that every day and that makes Bazinga a pretty good value.

Koncept is a stunning and creative WordPress portfolio theme, focused on minimalist style, elegance and simplicity. It's created around a modular concept and an amazing masonry portfolio grid. Packed with a lot of useful features, options and shortcodes, this theme offers the best solution for any niche.  Now with WooCommerce support the theme can be used not only for awesome portfolios or presentation websites, but for amazing online shops as well!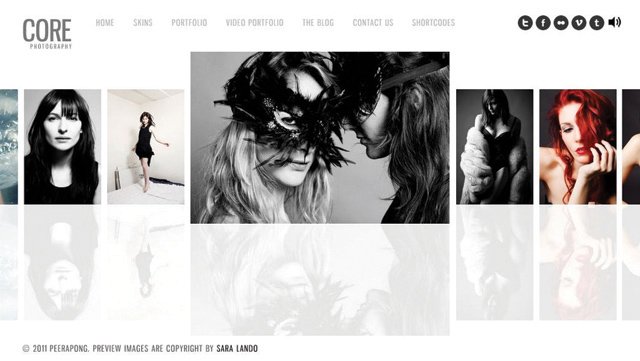 Core is a simple portfolio theme, almost minimalist in style.  It's perfect for photography portfolios, personal blog pages and more.  All the blog post types you could want, 3 home page styles, a full screen slideshow, extensive admin options and a bunch more stuff to make this theme flexible and to make it a evergreen theme for you.  We think a good-looking WordPress portfolio theme with solid tools and features is a amazing option for your site.  A portfolio WordPress theme is a near perfect idea for a dreamy web-page.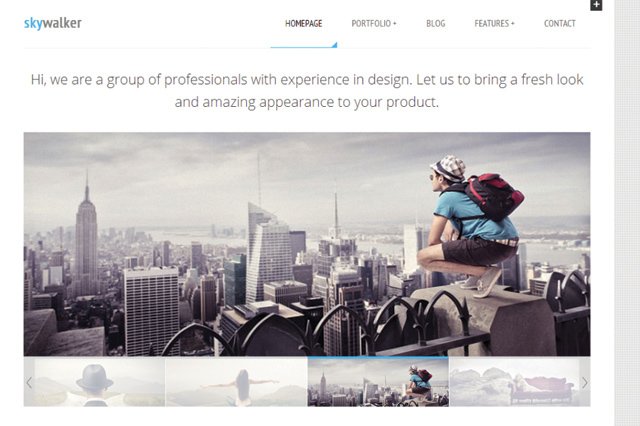 Skywalker is an ideal theme for designers of any kind.  Web design, interior design, graphic design.  Anything, really.  And Skywalker has all the creative components you need to make it fit your style.  We think a pleasing WordPress portfolio theme with neat tools and features is a great way to go for you.  A portfolio WordPress theme is a incredible solution for a some amazing internet site.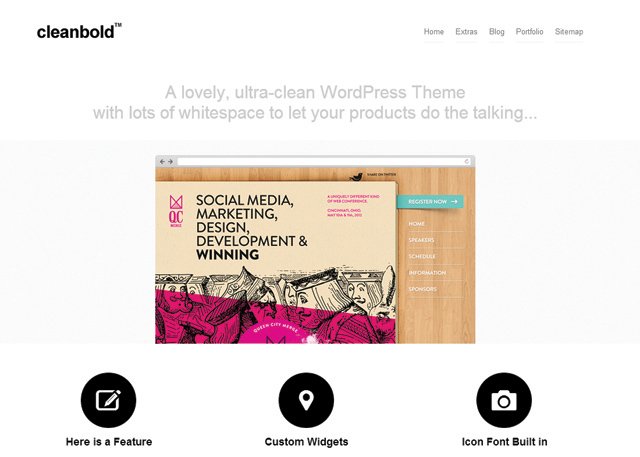 CleanBold is simple, minimalist theme from ThemeFurnace.  It's clean, attractive, professional and minimalist.  Set up an ultra-sleek and simple portfolio page using WordPress content management system with this delightful theme.  Look at that white space!  Cleanbold is a theme that was absolutely designed with designers and creative businesses in mind.  We think a elegant portfolio WordPress theme with out of sight features is a near perfect selection for your site.  Portfolio WordPress themes are a picture perfect idea for a splendid WordPress website.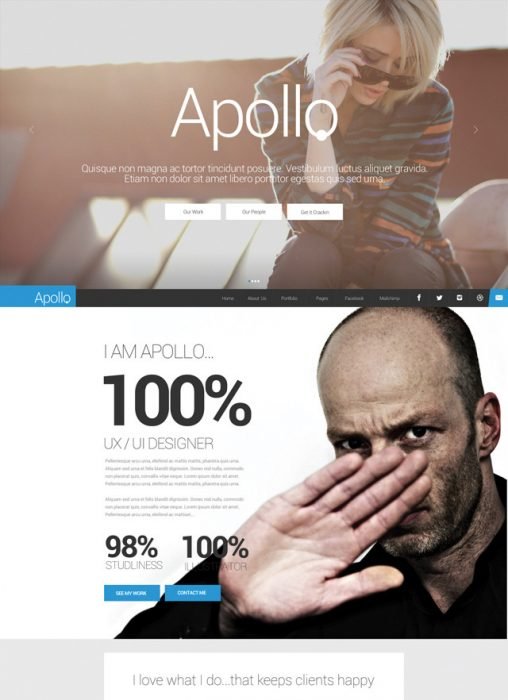 An evening at the Apollo is always a fun time.  Apollo, from Mojo Themes, is a powerful theme.  Fully responsive and filled with customizable layouts, Apollo is ready for your portfolio content.  Mailchimp integration, google maps integration, retina icons and an all-around stunning 2 column layout make Apollo a great choice if you need a WordPress portfolio theme.  We think a beautiful and well thought out portfolio WordPress theme with good features is a incredible selection for you.  A portfolio WordPress theme is a great option for a perfect website.

Envelope is only available on Creative Market.  It's a premium WordPress portfolio theme with a soft, subtle design style.  Perfect for creative women, writers, designers, creative thinkers of any type and much more.  We think an attractive portfolio WordPress theme with the cat's pajamas features and tools is a wonderful choice.  WordPress portfolio themes are a great option for a excellent web-page.

Biome is an exceptional WP theme with portfolio Woo ready template. Biome supports both single page and also Multipage. Just some of the highlights involve full screen display as well as blog post photos or videos. Fine navigation and photo sliders.

Glider is the best choice for people who want to be successful! Whether you need a large professional corporate site or a small entertaining blog, or want to create an informative magazine – the multi-functional ultra-modern Glider theme will fit all sites purposes!!! It has super stylish design that is fully responsive.
Have something to add to this article ? Share it in the comments.